Yesterday I asked you to thoughtfully consider where United miles fit into your 2014 travel plans.  The end of the year is a natural starting point for planning out travel next year.
A Confession: I've been remiss in keeping my Demand schedule updated–and so I'll be borrowing a page from my friend Robert at www.awardbookingservice.com/blog and will be updating my Demand Schedule during my time off this week. If you have a spare hour I suggest you do the same, as a well outlined demand schedule sets the stage for your earning and spending next year.
A Demand schedule is, at its core, a list of the flights you know you need to take, and when you might need to take them.  The importance of this schedule is that it helps us focus our earning, and keep an eye on our total mileage needs for the year, as we aspire to reach EQM-Zero.
Domestic Travel With Milenomics
The basics of splitting our travel along international and domestic lines are to use our cheap, easily acquired miles for domestic flights, saving our cash and harder to earn (or more capable) miles for international travel.  Today's post is an update to the Mile Conservation post from the early days of Milenomics.
I'm a huge fan of international travel, and I know a lot of you are as well. Instead of focusing on our International flights we should start by planning domestic travel with miles.  With domestic trips your locations are usually fixed–for example home for the holidays. Getting a hold on these dates and locations right now is important, because for some of those trips you'll want to book close to 330 days out (thanksgiving, Christmas).
Today we'll focus on Domestic travel–and in doing so I'll take a closer look at the 5 programs I will be using this coming year.
5) Virgin America
Because I live in Los Angeles, I'll be incorporating this small carrier into my demand schedule more next year.  Their route map is small: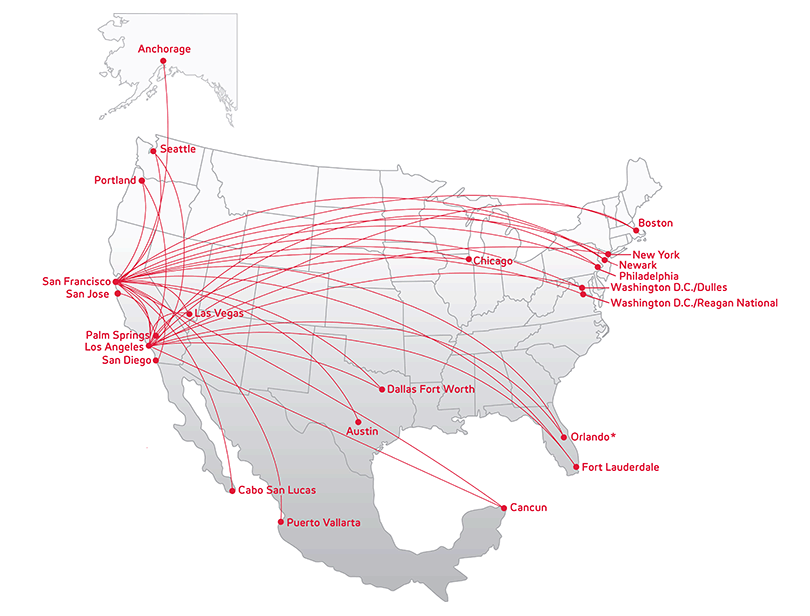 But as you can see, for a West-Coster like myself it has plenty of options. Also, Virgin America (VX) elevate points have no blackout dates–and work very much like Southwest RR points.  They are a transfer partner of American Express Membership rewards (at an unfavorable 2:1 ratio), and sometimes have transfer bonuses as well.
Part of why I'm looking to incorporate them into next year's demand schedule is that I have done some research into trades for VX Elevate points, and have seen more favorable trades than the "official" MR Ratio of 2:1.  This is why MR are considered, "Shadow Currancy, Orphan Savior and Risky Business" here on Milenomics. I would peg the grey market trade value of VX bookings at 1.6:1 (for a 15,000 point elevate booking something around a 25,000 MR transfer should make it happen).  For an example of what you can get for that many VX Elevate points: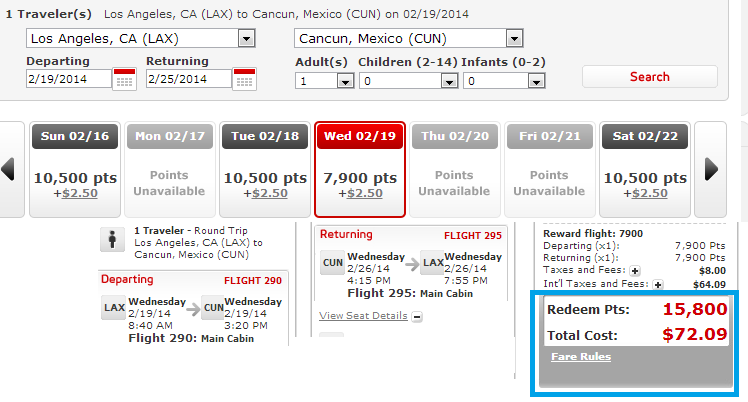 At the official 2:1 ratio this is a 32,000 MR redemption. If American express puts a transfer bonus up that amount could go down near to the 25,00 trade price.  I'd absolutely snap this nonstop up for the 25,00 MR in a trade.
For me, I'll be using VX miles as part of my hybrid system bookings–where they'll supplement Avios, or WN RR Points for the start/ending one way flights.  I'll especially be interested in using them in situations where I would have to decide between another flight with a stop, and a nonstop with VX, similar to when I decided to trade time for miles.
Strengths: Virtually no blackout dates–which can help when I can't find a one way on my preferred date. MR Transfer partner and also a decent program to trade in. Modern, clean interior, with good free television in economy.
Weaknesses: Expensive flights mean expensive point redemptions (similar to Southwest once "Wanna Get Away?" fares are gone). Tiny route map means few situations where these will be useful along the East Coast.
4) Jetblue
Jetblue runs a program similar to Virgin America and Southwest.  These 'revenue' based programs take the price of the flight and convert it into the price with points.  This is distinctly different than tradition programs where an award map is used to calculate miles needed. For example, look at this one way, from LAX-FLL: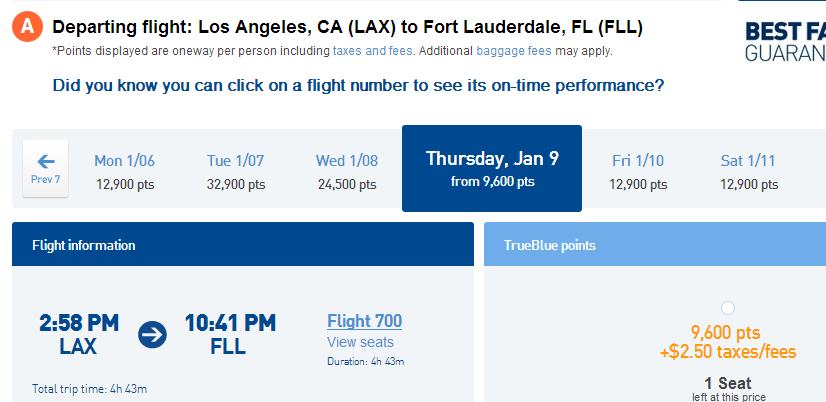 Jetblue has a similarly small routemap from the west coast, but a much better set of flights from JFK/BOS.  If you live on the east coast definitely consider Jetblue as part of your domestic flights next year.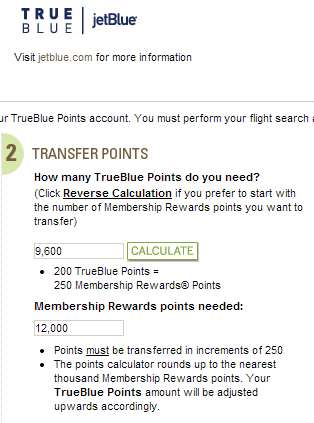 Getting Jetblue miles is easy–they transfer from American Express Membership rewards at a 250:200 ratio (1.25:1). For the above flight, requiring 9,600 B6 Trueblue Points it would take 12,000 MR.  12,000 MR for $140 flight (plus about $10 in fees) would only work out to a 1.1 cent redemption–so I'm not 100% sure I'll use Jetblue all that often, but it could help as part of a hybrid system booking for me (LAX-PDX, or LAX-SEA) and for that reason I'll be keeping an eye on it, and I do think you should too. When it comes down to it I would even consider paying cash for a cheap B6 flight if it was the start/end of a longer trip, or the most direct option available.
Trading for B6 points: The floor for this would really be a 1:1 transfer–so there's not much room to go down on a trade. I do think a successful trade between someone who has a ton of B6 Points is very possible–and it could help to increase the value from that 1.1 cents closer to the full 1.4 cents a B6 TrueBlue point is worth, so it shouldn't be discredited.  If you're sitting on a big stash of B6 points, I'd love to hear from you as I may be interested in making a trade sometime in the coming months.
Strengths: Easy to book. Their hard product is good, and getting better.
Weaknesses:Dynamic ticket pricing means dynamic point pricing.  With a value of 1.4 Cents per Trueblue point and a 1.25:1 MR transfer rate the value of a MR is going to be fixed at 1.1 Cents or so.
3) Southwest
Recent Devaluation aside I'm going to be sticking with these for 2014.  The value is often just too good to pass up.  For short trips these are flexible and the route map is extensive: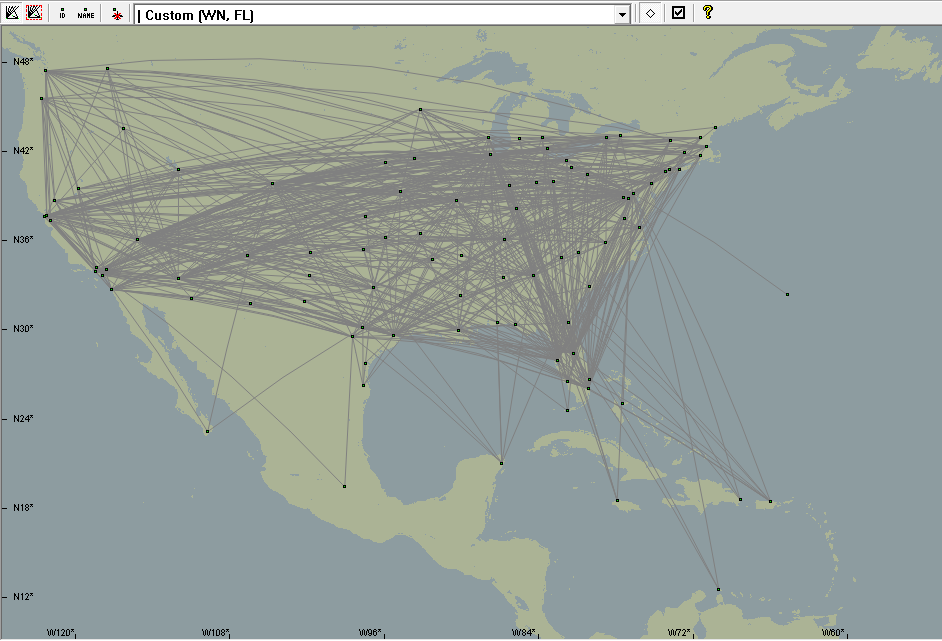 They're also a key component to my award tool belt for avoiding last minute change fees.  When I'm unsure I'll be able to take a flight I'll be booking with Southwest.
Finally, Southwest is a key player in my Hybrid system bookings–and I'll keep using it for this I'm sure.  For nonstop options they're right up there with the rest; but Southwest likes to give you long layovers, and I'm not a fan of spending more time than I have to.  Your T-Rate might mean you don't mind 3 hours in Chicago; but I would usually rather pay more miles and fly direct.  This will continue to be a concern for me with Southwest in 2014.
Companion Pass: I'm stopping short of going for a companion pass–although I'm watching closely as Robert at ABS tries to qualify for a CP without a second signup bonus.  If you haven't read this post yet I suggest you do, and bookmark it to keep track of his progress over the next few months.
If you'll be doing something similar Jan 1 is going to be your start date, so in addition to planning your demand schedule you'll want to plan out a Companion Pass road map like Robert's.  I especially like that he has outlined his potential costs so he was able to weigh the value and plan out ways to save money as he works towards his pass.
Strengths: Routemap is strong, and can be used to travel to most major and smaller markets.  Employees are friendly (United can learn a thing or two here), and they do their absolute best to keep flights on time.  Free bag fees and no change fees mean these can save money over other fee-heavy options.
Weaknesses: Often times requires a stop (and an awkward length connection) to travel where others fly nonstop. Recent devaluation means for longer/more expensive flights the value is just not there.  Flights over $450 (approx. 25k WN RR) would likely save miles booking elsewhere.

2) British Airways Avios
I've probably written the most about these here on the Blog–but they're going to be my #2 Domestic Mileage program for the year.  Because they partner with Alaska Airlines, and are in oneworld with AA their route map is huge: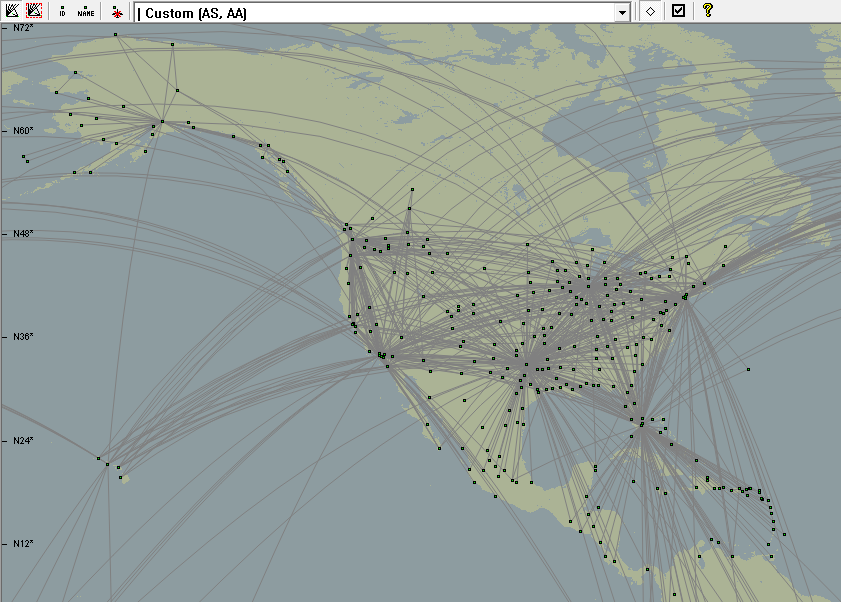 From flying me home from Hawaii, to the Hybrid System bookings I've written about, British Airways Avios are a solid option for most of us living at/near a AS/AA hub.  In fact I proclaimed them "The best program for first time users of Miles."
Getting Avios is also easy to do: they are a UR partner and a MR partner, and there is also a Chase BA Visa. American Express often times runs transfer bonuses, raising the value of MR to better than 1:1. Until December 31st there is a 20% bonus, turning the conversion to 1:1.2.
Strengths: Non-stop short/mid length domestic flights on AS/AA.  Can offer significant savings over using AA or AS miles for these flights.  Transfer bonuses make the flights even better deals. Great for west coast to Hawaii–if you can find the award space.
Weaknesses: Cannot book AS flights online–meaning you're at the mercy of the bandits BA employs in their phone centers. Limiting to direct flights might mean far less options, or paying more miles with a connection.
1) Delta
The phrase "Number one with a bullet," has never been more deserving than with Delta.
Love them? or hate them? Yes.
I flew more with Delta in the last year than I have before, and I'll continue to do so.  The cost to fly with them is just too low to pass up. Their domestic first class is competitive (which is to say, it is like a free cup of coffee).
If I was a revenue flyer, I'd have left Delta for sure next year.  However with everyone running for the exits, maybe 2014 will actually improve for a BYOE like myself.
For domestic travel they hold a special place, much like United now does; they fly a lot of planes, and have an extensive route map. They get me where I need to go, on time, and save me money doing so.  I even splurged and blew a ton of them on an international redemption to South Africa. We'll see how well that works out for me later in 2014.
Strengths: I will still find plenty of use for Delta Miles, but that might not translate well to your Milenomics system.  Being so easy to earn, and with a robust route map they're my "go-to" currency for domestic trips.  Yes their site is atrocious, yes they're harder to use than other miles–but I'll use them when I can, and when I can't I'll look at other options.
Weaknesses: Yes, Delta.
Low Level Hedges
Part of why I've included Virgin America and Jetblue are that they help to fill out our Low Level Hedges. Simply put, low level hedges are tricks/tips we use when we can't find low level award space for our flights.  The first of those hedges, fixed value points, are represented in VX, B6 and WN.
When I'm stuck and forced to book an award at Double miles I'll first check for these three programs, and see if they can be useful. I'll be updating the low level hedge post, as well as the Mileage Conservation post in the next few Milenomics Redux edition posts.
What does your domestic travel look like next year?  Are you going to make a run for EQM-Zero? Even if you don't I challenge you to use your miles. If 2013 has taught you nothing else, it is that we should use them sooner, rather than later. 
---
Everything below this line is automatically inserted into this post and is not necessarily endorsed by Milenomics: