From the Dallas Morning news, and an interview with Doug Parker, all around great guy, and CEO of the new American Airlines Group, Inc (AAL);
Jan. 7 will be "our first big day" for customers, Kirby said. On that day, each airline will recognize the other's elite frequent fliers. In addition, a passenger on one airline will be able to earn frequent-flier miles on the other airline if they choose.
"You can earn and burn [miles] on each other's metal," he said. "If you're an American flier flying on US Airways, you can get your credit counted toward your American miles, etc."
From Jan 7 things get a little confusing, On March 30th you'll see US Airways leave Star Alliance and on March 31st US will join oneworld.  At some point along the way next year you'll see a new award chart, possibly when the two programs merge in late 2014, early 2015.  There will likely be moments where you can exploit weaknesses in the award charts of each other. Of course if those opportunities exist we'll discuss them.
What Doesn't Happen Jan 7
January 7th is not the day where you can use US Airways miles to book on Cathay Pacific, British Airways, or any other Oneworld carriers. It is not the day you can book with AA Miles on Thai, or ANA, or LH (That day will never come).  What is it then?  Think of Jan 7 as the day US and AA become partner airlines.  We've discussed partner airlines before here, and they are very useful for award bookings.
When you're stuck, and alliance members can't get you home–check those partners and you just might make the trip work.
Creating our US/AA Route Map
The best way to see the combined AA/US Route map is with airline route mapper software. We've discussed this routing solution before on Milenomics, and if you haven't started using it, please do check it out.  All of the bookings I do start on ARM.
To create a combined AA/US Map, do the following. From the drop down menu, select "Custom":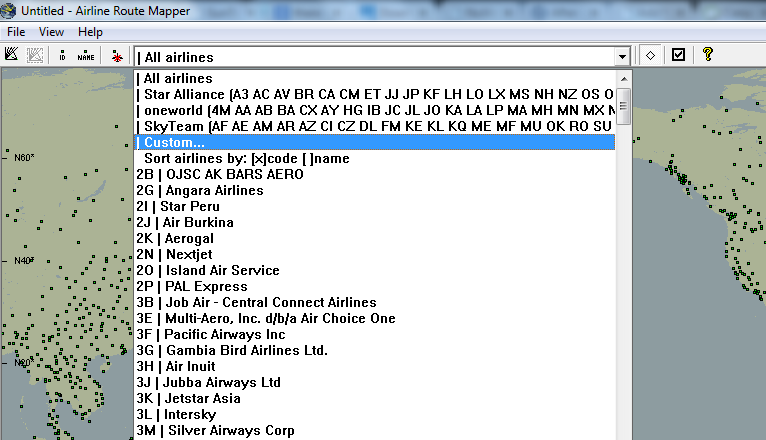 In the dialog box that pops up, type "US, AA":

You'll now have a map of AA and US Flights you can use when researching flights with either airline. At the very least, until March this will be useful.  For a longer term fix you can edit the "alliance.dat" file in the AMR folder, and add the following:
Star Alliance+AA A3 AA AC AV BR CA CM ET JJ JP KF LH LO LX MS NH NZ OS OU OZ PZ SA SK SN SQ TA TG TK TP UA US ZH
oneworld+US 4M AA AB BA CX AY HG IB JC JL JO KA LA LP MA MH MN MX NU QF QR RJ S7 US XL
Saving the changes, and reloading the program you'll now have 5 alliances, Star Alliance, Oneworld, Skyteam, and our custom Star Alliance + AA (for booking with US Miles) and Onewold + US (for booking with AA Miles).  Again this will only be helpful until March or whenever US leaves *A and joins Oneworld.
More options for us will be good–at least in the short term. Options mean more chances to make our bookings work without needing to use our flexiblity points–date, destination, and class of service.
---
Everything below this line is Automatically inserted into this post and is not necessarily endorsed by Milenomics: