Sam here: Today's post is guest written by the pointster, who writes the Canadian Blog www.creditwalk.ca.  (Formerly thepointster.ca).  Creditwalk.ca is a resource for Canadian credit cards and travel perks.  The pointster has graciously offered to outline a solid booking technique here on Milenomics for both American and Canadian Readers, a little something I like to call the Double Down.
—

This is the second article in a 2 part series on combining multiple trips into a single ANA Award ticket.
The first part will focus on the basics of the concept.
The second part will focus on how to fully exploit this and whether it makes sense for you
The Skinny
This 2 part series outlines how to exploit the distance based ANA Award Flights to combine many short trips into a single award redemption, by taking the stopovers 'at home'.
In the first part, I talked about the basics of the concept. In this article, I'll talk about how to fully exploit whether it makes sense in for you and how to exploit this deal further.
The best cities to exploit this from are:
Washington DC
San Francisco
Philadelphia
Miami
Los Angeles
Chicago
Boston
Toronto
Vancouver
When you are looking for award space, use the various tools for finding Star Alliance award space, including United.com and the ANA website.
You will always want to be aware of the fine print. Air Canada flights, for example will cost you much more in fuel surcharges than United flights.
You will want to be conscious of your routings. The miles you pay are based on distance flown. Don't fly out of the way if you can help it.
Exploiting this further
(if you can) transit your home city on your last leg then "miss" the final flight
Add unrelated one-way trips to your itinerary if you aren't fully using up your distance allotment
Find alternate means if a given routing will force you out of your way (distance-wise)
ANA miles can be achieved as follows:
Amex Membership Rewards USA (1K MR = 1K ANA)
Starwood Preferred Guest (1k SPG = 1K ANA or 20K SPG = 25K ANA)
Note that ANA miles cannot be achieved by transferring Canadian Amex Membership Rewards.
Review of Part 1
In the first part, I talked about the basics of the concept. In this article, I'll talk about how to fully exploit whether it makes sense in for you and how to exploit this deal further.
The distance-based nature of the ANA award chart, combined with the liberal stopover rules allow some people to combine multiple trips into a single itinerary for very cheap if some ideal conditions exist:
Access to multiple Star Alliance served airports that are not co-terminal
Multiple short trips and a planned demand schedule
See the first part for further details.
Best Spots to Exploit
Because of the need for clustered airports and short trips, some regions are better than others for exploiting this deal. The best regions are those that have multiple airports that are not co-terminal and have access to Star Alliance flights. While a full list of cities and co-terminal airports is listed below, the double down works best for trips within the Northeast USA, or within California (tiers 1 and 2). This is where you get the real major benefits of 2+ trips for the cost of 1.
The other efficient usage is pairing a round-trip cross-country itinerary with a medium length journey. For example, a San Francisco area to Boston roundtrip, combined with a San Francisco area to Houston.
You will maximize your gain from this by using up your entire allotment of distance (miles) within the tier you are in.
The best cities to exploit this deal are:
Washington DC
San Francisco
Philadelphia
Miami
Los Angeles
Chicago
Boston
Toronto
Vancouver
I have put together an Alternate Airport Listing page. I outline what the reasonable alternate airports are for each city and how to access them through public transportation from the major centers.
Finding Availability
For non-co-terminal airports, there is typically one major airport and one smaller (alternate) airport that you will have to find space into. Usually it makes sense to look for space into the smaller airport first since there are fewer flights to it. In the Washington DC example, I would look for the EWR-BWI and BWI-ORD legs first. This way, I know if I will have to flip it around and do BWI-EWR and ORD-BWI on the "outside" and put the DCA/IAD flights on the "inside."
Check out the following articles for further assistance on finding award availability for Star Alliance flights. The ANA tool is the best one but can be combined with the United award booking tool. :
Basics on finding Star Alliance Award Availability
Advanced Strategies on finding Star Alliance Award Availability
Always remember/The Fine Print
Costs
Always bear in mind is that when redeeming ANA miles for any flight, you will be responsible for the taxes and any scam charges fuel surcharges that might be associated with the flights you select. Within North America, Air Canada will charge fuel surcharges, but United Airlines  and (while still part of Star Alliance) US Airways will do not.
Flights Routings Matter
Since the ANA award chart is a distance based char on actual miles flown, including all connections. You will always want to make sure that you are picking the shortest routings. If you end up being sloppy about your routings, you could end up paying thousands of miles more so that you can connect in one airport over another.
Example: Let's look at a simple roundtrip example (to keep things simple)
Los Angeles to Atlanta roundtrip
As you can see, we can either route through Phoenix or Denver. The only difference in the two itineraries is routing back via Denver versus Phoenix. If you notice the number of miles cost has gone up from 22K to 38K. Denver MIGHT be nicer than Phoenix but I certainly wouldn't pay 16K miles to run across Denver Airport's terminal instead of running across Phoenix Airport's terminal.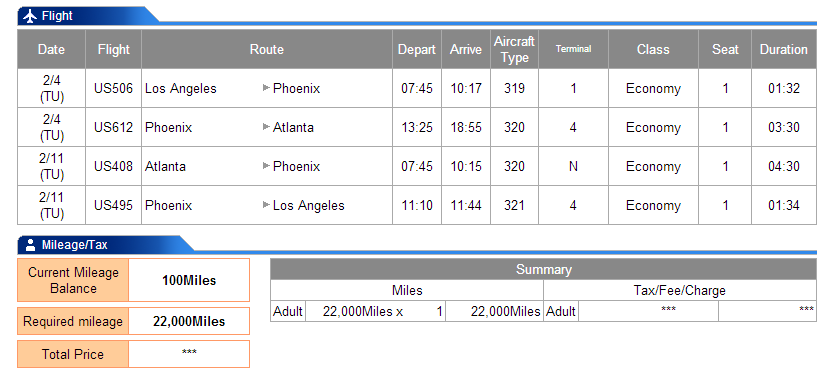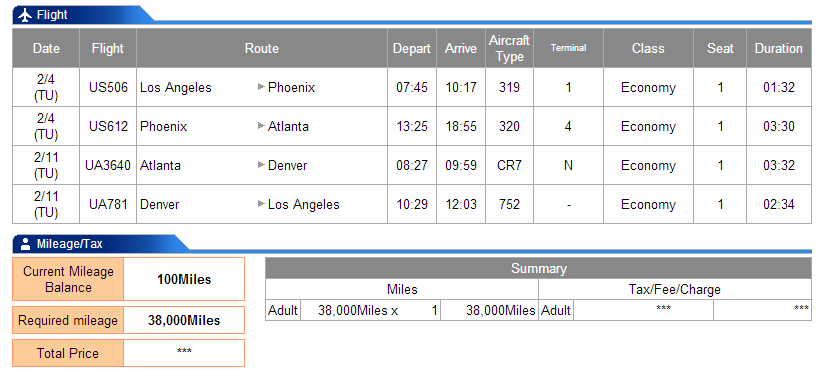 Here are a few more examples of how to further exploit this:
1. If you live in a Star Alliance hub city, route your last leg VIA your home city
One of the rules of the ANA awards is that an itinerary can only stopover in any given city once. However, you are allowed to transit the same city more than once. What this means is that you can transit your home city on your last flight, and simply get out there.
In the example I used earlier, I showed how a San Francisco based flyer can benefit if they are currently in Vancouver. That example implied that the person wanted to go to Vancouver at some point in the future again.
Let's say that they really don't want to ever go back to Vancouver, but they have an additional trip to Las Vegas in March that they would like to roll into this itinerary. We can still use this technique to drop in a flight from Vancouver to San Francisco, a roundtrip to Los Angeles and a roundtrip to Las Vegas: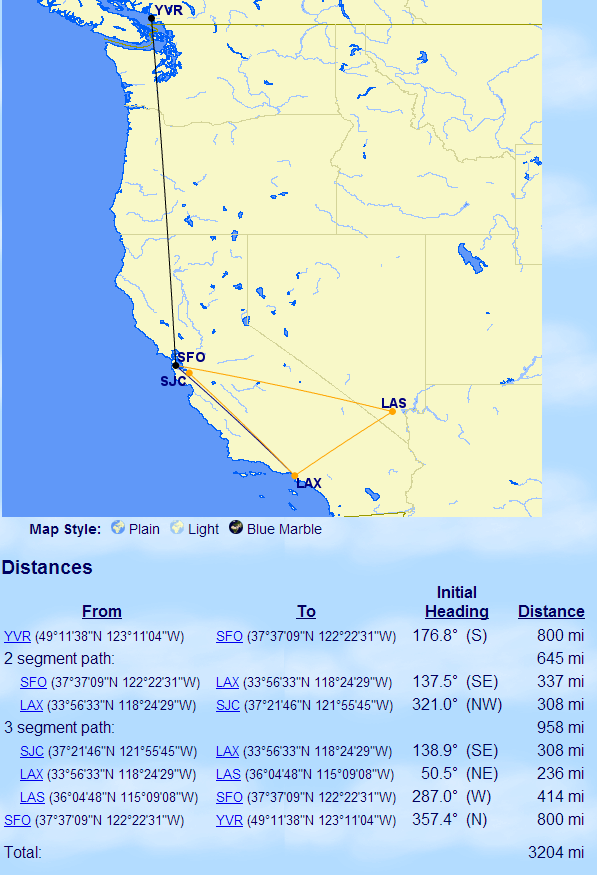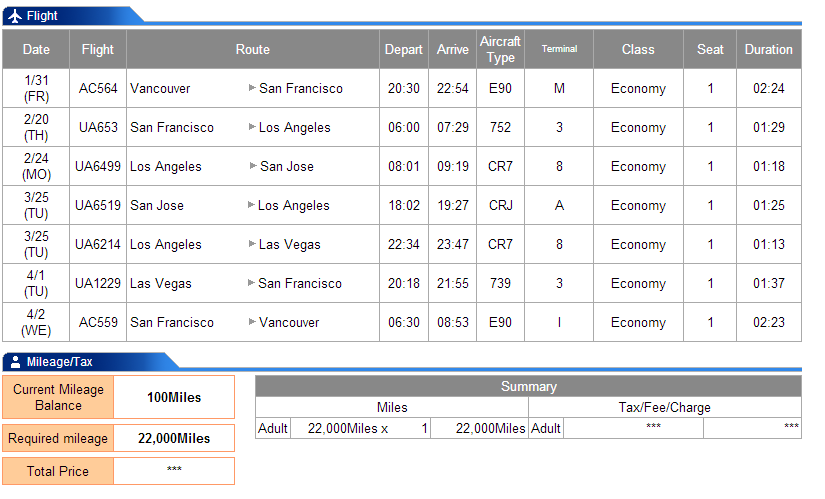 In that situation, we needed to get the itinerary to end in Canada, so a final leg needed to be added.
Even if the requirement of getting to Canada were not there, we would not have been able to use San Francisco again since it was already used. Routing through San Francisco without using it as a stopover, and using a missed flight, allows us to take further advantage if that is our home airport.  Note that once you miss a flight, the entire itinerary is forfeited. Make sure that any "misses" happen at the end of your itinerary and not at the beginning.
2. Tack on unrelated one-ways from a different trip with your "unused" distance from home
Something else that you can do with this knowledge is tack on extra unrelated one-way flights. You might have a routing that uses up only 3200 miles of flying. Given that this routing would fall into the tier that covers itineraries of distance 2000 – 4000 miles flown, that would mean you can fly up to 800 miles more without being pushed into a more expensive tier.
To do this, it is important to make sure that you never "close" your itinerary by going back to the departure city. From my tests, it looks like going back to the original city kills all future stopovers.
Let's look at an example: Miami based flyer
Going to Houston for a week in March
Going to Chicago for a week in April
Some flights around the west coast in the summer
Some things to notice here is that Miami is far from both Houston and Chicago. According to the Great Circle Mapper, our routing (MIA-IAH-FLL-ORD-MIA) would end up being 4309 miles flown, which is JUST above the 4000 mile limit for our tier. It probably makes sense to just worry about the return from Chicago at another time.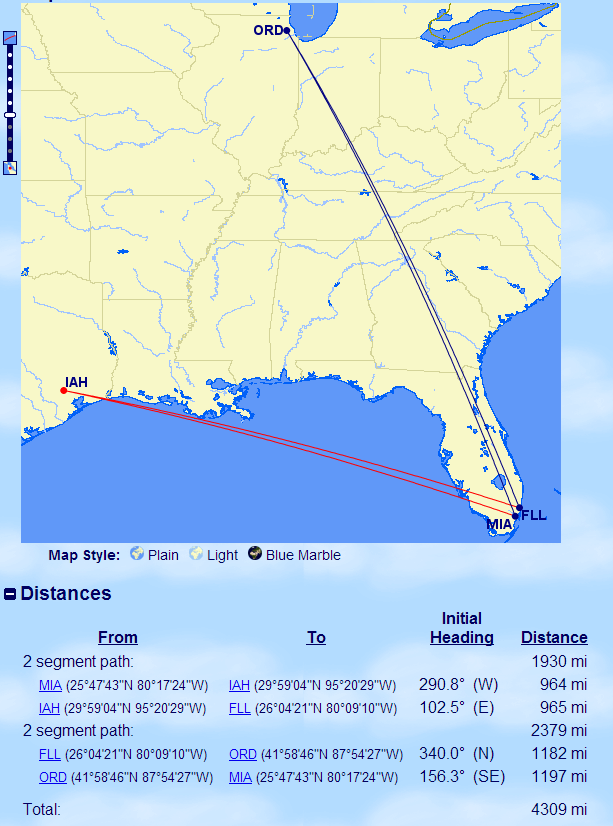 The new routing (MIA-IAH-FLL-ORD) would end up being 3111 miles flown, leaving us about 900 miles that we not using. With those 900 miles, I decided it makes sense to pull a few of my short flights in the summer onto this itinerary.
My new itinerary (MIA-IAH-FLL-ORD, LAS-SFO-LAX) comes in at 3863 miles flown, which is still within the same tier as I was before. I basically got my 2 flights (LAS-SFO and SFO-LAX) for free.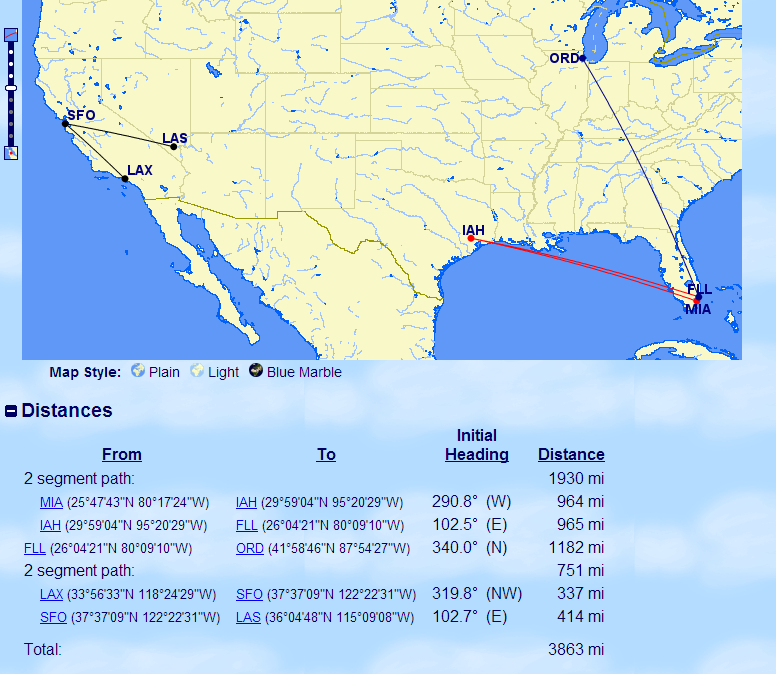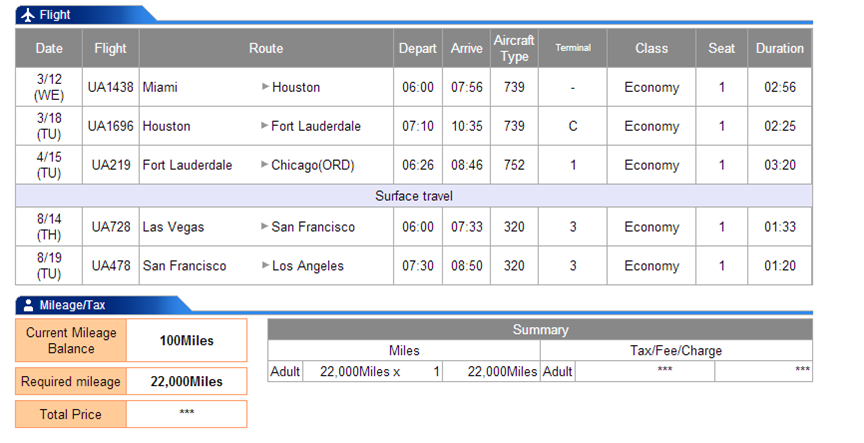 3. Open-jaw flights when you can't find a last leg
Don't let one missing leg deter you from taking advantage of this deal. If you struggle to find space on flights that work for you or that use the ideal routing pattern, it is sometimes worth using another method to get that last leg. For example, if you are in San Francisco and staying in the west, you don't want to route through Denver to get into San Jose (SJC) airport. What you can do in this situation is create an open-jaw.
Simply ignore the leg that is causing you problems. If you are looking to get back into SJC and the only way to access SJC is by spending too many of your distance miles, simply throw out that leg and save your distance miles for more efficient journeys.
Example: San Francisco based flyer
Visiting Seattle
Visiting Portland
In this situation, there is a SFO-SEA flight for the initial flight between Seattle and San Francisco, which is only 679 miles flown. The problem occurs when we try to access San Francisco's alternate airport of San Jose (SJC) from Seattle. The options are either to route through LAX (SEA-LAX-SJC) which would end up costing 1262 miles flown or through DEN (SEA-DEN-SJC) which would cost 1972 miles!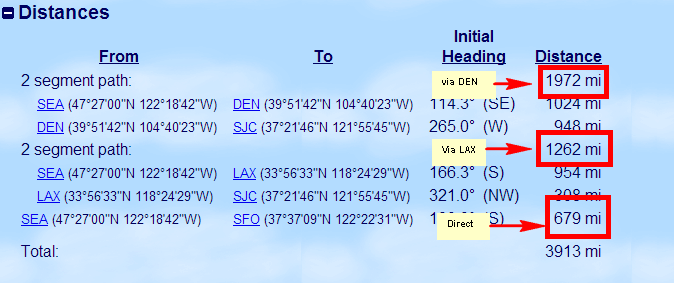 I would suggest ignoring the SEA-SJC leg from this itinerary and use those flight miles much more efficiently. If you have to route via DEN, then this is not going to be a great use. On this journey, you could buy a cheap one-way SEA-SFO using BA miles or paying cash.
Ways to get ANA miles as an American or Canadian
There are a few ways to get ANA miles. The easiest way, by far is by transferring the miles from the American Express Membership Rewards USA program.
There are 4 ways to earn ANA miles:
American Express Membership Rewards USA transferred
Starwood Preferred Guest points transferred
ANA credit card
Earning miles from flying on Star Alliance partners
Transfer Partners
The two transfer partners of ANA miles are American Express Membership Rewards USA, and Starwood Preferred Guest. If you are Canadian, your only option will be to transfer SPG points. If you are American, there are many credit cards that will earn you lots of American Express Membership Rewards . There are a lot of articles on this Milenomics site that talk about how to efficiently accrue Membership Rewards.
Credit Cards
FNBO also offers a specific ANA miles credit card. This card has a $70 annual fee and earns 1 mile / dollar on all spending. Given the ability to get fee waivers and great category bonuses from American Express, I think the FNBO ANA card is a comparably weaker offering .
Flying
Similar to all of the other frequent flyer programs, you can earn miles by flying. Personally, I would rather earn United miles for my Star Alliance flying. If you are unable to earn ANA miles through American Express Membership Rewards USA, then this is not a bad option.
If you are Canadian, then earning miles through flying might not be a bad idea. If you are earning Aeroplan miles currently, I think that ANA miles are probably more valuable than Aeroplan miles. I think that United miles are more valuable than both, but you have to figure out if this trick works for you.
Recap
The best cities  for exploiting the double down are Washington DC, San Francisco, Chicago, Philadelphia, Miami, Los Angeles, Boston, Toronto and Vancouver.
To exploit this further,
Use your home airport as a connection on your last leg, then "miss" your final flight
If your itinerary does use up all of the mile allotment for the tier, and your itinerary is less than 5 legs, add on some free, unrelated one-ways
Drop flights from your itinerary if they will cost you more of your allocated distance than they are worth
Getting ANA miles in North America is best achieved as a transfer partner of American Express Membership Rewards (USA). Canadians who want to take advantage of this deal can transfer miles from Starwood Preferred Guest to ANA.
—
Sam here: I want to thank the pointster for stopping by Milenomics and agreeing to share his tips on the ANA program.  We'll discuss the Double Down more here on Milenomics, and I'll be adding it to my award tool belt as well in the coming months. (no close in booking fees!).  Whether this booking trick works for you depends on a combination of where you want to go, and what airports you have at your disposal.
This technique is not just for major hubs. For those of you who live about the same distance from 2 nearby airports both served by United you can use this technique to book 2 flights (even with connections) for much less than the cost of doing so with Avios.  An example of this would be SDF-IAH-CVG // CVG-DEN-ORD-SDF: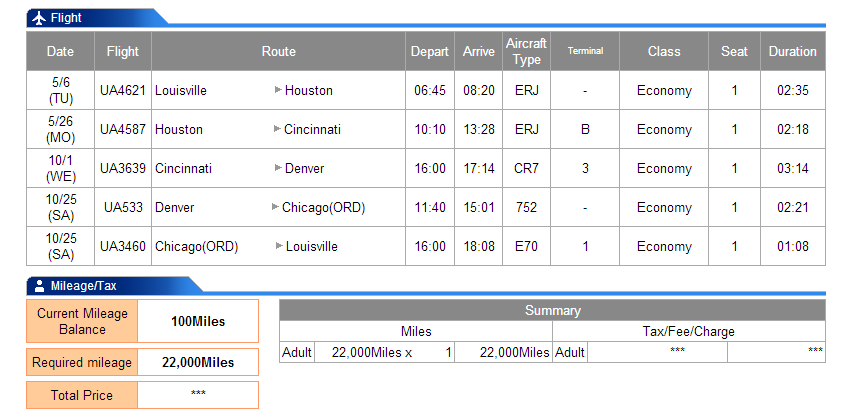 Keep this in mind whenever you're flying where avios can't take you, or whenever the savings is there.  This also opens you up to Star Alliance availability.  Whenever possible, Double Down, and use it to save money and miles.