Last week we discussed Spending our Miles, and the basics of what ever award booking cost: Miles and Money.  We're continuing our introduction series here on Milenomics, and will today discuss Partner Airlines.
Be Your Own Elite
Partners are simultaneously the most confusing yet the most rewarding part of booking award travel. We'll try to remove some of the confusion today here on Milenomics.
Introduction to Alliances
Most of us probably know a little bit about airline partners, even if we don't know the details of them. If you've ever leafed through the onboard magazine during a flight you've no doubt come across the map in the back of where the airline flies. It probably looks something like this: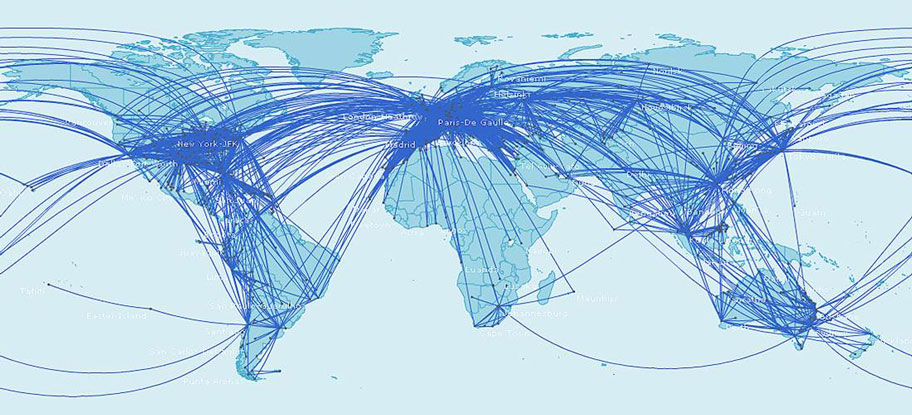 There are flights flown by the airline itself, on planes painted and owned (or leased) by the airline. Then there are all kinds of destinations you never thought your airline flew. South America, Africa, Asia and Europe. There's usually a small asterisk and the claim "These routes are flown by our Alliance partners."
Lets break down that phrase, Alliance Partners:
Alliance: An alliance is a group of partner airlines, who agree to cooperate in their day to day business. This may mean sharing gates, maintenance and staff, and usually also means codeshare flights. Alliances are usually made up for 10+ Airlines, and all members are considered partners of each other.
Partner: A simple way to think of partner airlines is any two members of an alliance are partners. In addition airlines often enter into partnerships with single airlines. These single airline partnerships do not extend to an alliance as a whole, and are only between the two airlines.  Airlines can have many non-alliance partners, and some airlines aren't members of any alliance at all, but rather, they have partnerships with multiple airlines (Alaska Airlines is a good example of this). Like I said, this can be confusing stuff!
The Three Main Alliances (And Non-Alliance Partner Airlines)
Before we get to how to use our miles with partner airlines, lets take a more in-depth look at the three main alliances.  Knowing the partners of the program you hold miles in is an invaluable tool. Study these and you'll start to eventually think in terms of partners when you go to book award tickets, rather than only the airline you hold miles with.
Oneworld–AA, and US (while still in operation) in the United States are both members, along with a host of others: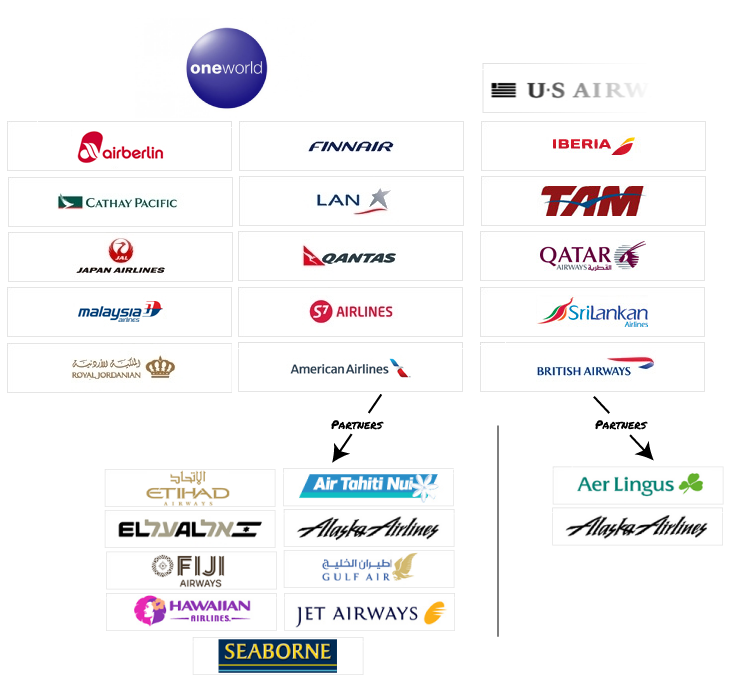 Skyteam-Delta is the US member airline of Skyteam: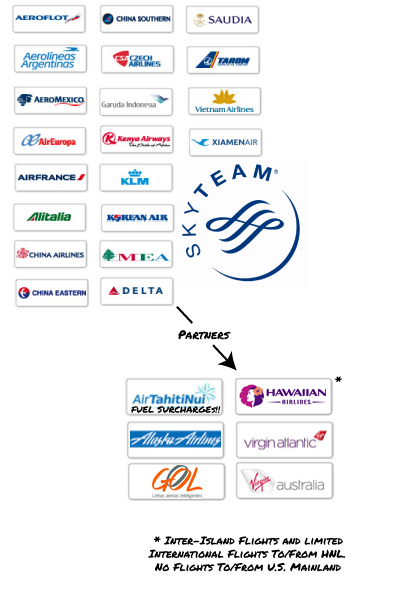 Star Alliance-United is the US member airline of Star Alliance (*A):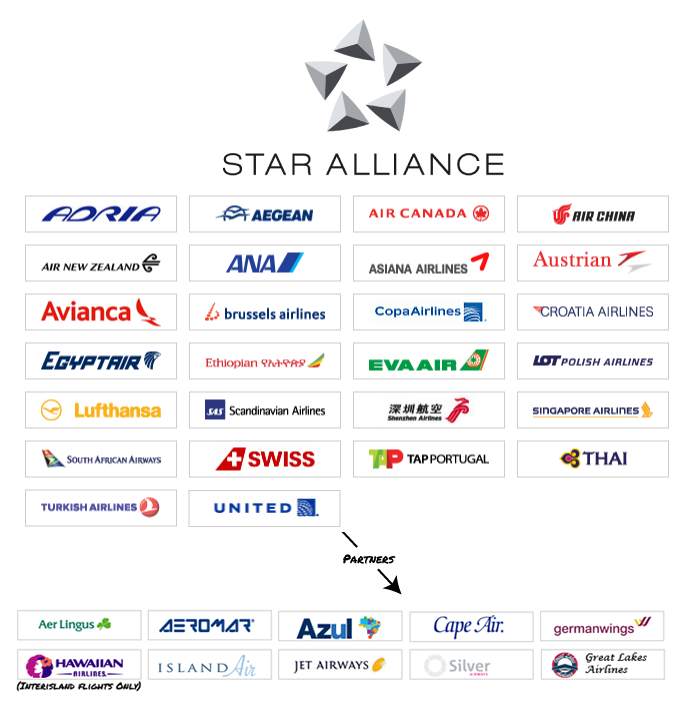 I've broken out the partner airlines of AA, DL, and UA along with some notes to watch out for among these partners.  Earlier in this post I mentioned Alaska Airlines has partners but is not a member of an alliance. As you can see above they partner with AA, British Airways (BA), and Delta. This means that Miles in Delta, AA or BA can be used to book flights on Alaska Airways (AS).
Other examples of partners of multiple airlines in different alliances are Aer Lingus (US, BA), Hawaiian (Everyone), Air Tahiti Nui (AA, DL), and Jet Airways (AA, UA).
Why Partnerships Are Important
Partnerships expand the places an airline can fly you without expanding the planes the airline has to manage and fill. You'll know you're on a codeshare flight because you'll see two or more flight numbers, something like DL7735 and CI008. The Flight can be sold as if it were a Delta flight–but it is in actuality a China Airlines flight, codeshared with Delta.
For paid flyers Alliances are important because miles flown on any one carrier are usually able to be credited to any other carrier in the Alliance/Partner network.  This helps to beef up miles in one program while avoiding orphan miles spread out among many other programs.
For EQM-Zero flyers like ourselves Alliances and partners are important because award seats at the low level on any one partner airline are usually able to be booked by any other partner's program. This is also where the most confusion in using frequent flyer miles comes from.  A common way of thinking is:
If the flight is an Alaska Airlines Flight, and I have AA miles, I need to convert my miles to Alaska and then use them to book the flight with Alaska. 
Know that if you think that way you're not alone. Many people, even good friends of mine, have fallen into that type of trap. Sadly the airlines don't do much to try to help make things any easier on you.
Let's take apart the above thinking, and show how exactly partner bookings work.
Example: Alaska Airlines Partner Award Booking
Earlier in this post I mentioned that people get confused easily into thinking they need to somehow convert their miles to fly on a partner airline. Using Alaska as an example lets look at booking an Alaska flight with AA miles, with BA miles and with DL miles.
Sample flight: One Way, SEA-DEN, May 20, 2014.
Booking with AA Miles:

Booking with DL Miles:

Booking with BA Miles:

And Finally, Booking with Alaska Miles

Same Exact Flight. Same day. Each host program, or program you have miles in, charges different amounts of Miles and Money for this flight. The reason is because Host programs each set the rules for their awards. Examples of these rules, and the above pricing discrepencies are:
AA is Charging us 12,500 miles and $77.50. The reason for the $77.50 is mostly a  close-in ticketing fee of $75. This is charged by AA for 

award flights booked within 21 days. We strive to avoid these fees whenever possible here on 

Milenomics, and should be crafting our own

Award Tool Belts to do so.

DL is charging us 25,000 miles and $2.50. Delta does not currently allow one way tickets, so we're stuck paying full round trip price for this flight (in miles). Good nes is no close in fee here.

BA is only charging us 7,500 miles and $2.50 for this flight.

Unfortunately AS flights cannot be booked online at www.britishairways.com, but for a good overview of how to book with avios,

see this post.

  Like Delta, BA does not charge a close-in ticketing fee either.

Alaska themselves are charging 12,500 miles and $2.50. 
As you can see the same flight can be booked for totally different amounts of Miles and Money. The number one rule of booking awards on partner airlines is:
The rules of the host program you hold your miles in are the rules of the skies for you.
What we shouldn't do is look up Alaska's rules and award chart, see that one way flights are 12,500 miles and $2.50 and think that should be the amount we pay in Delta miles, AA miles, or BA miles.  Host Programs are free to charge more or less than each other for the same partner seats.
An even more example of this is Air Tahiti Nui, a partner of both Delta and AA. When booking Air Tahiti Nui with Delta miles you will pay Fuel Surcharges. Delta has decided to add these to the booking. When booking the same partner flight with AA miles as your host program you will not pay Fuel surcharges.
The Killer Benefit of Booking Partner Flights
Your eyes (and wallets) should always look to partner awards first for one simple fact:
Partner awards always price out at the lowest (saver) level. 
For all the grief that a simple booking with Delta miles will give you, making sure your booking only has partner flights will ensure you only pay low level for your Delta award.
Similarly, low level awards make sure that your miles stretch the farthest, and are the best value you can possibly extract. Dont' shy away from a partner flight because you fear flying an unknown carrier–instead get to know your carriers!  I'm of the opinion that foreign, or lesser known carriers almost always offer better service in air–allowing you to avoid the dreded denial-of-service attack US mainline carriers often carry out on us.
Partner Airlines Aren't Always Shown in Award Searches
By far the most frustrating part of searching for and booking awards are that partner airlines aren't always shown in award searches. Searching for our above SEA-DEN flight on britishairways.com does not return Alaska Flights. If you don't know that fact you'd assume there are no flights which can be booked with BA Avios.
Only by knowing that British Airways and Alaska are partners and doing the search elsewhere, either on AA.com, Delta.com or Alaskaair.com can we then call BA and book over the phone. Many, many award flights are booked without knowing about partner availaibitly. This usually results in wasted miles, money, or  both.
Update: Diamond Vargas has a great tip in the comments section, be sure to check it out. Thanks again Diamond!
Expand and Study
In the end Partner airlines are a great resource when booking awards.  They not only allow you to travel to more desitinations, they also save you miles by always booking at the low level. Keep an eye on the partners of your Host program, and learn which search engines show partner flights, and when you'll need to call in to book an award.
An idea I've thought about is a "better know a partner" series here on Milenomics, where we highlight partners, and how to book flights with different host programs.  I worry this type of series would get a bit repetitive, let me know if you do think there's a need for it, and I'll reconsider.