Note: For a quick refresher, you may want to read this post, titled "Be Your Own Elite in 2014."
In the midst of a slow week of news in the Miles and travel world a welcomed surprise arrived at my office yesterday: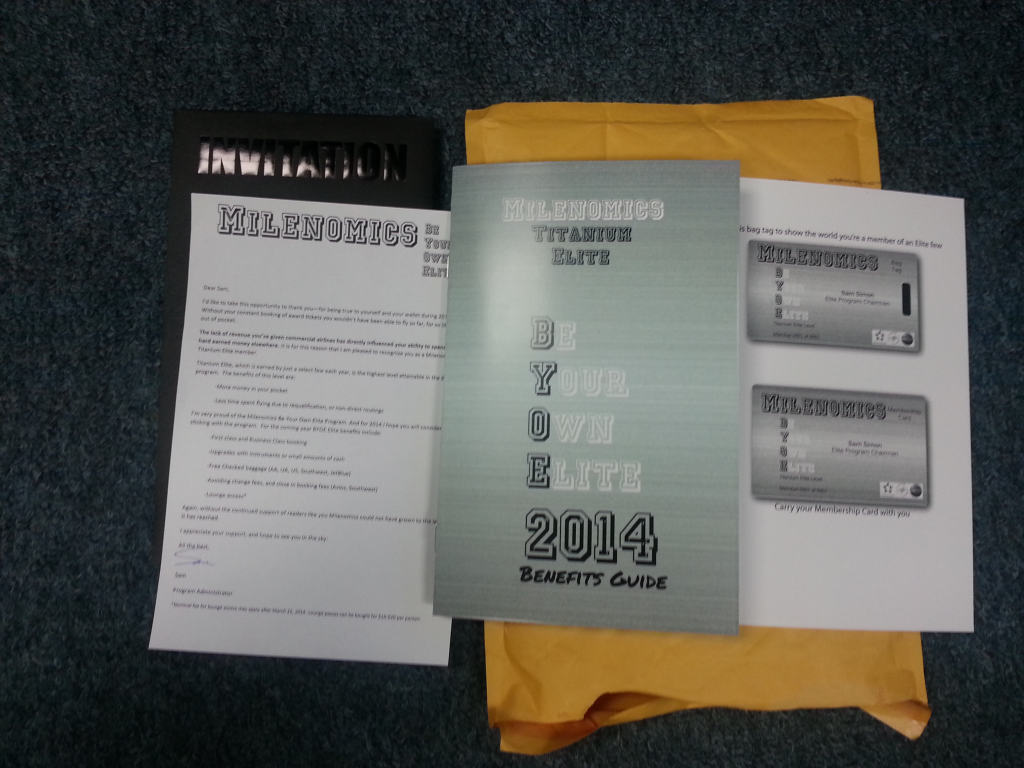 I had almost forgotten that I finished last year strong, and reached my goal of EQM-Zero.  In doing so I must have qualified for Elite Benefits under the Milenomics Be Your Own Elite Program, because the welcome kit came in the mail.  I'll do a review of the kit, and then a brief program overview.
The Outer Envelope was nothing special, but the inner envelope was a nice Black paperstock with the word "INVITATION" raised up along the edge in shiny text: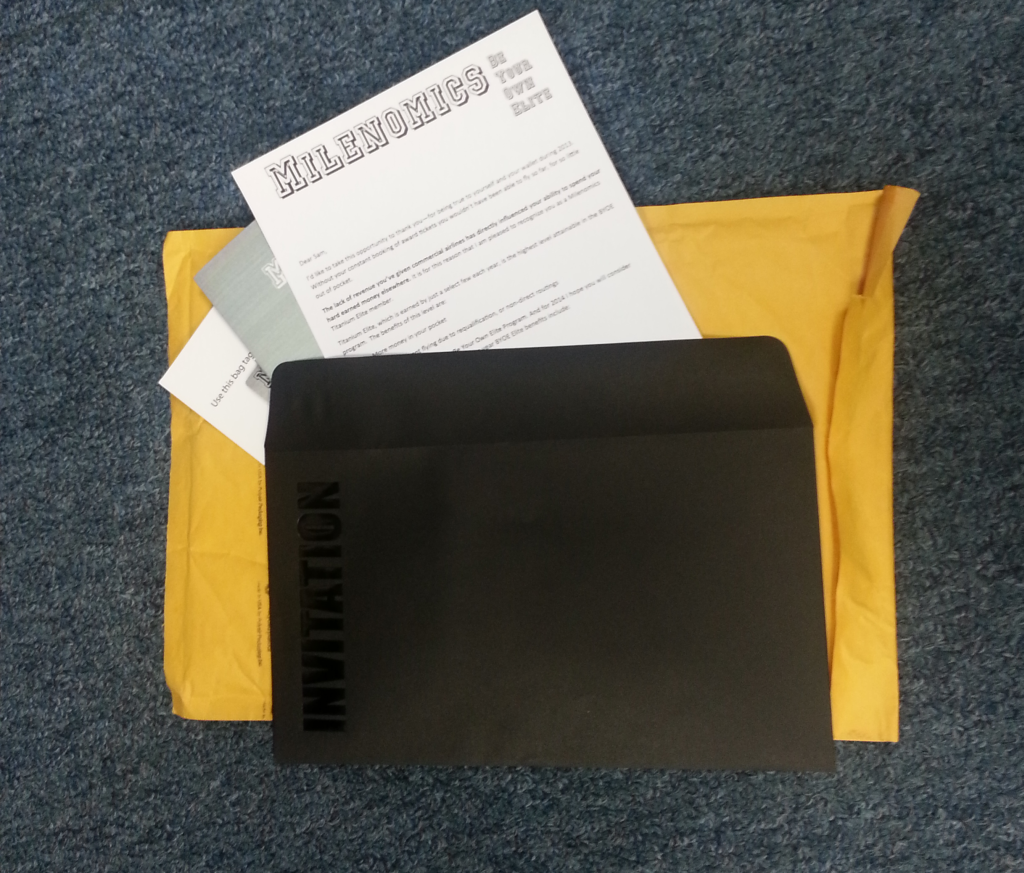 Inside there was a letter, hand signed and addressed to me: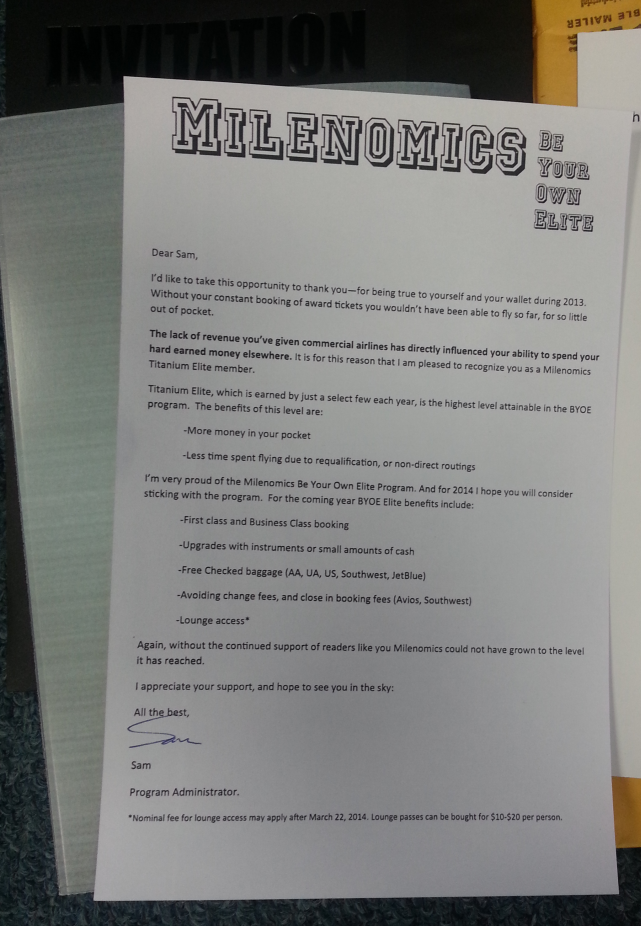 The Program benefits guide had a shiny metallic cover, with the large Milenomics logo on the front.  The back was blank, but I've included photos of both the front and back for completeness.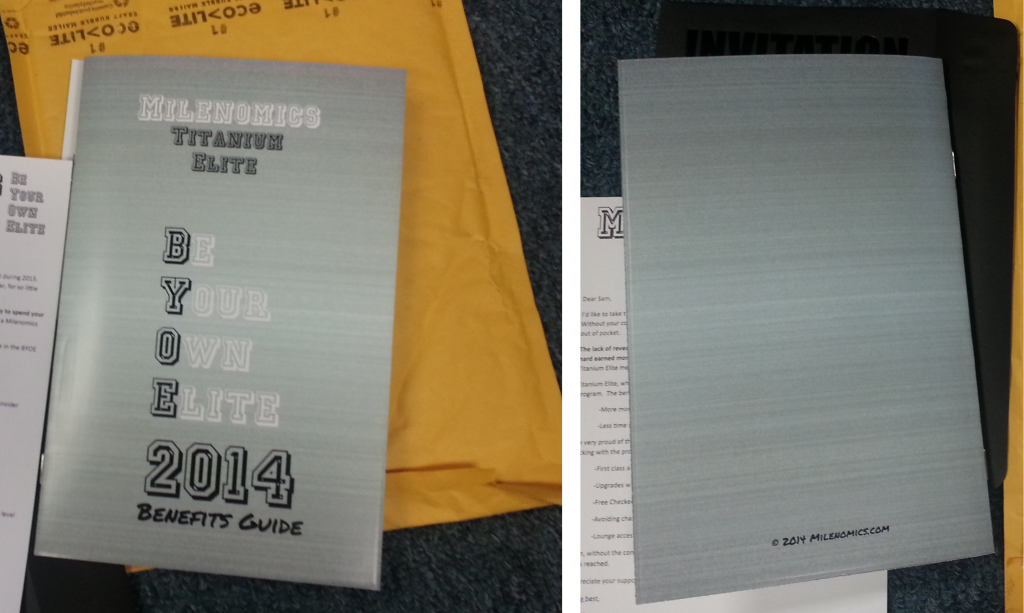 Inside the BYOE Program
Honestly the benefits guide was a little light on the details of the Program.  I'll go page by page and add in some additional information where I think it really needed to be added.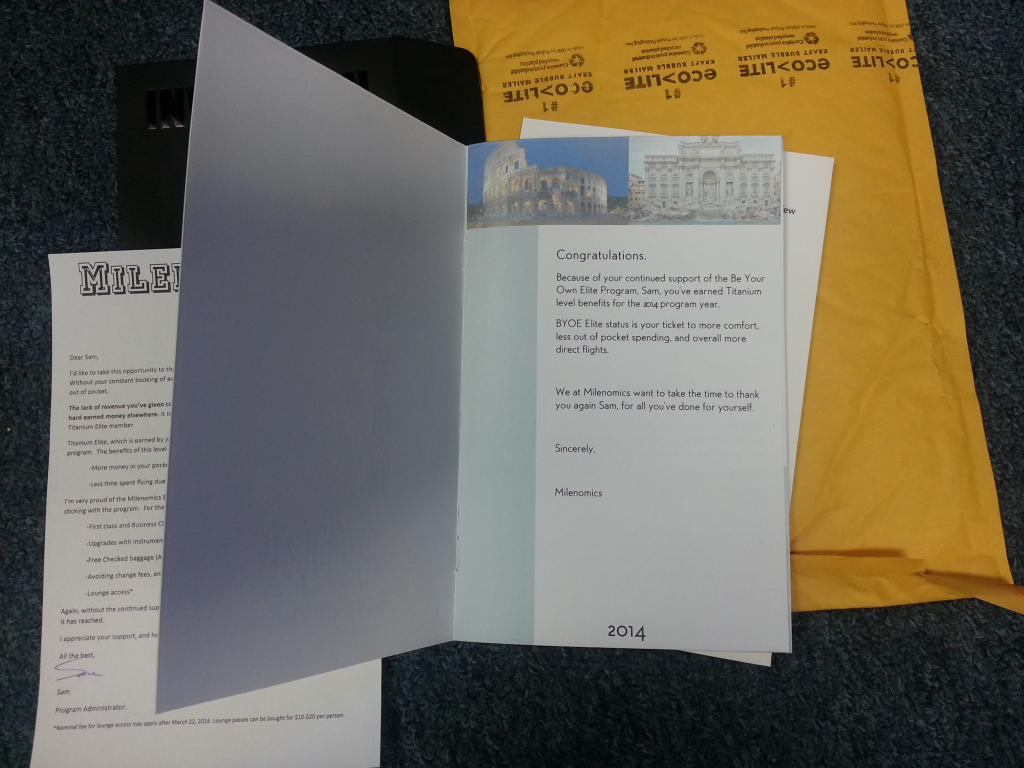 The rest of the pages outlined some of the program benefits, two of which I'd like to expand on: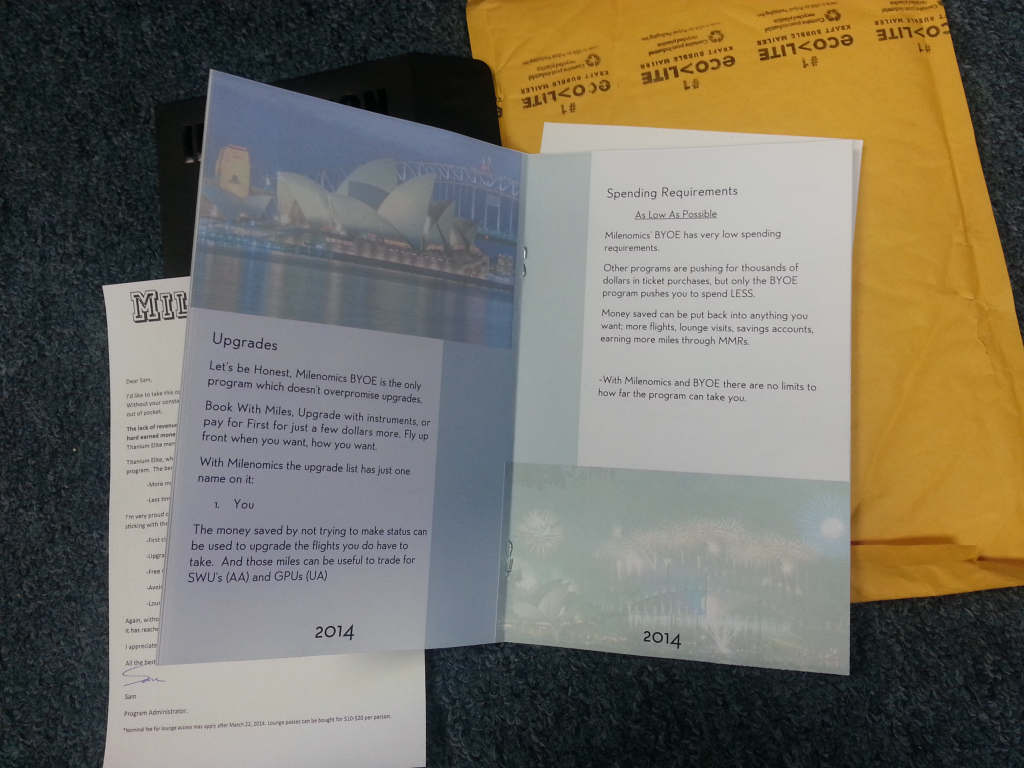 Upgrades
I felt the BYOE Program Guide Put it best by saying,
"With Milenomics [BYOE] the upgrade list has just one name on it: YOU"
Upgrading with Milenomics means either booking the cabin you want with your miles, or trading for upgrade instruments (or winning them). In fact right now is the best time to try to make a deal for an AA SWU.  Because these instruments expire, January and February are the months where your paid travel can be upgraded with them for the least out of pocket.  Right now prices for an AA SWU are as low as 8k UR. Trading for a SWU means you can upgrade a long distance paid flight, like Simon who writes Running for Status did on his LAX-NRT AA flight.
Spending Requirements
Other Elite programs serve the purpose of enticing you to spend more money.  This was only implied until last year when Delta and United both came out and said it: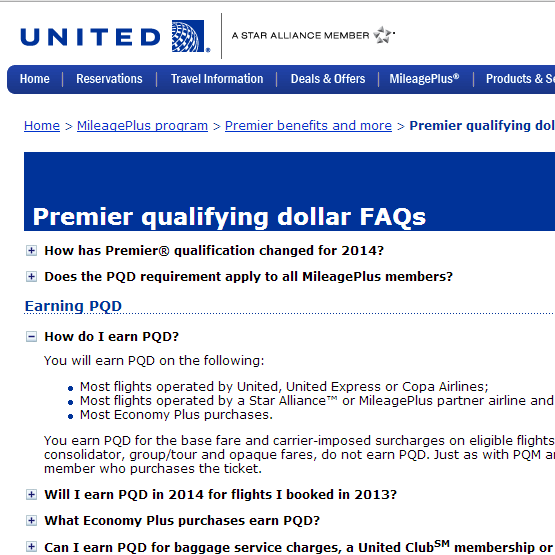 Again the BYOE Program guide really nailed it, spending should be as low as possible, not as high as possible.  The money we save can be spent on upgrades, or saved for any other purchase.
No Waiting
The two programs which most elite Travelers will sign up for are Global Entry (GE) and TSA PreCheck.  I recommend both, as does the program Guide: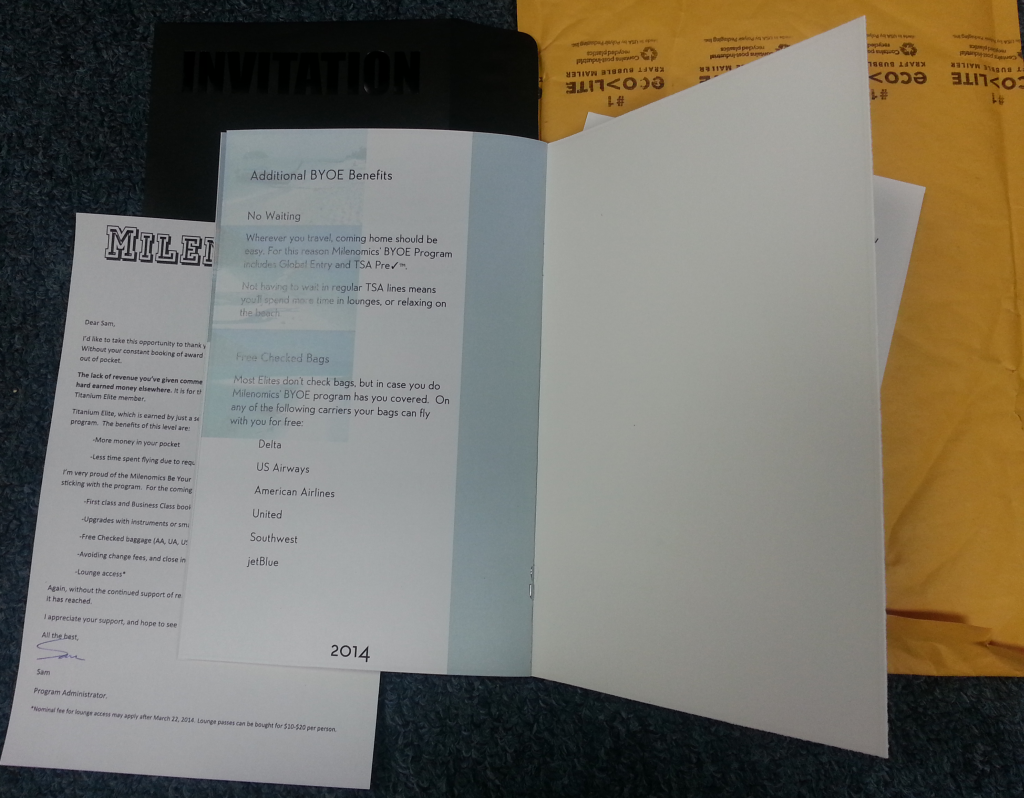 Free Checked Bags
Almost all co-braded credit cards come with a free checked bag.  Holding the right card, and pushing for an Annual Fee Waiver when the 11 month itch comes along means totally free checked bags.  True Elites rarely check luggage, so this might not even come into play if you're like me and can travel light. Jon over @ Wanderlusty reminds us of another reason to not check luggage (or at least not check everything) in a recent post about a mechanical issue.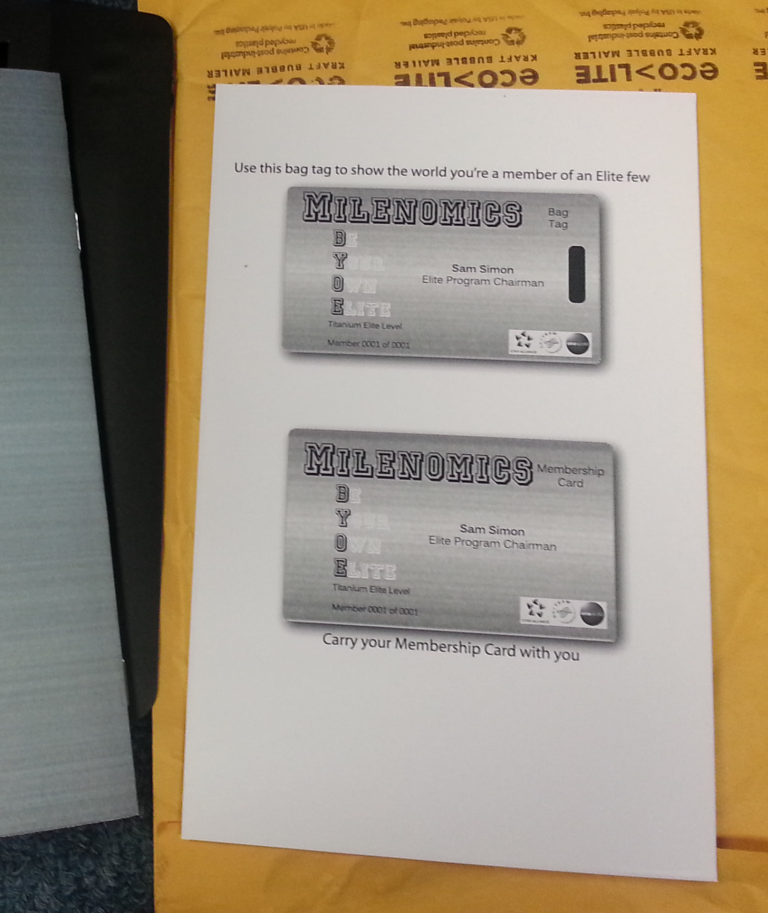 That's the program Guide for 2014.  I'm challenging readers of Milenomics to start using those hard earned miles as much as possible this year–and leave the idea of standard elite programs behind.  Earning miles by paying to fly is the most expensive way to do so.
Milenomics is about spending the least to earn those miles, and then booking trips to get as much value as possible from our miles.