Update (3/20): The Monthly fee of $5.95 has been reported to be charged as early as 7 days after activation. This is much sooner than prior reports (30 days). Be sure to drain within a day or two to avoid this fee if at all possible.
Update: On Saturday (2/1) I went to my local Safeway Brand Store (Vons) and saw the $0 fee versions of this card had been stocked.  I successfully purchased one with a CC. The package is identical to the one emailed to me last week by a reader: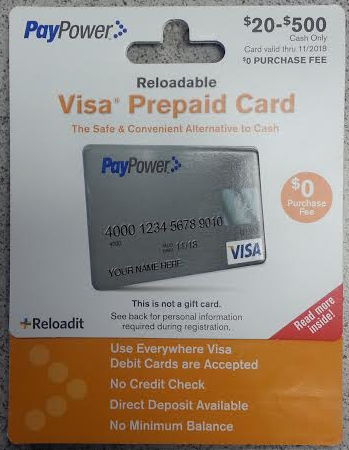 I'm changing this post from a Rumor to Confirmed–these cards are indeed going fee free.  This is still a YMMV deal since the new packages have "Cash only" as well on them, but still this is good news.
Note: I usually limit Milenomics posts to those which I can verify myself. I've done some verification by calling the nice people at PayPower. That said, there's not a 100%  guarantee that these cards are going fee free nationwide, so for now I'm keeping this as a rumor.
We've been focusing on PayPower prepaid Visa Cards over the last week here on Milenomics due to a promotion where fees are waived at Safeway Brand stores until (at least) Wednesday 1/29/14 .
Reader DCbroker mentioned new packaging in his Safeway store which mentions a $0 fee.  These look to be very new as the expiration date is 11/2018. My store still has cards with 1/2016 and 6/2016 expiration dates.
Milenomics reader Elaine was kind enough to email me the following photo of the $0 purchase fee PayPower card: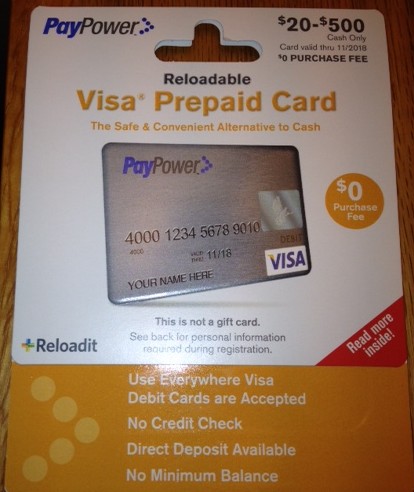 As DCBroker brought up, could this mean that the $0 fee Visa Cards are going to be around more than this week? Printing new packaging would only be done if the fee were to be waived for longer than the 1 week Safeway deal.  This reminds me of the Green Dot Fee Waivers we saw in December 2012, the card itself was printed with a $0 fee.
I sure hope the fee free cards are going to be nationwide. I've had good luck buying these at my Safeway Branded (Vons) store this past week.
Some questions I've thought about past few days:
Why are there Fee Free Cards?
When will they roll out to XYZ location?
I've done some research and have theories on the matter I wanted to share with you.  In addition we'll discuss why this is important, and what to be on the lookout for.
More about PayPower Cards
PayPower cards are available in stores nationwide, you can check for them using this store locator.  The card you buy at the store is a temporary card. A PIN Can be set on the temporary card, and can be used as you would use a Debit card with PIN, or a Visa Credit card in store. Once you register your name and information a permanent card is sent to you. This permanent card can be reloaded and reused over and over.
Using them as a reloadable card isn't a good idea. They use +Reloadit cards for topping up.  While the basic PayPower card is fee free to buy and use for PIN based transactions there are some significant fees to using a permanent PayPower Prepaid card (See back of package below).  And Finally, I'm always leery of letting a large amount of my money be tied up on a prepaid card, always keeping in mind the float rule.

Fee Free? For How Long?
I spoke to Customer Service at PayPower, and I'm going to still call this a rumor at this point, but I believe these $0 fee cards will start rolling out around the country in the next few weeks. PayPower is trying to capitalize on  the time of year–and make money not on the purchase fee, but on fees for holding a card ($5.95 a month) and other assorted fees: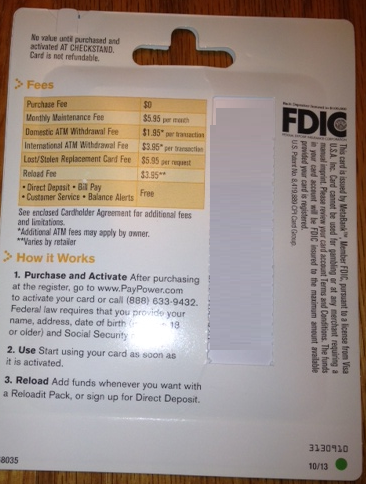 PayPower is making a big push during Tax season.  They want users to deposit their tax return onto a PayPower reloadable card, and then continue paying monthly fees and transaction fees along the way.  Should any of us ever do this? No, of course not. We're Milenomics, so we should be using these cards as best we can, for our purposes. If PayPower wants to waive fees while they try to get the unbanked into a high fee card, so be it.
In addition there seems to be an updated version of the +Reloadit reload packs rolling out in the next few months, which also seems to be tied to the push to get more users of these PayPower Cards.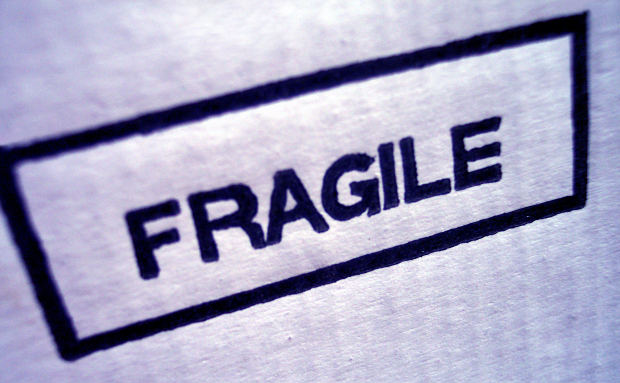 Fragile–Handle With Care
I don't usually discuss deals so openly–but this one was discovered by Milenomics readers. It is a niche deal for now, but I wanted to take some time to discuss it in more detail since the deal could go larger soon. Be on the lookout for stores which:
1. Display the $0  Fee PayPower cards.
2. Aren't hard-coded at the register for cash only purchases.
Really that's it– the only thing you'll need besides 1 & 2 is a weak link in the armor–a cashier or manager who allows the purchase.  With "Cash Only" printed on the front of the package you'll need a friendly cashier to overlook that.  If you find one, cultivate that relationship.
I usually start small–to test both the register, and the cashier.  Showing up with 10 cards and asking to put $500 on each is a good way to burn your best purchase spots–by being too greedy, or looking too suspicious.
Total Cost & Don't Forget to Close the Loop
Removing a Purchase fee should always be at the forefront of your MMR strategy.  Some of the tricks I use for removing purchase fees wouldn't last long if I wrote about them online; we could discuss them in person, and in confidence, but I won't put them on Milenomics.com.  For now, deals like this are a good way to avoid fees. Additionally, try to come up with creative ways to negate the purchase fee on your cards, such as when I discussed using Prepaid cards for online one-per-person deals. 
When I'm on a Milenomics Mileage Run I'm always concerned with three variables: Time, Distance, and Fixed Cost (Fees).  Removing the fees from a purchase makes the miles you earn MUCH less expensive.  They're not free–to be free you'd need a negative fixed cost to cover your variable costs like time and distance.  If you only buy these when you're already near a store, or as part of a pre-planned shopping trip you could discount your travel and your time.
Even with $0 purchase fee there's still the matter of getting the cash off of these cards; or as I like to call it closing the loop. With these VISA debit cards adding a PIN gives you options to close the loop. On the low end these options incur fixed costs of between $0 and $.375 per card.  Again doing this may involve time and travel–so all of that should factor into your Cost Tracking on a deal like this.
Keep Yourself (and this Post) Updated
This thread will be a debriefing of sorts for the Safeway Deal, as well as for future discussion of finding and buying $0 fee PayPower Cards.  Please feel free to share your experiences, good or bad, in this post.  Some of you haven't been able to buy these–share that too, especially if you've seen the $0 fee cards in the wild near you.
I appreciate the feedback from the readers who brought this one to my attention, this $0 fee product is here to stay.
---
Everything below this line is Automatically inserted into this post and not necessarily endorsed by Milenomics: