Note: Today's post is targeted to #101 level Milenomics. There may be cheaper and easier ways to book some of the flights discussed below if you're a more advanced mile collector or spender. Today's post is simply meant to introduce the idea of booking with United miles.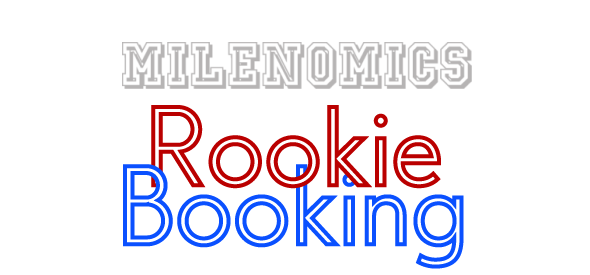 Today's post is another in the "Rookie Booking" series here on Milenomics.  Milenomics strives to teach you how to book your own tickets, and use those miles you've been hoarding for far too long.  Today's post will go step by step into a United.com booking–and then will get into some more advanced tips and finally we'll end with a free one way booking on united.com.
United.com Works Great (Sometimes)
Before you do any searches make sure you're logged into your United.com account. Chase United Mileage Plus cardholders will especially want to be logged in. As a MP cardholder you will see award seats not available to the general public.
You can do a quick award search right from the homepage, but I prefer the advanced award search which can be access from the MileagePlus Menu, and then "Book with Award Miles."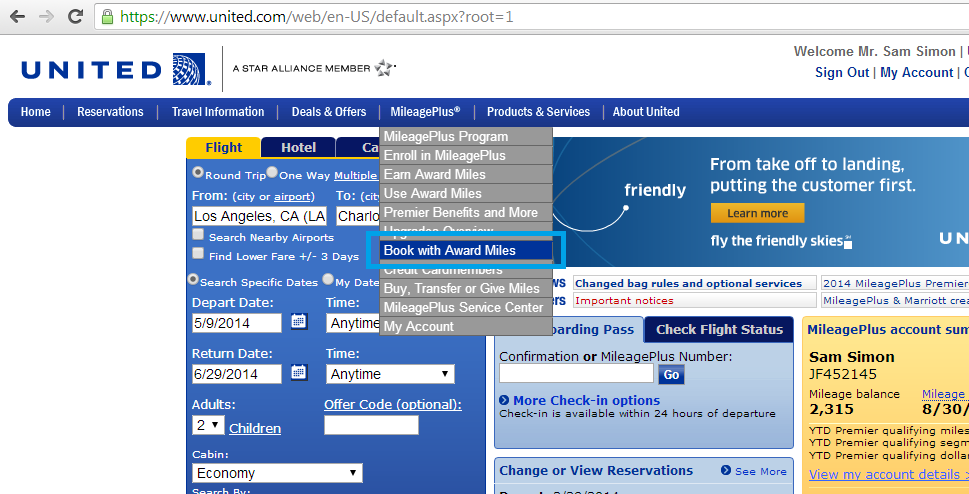 The basics of United's search engine are as follows: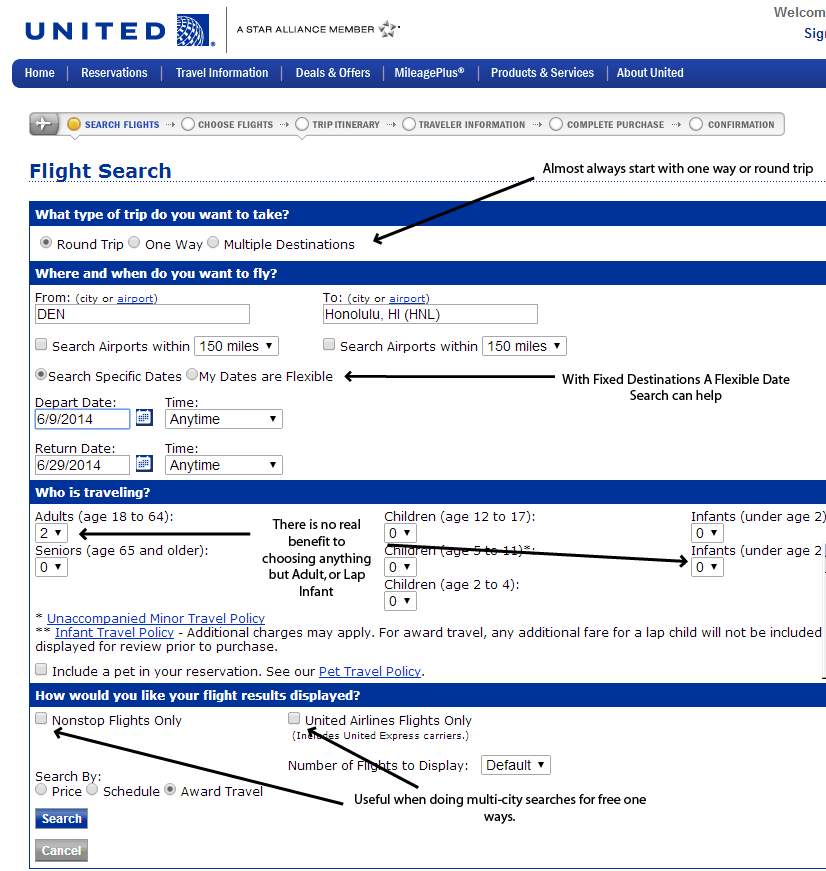 We've talked about the need for flexibility in using frequent flyer miles before here on Milenomics. Because today's booking assumes we're not flexible on our carrier (we will only be booking with United) we'll need flexible dates, destinations, or cabins. 
We'll step through two different bookings; the first for someone with a fixed destination, and the second for someone with fixed dates in mind. I'll be going step by step for each booking.
Fixed Destination: When do you want to go?
With a fixed destination in mind you'll want to have flexibility in your dates.  Today's booking example will be a family of 4 wanting to fly from Denver, CO to Honolulu, HI. Getting there with miles isn't tough, but you will need a good amount of flexibility in your travel dates to do so.
For a family of 4 we'll Start our search once school gets out–Late June, and continue it through the summer. We'll assume a 7 day trip, and we will only want to visit the one island. To do so we need the following on our search screen: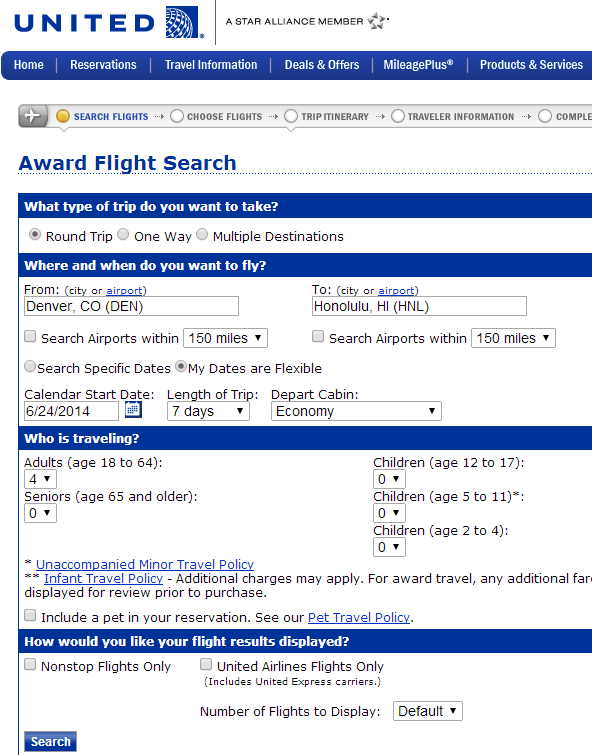 Award tickets don't have special pricing like paid tickets, so I've selected 4 adults instead of adding the kids separate. it isn't too important to select the ages of kids so long as you're going to ticket them (and you should always ticket all kids, even lap eligible infants).
Looking at All Possible Dates
The First step with a search like this is to get a feel for which days have available flights to/from your destination. Think of this first search as a fact finding mission. We want to see what dates are available for our trip. For our above search these are the outbound flights from DEN-HNL:

As we can see there are no available dates in Late June, and the only July options are the 4th of July, the 12th of July (First class only) and the 19th of July.  August has plenty of yellow (low level coach) days as well.  
Before we can settle on a date to travel to Hawaii we really need to see the return dates before we can decide which outbound dates work. I selected any outbound flight on a day in July to then bring up the return flights in July/August: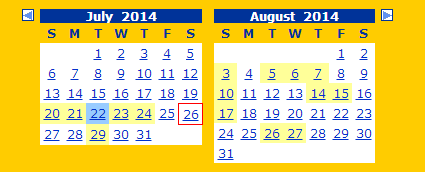 Now we can start to see the issues with finding a return flight. If we take the July 4 flight out we have no options to return until July 20. If we take the July 19th flight out we have to either cut the trip short, and return just 5 days later on the 24th, or extend the trip to 10 days and return on the 29th.
August looks much better–with Aug 2/Aug 10 (8 days) or Aug 7/Aug 14th (7 days) both close to our scheduled 7 day trip.
Pro Tip: I like to use two windows when searching complex awards on United.com, one incognito and the other in a regular browser window. In each window I do a one way search, which allows me to see both directions at once.
Checking All Possible Options
With these dates in mind we'll return to the search screen and input our new dates as a Specific Date Search.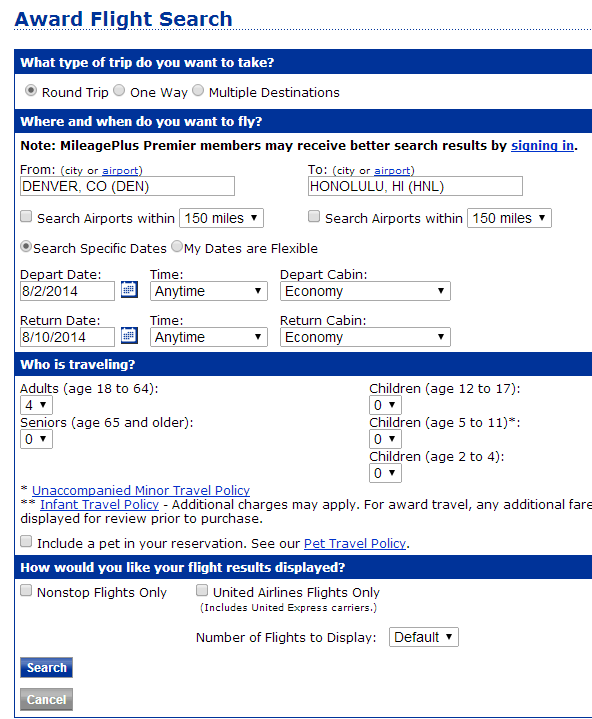 Your search will return options on the 2nd of August from DEN-HNL.  Scrolling down you'll see there is one flight available:

Before selecting this let's also check the flight out on Aug 7th. Click on Aug 7 on the calendar at the top of the search result page. This will load results for the 7th, and allow us to compare these flights. The option on the 7th is inferior (to me) to the above flight as it contains a 5 hour layover in SFO:

This means we'll focus on August 2nd for our outbound, and return on the 10th. Click back on August 2, and select the outbound flight be pressing "Select." This will now bring up the return flights on August 10th:

Clicking Select next to this flight will take us to the booking screen, where you can then start the process of adding traveler's names and information, and then pay the $10 fee per person, and ultimately ticket your trip.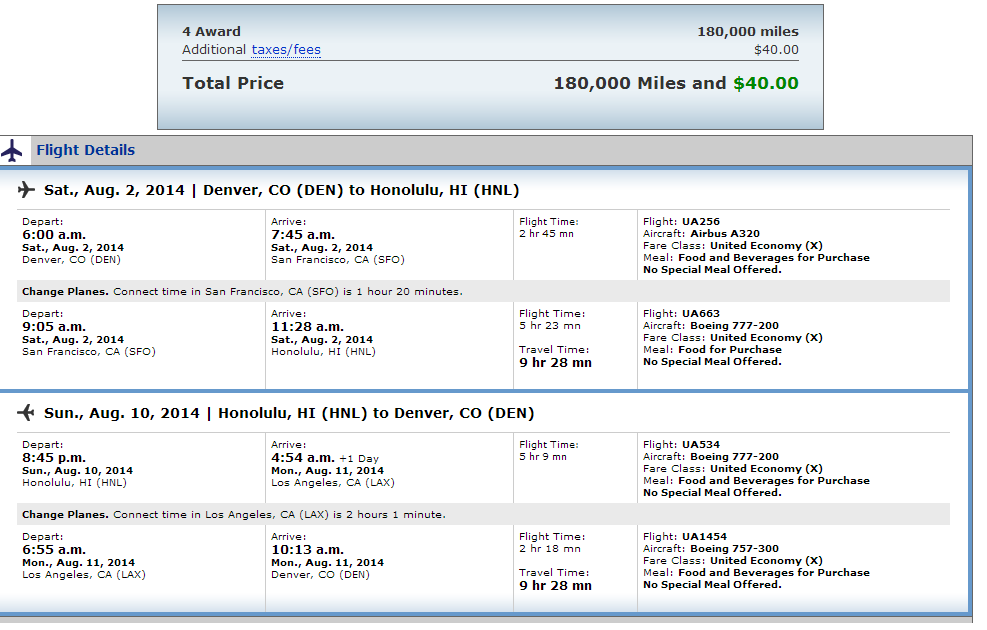 I wouldn't book this flight just yet. Remember, tickets to Hawaii on UA have the added benefit of a free one way flight. We'll discuss how to book this free one way later in this post, and I absolutely suggest using it since it costs no extra miles and just $2.50 per person.
When adding a Free one way it is important to take note of flight dates, times and flight numbers. We'll be using those later, so grab a pen and write down what you've found above.
Fixed Dates: Where do you want to go?
For this section we'll assume fixed dates of anything between July 3-10th
For Oneworld/AA the excellent AA award map helps you to find places you can go when your dates of travel are fixed. Until last week there was a similar service hosted by the Wandering Aramean's W.A.T.T. Unfortunately, United's lawyers killed this excellent search tool, which allowed you to input dates and see all possible destinations.
With no real idea of where to go in mind this is where having a Demand Schedule would help. Knowing destinations you've always wanted to go to will give you a starting point for your searches for this trip.
For now we're stuck with a brute force method of trial & error. Certainly if you have a few ideas of where you'd want to go you could do searches to those locations, and see if any have flights
I've gone through a list of places I think would be great to spend the 4th of July, and chosen the following:
Washington, D.C.
Boston, MA

New York, NY.
Each of these is a simple search, round trip from DEN-DCA, BOS, or JFK. One thing I would add to all of these searches is to use the "Search airports within XXX Miles" feature to see additional options (Especially helpful with NYC and D.C. area airports). An example of the search for these flights would be this one: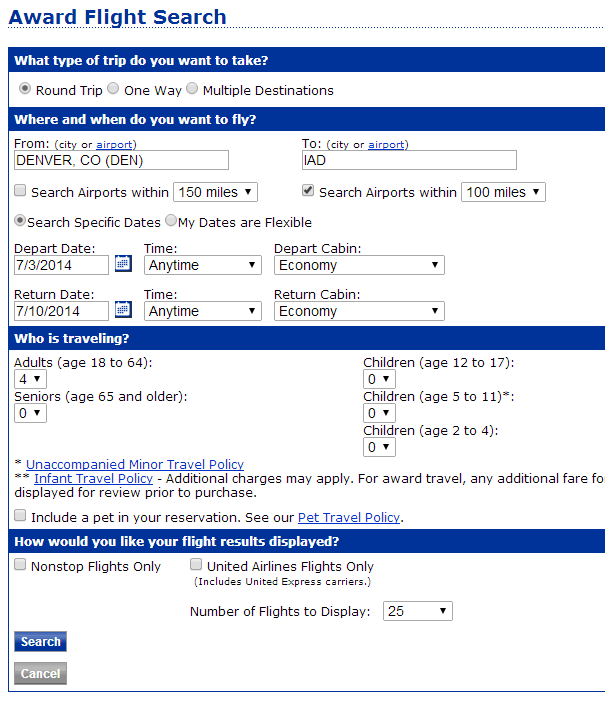 We'll want to go one by one and see if there are flights for any of our three possible destinations. When changing a search you can use the search box at the very bottom of the results page to change cities, and keep dates and number of passengers the same:

Results of the three searches are as follows:
Washington D.C.: Flights out on the 3rd with a 4 hour overnight layover, and a good retun on the 10th via IAH.
Boston, MA: Flights out on the 3rd and back on the 10th, but both directions have 5 hour overnight layovers in Chicago.
New York, NY: Some flights on 7/2 and 7/4 and really good availability Home on 7/9 (nonstop).
Again, these are just three destinations I chose, Ultimately with fixed dates you should be picking destinations off of your demand schedule. Whatever destination you ultimately pick, just select your flights, after which you'll be presented with your total:
More Advanced Booking Techniques: Free One Way Awards
As I mentioned at the end of section one of this post, the flight to Hawaii is actually eligible for a free one way flight. Let's assume we decided to go to NYC above for the 4th of July.  If we turn this into our Free one way we'd be booking our return flight to DEN for free, but would still need to get to New York.
As a general Overview, we'll book the following:
DEN-EWR (or LGA) with Southwest points or Cash
LGA-DEN (on 7/9)with our free one way, stopping in DEN for a month
DEN-SFO-HNL, HNL-LAX-DEN (8/2 and returning 8/10) as our actual paid booking, on the dates above. 
To make this booking we'll use a Multiple Destination search. The Multiple Destination search is the weak spot of United.com's booking engine.  Often times complex bookings return errors, or no flights at all. For today's flights I went ahead and just put the starting and ending points of each leg of the trip: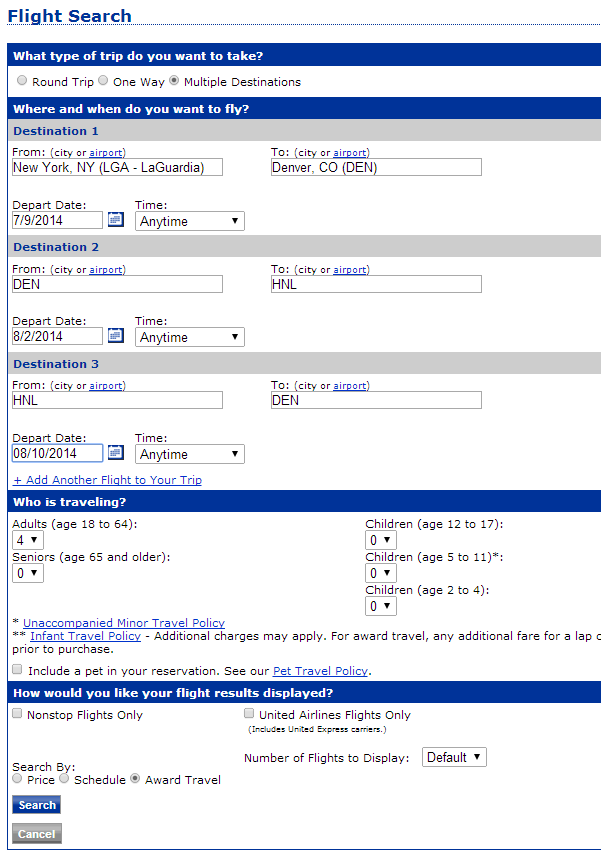 Fortunately I caught the website on a good day, and this worked perfectly. I was able to click each flight one day at a time to build my trip: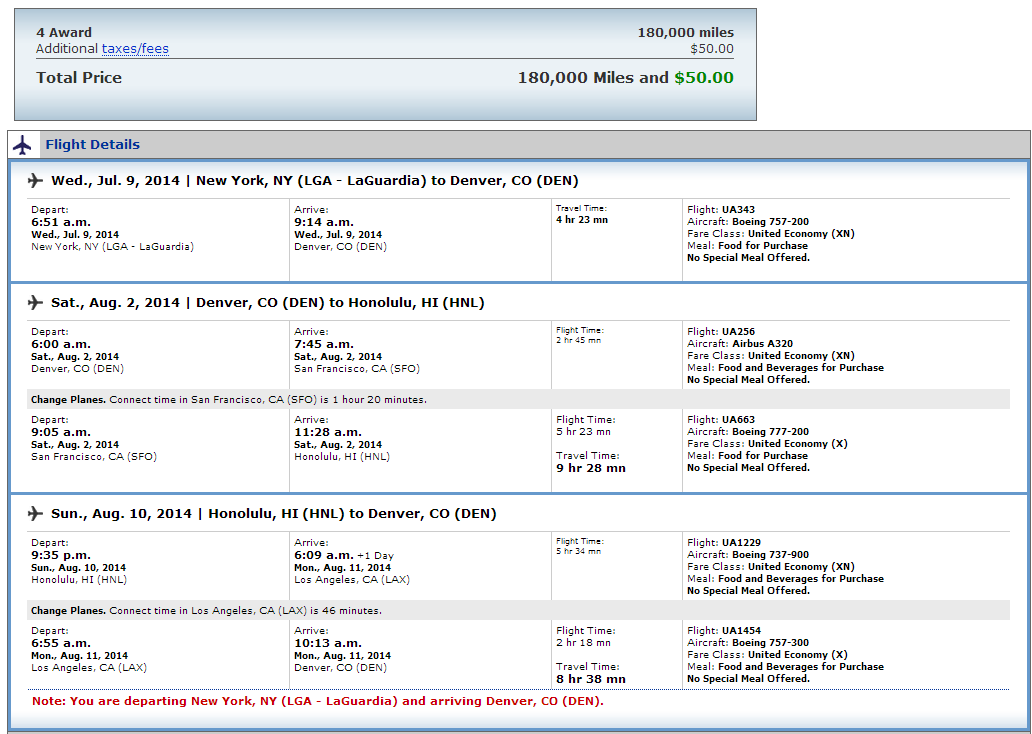 When Errors Arise on United.com
There are a few ways to force United.com to show flights as part of a Multi-City search when the site errors out. The first is to feed the exact routing. In this case, if we were having trouble I would input in my search LGA-DEN, then DEN-SFO, and SFO-HNL for the next two flights, and finally HNL-LAX, and LAX-DEN (on 8/11) for the final legs. When flights fall overnight, as well as with international flights, be careful of date changes. 
Sometimes ticking "United Flights only" and "Nonstop Flights only" will help return your flights.  Ultimately if you find a routing that doesn't work on United.com you may have to call in and ask for a phone agent's help. If you do so I'd ask for the phone booking fee to be waived (may not work, but worth a try).
24 Hour Cancellations Allow You to Practice
Booking your first award ticket can be a nerve-wracking endeavor. The limited number of award seats makes the process seem so much more difficult from booking a paid ticket. Hopefully today's post can be one you refer back to as you start to book your first United Flights.
If you're nervous, remember that United has a 24 hour cancellation policy on any flights ticketed more than 7 days from departure.  What this means is that when you book your flight you have 24 hours to cancel and have your miles and money redeposited without any fees.  Take that 24 hours to look for other options–double check your dates and look for hotel deals.  If you find something better use the 24 hour cancellation policy to get a free "Do-Over." 
As always if you have questions you can find me on Twitter, Facebook, and Email.