Update (5/29): It seems as though there are all kinds of promotions going on across the country, and most cash back discounts are not ringing up correctly at the registers. Make sure you push for the deal you've seen offered. As an added bonus numerous readers are finding fuel points for Variable Load MC's bought with groceries!
We've covered Safeway deals here on Milenomics numerous times.  In fact, this past year Safeway's agressive Visa and Mastercard promotions have been the single cheapest ways to aquire lots of cheap/possibly negative cost miles for me.

News of this current deal comes by way of Frequent Miler's Quick Deals. Reported last night, buying two variable load Mastercards at Safeway stores will knock $15 off of your total. Since two of these gift cards include $11.90 in purchase fees you're looking at a pure profit of $3.10 on a purchase up to $1,000.
Depending on which card you use, how close you live, and how little time it takes to buy and liquidate these cards it is possible to come out slightly ahead and purchase miles for better than free.  This is an excellent time to use your Milenomics Cost Tracking Sheet we discussed last week, and keep track of these purchases.
Even using a 1x Card makes sense in situations like these, but when you add in multipliers the value increases exponentially. Using a 2X card on a $1011.90 purchase would earn you 2024 miles, using a 3x cash card would earn you $30.36 cash back. using a 5X card would result in $50.60 in cash (which could buy an awful lot of lifemiles right now).
The Bad News; Not at All Safway Branded Stores
I tested this out at my local Safeway Branded store (Vons) this morning. There was nothing in the weekly circular, there was also nothing in my Just4U, and no signs around the store at all. I purchased two variable load Mastercards for $250 each, and received no discount.
I've checked circular ads for Tom Thumb in TX, Randalls in TX, Safeway in CA/OR/NV/MT and haven't found the deal in any of them.  Also Vons in Southern California doesn't have the deal. In fact the only two states I saw the deal in were Colorado and Wyoming Safeways.
I'm calling this dead at Vons Branded stores, and alive only at some (possibly CO and WY only?) Safeway stores. Please share your stores' status in the comments section. If the ad does not appear in your local circular I think it is best to assume your store is not participating in this $15 off deal.
Update: Milenomic Elaine reported that this deal is in her Just4U (Portland area), so even if you don't see it in your circular, check your J4U account. Thanks Elaine!
The Good News: Fuel Rewards on Mastercards?
An incredibly happy accident occurred from my purchase this morning. On the front page of the weekly ad for Vons is a coupon for 2x Gas points on Groceries:

I bought a soda–for $2, and of course had my coupon ready to earn my 4 points for the purchase. Instead I earned 1000+ Gas rewards for my $500+ purchase. This means that this coupon is incorrectly giving gas rewards on Mastercard Gift Cards when purchased with groceries.  
This coupon also appears in the Safeway Circular, so I'm going to assume the above glitch works for Vons and Safeway branded stores at the very least.  This would allow someone in a Safeway store footprint to triple dip:
Purchase with Mile Earning Card

Utilize $15 off of 2x Mastercard Purchase

Scan coupon and earn 2x Gas rewards
The value of 1000 gas rewards for me is $22 since I fill two cars when I use each reward. The math then works out to:
$1000 purchase:
1,000 Miles
$3.10 profit
$22 Gas Rewards
Total: $25.10 profit
Again this triple dip combination only works at Safeway stores as best I can tell, but the combination is awesome!
For those of us who don't have the ability to triple dip earning the gas points more than covers the cost of these cards, so keep an eye out for the 2x Coupon in your circular, and buy one grocery item with your gift cards.
Update (5/23): Readers have reported getting 2x Fuel rewards by adding a 2X grocery coupon from their Just4U accounts: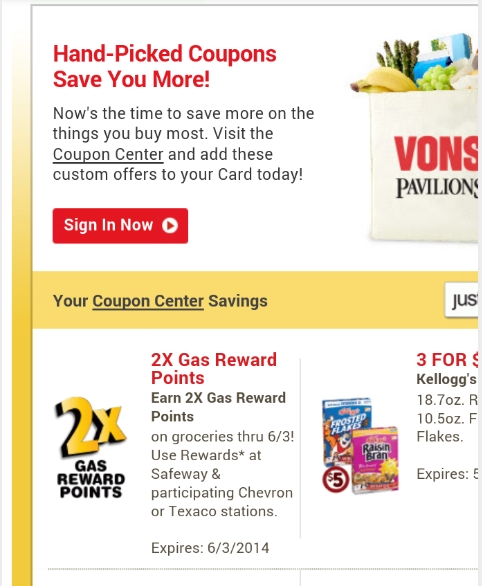 Loading this to your card, buying at least one item which earns fuel rewards (some states exclude dairy for example), and you should also get fuel rewards for your Variable Load Mastercard purchase.
Exploiting the Deal
If you have the $15 off 2 MC purchase in your circular the deal is best maximized by going the full $500 on each card. It could make sense to go lower–especially if you have a picky store, or a scared cashier.  Since it is technically a money maker at any level you could go below $500 total to not need a manager override.
There's also the issue of these being Mastercard Gift Cards from US Bank. These are notoriously tougher to liquidate at Wal-Mart than almost any other card (*Cough* *Celebrate* *Cough*), so Buyer beware–have a backup plan for liquidating these.
If you don't have the $15 off and you do have the coupon for 2x Gas rewards on groceries, buy something small, and use the coupon along with your Mastercard purchase. You won't need to buy 2 cards, so you could just buy 1 $500 card and earn $1 off up to $25 gallons of gas.  This works best if you have a Vons Gas station near you.
Note: The coupon working on Variable load Mastercard gift cards is clearly a glitch. There is no telling how much longer it will work.
As always I want to remind you of the float rule, which states: If tomorrow your ability to cash out MMR purchases went away would you have serious issues with paying your credit card bill? If the answer to that question is yes–you bought too many.  
Never assume a cash out method will exist past today.  If you have more info on the $15 off coupon, or the stores where this works please share it in the comments section.