Those of you who spend a good amount of time at Walmart have probably noticed the latest update to their POS system now has a feature for eReceipts. I use eReceipts at many other stores, and enjoy the convenience of never having to worry about losing a physical receipt. Today we'll look at Walmart's eReceipt system, how it works, and then delve into the most important question: Should you use them?
eReceipts; Don't be Surprised if No One Knows About Them
I like to think my Walmart is staffed with fairly good cashiers, but none of the ones I've talked to have known anything about the eReceipt. I've put together today's post with trial and error. If you discover something new (like google voice numbers work), leave a comment. I won't be able to test anything for about two weeks due to travel schedules.
But first, are you a business owner in the retail sector? If so, then it is no secret that you can benefit from a reliable POS system. Whether you want to track inventory and products, manage employees, or compile reports, you need to find the most suitable retail point of sale system for your business. Not sure where to begin? Comparison sites such as Comparisun can help you find the best retail POS system for your business.
My initial interest in the Walmart update was piqued when I noticed a new POS welcome screen. When you approach the new POS system you'll see two options, one to cancel, and the other to be given an eReceipt: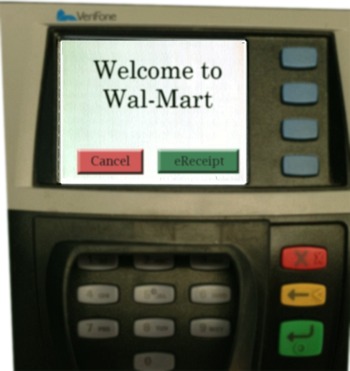 Selecting eReceipt prompts the machine to ask for your phone number: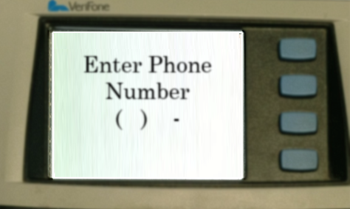 After you input your number you must confirm that you want to receive a text message from Walmart.
Once you do this your transaction processes as any other would, and the physical receipt prints out without any issues. On the bottom of the physical receipt will be a 2D QR Barcode which you can scan to retrieve your receipt online: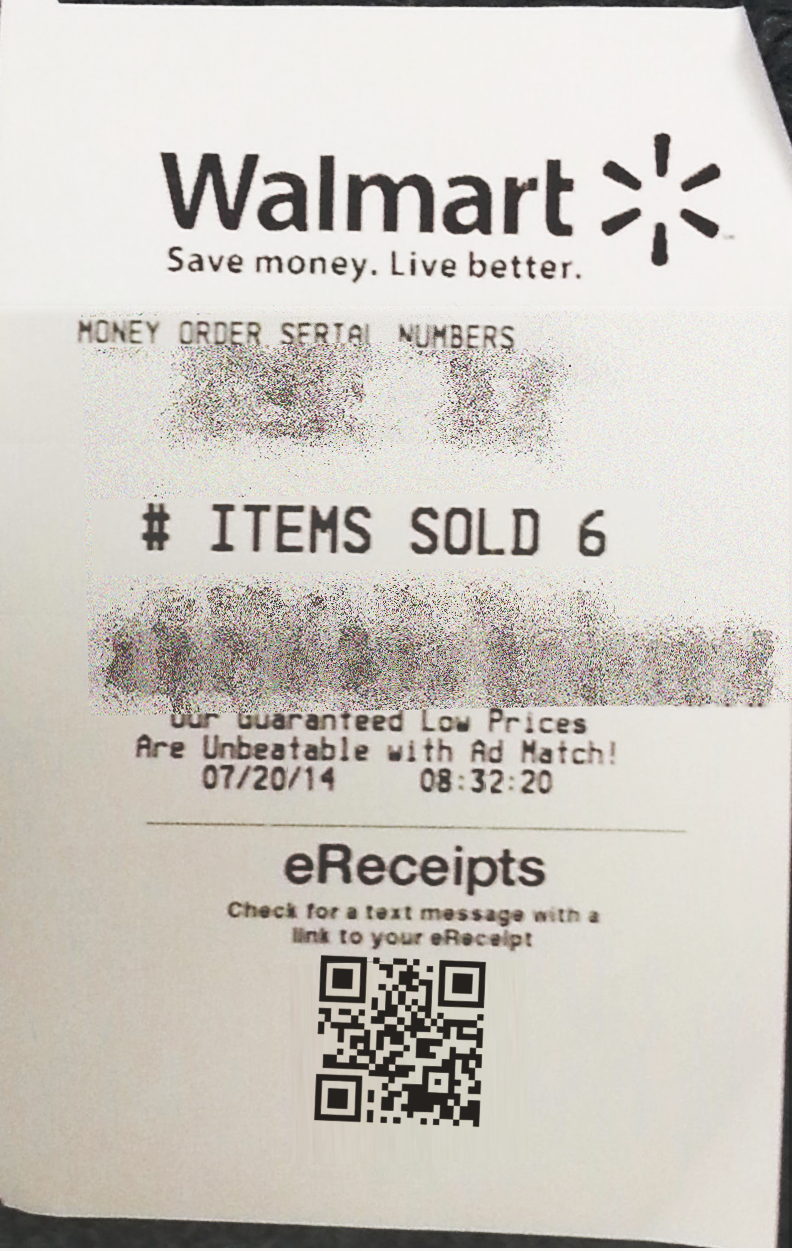 Scanning them is a good way to manage my receipts – it means I can say goodbye to my boxes full of paper receipts and transfer them digitally to my computer which makes them far easier to organize.
You also receive a text message after the transaction is complete: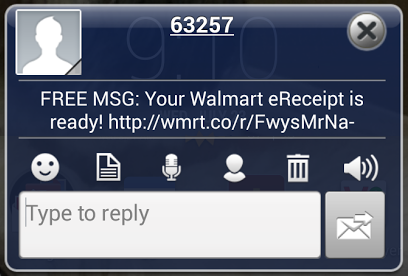 Instructing you to follow a link to see your receipt. Following the link does indeed present you with a digital copy of your receipt: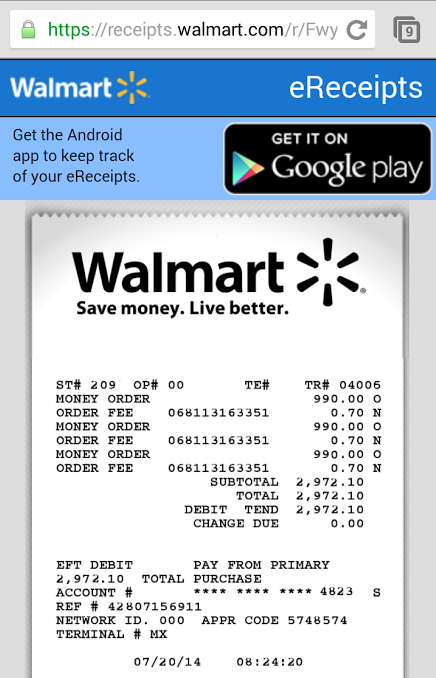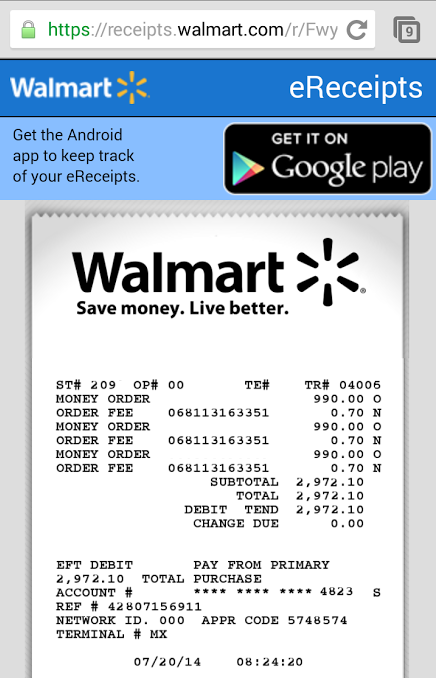 If this ability to pull up receipts was all the eReceipt did that alone would be a pretty neat way to keep track of spending. .
Features of the Walmart eReceipt
eReceipts have two components, the physical receipt and the online copy accessible via the text message sent to your phone or the 2D barcode. Add the Walmart App into the mix and you have a digital repository for all your eReceipts.
Download the app from your Appstore: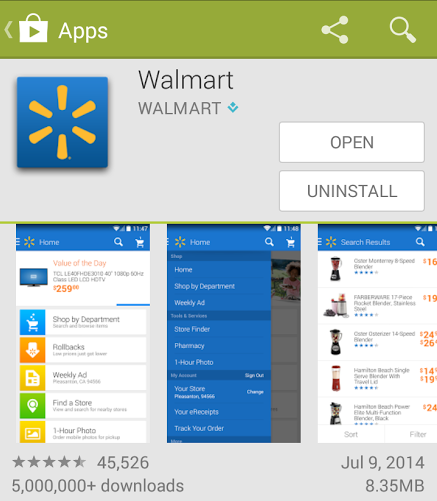 Without having to log in you can select 'Your eReceipts' from the main menu, and then scan the receipt you have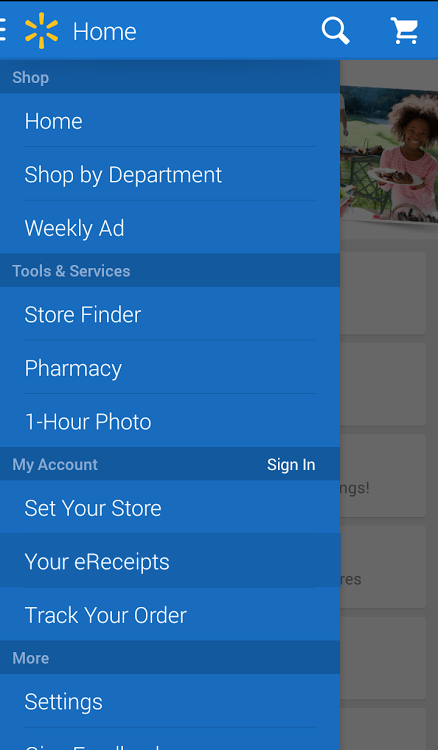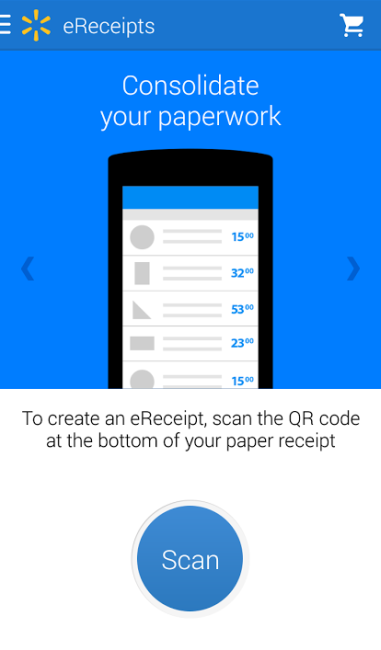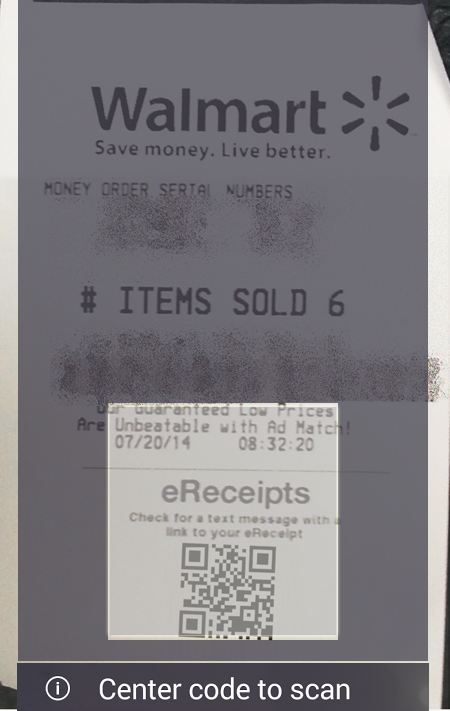 Your receipts then appear in the app itself after scanning, along with a request that you register your phone number to automatically sync your receipts: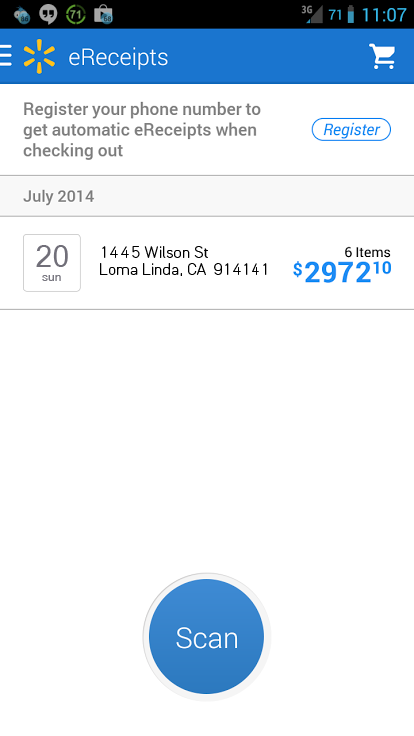 Over time you'd have all your receipts in one place, and if you choose to register your phone number the app will automatically download them all for you, keeping digital copies should you ever need them.
All in all the platform is slick, easy to use, and effective. Gone will be the days of fumbling for receipts at the end of the month to balance your books. You'll have access to all your receipts should anything go wrong with a purchase or payment.
All of this assumes, of course, that you decide to use eReceipts.
Potential Downsides of eReceipts
I've decided to not use eReceipts, and I'll detail and explain just why I'm adopting this approach.
For those of you who are small time Walmart shoppers I don't see a downside to using the eReceipts. The ability to track and keep records of your purchases is incredibly important. So much so I've created a purchase tracking tool and released it for all to use.
Why I'm not using them: eReceipts from Walmart were not created to make Money Order and BP purchases easier for you to track. They were created for Walmart to track customers and purchases.
Spend enough money at Walmart and someone, maybe a store manager, maybe a district manager, maybe someone in the corporate accounting department will be in touch with you. Giving the store more tools to track your purchases is not something I want to do. This is especially true when using prepaid cards.
I recognize I may be overreacting; but giving Walmart an easy way to track all my spending in their store and tie it back to one phone number isn't a feature I'm looking for. The tracking tools I use are good enough. If you are not able to track your spending effectively then you may want to consider eReceipts as a way to do so.
I'd suggest a cautious approach to using these eRecepts:
1. Do not use your real Phone number, possibly use a different number each time you purchase. Entering any phone number will cause the 2D barcode at the bottom of the physical receipt to print. Update: It looks possible that all receipts, regardless of whether you input a phone number will print a 2D barcode. If true, don't even bother with a phone number, and just use this barcode to grab the eReceipt and track purchases.
2. Never register your phone number in the app.
3. Always Keep hard copies of receipts.
I'm not even 100% confident in this being a successful way of using the receipts anonymously. The reason being that once you scan the barcode or use the app it is possible that WM is keeping track of receipts based on the browser or app on your phone. I want to reiterate that this information is being used by Walmart, stored and analyzed. For more on this see Haley's excellent comment below, which outlines the Terms and conditions of the Walmart app:
"[you allow us to store] the unique identifier assigned by Walmart to your device, the IP address of your mobile device, your mobile operating system, the type of mobile Internet browsers you use, and information about the way you use our mobile applications."
I know that's high level paranoia, but better safe than sorry. Where's the threshold for "safe" Walmart spending? I'm not sure, but if you have to consider it you might just want to pass on using this system.
Add it up, and I'm sure you'll be surprised how much you actually do spend at Walmart. Spending 4x$500 gift cards, or $2000 total a day at Walmart is $730,000 annually. With totally different card numbers for each of these prepaid debit cards there would be little way to link all of them together prior to this eReceipt system.
Of course there are a whole host of ways your information is already given to Walmart–either through paperwork filled out at certain purchase thresholds, or phone numbers and account #'s for bill payments. I'm asking you to consider the risks and the rewards of using this new system prior to jumping in headfirst. For some of you this will be a great system, for others you'll want to be more cautious.