I wanted to briefly follow-up on my recent posts on St. Kitts and Nevis.
We enjoyed the trip very much overall, but invariably I find myself chasing details associated with most any trip I take. Things like points not crediting as they're supposed to, billing issues, and writing reviews both positive and negative.
My goal is to be efficiently effective in these follow-ups. I try to continually improve my familiarity with the best channels to communicate with travel providers towards this goal.
Let's see how these conversations turned out…
Four Seasons Nevis Renovations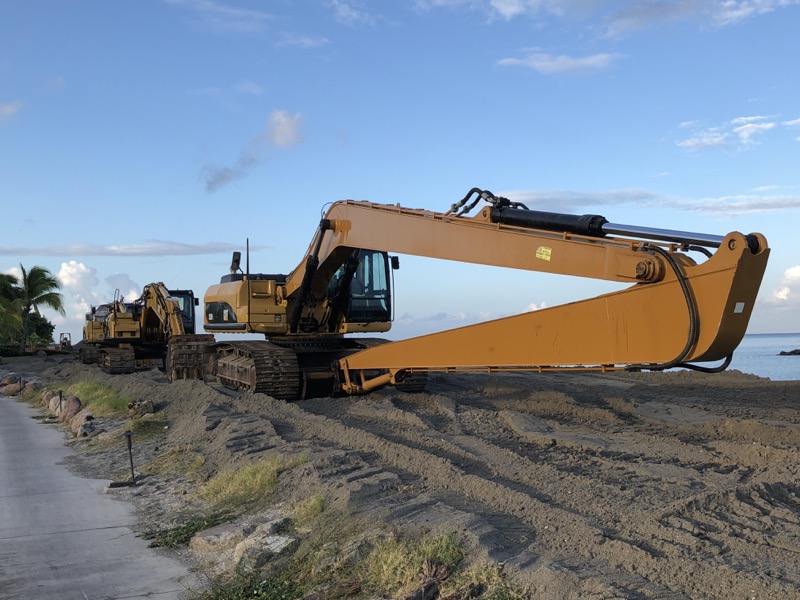 Our stay was marred by heavy construction at the resort.
Although the hotel gave us $500 in resort credit as compensation during our stay, I still paid $2,100 for 3 nights and I felt we didn't get the Four Seasons experience we paid for.
I wrote my review up here on Milenomics then followed up with feedback on the Four Seasons website. I didn't hear back on that for a couple of days so I left a review on Trip Advisor.
The resort manager followed up with me quickly via email. We connected on the phone the next day. He offered me a complimentary follow-on stay once renovations complete. I accepted the offer and will look forward to returning some time in 2020.
Key takeaway: Hotels really pay attention to their Trip Advisor reviews. I've changed my position on writing Trip Advisor reviews after this stay. For a while I felt like "why should I give them free content?". But from this experience I can see that hotels pay close attention to Trip Advisor reviews. I also want to have a thick file of reviews at other properties, both positive and negative, so I'll be leaving quick reviews on all of my hotel stays going forward.
Park Hyatt St. Kitts Breakfast Gratuity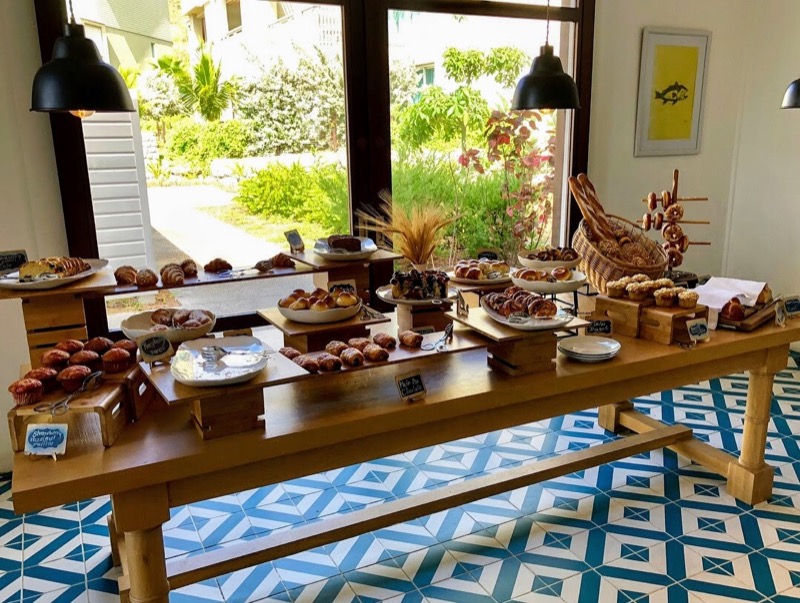 We had a terrific time at the Park Hyatt St. Kitts.
One rough spot was quibbling with the hotel about whether gratuity is included in the complimentary breakfast.
Things on the bill were a little confusing [to me].
There's a 10% Service Charge plus 12% for "IET". IET is a combination of 10% VAT + 2% Island Enhancement Tax.
These charges (22% total) is also applied to the room rate. So I felt that a tip of roughly 20% for breakfast would be appropriate for good service.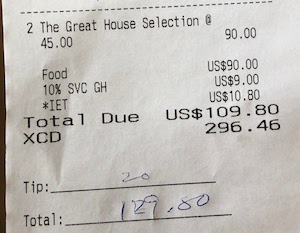 One nice thing about Hyatt is how you can monitor your charges real-time in their app. I noticed in the app that although I wasn't getting charged the $90 for breakfast I was getting charged for roughly $30 each day for breakfast through some combination of service charge and gratuity.
I called to check on this mid-way through our stay because $30 USD per day is worth fighting over for me, especially over a 4 night stay.
The front desk said they'd look into it and call me back. They never did, but when I went to check out I was only charged $20 USD per day for the optional gratuity I left each day.
I suggested that should be removed because Hyatt T&Cs say:
Globalists will receive daily complimentary full breakfast (which includes one entrée or standard breakfast buffet, juice, and coffee, as well as tax, gratuity and service charges) for each registered guest in the room, up to a maximum of two (2) adults and two (2) children.
At check out the front desk said they'd gladly remove the charges, but then the wait staff wouldn't receive a gratuity outside of the 10% service charge that is "pooled" among all servers.
That wasn't the outcome I wanted so I asked her to leave the charges in place. I then sent @HyattConcierge a DM on Twitter asking them to look into it, and give me some Hyatt points as compensation so they wouldn't have to get involved with the billing process.
@HyattConcierge redirected my complaint to the hotel and said they'd contact me directly. I didn't like this outcome because I felt this was a World of Hyatt issue. The hotel wasn't doing what the program T&Cs say they should.
So I emailed concierge @ hyatt.com. A couple of days later I got an email back from na.customerservice @ hyatt.com awarding me 15,000 Hyatt points for the confusion.
Key Takeaway: @HyattConcierge is good at handling simpler requests like "is there suite award availability at this property on these dates?". But they're not so good at handling issues like this one. An email to concierge @ hyatt.com (or perhaps na.customerservice @ hyatt.com) is a better path to take when properties don't seem to honor T&Cs.
And when you're in the Caribbean, pay attention to how much service charge is included by default. It varies by property and food & drinks are expensive so you'll want to figure it out at the beginning of your stay so you don't end up over-tipping unintentionally.
AT&T International Call Charges
While we were on St. Kitts and Nevis we kept our phones in airplane mode and only used WiFi. I called the Four Seasons a couple times before arriving to discuss the renovations. This amounted to $60 in long distance charges.
I thought I'd be okay [maybe?] making effectively a local call over WiFi but I was not. Making matters worse, my International Day Plan didn't trigger. This is likely because I didn't establish a cellular connection on the island.
So upon returning I called AT&T and said "Hey, I was charged $60 for long distances charges. If the International Day Plan had triggered for that day it should have been just $10." The first rep I got had every excuse under the sun.
"Did you call to turn on the International Day Plan before departing?" (you shouldn't need to)
"Maybe the island you were visiting isn't part of the International Day Plan?" (it is)
"I can only refund up to $25"
"You'll need to wait until the statement closes to dispute a transaction" (thanks for wasting my time!)
I called again after the statement closed and the rep quickly gave me a $60 credit which more than made me whole.
I know, I know – we should be using T-Mobile. But I'm otherwise happy with AT&T and don't want to switch.
Key Takeaway: If you're travelling internationally and on WiFi, you can still get billed for long distance calls. And they're expensive. And, at least in my experience, you need to be on the cellular network to trigger the International Day Plan.
Bottom Line
Spending a little time following up with travel providers on the way back/after a trip can be worthwhile. But you've got to be careful not to let it get the best of you.
Don't sweat the small stuff, but if you've got some legitimate issues or were overcharged try to find the most efficient channels for effective resolution.
I'll hope to do a follow-up post on the best ways to communicate with each major airline and hotel chain.