While US Airways is still around the following also works for US Airways bookings with avios. 
I'm changing how I book my Domestic AA flights. As many of you know I already book nearly all of my domestic AA flights with Avios.  The change moving forward is in how I book those flights with avios. I'm outlining this change to hopefully help you as well when you book a round trip ticket on AA with avios.
Personally it is pretty rare that I book an avios round trip award.  I love extracting free one ways whenever possible. I usually book a one way with another program and use Avios for one way flights only, either as part of a hybrid system booking, or as part of a creditwalk.ca double down booking.
However if I do book a round trip with Avios I've decided to split these flights in half, and book the outbound flight as a one way, and the return as a separate one way.  I'll outline why I'm doing this, and the benefits in both saving money and increased flexibility in doing so.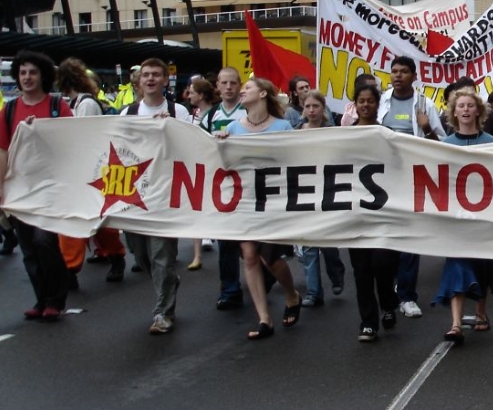 Avoid Fees Whenever Possible
Milenomics seeks to replicate the benefits of being a [mid tier] elite without the messy issue of paying for and flying all those extra needless flights.  Especially for those of us who are #101 and #201 travelers there's no chance you'd qualify for elite status based on your yearly paid flights alone.  Sitting on a plane just to earn EQM's and move up the ladder is a waste of time and money.
AA's current award change fees are really rather generous. You can change dates and flights as long as you leave the origin and destination untouched.  However they do add in a nasty $75 fee for "close in" ticketed awards, and any change to a destination will incurr a $150 change fee as well.
Today's tip nearly eliminates the change fees for changes to origin or destinations, as well as the close in fee for changes to an award that is within 21 days.

British Airways, Wallet Savior
It is no secret that British Airways avios are a great way to save miles and money.  In addition they have a great quirk for their award bookings: When you cancel your awards you pay whichever is lower: the $55 cancellation fee, or the taxes you paid on the award flight itself.  So, as long as your taxes are less than the $55 cancellation fee you simply forfeit those taxes and receive your miles back. (See the 24 hour cancellation section below for an important limitation on this).
We discussed this during the "Panic of August 24th," and many many other sites have gone over the idea of cancelling Avios bookings and forfeit the booking fee (usually <$10).
In addtion there's no close in booking fee when you use Avios. The lack of close in booking fees and allowing you to cancel and pay a very small penalty are just two reasons Avios are in my Award Tool Belt. Today's strategy builds upon these two facts to allow nearly unlimited flexibility; Date changes, location changes, and close in changes for far less than the $75/$150 AA charges, and less even still than what BA would normally charge as well.
The Secret to Never paying Change fees; One Way Bookings
To avoid ever paying BA (or AA) a change fee Book every Avios based award as two one way flights. 
Why? Because booking as  two one way flights allows you to change either the outbound or the return without a phone agent, and without paying a change fee. Nothing is worse than needing to speak to someone to make a change and being stuck on a one hour hold.
Booking two one ways has the additional benefit of allowing me to make a change while I'm mid-trip. If I need to rush home, so long as there are award seats on an earlier day, I can.  If I want to extend my trip a bit I can do that too–simply cancel the return and rebook on the day/time that fits my schedule.
Cancelling an entire round trip award is risky–sometimes AA award seats go back into inventory immediately, sometimes they don't. Two one ways allow you to cancel just the segment you want to change and not have to worry about the flights you want to keep being returned to award inventory.
Don't Change, Cancel
In this post I keep saying we can make changes for nearly free, but in reality what we're doing is cancelling one of the two one ways and rebooking.  This "change" is different than the change option Britishairways.com presents you with, a distinction which is important to keep in mind
Actually changing a BA Avios award will incur fees.  If you decide you want to change a flight and click on the "Change this booking" option you'll be presented with the following at the end of all your changes: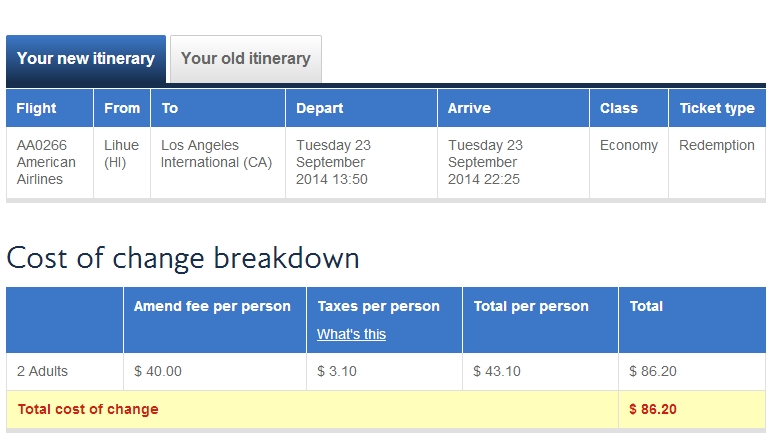 The cost isn't terrible, since this is a change to a flight within 21 days AA would charge me $75 per person for this change. But we know we can do better than this.
Instead of changing the ticket we should always cancel the ticket and rebook.  All you lose is the per segment taxes originally paid when booking: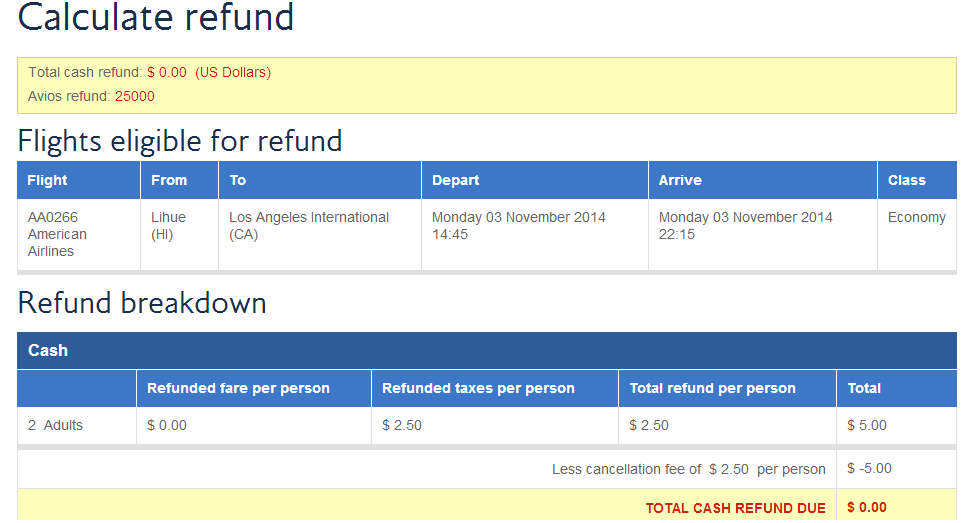 As you can see I've cancelled my previous flight and lost my taxes and fees per person. In my experience miles are refunded near instantaneously, all it takes is a simple log out/log in.  Once my miles have been returned I can rebook my flight and pay the fees again.
Tip: Make sure you bring the credit card you paid the fees with you so you can enter it in the security box on BA.com prior to cancellation.  Especially for flights booked far in advance, make sure you keep the card number so you can cancel if the need arises:

Getting around the BA 24 Hour Cancellation Policy
British Airways allows award cancellations (with refund of Avios) up until 24 hours prior to the first flight in the award. Also, no refunds are given for partially flown bookings:

This causes two problems: One, you cannot change a return if you are within 24 hours of the outbound and two you cannot cancel a partially flown award.  We get around the first issue because our return, since it is a separate booking, is not linked to the outbound.  The second issue isn't a concern because again, we're on a separate booking.
The #BYOE Upgrade/Waitlist
We can also think of this trick as a Be Your Own Elite Waitlist or Upgrade list of sorts. You book whatever flight you can right now, and then book the return as a separate one way.
When better options open up closer to departure I can cancel just the outbound flight, and rebook onto the better option without paying a close in fee.  The same is true of moving up. If a seat in the forward cabin becomes available I can cancel just that one way, and rebook, leaving my return untouched.
The Difference is in the Fees
Today's tip is incredibly simple, but the benefits are huge.
By booking two one ways and cancelling only the one you want to make a change to you pay as little as $5.60 each person to make a change.  You can also cancel a return while you're on the trip. So if you're finding a destination more interesting than you thought, or if friends ask you want to stay in town you can cancel, and rebook so long as space is available, and you abide by the 24 hour cancellation deadline.
With no last minute booking fees you can change to a better flight if one should open up. And because often times better award space opens up last minute you can book a less than ideal route or time, and set a free alert for the flight you want to take. If your alert hits cancel your other flight and rebook on the better one.  This could even save you miles if the flight is more direct!
I'm now booking all of my BA flights this way–the added flexibility is something I love.  The savings on fees is something my wallet loves.
–Sam