Here at Milenomics we always want to spend as few miles as possible to travel as much as possible. We've covered the idea of the free one way flight many times here on the site. Discussions whether a free one way is right for you, the always useful AA stopovers, my upcoming Costa Rica Trip, and the Hybrid System have all been great ways to show how/when to book a free one way award.
Last month the Double Down booking was introduced in a  guest post from www.creditwalk.ca.  This booking technique uses the stopover feature of ANA awards and the fact that many large cities have multiple airports to book free one ways, or even free round trip awards.  Today I'll expand on this using a city with just one major airport, and show you how you can use a similar technique to save.
Smaller Markets Need a Modified System
So much of what works or what doesn't work is based on where we live.  Those of us in Larger cities seem to have it made–multiple airlines, 2 or 3 airports, and all kinds of booking tricks. I realize that a lot of you don't live in major hubs, and I'm constantly trying to include smaller airports in discussions on Milenomics. I debated writing today's post about FSD, BHM or PDX, all cities I know readers live in.  Ultimately FSD won out, but all three (and many more) work equally with today's technique.
The basics of the booking method I'll outline today are that we'll book our first one way trip with a one way carrier (like WN, or AA/AS with avios, even UA miles would work), and the return will be a 3 one way flights booked Using ANA miles.  Because of this there are some restrictions on our flights:
1. Your home airport and your first destination must be served by United (or US Airways until they leave Star Alliance)
2. You could book your first one way with United miles, but in reality your home airport should also be served by AA, AS, B6 or WN.
3. Any 3 of your 4 flight segments should be under 4,000 total miles
4. Your second trip needs to also be flown by United.
That's it really.  With the above four criteria met the only other thing you'll need is a Demand Schedule.  Pulling two flights off of your schedule and booking them together is exactly why we outline all our flights.  Today we'll envision a FSD based traveler wanting to vist AMA (Amarillo, TX) and TPA, Tampa, FL.
FSD-AMA and FSD-TPA
For today's post we'll assume we want to visit both of these cities but that we're somewhat flexible in dates. In the past I've argued that Frequent Flyer Miles should really be called Flexible Flyer Miles. Today we'll use this flexibility to save miles and find dates with available award seats.
The reason for Rule #3, and wanting your 3 flights on United to fall below 4,000 flown miles is because we're going to be booking the United Flights using ANA miles.  If you remember from the creditwalk.ca Double Down posts ANA has a distance based award chart (similar to the way British Airways prices awards):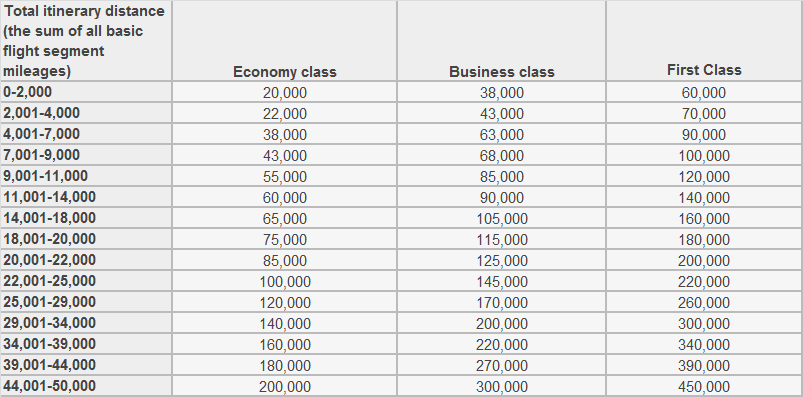 Keeping the flight under 4,000 miles means we'll pay just 22,000 ANA miles for our three legs. With our AMA and TPA trips we'll be coming close to 4,000 total flown miles.  You may want to give yourself some wiggle room so you can connect through cities which add additional miles without bumping your total over 4,000 miles.
Putting 2 Trips Together, Piece by Piece
Trip #1: FSD-AMA-FSD
The first thing we need  to do is find our flights to AMA. Because FSD is a small airport We'll want to book this flight either as a UA oneway (with UA Miles) or with Avios let's look at our choices:
American Airlines (With Avios):
I did a search for AS flights on alaskaair.com for the week of April 14th and found a good option: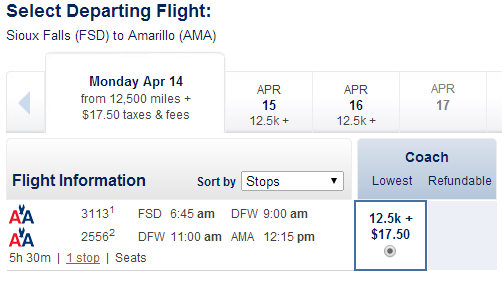 With avios this flight prices at 4,500 + 4,500 Avios.  Since booking this with United Miles as a one way would cost 12,500 I won't even go over that as an option. Our FSD-AMA flight should be booked with Avios on the above AA flights.
Return AMA-FSD on UA.  Since the ANA Bookings rely on United award space (and until they leave Star Alliance US Airways) we need to find flights home from AMA-FSD with United. Returning on April 19 looks like it will match up with the above options:

Trip #1 is complete. So far our trips look like this:
Trip #2 FSD-TPA-FSD
We've now got to find our flights to Tampa. Playing around with different dates I found the following trip in June: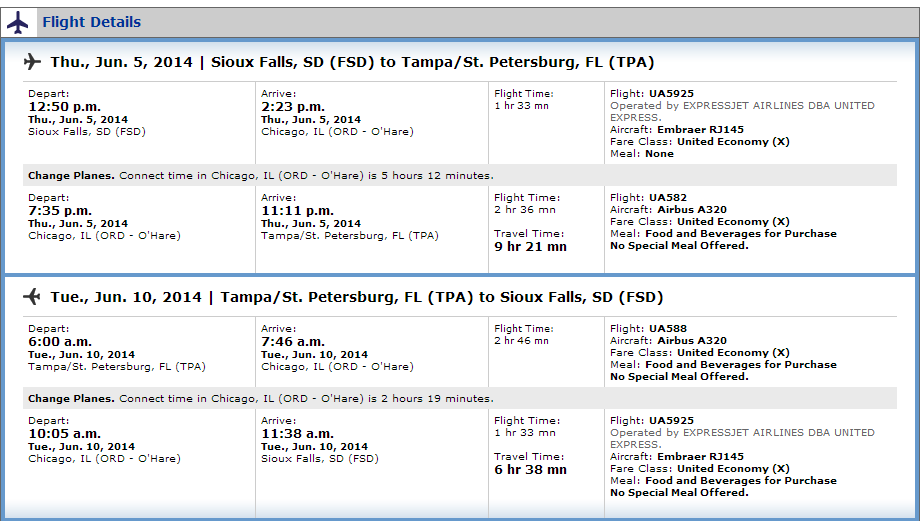 Putting the trip together we've now got two complete trips:
We're flying 3,791 miles on United, just under our 4,000 mile tier maximum.  Now we just need to book the trip.
Booking; ANA.co.jp
One of the most confusing issues with frequent flyer miles is that you can search for the same flights on many different sites, and buy the same flights on many different sites as well. The three above United flights could be bought with United miles on United.com. Doing so would cost 12,500 miles for one way, for a total of 37,500 miles.
On the ANA site we can piece the three legs together as one trip and pay just 22,000 ANA miles (transferring 22,000 Amex MR).  Getting to the search screen for this type of search is rather clumsy. We need to navigate to www.ana.co.jp and log into our account.  The steps below assume you have miles in your ANA Account, if you see something different make sure you have at least 100 miles in your account.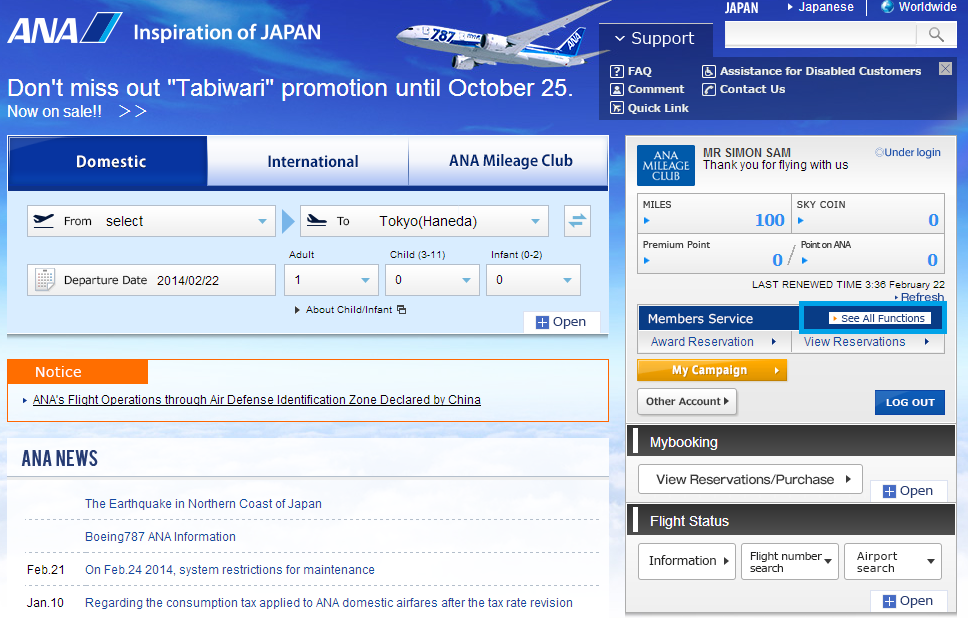 After logging in click on "See All Functions," which will pop up about 25 different options: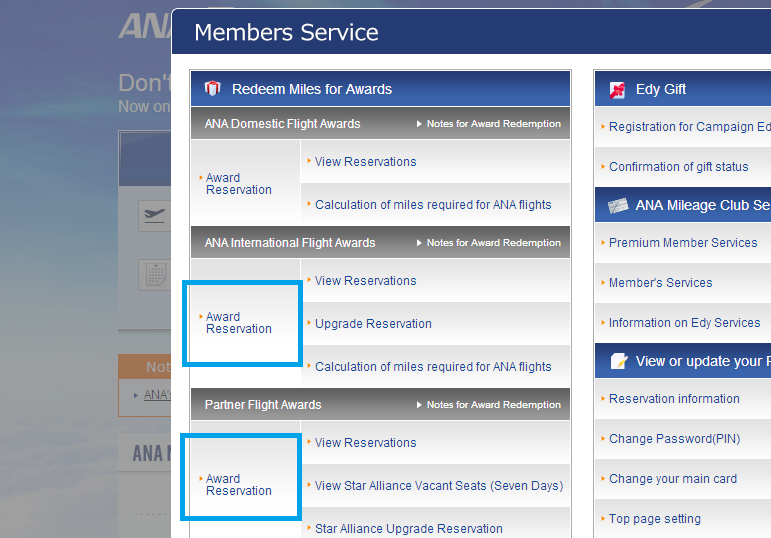 Either of these two "Award Reservation" links will take you to the same place.  Ana's website is like a maze–you sometimes get to a page and don't remember how you did it.
From there you're presented with a page which asks what type of award search you want to do: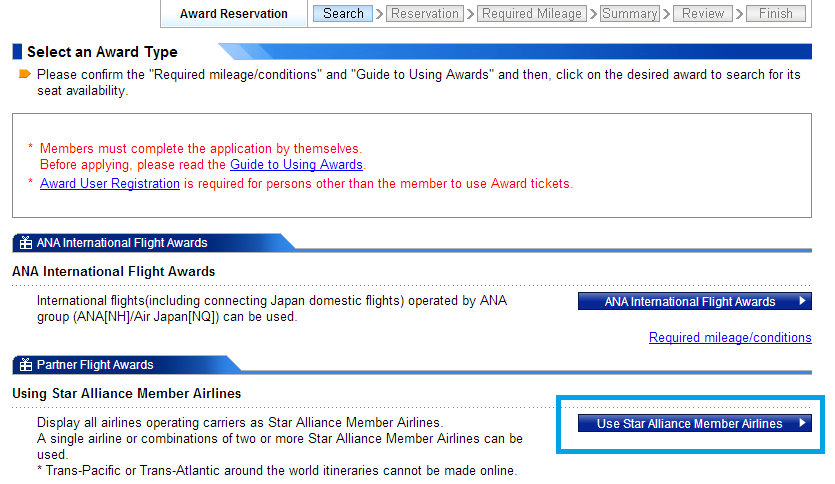 Think we're done? Nope, still more clicking. "Use Star Alliance Member Airlines" is where we want to go next, which takes us to what looks like a search page. Don't search for flights on this page: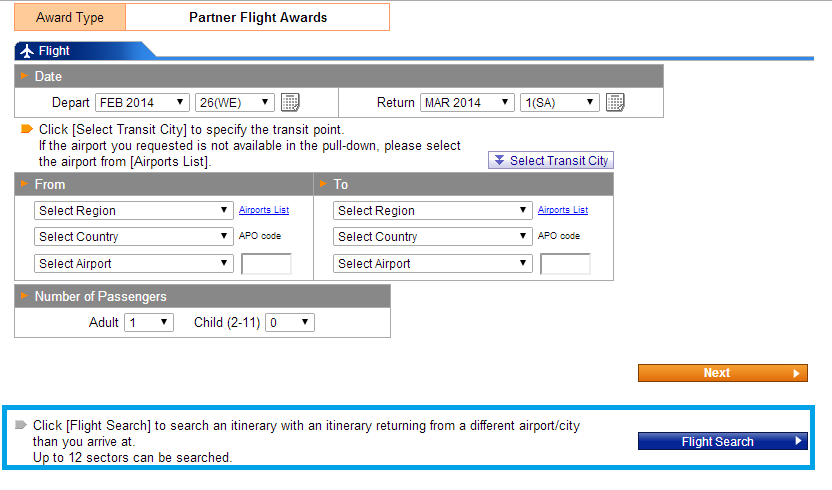 Instead scroll down and click on "Flight Search," which will take us to a segment by segment search.  From here we'll need to input our flights and dates from our above United searches: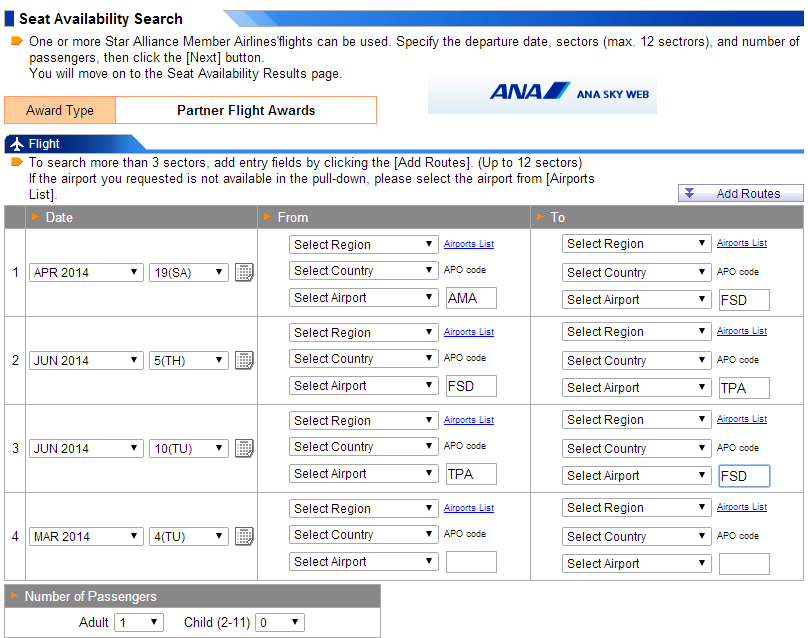 Clicking through to select the same United flights we identified above gives us a final price of 22,000 ANA miles: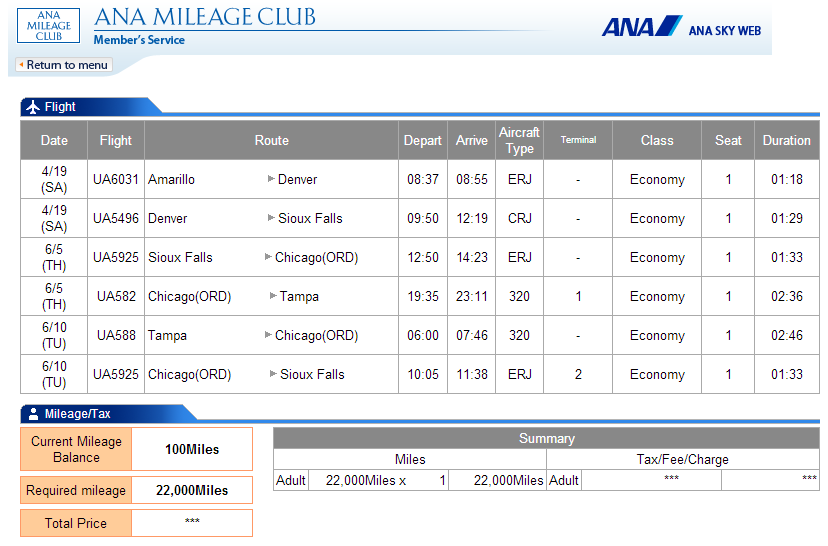 Calculating Miles Saved
If we had flown these as two round trips booked with Avios we would have paid 18,000 for the first trip, FSD-AMA, and another 24,000 for FSD-TPA. With any other miles we'd pay 2×25,000 miles. In today's booking we paid just 9,000 + 22,000 for this booking.  On the low end that's a savings of 11,000 miles, on the high end a savings of 19,000 miles.
Looking at your Demand Schedule and where you live will let you come up with your best practices for when to use this booking method.  For smaller airports and/or those only served by United this could be a great way to save miles; book your first one way with United for 12,500 miles (or avios) and the rest as an ANA award.
I wanted to write about this to get readers in smaller cities thinking more about ANA miles, and knowing that they have an option besides avios for short/mid distance flights. Since Membership Rewards points transfer to both BA Avios and ANA Mileage Club, when you can't find flights with Avios, look for seats on UA, and use those miles.
---