My wife and I went to Kauai for our babymoon and just returned. The island, the food, and the secluded beaches created the perfect atmosphere to relax and I can't wait to return. I particularly enjoyed the beaches, which often had no one on them but us.
When in Kauai, be sure to pay tribute to the local cuisine. Do not think that if the archipelago is part of the United States, then the food here is American. Although local chefs know how to cook dishes from almost all over the world, they love and appreciate the traditional recipes of their homeland most of all. Don't pass by, for example, manapua. A similar dish exists in Asia, but Hawaiian manapua is puffy and round in shape. They are rice flour buns with a variety of fillings – pork, sweet potatoes, sausage, seafood, and chicken. They are often eaten on the go, hot with soy sauce. Spam musubi, also known as a Hawaiian sandwich, is also suitable for a quick snack. You put a piece of spam (usually toasted tinned ham) between layers of cooked rice and wrap it with nori seaweed. This dish is often sprinkled with spicy herbs and sesame seeds. The local loko-moko places to eat kauai, which resembles a pyramid of a base made of boiled rice, a layer of cutlets or fish, and a top made of scrambled eggs, looks distinctive. This dish is usually topped with a dark, sweet and sour sauce.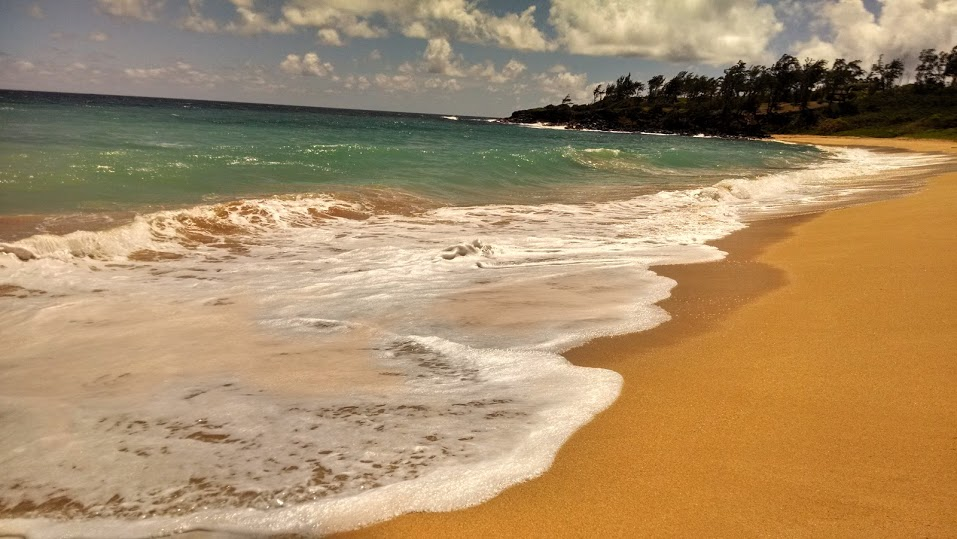 Such beaches weren't hard to find in Kauai, the island seems to genuinely value public spaces. Nearly every beach is open to the public with public parking and swimming. We're not here to discuss public vs. Private space–so I'll get right to the review.
Grand Hyatt, Large and [Not So] In Charge
Officially listed at 602 rooms, the Grand Hyatt Kauai feels every bit that large. Because the hotel is laid out in a zig-zag pattern I would estimate it is at least a 1/4 mile walk from one end to the other. That's not necessarily a bad thing–being so spread out means the west side of the hotel is much quieter as activities are on the Easternmost side of the hotel: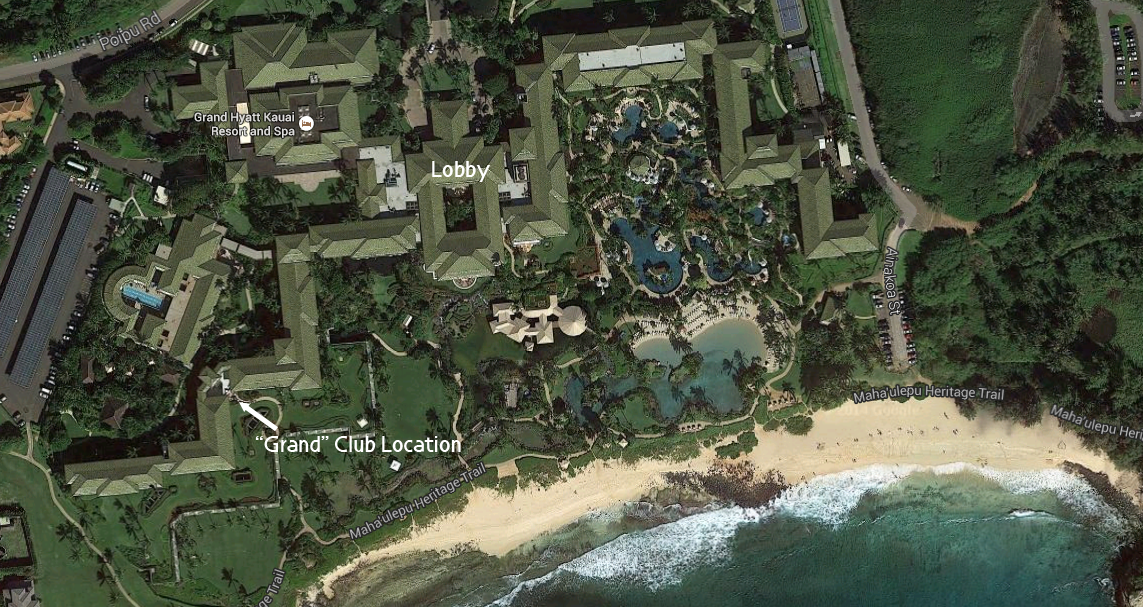 The three pools, saltwater lagoon, and the beach are all located on one side of the hotel. This concentrates the activities to this side of the hotel, and makes the western side extremely quiet. I greatly enjoyed the peace and quiet in our wing of the hotel (nearly the farthest west you can go).
We were located in a club room, which had a good view, and was on the ground floor, which meant we could walk out of our room and down to the beach or the walking trail. Indeed this is what we did each morning, to watch the sunrise. A higher floor room would have a better view of the ocean, but the patios are super small. Consider which you'd prefer; open air and walking out to the beach or a better view of the ocean when you ask for a high/low floor room.
The "Grand Club" is located on the left side in the above picture. I'll cover a brief review of the club later in this post.
First Impressions
The Grand Hyatt bills itself as a lot of things: "a remarkable hotel," "An extraordinary experience," and one where "You'll discover the true spirit of grand Hawaiian hospitality at every turn." It is none of those. I've stayed at high end properties around the world–and the GH is not a fine hotel. It is a large hotel masquerading as a fine hotel.
A beautiful flower Lei is a nice welcome gesture for guests, but what I would really have loved was a cold towel. Weather was hot, unseasonably hot, and one check in line, with 3 desk agents also meant a long wait for a hotel which should pride itself on individual attention.
It is this lack of individual attention which sorely tarnishes the GH's overall luster. As a good example, your first interaction is at the front of the hotel, where you're greeted and a Lei is given to you. You're then told to go ahead and walk inside to check in. To your left is a row of chairs with what looks like check in agents: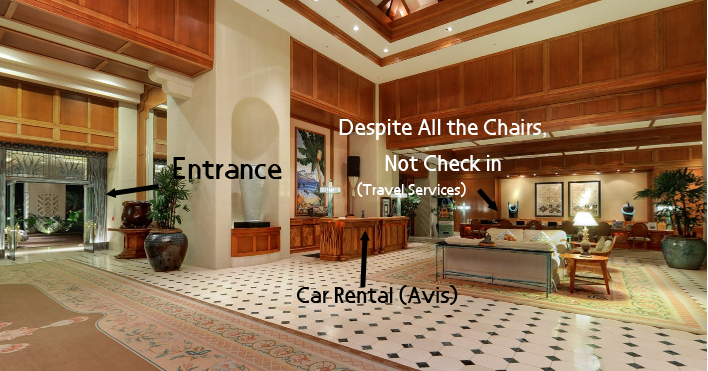 On this same side is an Avis car rental desk, which again could be mistaken for a front desk as well. To the right of you is the bell desk. Beyond that is the actual front desk.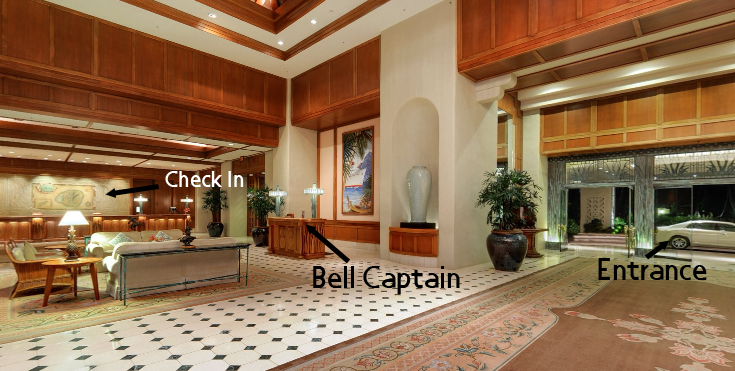 No signs anywhere explain where check in actually is. I actually prefer the look of a hotel with few or no signs, I think they can make a hotel look tacky. But to not direct guests where to go is just poor service. Ideally I prefer a personalized check in. I enjoy sitting with a cool glass of water, or the aforementioned cold towel, and someone checking me in at my leisure, while seated. Don't expect anything but a line at check in here, and no way to skip it.
Tragically Understaffed
The second you arrive at the Hyatt you're instantly recognizable as a new guest. By placing a Lei on you the employees have the opportunity to instantly notice who new guests are. Not many hotels get this type of opportunity to so clearly mark new guests. I think that is an opportunity the GH squanders horribly.
You check in and a bellhop is your sole employee you'll have a personal interaction with. If your room is on the quiet side of the hotel you have no idea where anything is–no idea how to get from your room anywhere except to the Lobby. It would have been great instead to take our bags to the room while having someone show us a brief 5 minute overview of where everything is. Again, signage is at a minimum, which is to be expected, however employees also seem to be at a minimum.
When your bellhop drops your bags you're then confronted with what to do next. I think it only natural to want to hit the pool on a hot day. How to get to the pool? We were on the 3rd floor which is actually the ground floor on our side of the hotel. So we should be able to walk there, right? Walking outside there's no clear way to get to the pool, and you easily end up in a dead end. Taking the hallways instead lead from one corridor with no employees anywhere to be found to another, and finally to a dead end, and a bank of elevators. At that point you might decided to go back up to the 4th floor and get to the lobby. Once in the lobby the only employees to be found are:
Check in staff, who are helping a now 10 person+ line of people
Car rental staff
The Bell captain, working to handle the baggage of new arrivals.
Tour Package booking agents, also helping guests.
No one is floating, offering to help anyone who looks lost. Again, with Leis on you obviously are a new guest, so you stick out pretty easily. You'll end up seeing people wearing their welcome leis walking into all sorts of odd places, and then turning around and laughing with you (or at you?) as you do the same. Find the pool? Good luck, you'll end up walking in circles. Looking for a restroom? Nope that's a closet. Need a towel? Of course! They're hidden under a staircase. Oh, and you'll need a room number and wristband for that.
The policy of having to wear a pool wristband and check out towels (while waiting in line to do so) is everything that is wrong with the Hyatt. Because Kauai prides itself on keeping beach access public, the beach directly in front of the hotel is not limited to use for hotel guests. I can imagine the pool/towel policy could be in place for this reason. Treating everyone like they don't belong there until they prove that they do is a great way to feel un-welcoming to your guests. Again, a roaming employee or two would do wonders for policing anyone who might sneak into the pool area–but with 600+ rooms I guess such a policy would be expensive to implement.
Get used to asking bar and waitstaff basic questions like "where is the nearest restroom?" or "where's the towel drop?" And then be prepared for the employee to walk away after giving answers which aren't helpful, like "Next to the Dock." (If you don't know that the Dock is a restaurant, too bad).
Missing Must Haves…Missing
The evidence that the hotel is understaffed continued to build when I realized I had no shaving cream. Fortunately the Grand Hyatt, like nearly every hotel, has a program called "Missing Must Haves" where you can order items you may have forgotten at home. The list is quite extensive: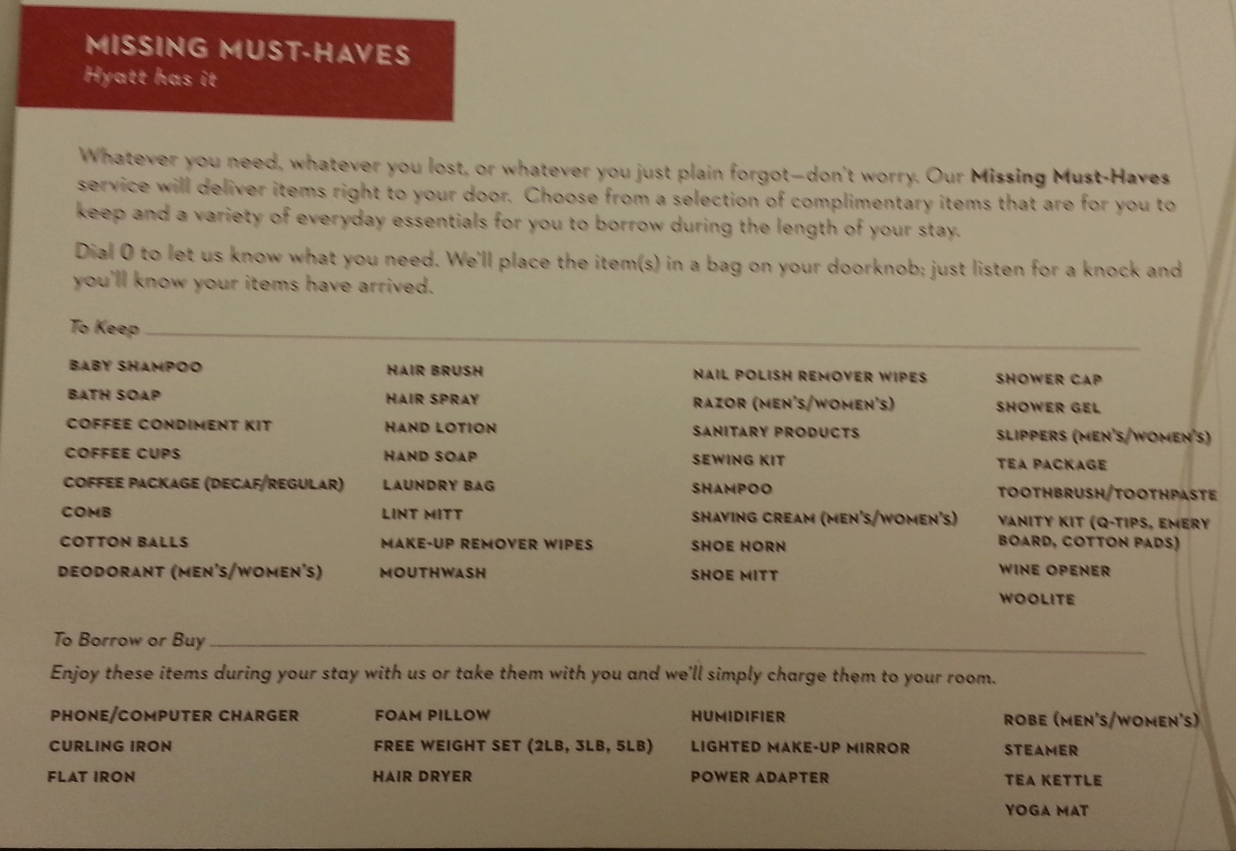 I decided to call in an order for shaving cream and some make up remover for my wife. In addition I asked for slippers for my wife and I. We got a kick out of what was delivered: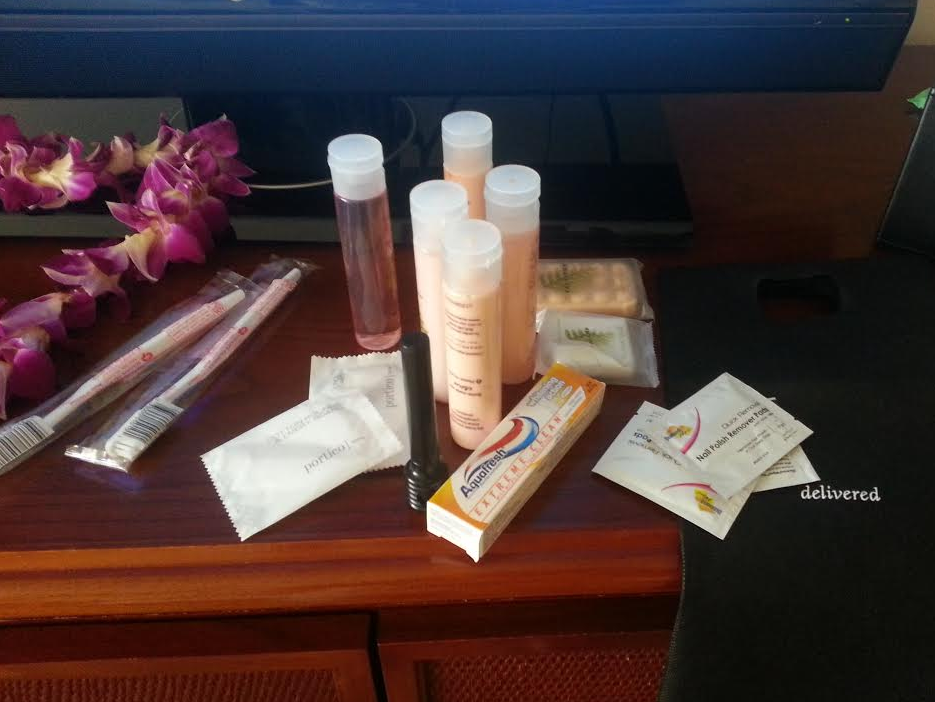 I think they might have taken the "missing" in 'missing must haves' a bit too literally. A call back fixed the issue, as 20 minutes later a very hurried staff member came with the right items. Who's order did I receive? No idea, and I doubt the GH cared to know either.
No Attention to Detail
My review of the hotel revolves around the central idea that the hotel is far too understaffed. With the exception of F&B and Housekeeping which were consistently excellent, there seems to be lack of attention to detail. And as a guest I can tell you, the details are what set hotels apart. A hotel in the worst location, with small rooms, and no pool can make up for all of that with service that is personalized.
Personalized service only occurs when staff interact with guests. That doesn't occur at the Grand Hyatt, and as such, personalized service is non-existant. My wife and I still remember the staff at a certain hotel who found out about my wife's love of tropical fruit, and somehow communicated it to other staff members who made it a point to leave her favorites every afternoon during turn-down service instead of chocolates. This is the difference from hotel employees knowing my name and calling me Mr. Simon, or even Sam, and a hotel's employees calling me "Mr. Ummm…Simon," as if they're reading it from a scrip.
The Grand Hyatt is a "Mr. Ummm" hotel, where, at 1:30am I awoke to find my room pitch black and hot:

Power was out. Not a huge problem, I've stayed on islands where power went out from time to time. By 3am however, I was worried, and my wife was too. The temperature kept us from sleeping, and we were fumbling around in the dark with our phones as flashlights.
I called the front desk to ask what was going on, a conversation which went something like this:
Me: "Hi, Our power has been out for at least an hour and a half."
Agent: "Yes Mr. Umm…Simon," (not the first nor the last employee to drop the "Umm" over the phone), "we are having an outage. The power company is doing maintenance on a transformer and power is out to the whole hotel. It was scheduled from 1am-4am, and hopefully they'll be done on time"
Me:"No one thought to inform the guests about this?"
Agent: "Didn't you receive a phone call about it? or a note?"
Me:"No. I didn't, and I actually cleared my voice mail before bed so I know there wasn't a message either."
Agent: "I have gotten quite a few calls tonight from guests who said they weren't notified either. I don't know what happened. I'm sorry about that Sir."
About an hour later power came back on, just as scheduled at 4am.
Knowing the Agent's admission that other guests complained about not being informed of the power outage, I happen to believe whole sections of the hotel were not informed about the outage.
I was expecting someone to approach me about it at some time during my stay. My call into the front desk surely would be acted upon. Clearly my room number was taken down, my upset at not being told of the power outage was noted, and action would be taken. Right?
Wrong. Not until check out–when I brought the issue back up was I able to talk to anyone about the inconvenience. The hotel and I came to a quick understanding–they should have notified guests, and they did not. A gesture was made, which was generous, and I accepted. In less than 5 minutes the whole thing was taken care of–but not until I brought it back up. That's the thing about good service–the 5 minutes it took to talk to me about this issue could have been done at any point, and the problem could have been handled quickly, but was only done upon my (now second) complaint about the issue.
To be clear; My wife and I had a wonderful trip, and none of the issues at the GH had any bearing on my relaxation or my enjoyment of Kauai or the hotel. The pools are great, the food was good, it just needs to be said that the hotel isn't anything special.
Who should book this hotel:
I've decided the hotel is perfect for two groups of people:
Families with Kids. You could spend the day at the beach, the pools, and when the little ones get tired and want to go back to the room a 5 minute walk puts them to bed easily. You MAY be able to skip a meal by using the Grand Club, but I would count on it for snacks, or desserts only, and plan for breakfast somewhere else. There is a child care program which I'm sure plenty of parents take advantage of as well. But none of those (save maybe the child care) are unique to the GH.
The second group I think would enjoy this hotel: Someone who doesn't ever want to be bothered to talk to another human being. If you're the kind of person who likes to dispense with small talk–and doesn't enjoy talking about your day, or hearing about anyone else's this could be the perfect hotel for you.
If you're interested in the island of Kauai you won't find much of it here at the Grand Hyatt. For that you'll need to walk 1/4 mile to your car, then drive anywhere else on the island. Sure the beach is nice, but like almost every other beach in Kauai it is a public beach–and you can park your car closer to the beach at the public lot than in the Hyatt's lot: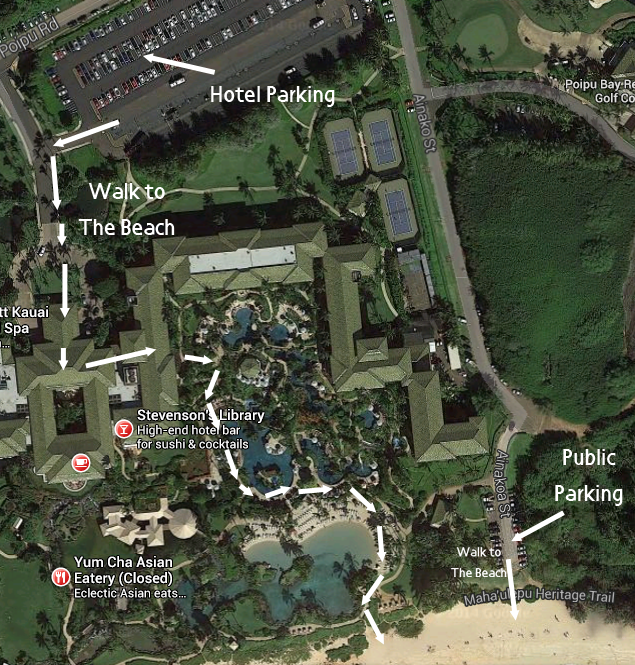 Food and Beverages, a Bright Spot.
I wanted to take a moment to review the Food & Beverages as they were quite good, the exception being the Club.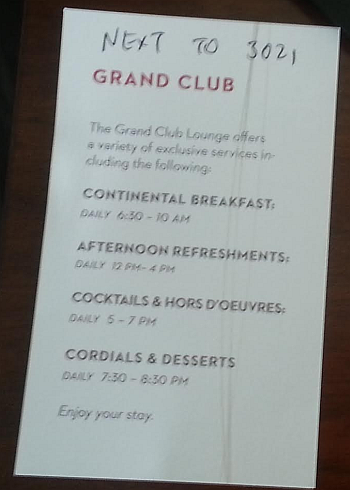 Grand Club: C+; there really isn't a good spread at any time of the day–but there is food. On our first day there we sampled everything. The food for afternoon snacks consists of nuts and chips, Dinner hours were one hot item (potstickers or similar), and then cheeses and breads.
Breakfast was what I would consider very sparse–by day 2 we decided to skip the lounge entirely and have breakfast elsewhere. I believe the lounge is the Diamond Breakfast benefit. If that is true, I feel bad for Hyatt Diamonds staying here. A single hot item (eggs), Hard boiled eggs, bagels, toast, nuts, and assorted cheeses make up the Breakfast here. Continental in the loosest sense of the word. (No croissant and no nutella)
I've been to my fair share of hotel lounges, and if you've spent any time in even a Sheraton club lounge you will be disappointed at this lounge. Non-alcoholic drink options were poor–I would have loved to see Aloha Maid juices in cans, there was Pass-O-Guava but only from the dispenser. While I didn't drink on this trip I believe all alcohol options are paid.
Coffee and tea are plentiful in the lounge–but selections lacked any local flair. Starbucks tea selections, and K-Cups for coffee were nearly criminal to be on offer when so much good coffee and tea can be found at even the smallest cafe on the island. Instead of the K-Cups opt for the espresso machine, which was what you could expect from an automated espresso machine, but was much better than the K-Cup "green mountain coffee" and other such options. In room coffee is Starbucks Cafe Verona, which I actually enjoy, but again, a local option would have been much more appreciated.
Desserts were offered from 7:30-8:30 and were passable, but again lacking in any local flavor. Plain cheesecake, chocolate covered strawberries, cookies and brownies were standard options offered. The club is also extremely far from any rooms on the east side of the resort, something to again consider when you ask for a room near the pools.
Room Service: A+; I'm basing this on dinner, but I have full confidence that Breakfast or Lunch would be equally good. My wife and I almost always have at least one meal in room wherever we go. Room service is tough to execute properly, and when it goes wrong it can mean excruciating wait times for things to be corrected. Even at the finest hotels we've stayed at room service errors occur, and so I was skeptical to say the least that my order would be ready in the 25-30 minutes I was quoted on the phone. Given the lack of employees in other areas I was not expecting room service to be handled so well.
Sure enough just before 8pm the knock on the door came. Food was very hot, tough to do in a hotel so spread out. The food was also excellent, with my rib-eye cooked to a perfect medium, and very nice portion sizes. Prices were reasonable by room service standards.
Restaurants: A-; I'm basing this on the Tidepools restaurant, the hotel has a few other options for dinner and lunch. Again, we had dinner around 7:30, and reservations were suggested. The restaurant was busy, but empty tables were easy to spot; I'm unsure if the reservation would be necessary, or if we were just there during a slow period, but the restaurant is on opentable.com so a quick reservation is easy to make.
Service was very good–from order to plates down in under 20 minutes. Food was again excellent, and I have zero complaints about the restaurant, the service or the food. Our table had a beautiful view of the stars and the Koi pond. You may be asking why the A- then. Really, with room service so good I would rather have eaten in. The menus are very similar, and so there's not really a strong reason to favor the restaurant over room service.
I cannot reconcile why service is so outstanding in both room service and full service restaurants, but so awful everywhere else in the hotel. Housekeeping was also incredibly good–with turn-down always timed to coincide when when we were out of the room.
Alternatives Abound
The real issue is that there's nothing special about the Grand Hyatt–nothing memorable. Yes the pools are nice, but Every pool is nice when it is 88 degrees outside and the sun is beating down on you. The food is great–but that's not enough to warrant a stay.
The Grand Hyatt is a victim of the island of Kauai itself. Kauai has so much to do, and everything is just so close, that there's no need to spend time in your hotel. In fact spending time in your hotel means you're surely missing something more interesting. It isn't just the size of the hotel that's an issue, it is the fact that the hotel itself isn't a destination of any sort–it is merely a hotel.
All told I thought it was an acceptable place, but surely nothing special. Save your points, rent a condo/timeshare and spend your days at any of the amazing locations on Kauai instead. And if you want to experience 99% of what it is like to stay at the GH, drive down to Shipwreck beach, have dinner at Tidepools, and consider yourself lucky to see the two best parts of the hotel.