With flights secured to Italy in April, I set out to find some family friendly hotels in Europe bookable with points.
Our inbound flight lands in London, and we're flying out of Rome so I had some flexibility with the itinerary between those two endpoints. I talked it over with the family (our boys will be 14 and 11 for this trip) and there was enthusiasm for cities on this visit. So we settled spending time in London, Venice, and Rome.
The challenges I've found with lodging in those cities are:
Finding single rooms that accommodate 4 people
Especially loyalty hotels where standard rooms (or even suites) only accomodate 2 or 3 people
Which makes leveraging hotel status difficult
Since we'll be spending just 2-3 nights in each city it also makes AirBnB-type alternatives less appealing to me. Check-in "friction" for late night arrivals and cleaning fees make alternative lodging solutions even less appealing to me than usual. I totally respect that some people love AirBnB especially for families, but I'm just not a fan.
So I set out to find some good lodging options in each city, with eye towards using Bank Points to fund them.
London
My first thought in London was The Savoy, but then I realized that was a Fairmont property and sadly the Chase Fairmont card (and its free night certificates) have gone by the wayside.
My next thought was a Hilton property like a Conrad or a Waldorf Astoria but all of those properties seemed to have difficulties with 4 people in a room.
My next thought after that was a Hyatt property to leverage Globalist status. The Hyatt Regency Churchill but that too had issues with 4 people in a room. The only room that accomodates 4 people is the Royal Suite that goes for $2,000+ a night and can't be booked with points. Finally, I checked out the Hyatt SLH properties (what are those?). Same thing: 4 people in a room was a non-starter, and those properties weren't a good cent-per-point value anyway.
I asked a friend who travels to London frequently what her favorite property was and she said the Rosewood London.
Rosewood is a luxury brand that seems to keep coming up in my searches. Honeymoon spots like the Rosewood Mayakoba and Rosewood Bermuda.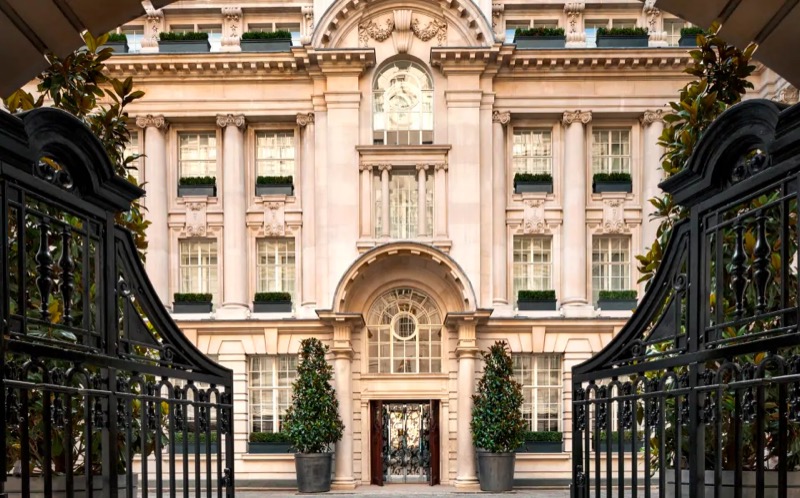 I did a search on their site, expecting to see the same trend observed at "loyalty hotels" where I couldn't get 4 people in a room. Fortunately they offer a Family Room that accommodates 4 people.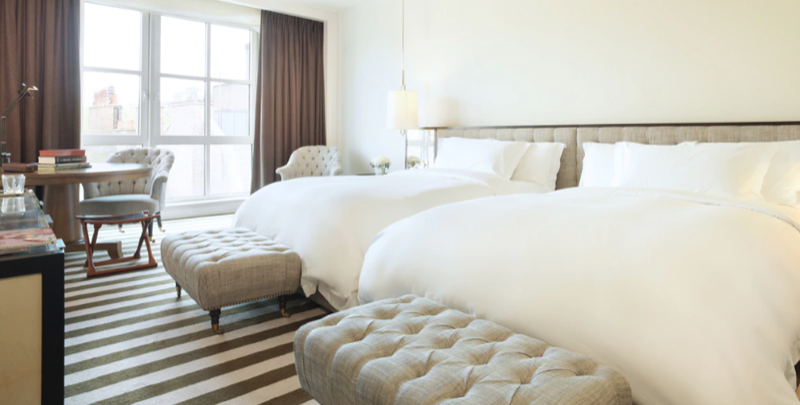 I first checked prices directly on the hotel's site. They showed a rate of $887/nt for their Family Room – smallest room that accommodated 4 people.
When I checked the same room and dates on the Chase Ultimate Rewards portal the same room was available for $664/nt. Even better than booking direct, and I could pay for it with Ultimate Rewards with 1.5 cpp uplift. Booked it. Nice deal.

Check 'em out:
Venice
My first inclination for lodging in Venice is the JW Marriott with its bi-level La Maisonette Loft Suite. And although that property is a 50,000 point/nt Marriott property and accommodates a family of 4, they tack on all kinds of additional charges for children in the room to the point where it hardly made sense to use points.
My next inclination was a luxury property like the Belmond Hotel Cipriani or the Aman Venice. But both of those were ridiculously expensive – and we'd need two rooms even if we booked a suite.
So I sought out something more family friendly in the heart of Venice and found the Hotel Flora.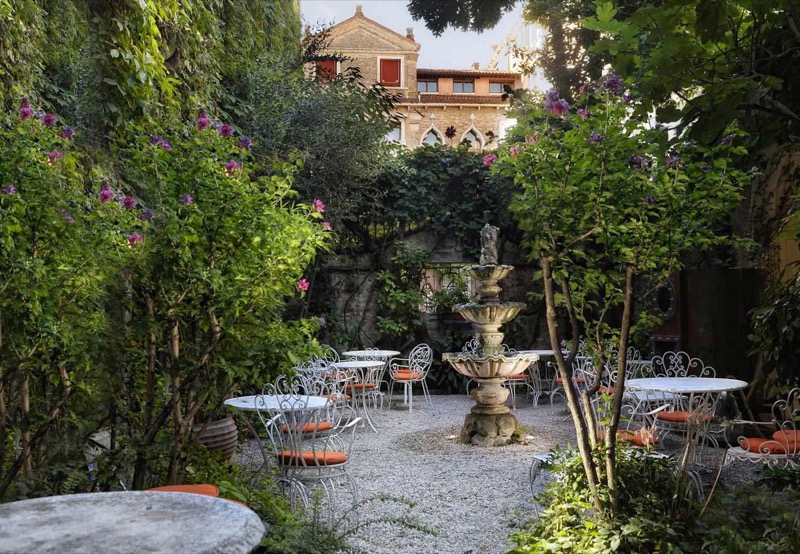 Booking a refundable "quadruple" room directly on their site that accommodated 4 people came in at $729 for two nights: $364.50/nt.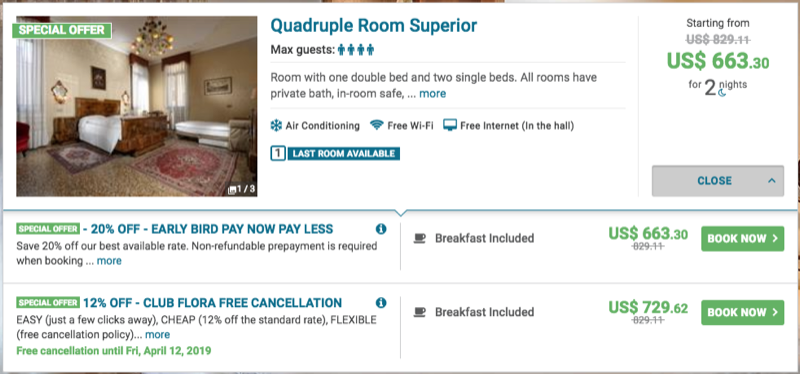 It was a little difficult to match up precisely on the Chase portal, but the most affordable quadruple room on the Chase portal was $336.80/nt. My primary concern was a room that accommodates 4 in a central Venice location with good reviews. So, another situation where the Chase Expedia portal was [a little] cheaper than booking direct.

Check 'em out:
Rome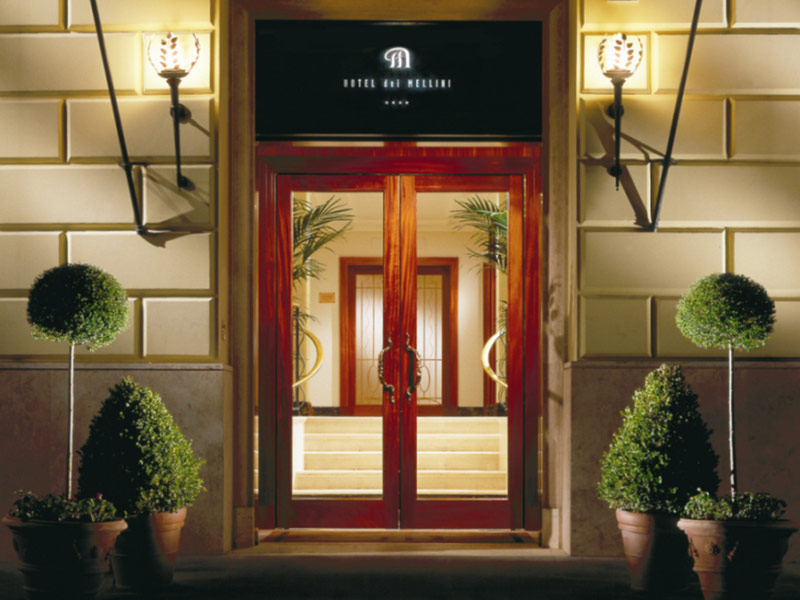 One of my favorite all-time boutique hotel stays was at the Hotel Dei Mellini in Rome. We stayed there back in the day before kids, and before we knew anything about points & miles, and had an absolutely terrific stay. At every turn the hotel seemed to provide the exact kind of intuitive hospitality we were looking for.
They too had a family room that accommodates 4. It includes free breakfast makes me think: What's the point of chasing hotel status when you can book a great hotel room that accommodates the whole family and has free breakfast and WiFi? Be Your Owe Elite!
The family room on Hotel Dei Mellini's site goes for $385/nt.

Yet again, the Chase Expedia portal prices out slightly less at $365/nt for the exact same room.

Check 'em out:
Bottom Line
I was thrilled to find that each of these hotels were not only available on the Chase Expedia portal, but they were available at good prices compared to booking direct.
I chose exactly the hotel I wanted to stay at in each city rather than shaping my tip around loyalty hotel chains. I've got a hotel in the exact location I'd like to be in each city, with just the room I want, free WiFI and free breakfast and 2 out of 3 properties. As much as I like a complimentary gonzo upgrade feels good to break free from the constraints of hotel elite status.
Each of the rooms has favorable cancellation terms so I'm free to improve my situation if something better pops up. So if you have a favorite hotel in one of these cities you think I should check out I'm all ears. Let me know?