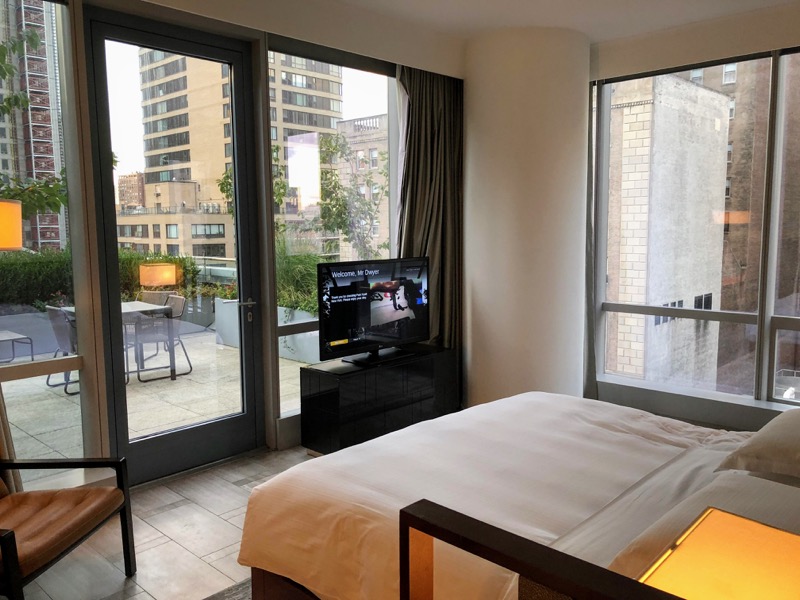 I was saying on last week's Milenomics² Podcast how I've never gotten a "gonzo" complimentary suite upgrade at any hotel.
See: Podcast: Liquidating Air Travel Credits and Triple Dipping Signup Benefits
Well, that changed with a recent stay at the Park Hyatt New York.
Booking

I needed a room in New York for one night. Courtyard by Marriott/Hilton Garden Inn properties were going for well over $500 so I had a look at what I could do with points.
Since the Park Hyatt New York is a Category 7 property it goes for 30,000/nt for a standard room. Taxes and fees at the property run around 14.8%, which would make a standard room a 5.1 cent per point redemption.
Arrival
I've got Globalist "Lite" status with Hyatt (what's that?) which means I get the benefits of status without the guaranteed suite upgrade certificates.
I arrived to the hotel around 5:30p and without any commotion at all was upgraded to a 1,000 square foot Terrace Suite.

Before arriving I checked the hotel's availability online. They showed the hotel was sold out for the night.
This was the complete opposite of my experience at the St. Regis Washington DC where suites were shown as available online, yet even when I asked I wasn't given one.
Park Hyatt New York Terrace Suite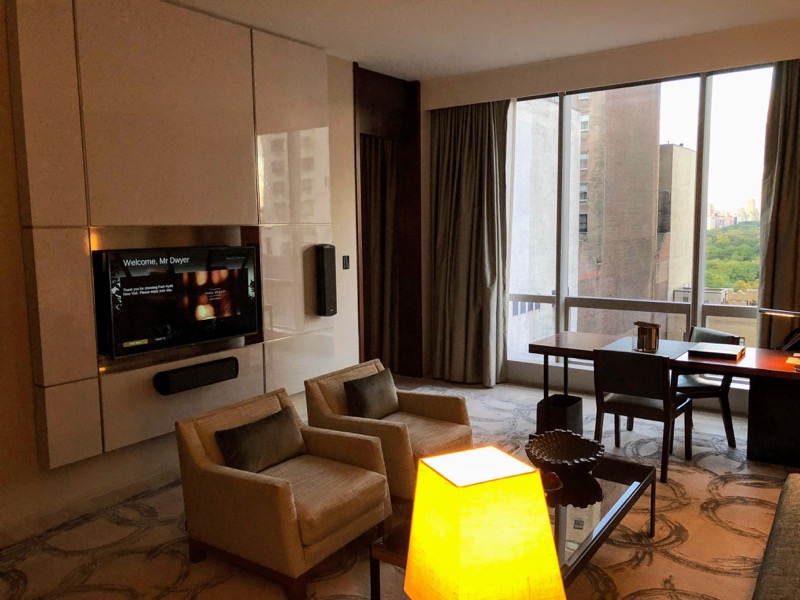 The suite had a living room, a bedroom, two bathrooms, and a terrace. It was absolutely gorgeous.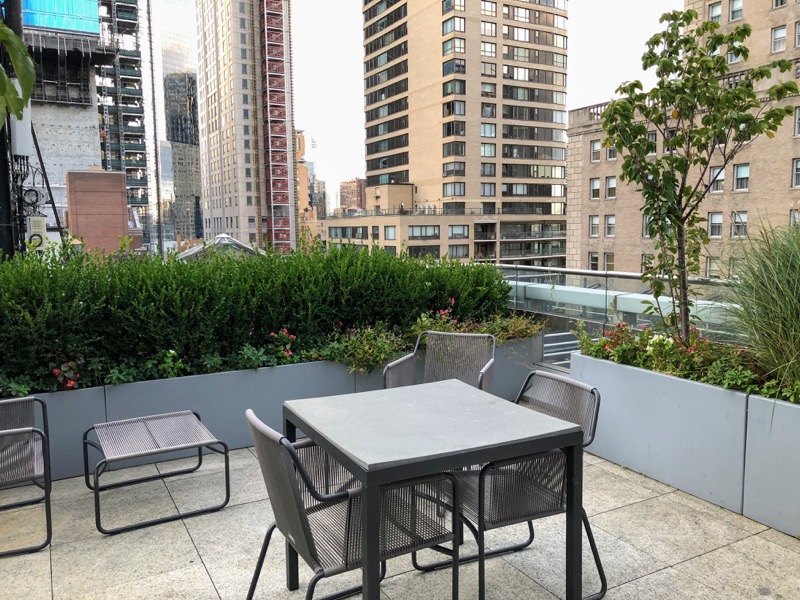 The Terrace Suites are positioned on the 19th floor of the buildling with distant views of Central Park.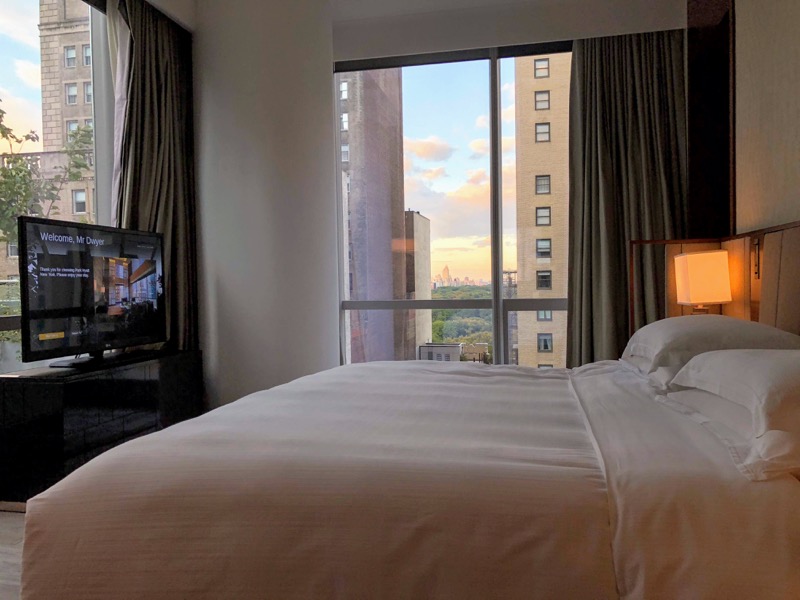 It was a bit chilly outside to take advantage of the terrace, but the overall ambiance of the place was like "Man, if this is what living in New York would be like I could get into this."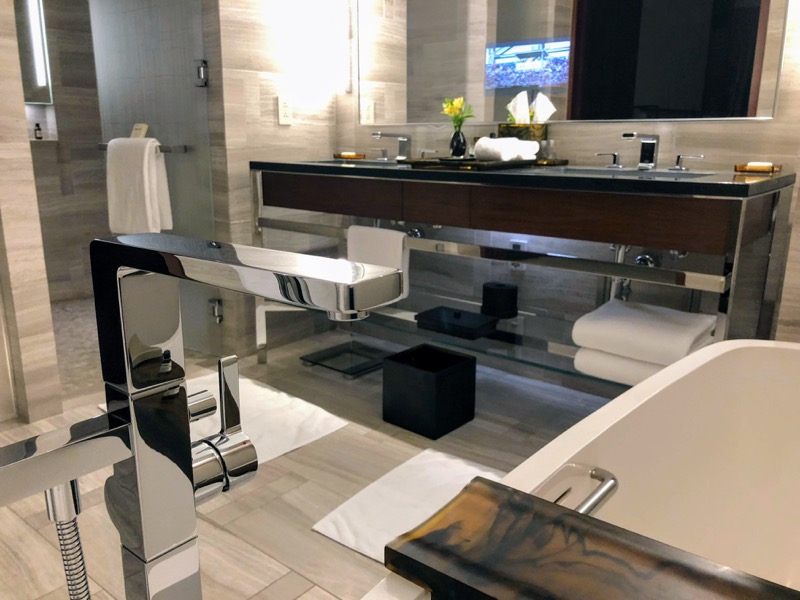 They really spared no expense on the build-out and it's evident in every square foot of the space. For example, when you walk into the bathroom area at night, subtle lights automatically illuminate beneath the sink and the toilet lid raises.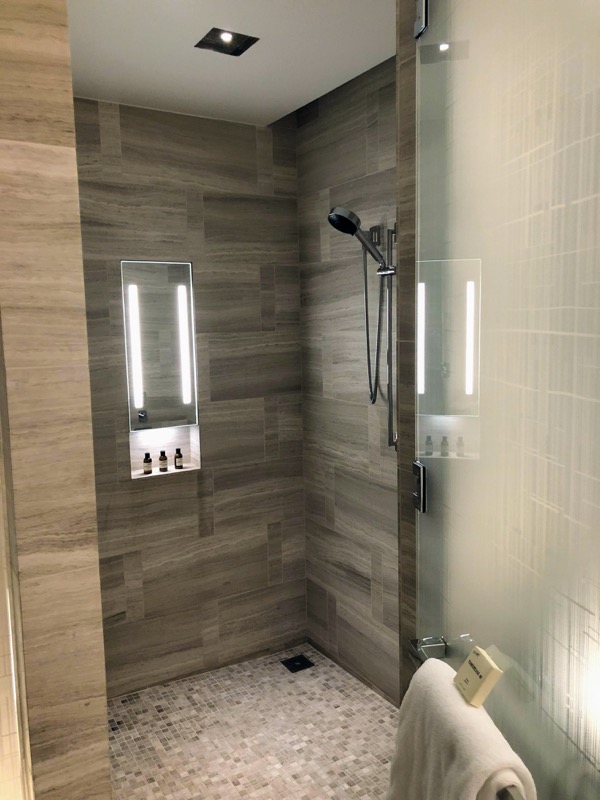 The overhead rain shower was instantly hot and powerful enough to knock over a toddler. I literally had to turn the water pressure down.
The room was filled with perfectly-functioning up to date technology; a rarity in hotels.
A bluetooth B&O speaker paired seamlessly with my iPhone. Light controls were intuitive and functional, both for manual controls and by way of well-labeled subtly lit wall mounted controls. The drapes and sheers opened and closed brilliantly with the touch of a button.
It seems simple but almost every hotel room I've stayed in with tech advancements turn out to be ill-functioning nuisances. Everything worked in this place and it made for an amazingly comfortable stay.
If there's one place they could improve in terms of the hard product it's in their mattresses. Park Hyatts seem to employ platform beds and for my money a Four Seasons mattress runs circles around Park Hyatt mattresses in terms of indulgent comfort.
House Car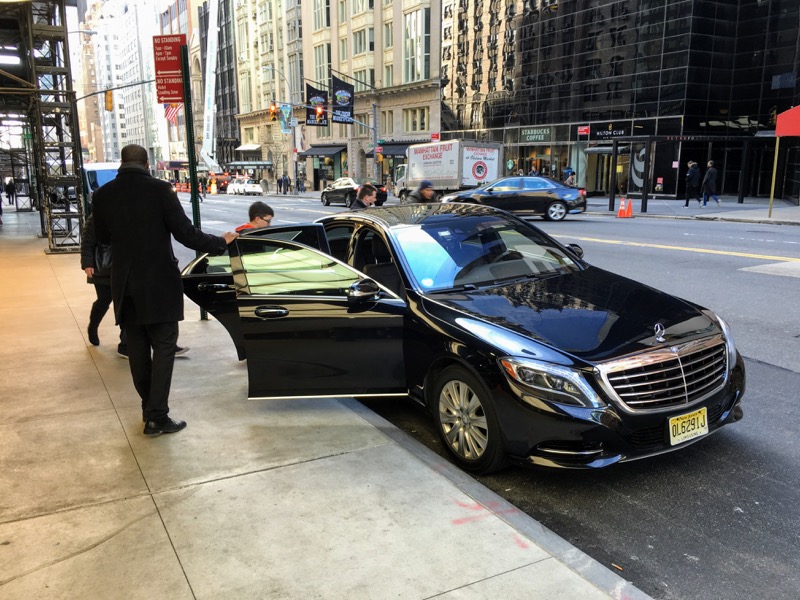 I grabbed a complimentary ride to dinner in the house car without a hitch. I recognized our driver, Ramon, from our previous visit. It's little touches like this where you genuinely make a connection with someone from a previous visit that makes a hotel feel like a place you'd like to return.
Room Service Breakfast
I've noted several times how much Park Hyatts focus on their food & beverage program.
But for as much as I enjoyed the Park Hyatt New York room service breakfast, their service standard isn't quite up to par.
At a Four Seasons/Ritz-Carlton you feel like you're dining in the restaurant but within your room when you order room service. At Park Hyatts across the board they seem to miss some of the finishing touches. At Park Hyatts it's more of a drop and dash kind of room service presentation.
I checked at the front desk before ordering what the protocol was for the complimentary Globalist breakfast. I was advised that I could enjoy breakfast downstairs or in my room, but if I chose in-room there would be a $10 charge.
I ordered Eggs Benedict, orange juice, and small pot of French press coffee. It was around $80 fully loaded on the check. I signed and was charged $3.22 at check out. Who knows how they came up with that figure.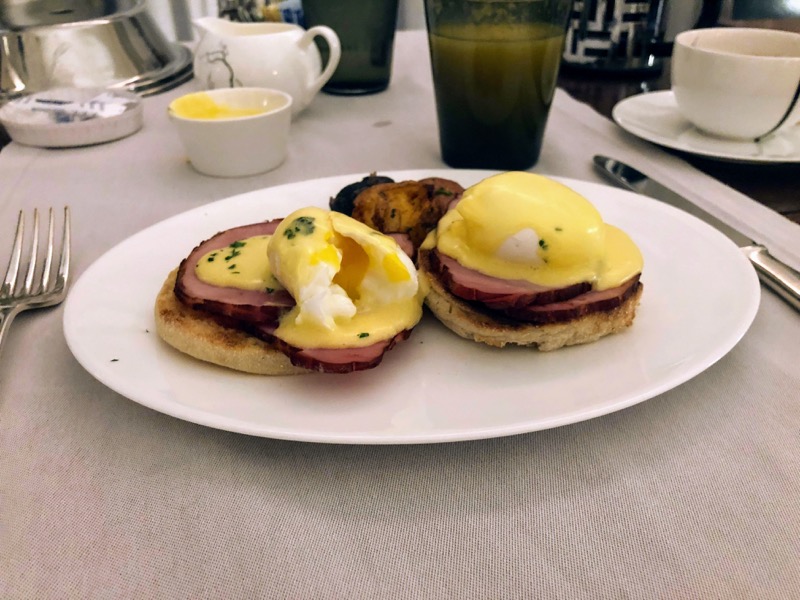 I ordered breakfast on the in-room iPad mini the night before. It arrived about 10 minutes late and the wrong order/table was initially delivered to my room.
They quickly patched it up but the eggs were over-done. A rather mediocre showing food-wise but still: It's really nice to enjoy room service breakfast while getting ready in the morning.
I'd recommend taking breakfast in downstairs if you're on a leisure trip. The hotel restaurant is fantastic.
After breakfast I was rifling around looking for a clothes iron and discovered a second bathroom I previously thought was a closet.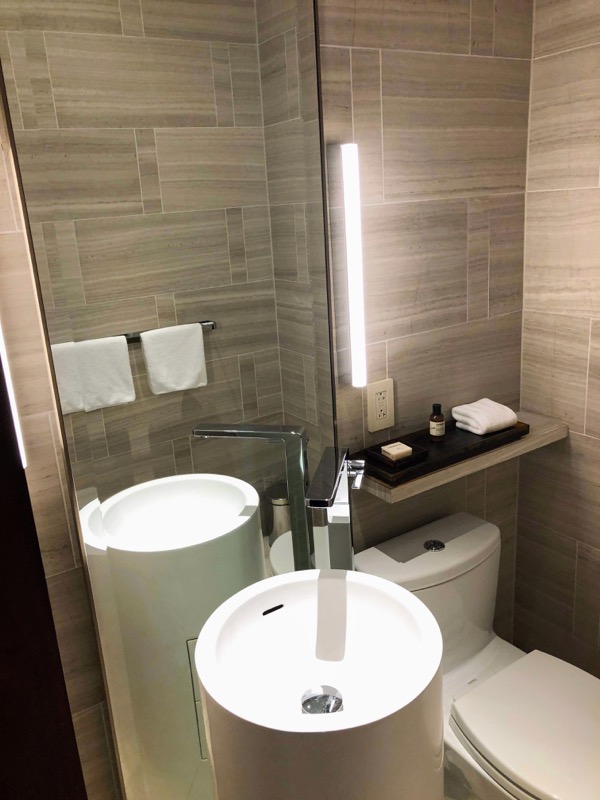 This suite would be good to share with a larger group.
How to Book It
The Park Hyatt New York is a Category 7 Hotel.
There are rumors of a forthcoming 8th Category at the 40,000 point level. That hasn't materialized yet. But what has materialized, and is relevant here, are changes to Hyatt Suite Awards.
Starting November 1, 2018 you can:
Book a Premium Suite for twice the number of points as a Standard Room (previously Premium Suites weren't bookable with points)
Book a Standard Suite for just 1 night (previously a 3-night minimum was required for Standard Suite Awards)
Upgrade a cash stay to a Premium Suite for 9,000 points/nt (previously only Standard Suites were available for 6,000 points/nt)
See: Hyatt's Award Chart
So, starting November 1st when award space is available you can book a standard room, standard suite, or premium suite off their award chart as follows: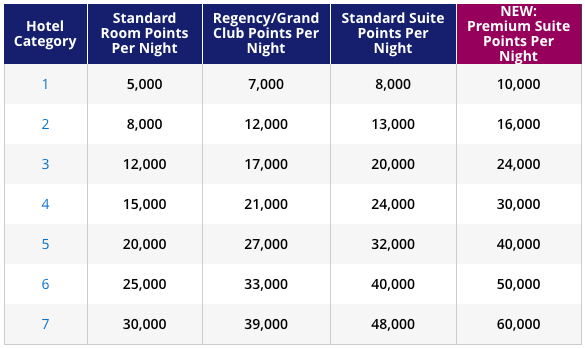 The devil is in the details as to how this is going to work.
Are hotels going to play games with Premium Suite award availability?
Are phone reps and hotels going to understand how to apply the 6,000/9,000 upgrades to cash stays? (prior attempts failed for me)
What is a Premium Suite anyway? Not all properties list them consistently.
What will you actually get when you book a Premium Suite? At the Park Hyatt New York it's a very broad range of rooms.
How to Accrue Hyatt Points
To gin up Hyatt points you can sign up for:
Bottom Line
Was this a one-off upgrade? Absolutely. I've never gotten an upgrade like this with Hyatt or any other hotel.
But this is the way it's supposed to work, right? You attain status, then book cheapest room in the place on points. Then they upgrade you to a really nice suite. Seems pretty straightforward, but it rarely works out so well.
I naturally thought about the conditions that conspired to secure this sweet/suite upgrade.
I couldn't help but think that during mid-week stays there's less competition than on the weekends. That most people who stay there mid-week for business/functions are paying out-of-pocket and on the weekends the points crowd rolls in? Who knows…
The hotel was completely sold out and yet, just a couple of days before arrival, there was award availability. And they generously upgraded me as a Globalist. Whatever caused it, I'll take it.
It's experiences like this that make me see why Hyatt has so many truly loyal followers.
What do you think of Hyatt's moves lately? Are they getting better or getting worse?