As we settle in for the holiday I wanted to share with you a pretty good little Triple dip opportunity I've started working on.  The components you need for the opportunity to work are as follows:
1) A Best Buy willing to sell you Visa Gift Cards on Credit.
2) A Card which pays you 5% back on purchases at Best buy. (Citi Dividend is my card of choice for this, see Kenny's great writeup on how to get one still).
3) A Best Buy Reward Zone account
4) A Fuel Reward Account.  I wrote a little about Fuel Rewards here before, and if you're interested in singing up, consider using my FRN Referral link.
I'll step through the deal, and talk about how I analyze these types of offers.
First, a Word about Fuel Rewards
In my personal opinion there isn't a WORSE run program than the Fuel Rewards Network. There are multiple ways to earn Fuel Rewards, and most of them are awful deals. Their shopping portal is terrible, and the ability to determine just how you can earn fuel rewards is so complex I'm not even sure that the following works.  I know that it should work, and that I'll be trying it this week.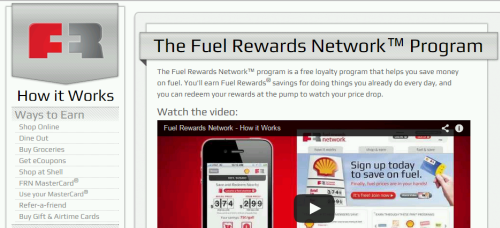 The basics of FRN are as follows: You earn rebates on fuel at Shell gas stations. You need a physical FRN reward card to use your rewards at the station, and only certain stations participate.  There isn't really a limit on the discount you can earn from your FRN, but the rewards do expire.
Today's deal works because there is a promotion currently going on until 3/2015 which pays out on Electronics stores.  The promotion works as follows: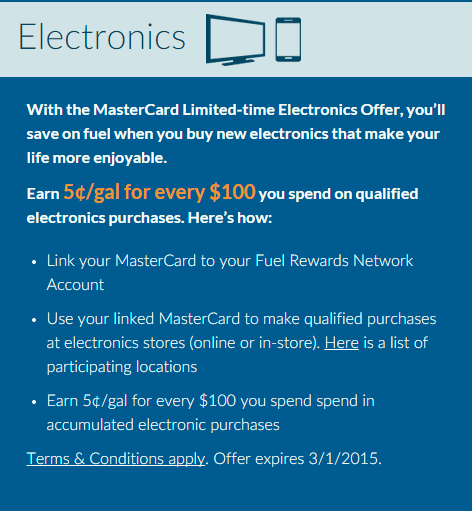 So for every $100 spent on a linked Mastercard you'll earn 5 cents back on gas, up to 20 gallons. This might look like a 5% rebate, but I assure you it is not.  Remember your units are important here, and you're earning 5 cents per GALLON, not per $1. You'll need to figure out how many gallons you can buy in order to convert this to a %.  If you max this out and do fill up for the full 20 gallons you'd be looking at a $1 per $100 purchased rebate (($0.05 x 20 gals)/$100)  or 1%.  
I've verified that my local Best Buy is a part of this promotion. However, I would pretty much guarantee that no one at the Best Buy has any idea the FRN promotion is going on. In addition I've seen extra rewards mysteriously appear in my FRN account for purchases in the past.  It seems there are sometimes overlapping promotions.  I'm hopeful something similar happens in this case, as it will make the numbers even better.
Best Buy Reward Zone–2% Back and Elite Plus
Deals from American Express have allowed me to spend an awful lot at Best buy this year and none of it has cost me a penny. I've qualified for the Elite Plus level with Best Buy already. There aren't really good benefits to their tiers since gift cards don't get the bonus points regular spending does. But as an Elite/Elite Plus you can bank your Reward Zone points.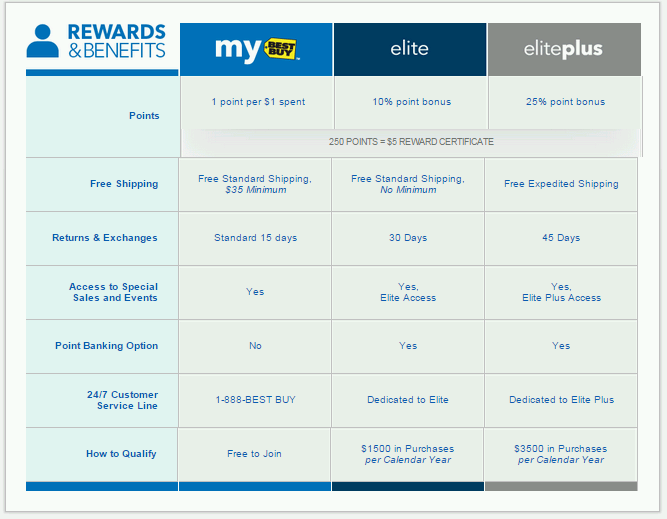 You should actually earn Elite Plus through the process if you complete the full $6000 in spending I'll be outlining below.  I personally won't assign a value to Elite Plus, but you might find it useful, and if you do add in the value to your calculations.  Worst case you'll earn $120 in BB Rewardzone certificates and have to use them on something at Best Buy.
If you have American Express cards and were able to get in on the Amex Sync Deal for Best Buy you should use those first, and then consider this deal.  Because the FRN deal does not support Amex cards this triple dip doesn't work with American Express cards, only Mastercards.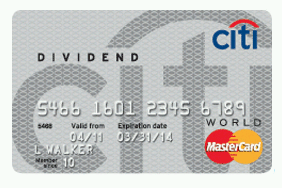 The Case Against Using a 5% Cashback Mastercard
A few months back I followed Kenny's excellent advice and downgraded a Bronze AA MC (which was already downgraded from a AA Platinum earlier this year as part of an 11-month itch call.)  The card I switched to was the Citi Dividend Mastercard, offering up to $300 a year in rotating categories.
Between now and the end of the year Best  Buy is one of these categories. Before starting to spend my $6000 at Best buy I first wanted to analyze the deal and see what my costs would look like. I took a hard look at the numbers for the deal:
Expenditures will be:
29 x $200 Visa GC, $5.95 per card fee. $172.55. Liquidation could cost add another $5-$20
Stop right here if you value your time at all.
There's no point in trading $172.55++ for $300.  Almost all of our profit is eaten up, and we're working for less than our T-Rate.   Considering that I would likely need to make multiple trips to Best Buy for these purchases I was almost sure I would let this one go.  Amex's Sync offer are literally twice as lucrative, especially when you do a split tender at the register.
In fact, it was this initial analysis of this Best Buy 5% offer that has caused me to try to get as much value out of this deal as I can.  I would have never seen the FRN angle if I just drove off and happily assumed my 5% card was making me $300 by buying $6000 in Visa Gift cards.
Additional Value in the Trip Dip
As I stated earlier you'll earn at least $120 in Best Buy Reward Zone points.  I don't always have a use for these points–so I'm going to discount them to a $100 value.  In addition The Fuel rewards of 5 cents per $100 spent should mean a total of $3 off per gallon of gas.  Maxing this out at 20 gallons would mean a $60 return. filling for fewer gallons would mean less of a value. I'll probably get about $50 in value from these FRN points.
That changes things a bit, so let's revisit the deal:
+$298.63 – cash back on 29 VGC's and fees.
-$172.55 – Purchase of GC's
-$20.30 – Liquidation costs
+$100.00 – BB Reward Zone points.
+$50 – Fuel Rewards
Which means I'm coming out with $255.78 after all points post.
Update: Make sure to read the comments of this post, as other Milenomics readers have already added some great additional ways to sweeten the deal further.  (H/T Adrian & Maria)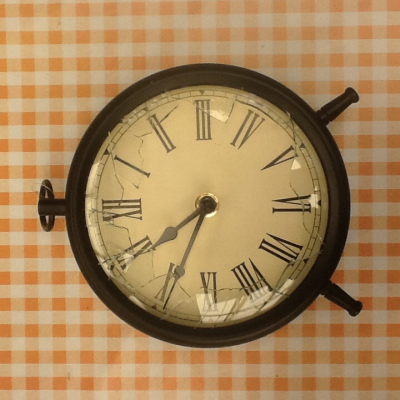 Don't Forget to Calculate $/Hr
From now until the end of the year I'm going to be busier than ever. Right now my time is worth every penny of my T-Rate.  I'm fortunate that I drive by a Best buy on my way home every day, so I can discount my mileage and only add in my time.
Eyeballing the number of Best Buy Trips I'm going to take I'd estimate the purchase side to take me 3 hours, and the liquidation to take 1 hour. That's 4 hours total on this deal.
When manufacturing miles I add in my T-Rate. When earning cash back, since cash is fungible, I simply divide my net by my hours and ensure I'm making at least my T-Rate.
$255.78/4 hours = $63.95/hr
I'm well above my $25 T-Rate, so I'll  jump in on this.
Small Quadruple Dip Possibility
Since you're already at Best Buy you might as well sign up for a Shopkick account (not bothering to put my shopkick referral here) and give the cashier your shopkick phone number.  As Miles, Points and Mai Tais has already covered, you will only receive Kicks for the $5.95 purchase fee, but why leave these on the table? And who knows, you might somehow earn a few extra kicks.
Wrap up
I'm estimating that this will take me a few weeks to handle completely. I do not want to be anywhere near Best Buy in the coming few days, and so I won't be able to test the basics of this out until after the weekend foot traffic dies down.  I'll do a debrief to see how well I do at the end of all of this.  If you jump in on this let me know in the comments section below.