Welcome to another edition of Shop Talk where we discuss what's going on in our personal points & miles space and highlight what we think is interesting in the broader space as well. This is the kind of "Shop Talk" many of you are engaged in on a daily basis, so feel free to discuss with us in the comments section.
---
Robert: Not too long ago we were debating whether Amex has been crushing Chase lately. At the time, I think it was a stretch to say that Amex was a more rewarding bank to interact with. But they've been on a roll lately, continuing to dish out all kinds of treats, to the point where they may actually be the best bank out there right now.
In the last couple months Amex has:
Made their refer-a-friend program the best in the industry
Is there a bank that's more fun to interact with at this point? You never know what you're going to find if you poke around their site.
To wrap our collective heads around these opportunities, and try to help each of us prioritize and maximize them, we've got Jordan from Windbag Miles on today as our special guest.
I appreciate the way he tries stuff. And he's flat-out funny while still sharing useful information.
Jordan, welcome to Shop Talk.
Before we get into today's topic, would you introduce yourself?
Jordan: Hey everyone, I'm Jordan and I write the blog "Windbag Miles." I spend a disproportionate amount of my churning energy on Amex, so this is a great topic to discuss. I also love the idea that they're the "most fun" bank to interact with, since not only is it 100% true, but it also avoids the rah-rah sports fan mentality that drags down so many discussions about which bank is the "best." RIght now Amex is the best bank for me, but if they're telling you that you're ineligible to earn sign-up bonuses on new cards, clearly they're not a very good bank for you. However, it's undeniable that the anticipation around whether that little window will pop up when you apply for a card makes it more fun to apply for Amex cards than those from other banks.
Okay, so why am I so hyped up over Amex lately? First of all, they're simply showering my wife and I with Hilton points right now, and I love it. It's not like Hilton points are all that valuable, but I'm also not going to turn up my nose when they offer me 50 points per dollar on grocery store spending (up to $200). Or 13 points per dollar at Amazon. Or 10 points per dollar on all spending. I'm wondering if Amex noticed that everyone sock-drawered their Hilton cards or something, since they're being really aggressive about encouraging me to use them for holiday spending.
In fact, no one throws points at you like Amex does. I don't care that MR points aren't necessarily as good as Chase or SPG (although I'm not sure I even agree with that anymore), when Amex makes it so damn easy to rack up a bunch of points. For example: take my crappy little Amex Green card. I got a 25,000 bonus on it via incognito mode last year, and since then it has been the gift that keeps on giving. It was the only card that offered me the 5k bonus for renewing my Prime membership, and it was the only card that offered me the 10k bonus for spending $600 on Amex Travel. I renewed it, hoping for more magic, and like three days later I got an offer for 10k points to enroll in pay over time. And just this week I noticed a 60k offer to upgrade it to a Platinum card, even though I've had that card before. Not bad for the worst rewards card in Amex's portfolio. Trying to keep up with all these offers has been a challenge, but it's a great problem to have.
Robert: I am right there with you. On the Hilton points, the great Membership Reward offers, and the pay over time bonus as well.
With respect to churning [getting the signup bonus for a the same credit card repeatedly] Amex's lifetime language hasn't been nearly as restrictive as Chase 5/24. And while Chase keeps getting worse Amex seems to be getting better. Specifically because they've been regularly targeting people for cards they've had before.
My wife just signed up for the Delta Gold Amex for 60,000 points. She had that card 2 years ago and they already offered her the signup bonus to her again? That's terrific.
I already confirmed that the bonus is attached to her account via chat, but I wanted to share a tip on that technique. When I chatted with them immediately after applying they told me that she was ineligible for the bonus since she had the card previously. But after waiting a few days I asked again and they told me she was eligible and the 60,000 point offer was attached to her account.
I had a similar experience with another new Amex card recently. It seems that the first day or two after getting approved for a new card their systems don't yet show whether a welcome bonus is attached to the account. So chat agents will either tell you that directly (ie, try again in 3-5 business days) -or- they'll do some research on their own based on their understanding of the rules. So my point is: It's good to confirm Amex welcome bonuses via chat, but wait a day or two before expecting a reliable answer.
Actually, it just occurred to me that her targeted offer without lifetime language was for the entire suite of Delta cards. Gold, Platinum, and Reserve. Personal and Business. She could also, I think, apply for the Delta Gold Business card and either Delta Platinum card in addition to the personal Delta Gold card with these offers. Definitely worth considering if you were targeted for this offer.
See: [Targeted] Amex Delta Credit Card Offers Without Lifetime Language
This is where prioritization comes into play given the bounty of their offers. Since she can only get the signup bonus again on these cards through a targeted offer that lacks lifetime language I should prioritize using that offer a) before it expires and b) in lieu of the points I'd get from referring her.
Amex's 5 card limit comes into play as well. Amex limits most mere mortals to 5 active credit cards per person. Charge cards don't count, nor do cards which you're an authorized user on. But personal and business cards do count. And I've bumped into it.
I don't want to cancel a card before the first year anniversary (that's a naughty behavior according to the language in their offers) so I'm considering which cards to keep and which to get rid of.
I'd prioritize it as follows:
Offers without lifetime language (because it's a limited time opportunity)

Offers that seem to be at an all-time high (plus referral)

Charge cards (once you've hit the 5 card limit, plus referral)
I've got a lot of questions about their new referral program and I've got some experiments in flights. Are you tinkering with that aspect of it at all?
Jordan: Oh man, the new referral program is nuts. I bet the head of engagement for Membership Rewards and the Rewards Abuse Team just hate each other, since they're clearly working at cross-purposes. Every time the RAT finds a new way to taketh away, an enhancement to the program usually isn't far behind. I haven't dug into it that much yet, since I don't have a very big network of referees to exploit. It's mostly just my wife and I passing referral links back and forth, and neither of us is in a position to apply for Amex cards right now (I'm maxed out at five cards, and she's close to getting back under 5/24).
The thing I love about the new referral system is that you can you can effectively use it to put you over the top for an award redemption, since (as long as you hold the requisite cards) you can now choose among multiple programs (Delta, SPG, MR, Hilton, etc) for each referral. So if you're short on SPG points, instead of transferring Chase points to Marriott, you can grab a quick 20k by referring your spouse to something like the Green card (waived annual fee and doesn't count against the CC limit)… and who knows, maybe ol' Greenie will pay off for them the way it did for me. (It goes without saying that if you aren't currently taking advantage of two player mode, you need to partner up ASAP.) Basically, the referral program is now a flexible reserve of points that can be mined whenever you need it. It's also notable that the co-brand Platinum cards finally have a referral bonus, although it's only for $100, and I'd rather have 10k MR.
But, I agree with you that sometimes it's better to hold off for targeted offers. I got a Delta Gold offer for 75k miles last winter that didn't have the lifetime language, and my wife has gotten the Premier Rewards Gold 50k targeted offer twice. Awesome. The only downside is that now I have a Delta Gold card I never use counting toward my 5-card limit, and I can't cancel it for a few more months. I really want the Blue Business card, but I need to wait until I'm in the clear to cancel that Delta card in order to get it.
One thing I'm currently considering with Amex is the "full" cost of some of the upgrade offers they've been hitting me with lately. More than canceling within 12 months being frowned upon, it sounds like Amex is actively clawing back bonuses for people who cancel too soon. That's all well and good on a new application, since you can usually keep the card open for over 13 months before you're stuck paying the fee a second time.
However, Doctor of Credit had a really important article lately about upgrade offers, which will get clawed back if you cancel or downgrade within 12 months of the date you upgraded. This increases the total cost of upgrading, since you'll pay the higher fee of the upgraded card on a prorated basis for the rest of your current cardmember year, PLUS the fee for an entire additional year before you'll pass 12 months from the date you upgraded. Costing that out for my Green => Platinum offer, I'll have to pay a prorated fee of $290 and then an annual fee of $550, for a grand total of $840. Yikes, that's a lot to pay for 60,000 MR points, and since I already have a Morgan Stanley Platinum card, all the normal Platinum benefits are irrelevant. It comes down to whether I'd pay $840 for 60,000 points plus $600 in airline credits, and whatever Saks/Uber credits I can make use of. I *think* I'm gonna do it, but I'm not sure yet. (If I do go for it, I'll probably cancel my Morgan Stanley Platinum card before the fee is due next year and then reopen it in December so I can at least double up the airline credit.)
Speaking of Amex versus Chase, looking at their respective upgrade offers on their hotel co-brand cards paints a pretty good picture of why I'm high on Amex right now. Chase is offering 5000 IHG points and 2000 Hyatt points to upgrade my cards to the new versions. Come on Chase, let's be real here. I don't get out of bed for less than 10,000 points. Meanwhile, Amex offered my wife 150,000 Hilton points to upgrade to the Aspire card, and earlier this year I got a 75k offer to upgrade to the Ascend. So yeah… Chase needs to sweeten the deal quite a bit if they want to stay competitive.
Robert: Great stuff, Jordan. I love the notion of competing groups within Amex bashing each other over the head like Itchy & Scratchy.
I hadn't fully internalized how much an upgrade offer would clog up the works on one's 5-card strategy. A nice sub-point here is that subsequently downgrading a card earns you a pro-rated refund of the annual fee. In Massachusetts we enjoy pro-rated annual fee refunds when cancelling, across all banks. But Amex's policy to refund on a pro-rated basis when downgrading is novel and worth exploring. Though, if it's a credit card (rather than a charge card) it would continue to take up a slot once downgraded.
A few questions I'm seeking clarity on with Amex referrals are:
Do you really get the referral bonus from the card you refer from vs the card the applicant signs up for?

Do you get a referral bonus if your friend signs up for a card they've already had and therefore don't get the welcome bonus?

If so, will Amex approve you for a card you already have? Say for example if you're mostly interested in the referrals.
I set out to gather datapoints on "1" and "2" recently when I had my wife refer me for an Amex Gold card. I last had the Premier Rewards Gold card in 2015 so I figured I was ineligible for the welcome bonus on the Gold card, even though it's "kind of" a new product.
I think there's enough value in that card that it could be worth getting even if you don't get the welcome bonus.
Podcast: Timing Credit Card Applications for Double and Triple Dips
But a few days after getting approved for the card I confirmed via chat that I was eligible for the welcome bonus. I'll take it but I'm trying to run some experiments here, man. What does a sailor need to do to get denied a signup bonus?
My wife referred me from her Amex Platinum Personal card so she should have gotten 15,000 points. However, her account was only credited with 10,000 points. I guess it's possible that I mistakenly generated her referral link from here Gold card. I've read other datapoints that say you really do get the bonus based on the card you're referring from rather than the one you're referring to.
I can't imagine having a convergent conversation with an Amex chat rep about this so I'm going to let it lie for now, and do some more experimenting.
Like you said the referral angle with the charge cards sounds appealing. I see the personal Green charge card has a welcome bonus of 15,000 at the moment. 15,000 (referral) + 15,000 (welcome) is pretty terrific for a card that might have future upside like you experienced.
With all these great offers at Amex alone, not to mention other banks, I gave up on 5/24 for my wife recently.
Are you going to stay the course to get under 5/24 for your wife?
Jordan: Even in a whole post about Amex, it always comes back to Chase doesn't it? If I wasn't so burned out after reading election coverage all night, I'd put in a picture of that stupid meme. [Ten minutes go by…]
Dammit, I couldn't help myself.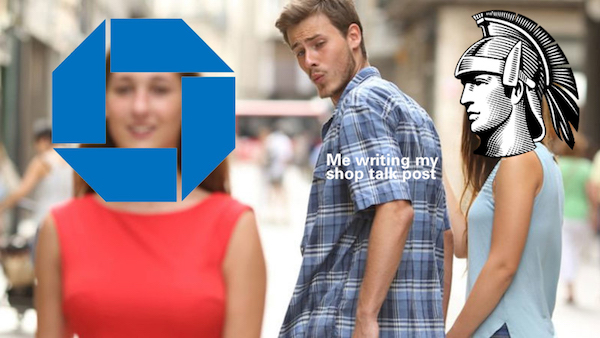 The 5/24 question has been my biggest source of consternation these past few months, since my wife is around eight months away at this point, and I'd love to get her a Sapphire Preferred and a United Explorer card. However, it's definitely tough passing up offers here and there… to bring it back to Amex, the only reason I'm really comfortable putting off applications for their new cards it is that, unlike Chase with the Sapphire Reserve, Amex seems to reward waiting. I got 100k on the Aspire the day it came out, but if I had waited until recently, it would have been 150k. There's also the "hold out for an upgrade offer" route, which, as we've discussed, is majorly paying off these days. I was more than happy to grab the 150k Aspire upgrade offer on her account rather than burning a 5/24 slot on a new Aspire card, and I'm holding out that there will be a similar offer on the base SPG card at some point.
Another reason to get under 5/24 and grab a Chase sign-up bonus or two is that my incremental Chase earning isn't going to add up anything that great without a shot in the arm. I don't manufacture spend, so my Chase earning is limited to maximizing 3x and 5x bonuses. Without sufficient assets to qualify for the Sapphire checking bonus, this is really the last good opportunity for Chase points, which is why I'm willing to take some pain sitting on my hands (well, sitting on my wife's hands) for a little while longer. And then once she has a couple of Chase cards it will be off to the races with whatever crazy shenanigans Amex is pulling in mid-2019. The sky's the limit!
Okay, that's all I got (well you know that's not true, but it's a good stopping point nonetheless). Thanks so much for having me — this was fun!
Robert: You sir, are one fine windbag. Thanks so much for coming on and sharing your thoughts.
While we were going back and forth on this post I noticed you had time to crank out a post about how much you liked the Park Hyatt Milan.
I'm going to enlist Sam in a Ulysses Pact whereby I get experience the enticing beauty that is the Park Hyatt Milan [from a distance] without letting it become the center of my entire trip to Italy. Posts like yours help with that. You don't own me, Hyatt!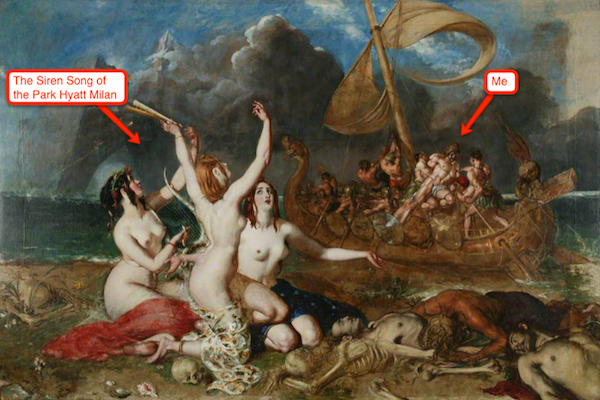 You can follow Jordan on Twitter @windbagmiles and on his site windbagmiles.com
What do you think? How are you prioritizing with Amex right now? What angles did we miss?