Reader Gene Asked for a detailed post on the process of redeeming Worldpoints earned on the Fidelity Investor Rewards Amex, which just so happens to be The Best Cash Back Card on Earth.  In response I've put together this post. I've also added a little bit about using the card to book flights, which can be a very good use of the points earned with the Fidelity Investor Rewards Amex.
Quick Recap: Best. Card. Ever.
I'm in love with you Fidelity Investor Rewards Amex. You're always by my side[pocket] waiting to spring to life.  There are plenty of great uses for you. From non-bonus spending, to gift cards at sources that earn 1x on every other card I use you almost daily.
Earning points happens at a 2 worldpoints for $1 spent, and can be redeemed at a 1 point = 1 cent redemption level. This makes the card a minimum 2% cash back card.
When it comes time to redeem your points the options are intimidating. I'll step through redeeming for cash here today, and then go (again) into detail on how to supercharge this card into earning more than 2% back in certain situations.
Choose your Adventure: Cash, or Cash and Other Options.
Part of the confusion in redeeming rewards with this card is the FIA card services website is awful.  On the rewards tab there are two options, right next to each other. "Manage and Redeem Fidelity Rewards" and "Redeem Worldpoints" are literally side-by-side: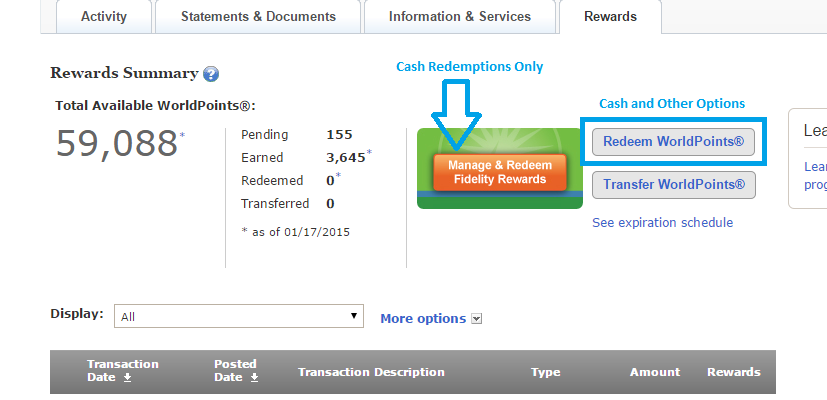 Selecting "Manage & Redeem Fidelity Rewards" Is only to be used if you want to take your rewards as pure cash, at the 1 point:1 cent ratio. Clicking the orange button takes you to a very y2k-esque looking page with the following options: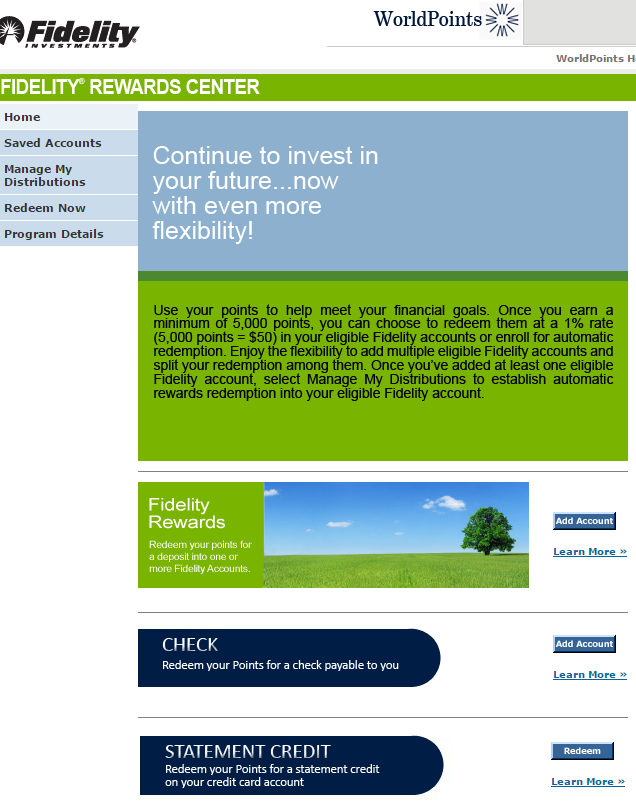 The first option seems like the way to go, redeeming to a Fidelity account. Fidelity really wants you to use this option. The FAQ of the card has the following language: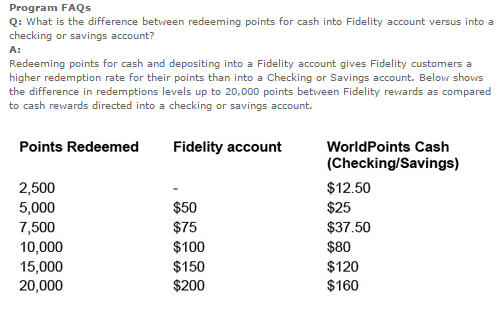 This language insinuates that the only way to receive a full 1:1 payout for your points is to take the points as a credit into a Fidelity account.  If you do have a Fidelity account, then sure, go ahead and take smaller redemptions into that account at 1:1. But the above chart stops at 20,000 points for a reason
Above 25,000 points all options turn into 1:1 redemptions.
Just make sure you're redeeming 25,000 or more points, and you'll get a 1:1 redemption for all three options. Since there is no bonus for taking a credit to your Fidelity account or having a check cut, just take a statement credit equal to the number of points you'd like to redeem by clicking the statement credit button and entering the total points on the next page: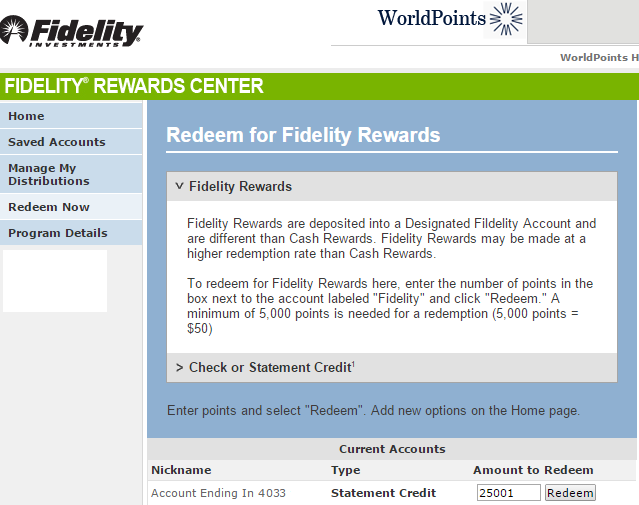 Confirm that this is a 1:1 redemption earning you 1 cent per point: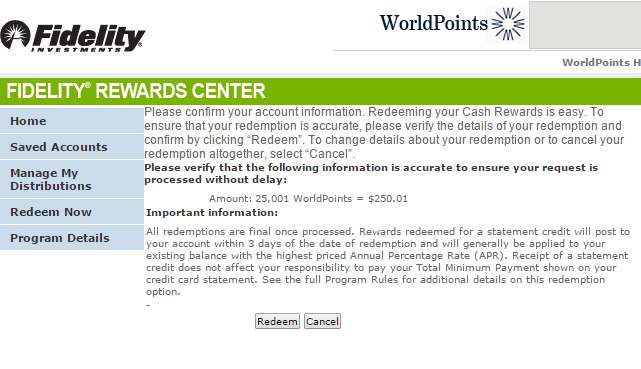 The basics to remember are that you can redeem for sub 25,000 points only to a Fidelity account at 1:1. Above 25,000 points you can redeem 1:1 as a check or statement credit. I simply wait until I have 25,000 points, and then take a statement credit.
Travel Awards, Approaching 2.8% Return on Spending
I cover the following in more detail in this post "The Best Travel Cash Back Card, and How to Use it."
Selecting the other option on the Rewards tab, "Redeem Worldpoints" as shown above leads you to the main Worldpoints portal: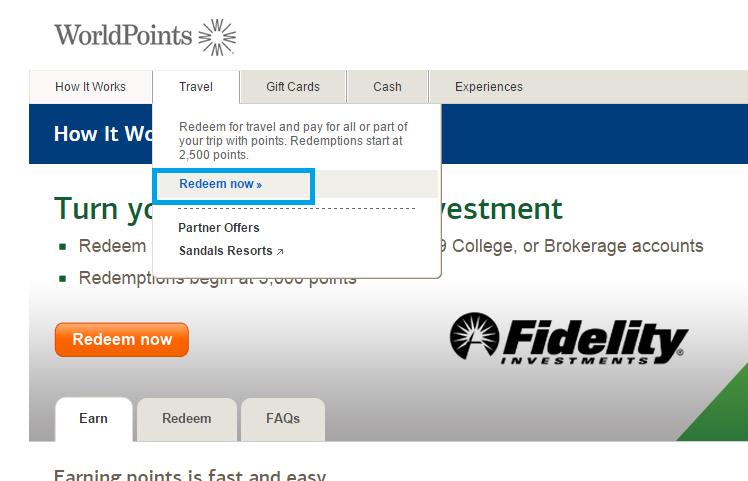 Everything here is a waste of points except travel.  Gift cards aren't even 1:1 redemptions: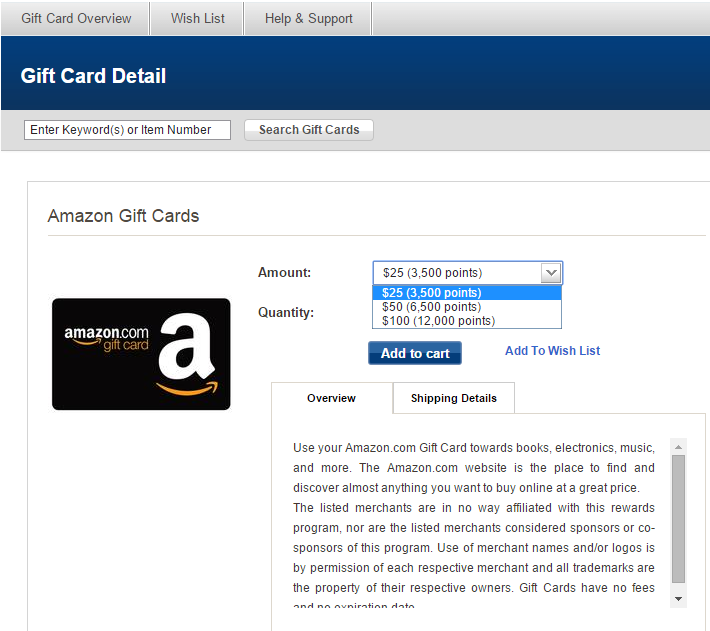 Which means you'd be better off buying a $250 Amazon Gift card and taking a 25,000 point Statement credit.  I'll step through a strategy in which you keep an eye out for fare sales that are great uses of Fidelity points, and use Worldpoints to book fares and receive a higher return on your points.
Keep an Eye on www.theflightdeal.com for <$400 Fares
I've twice leveraged a good deal on www.theflightdeal.com into booking with Worldpoints at a higher value than 1:1. The method of doing this works as follows:
– Scan your Demand Schedule for any upcoming flights, especially those which you've been unable to find good low level award space for.
– Search www.theflightdeal.com for flights to/from these city pairs, in the below example I'm using NYC and LAX.
– Check  itaMatrix for dates and times that work best for you, keeping the price of the ticket below $400 (More on this later).
– Remember you must have a Saturday night stay in order to book at the 25,000 point level.
I love this technique because it allows you to choose ideal dates and flights and not worry about award space.  It also lets you select flights regardless of price so long as they are below $400 r/t.
Example booking: NYC to LAX in March.
Let's say that you follow theflightdeal on twitter, and saw them tweet about a NYC-LAX fare sale: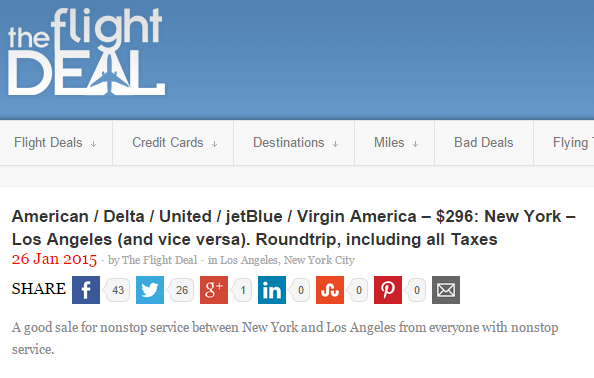 You know you want to go to Los Angeles in March, and loading up ITA Matrix you see that the good deals on this flight continue through March: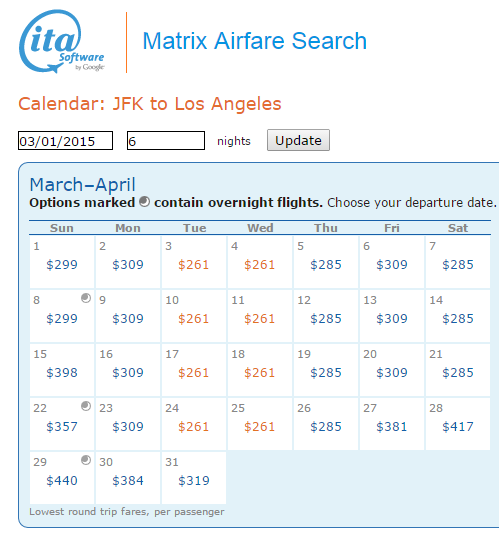 Let's say you're flexible, but want to leave on a Friday. Your options are the 6th, 13th, 20th, and 27th.  The first three cost the same amount, the final costs $72 more (23%).Booking on the Fidelity site any of these options cost the same amount: 25,000 Worldpoints + $30. Going with the March 27th option any flight that day would cost the same 25,000 Worldpoints and $30 copay:

And here are the corresponding flights in the worldpoints portal: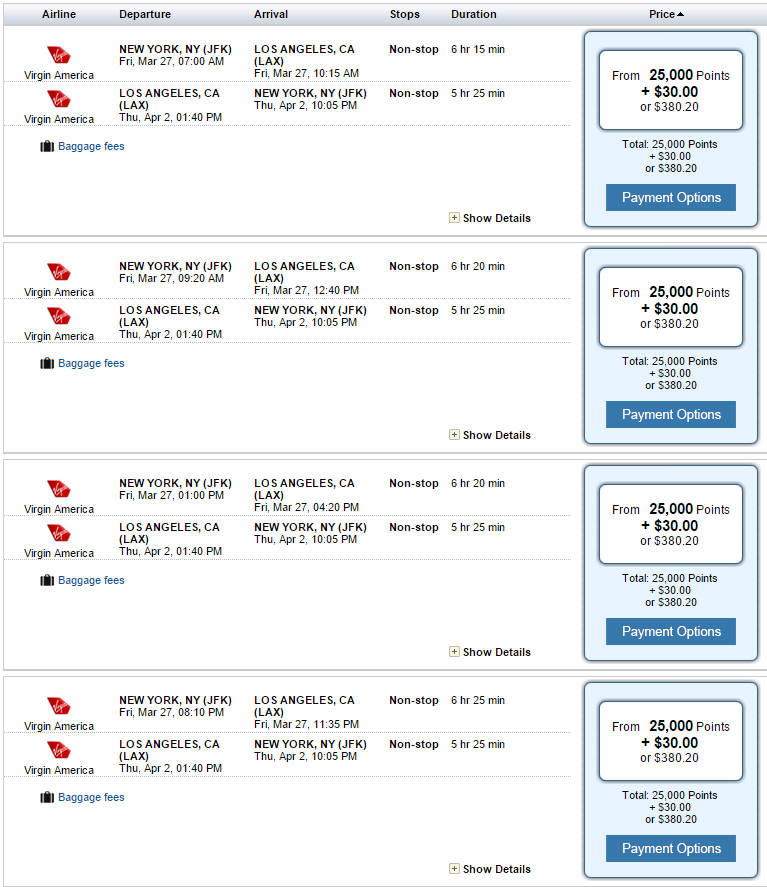 This can also be an effective low level hedge when low level awards aren't available on your date.  It also helps when the only awards are red-eye flights or early AM travel. Because airlines often charge more for prime days and times so long as you stay below $400 you can "splurge" and book those later flights without paying any more out of pocket..
The above example, a $381.20 flight represents nearly the maximum value which can be extracted from this process, and does in fact turn the Fidelty Amex into a 2.8% Travel Cash Back Card. 
Note: AA flights purchased on Fidelity's portal have ticketed in Q and G fare buckets for me. I've been unable to upgrade with instruments on them, which is contrary to what I suggested in an earlier Fidelity post on the matter. Consider the ability to upgrade these fares to be unlikely at best.
Wrap Up
Most of the confusion in redeeming Fidelity rewards comes from the overwhelming number of options in doing so and a poorly (re)designed website. There are too many options; Deposit to Fidelity accounts, Cut a check, order gift cards, and Statement credits to name a few. The only two I recommend using are Flight deals (Premium Air Reward only), and Statement credits.
I'd always suggest using your miles before booking paid flights with Worldpoints–but if you're stuck, or have a very specific flight you'd like to take, try a Worldpoints Premium Air Reward booking.