It is no secret that Milenomics has become a big fan of Membership Rewards Points. I've called them many things; Shadow Currency, orphan savior, and risky Business.  I went from relying mostly on UR in 2012 and 2013 to a gradual shift towards more MR as my Domestic and International programs started to take shape.
In fact, while I was writing the first post on Conservation of Miles I held far more UR than MR; 4 months later and the tables have turned. My stash of MR is now double my UR stash–and growing. I'm finding myself relying very heavily on them for completing my shot at EQM-Zero for a second year in a row.
Today's Booking LAX-DFW 4/14 and DFW-LAX 4/17
Today's Booking seems so simple; LAX-DFW and back.  If you remember from my third post on Demand Schedules this was a flight I was toying with attaching to another flight–and I wasn't sure what I would do. We're a little over 2 months away from the planned dates, and I really just need to knock this one out and book it.
I'll walk you through how I did this booking–and show you where I ended up going with it. We'll work one step at a time, before we can do anything let's review how flexible I am with this trip.
Check the Flex(ibility)
Before any booking you'll want to know how flexible the dates and locations are for a trip you are looking to book.  Remember the 3 flexibility issues you need to keep in mind while trying to book award travel:
1. Dates of Travel
2. Destination
3. Class of Travel (Coach/First)
In this case my dates are really inflexible.  I need to be at work on Monday the 14th, and need to be back on the 17th.  If there isn't a flight in the evening of the 14th I could do a morning flight on the 15th–but that is about it.  Destination is not flexible either so I can't change that.  And for class of travel I really want to only fly coach.  The flight is so short that I won't get any real benefit from flying up front.
Step 1: Routing
As always I like to start with how to get somewhere. I start by looking at all the possible ways to fly LAX-DFW.  Because my T-Rate is $25/hr I almost always want to consider nonstop options first.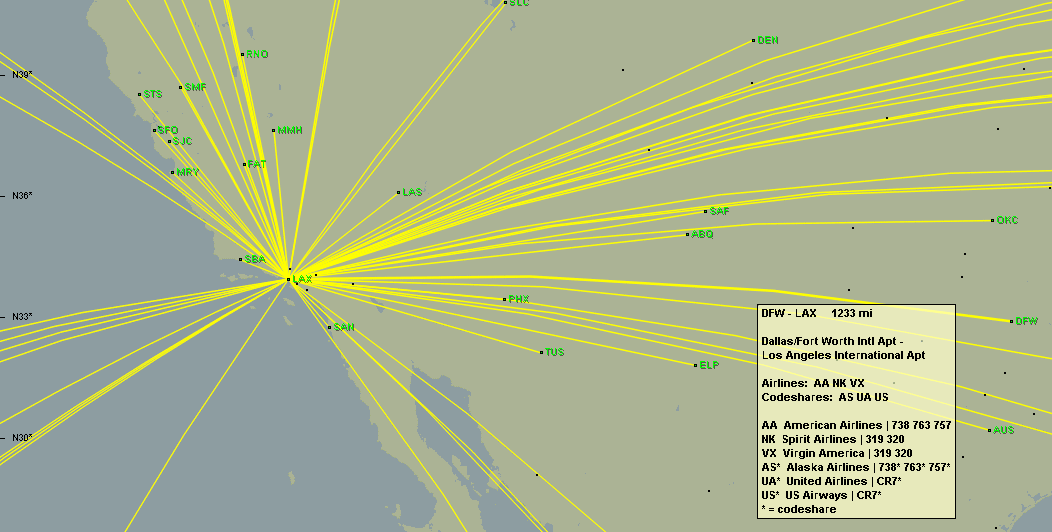 With 4 nonstop options I'm fairly certain I'll end up flying this trip nonstop–but I'll do a final check just to be sure before I do actually book flights.
Even an extra 1 hour due to a connection would need to save me $25 divided by my Average Cost Per mile ($.01 or less), or 2,500 Miles. I always want to bring this up so you consider it when it comes time for you to decide when trading time for miles makes sense.
A United Dead End (which could have saved tons of miles)
I already checked and  the LAX-DFW flight on United is sold out the 14th. On the 15th there is only room for the night flight.  If it hadn't been sold out I could have used a booking trick I haven't yet outlined here on Milenomics to combine this LAX-DFW flight with a future flight to SLC and back and booked both trips for under the 25,000 Miles that AA charges you for LAX-DFW-LAX.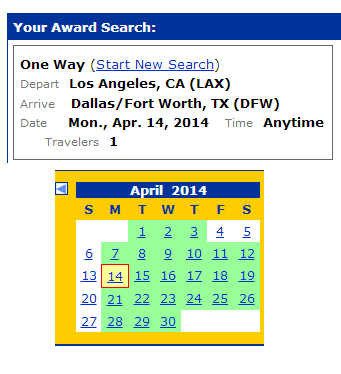 Keep an eye on the site, there will be a special guest post to outline this technique. With no United flights available to use my yet-unnamed booking trick, I have to fall back on one of the Usual suspects: Avios.
Enter: Avios
Avios–those often hated, and possibly fuel-surcharge heavy miles, are actually the best program for first time users of miles (winner: 2013).  As you can see above AA does fly LAX-DFW nonstop, and because of that we can book this flight with Avios as long as there is AA saver availability.
As always, I start my bookings at www.alaskaair.com, I prefer Alaska's site for how quickly it loads, the calendar feature, and the fact that it shows AA, DL, and AS flights, all of which I use for domestic travel. You may prefer another search engine–you could even use USairways.com now to search for these AA flights.
Always make sure you include as many local area airports as you can in your initial search–in this case I selected "Los Angeles, CA (All Airports).  For my return flights there were no DFW-LAX Flights available, so I chose instead to fly the whole thing from SNA (Orange County).

Searching for my exact dates yields the following: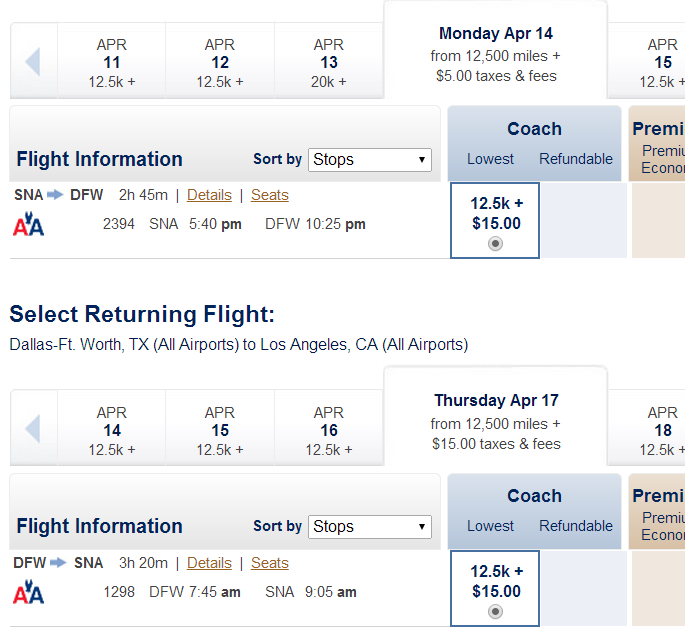 Quickly reviewing the Avios Tiers, this flight will only cost 20,000 Avios Round Trip.  Sadly, I don't have any more Avios in my BA account from the last Avios transfer bonus from MR–I drained all of them when I booked flights back from Costa Rica and Hawaii.  What this means is that right now this flight is going to cost me 20,000 MR for me, and 20,000 for my wife; 40,000 Avios.
Calculating Value for these flights
A question I often get is "Is it a good deal to book this flight with these miles?" Honestly there's only one way to know that–and it is to know what those miles cost you.  My cost per miles for MR has been dropping due to lots of cheap, great grocery store Milenomics Mileage Runs.  At $.01 per MR I'm "spending" $400 on these two flights.  Is that a good deal? Lets check:
I have almost no flexibility on these dates–I really need to work Monday and fly out after work, and I want to be back Thursday.  Knowing that let's check paid options: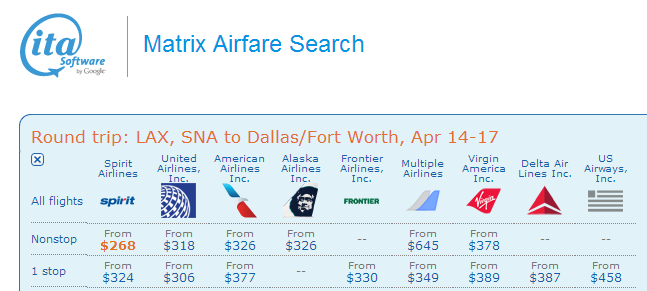 Whether I would actually take that Spirit flight I'm unsure. If I did I'd be sure to follow the advice in this post on how to survive Flying Spirit. I'll use the $318 United flight instead of the Spirit flight for calculations.  My wife and I would have to pay $636 to take the United flight. If I spend 40,000 MR we're earning our $400 spent on these MR (most of that time and travel), and then paying ourselves a $236 dividend on top of the value of our Miles.
Interesting Trades Accepted
I decided to see if I could make a better trade than just transferring MR to Avios.  This is the "Shadow Currency" function of MR that I wrote about last year.  I spoke to an associate who has a hoard of Avios he converted off of his Amex during a transfer bonus last year.  He's always interested in trading me, so I spoke to him about the above booking. 40,000 Avios cost him 29,500 MR at the time he converted his MR.  I made a trade with him for just above that amount, 31,000 MR transferred to any MR partner airline of his choice.
This represented a win-win scenario.  He has a pool of Avios at his disposal, but can pretty much reverse the transfer whenever he's interested in doing so by trading with me.  I win because I have access to a 29% bonus on my MR whenever his needs for MR and mine for Avios match up.  His transfer bonus was 35%, but he's trading back to me for just a 29% premium, so he's netting 6%.
If you know someone who is considering closing their MR earning card to avoid an annual fee, approach them with a similar deal, especially during a transfer bonus.  Let them know that you'll trade with them Avios for MR when you need them and there isn't a transfer bonus.  In return they book your flight with their Avios, and are able to access the flexibility of MR without keeping a MR earning card open.
Other Options: Southwest and Virgin America
I always like to check Southwest, and as I mentioned in Mileage Conservation–Redux edition, I've added Virgin America into the mix for my domestic flights this year.
Virgin America does fly a nonstop LAX-DFW. The timing of the flights is good–I could leave Monday night at 5:10pm, and return on any one of the three nonstop return flights offered: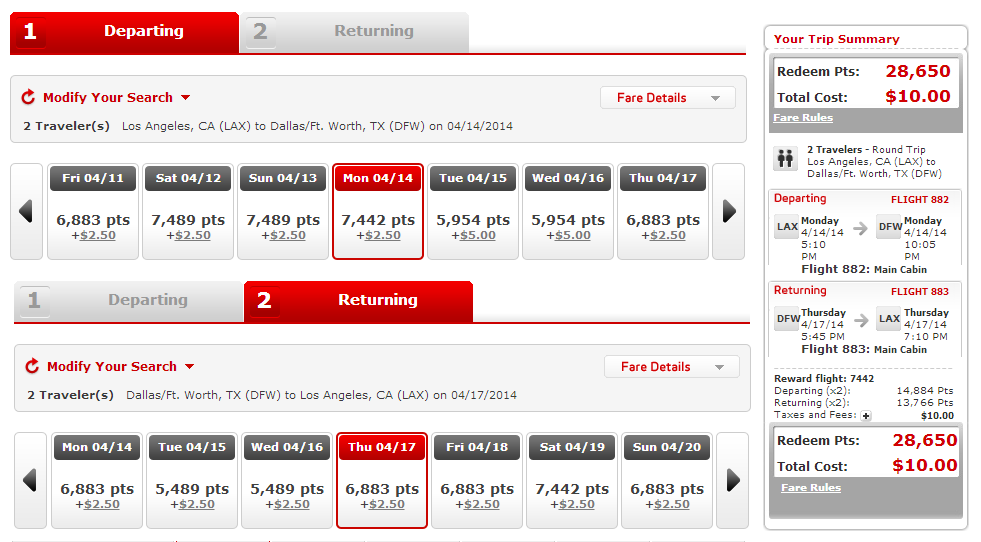 With a current transfer bonus going on 200 MR turn into 140 VX.  I'll need 28,700 VX Elevate, or 41,000 MR for these two flights. Not any better than the Avios flights above, and certainly not better than the trade I executed to book the whole thing for 31,000 MR.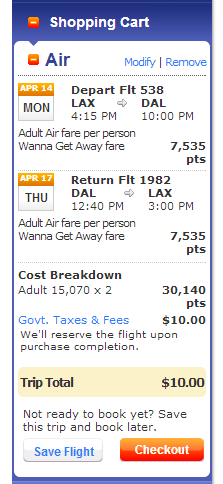 Southwest has some deals, and I could fly this for just 30,140 WN RR points for both of us.  The Nonstop AA flights Are 2.5 hours there and just under 3 hours back.  I picked the shortest Southwest connections possible, but they are still still 3.75 hours there and 4.33 hours back. The Total difference in time (and possible misconnects) is an additional 2.5+ hours.  Doing a quick calculation I can see that I'm saving enough time that even if I paid the full 40,000 MR for the flights I would still take the nonstop.  At my "shadow" discount of 31,000 MR there's no contest.
Plain Vanilla Bookings Have Their Place
Milenomics almost always likes to tie more than one flight into each booking. Today I was unable to do so.  Because of No United availability, and my very inflexible dates of travel I had to just make the booking happen as a single flight, with no stopover or free one way (or better) attached.
I was able to take advantage of a trade, and in doing so I significantly improved my value in this booking.  In the end I was able to receive 1.81 Cents per MR on this flight.  With flexible dates I could have done better–but that's not realistic in all cases, and also why I like these real world examples.
In Addition, work on building a network of friends and associates who would be interested in trading with you.  Make the terms favorable to both parties, and cultivate lasting relationships.
---
Everything below this line is Automatically inserted into this post and not necessarily endorsed by Milenomics: