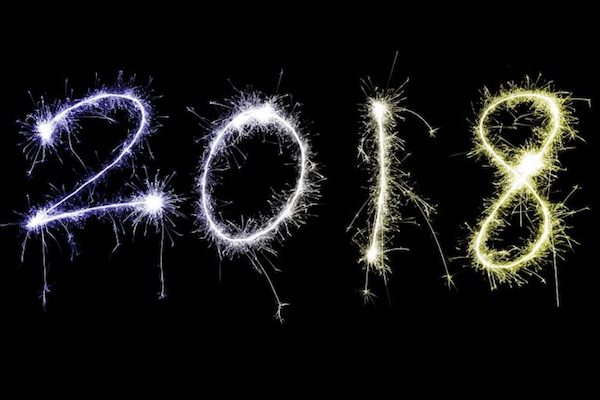 Sam here: New year, new things afoot at Milenomics. I'd like to introduce Robert who will be contributing here on the blog.  Robert and I have had plenty of discussions about travel, points, miles and the misconceptions out there. Both of us want to bring to light things that aren't getting enough discussion. He's well traveled, and has interesting points of view that I think you will all enjoy.  Robert brought up the idea of starting to write a bit on the blog and he has graciously agreed to do so.  All his posts are his own, and I'll make sure to call attention this so there's no confusion.  I think you'll see from just this first post why Robert's an asset to have here.
—
This post is written by Milenomics contributor @RobertDwyer
I always enjoy reading new year predictions, even if they don't materialize. I find it's a good time of year to take stock of what's working/what's not and adjust to the new normal that presents itself to us in the coming year.
In thinking about this I found it easier to write this as a list of "Hopes & Fears" rather than a list of predictions. That way, I can't be wrong!
Let's get right into it…
Hope: More online gift card retailers
Fear: Crack downs on gift card reselling
The challenge with gift card reselling is one of scale. Almost every authorized gift card seller has limits in place to throttle resellers. Because of this it would be great to have more authorized gift card sellers – because it would enable more capacity for breakeven or better gift card reselling opportunities.
I suspect, however, that 90+% of the gift card sales we see today are purchased by resellers. Some deals sell out in minutes. That being the case, I'm afraid we'll see some kind of crack down on gift card resellers in 2018.
Hope: Aeroplan SWISS First fiasco was a type II glitch
Fear: Lufthansa will align with SWISS and block First partner awards for non-elites
I like the notion of a type II glitch as described by View from the Wing. It's where the release of some new policy was accidental, but only insofar as it was accidentally released earlier than intended. For one magical morning this past fall SWISS not only released First award space for partner bookings. They released a ton of it. I was able to book 4 seats in SWISS First BOS-ZRH-MUC using Aeroplan miles. I even selected seats. Couldn't wait to have half the cabin to ourselves! But Aeroplan/SWISS unceremoniously cancelled the flights. They haven't so much as emailed since and I doubt I'll waste time fighting with them. To me SWISS was initially to blame but Aeroplan hasn't done themselves any favors in terms of how they've worked with customers (or not in my case) to make things right.
My hope is that they're actually considering opening up their First cabin for partner awards – they just didn't have the right amount of space available.
It doesn't make sense to me that Lufthansa and SWISS are "buddy buddy" yet they handle partner First availability completely differently. Whereas SWISS never opens it up on purpose, Lufthansa semi-reliably opens it up 2 weeks before booking.
My fear is that Lufthansa will adopt the SWISS stance because it doesn't make sense for them to fly people around in their First cabins who never fly with them otherwise.
Hope: Domestic saver level award availability will improve
Fear: AA or UA will adopt a fixed-value award chart (worth less than a penny per point)
I remember just a couple years ago flying my family of 4 to Maui for spring break on AA BOS-DFW-OGG on saver level awards. Sure the angled lie flats were so old the honeymooning groom next to us asked the flight attendant whether he really paid $1,000 "for this!?". Then proceeded to go toe to toe with that same flight attendant who asked him "if he was going to be a problem the entire flight because he could get off and wait for the next plane". Wowza – that's some start to a vacation. But hey – especially for being able to sleep on the return redeye I'll take it.
Thanks to the rise of bank points I've practically given up using miles for domestic flights. I mean, I do look. I just never find saver level availability.
My hope is that AA especially will shake loose more space. They've said they're working on it but you'd think if they wanted to they would have by now.
My fear is that they'll just do away with the whole notion of saver/anytime awards and just go to a fixed value system. And for an additional kick in the pants they'll make the point value worth a bit less than 1 cent.
Hope: After a luke-warm reception to World of Hyatt they'll offer a status challenge that's relatively easy to achieve
Fear: Hyatt will devalue their chart and/or make Chase UR transfers worse than a 1:1 ratio
Points enthusiasts love Hyatt for their treatment of elites combined with their 1:1 transfers from the Chase Ultimate Rewards program. Combine the ability to earn URs->Hyatt points on Chase credit cards that earn 3x or 5x for spend with their favorable redemption rates and you've got a winning scheme.
But it just does not make sense that both Hyatt and IHG are 1:1 transfers because a Hyatt point is worth so much more than an IHG point the way they price their awards.
I spent a good chunk of 2016 enjoying stays as a Hyatt Diamond elite due to a late 2015 giveaway. But you know what? I didn't miss it much in 2017. Dealing with their seemingly strategic carving up of room categories to thwart desirable redemptions, inconsistent status recognition in their hotels, and almost comical service gaffes on stays at some of their top tier hotels left me feeling that they wouldn't need such a generous loyalty program if they just ran a better operation.
My hope is they'll run another status match giveaway because hey – I'll take it.
My fear is someone will wake up and say Chase UR 1:1 doesn't make sense. Or they'll take care of it themselves and significantly devalue their award chart.
Hope: JetBlue will improve Mosaic (upgrade to Mint with points, complimentary EvenMore Room)
Fear: They'll introduce a top tier that's prohibitively difficult to attain
I am really impressed with JetBlue's Mint product. In talking with the flight attendants on board they felt that JetBlue wasn't as generous with truly loyal travelers as they could be. I agree. For example, JetBlue Mosaic customer don't ever get upgraded to Mint. And even EvenMore Room seats aren't complimentary (though they make for a great point redemption for those with Mosaic status).
My hope is they'll open an upgrade path to Mint for those with Mosaic status and make EvenMore Room complimentary on at least a space available basis (I mean really, who pays for that anyway?).
My fear is they'll introduce a complicated new tier that's hard to attain and downgrade the benefits to the tier that's easier to attain.
I dunno. I really think they should have merged with Virgin America to create "one good airline".
Hope: A new option will appear to pay real bills online with Visa Gift Cards with low fees
Fear: Plastiq will go from bad to worse and fold
Man, I miss TIO.com. I even miss Evolve Money. Debit card payments aren't that expensive to process. Yet, the best current option I'm aware of is Plastiq and they charge as much for payments from Visa Gift Cards as a credit card and that just doesn't makes sense.
My hope is that a new player will enter the space, or TIO will magically arise from the dead in at least some limited form (though I very much doubt it).
My fear is Plastiq will go belly up due to being a pain in the neck to use for legit payments and we'll be left with no useful online bill payment options.
Hope: Citi will "accidentally" release a Citi AA Exec 75k+ offer with no 24 month language
Fear: They'll crack down in a nasty way after realizing the error, with collateral damage
We flew AA recently without lounge access for the first time in a long time. I thought Citi played things brilliantly when they introduced the Citi Prestige card with AA lounge access just as that benefit was taken away from AmEx Plat cardholders. Then Citi released the AA Exec card with lounge access and a 100k signup bonus (and let people really take advantage of their generosity).
Now, no good solutions for AA lounge access exist that I'm aware of. Heck it's easier to get full-fledged Delta SkyClub access than limited AA lounge access. I'd be willing to pay the $450 annual fee on an AA Exec if I could get 75,000 AA miles as a signup bonus and lounge access for a year. However, their newish policy is that you can only get the signup bonus for an AA personal card if you haven't opened or closed a personal Citi AA card (of any kind) in the past 24 months.
My hope is they'll let a link out there with no 24 month language.
My fear is they'll really get mad about it and close accounts in a show of sinister incompetence.
Hope: Citi will re-invigorate their ThankYou Point credit card line-up after realizing they don't need to try so hard to have success
Fear: They'll keep sending me junk offers for promotional interest rate balance transfers
Citi has really killed the value on the Citi Prestige card since it was introduced. But you know what? It's still a pretty darn good card. Especially when you stack Citi Premier 1.25x with Citi Prestige 4th night free hotel booking paid with TYP.
My hope is they'll put some amount of effort in keeping competitive with Chase. Heck, I wish they'd just clone Chase's offering rather than the current state which is "confusingly similar".
My fear is they'll continue to think sending balance transfer promos (with 3% transfer fees) again and again will be effective.
Hope: AmEx will relent on their once-per-lifetime stance on some co-branded cards
Fear: Their RAT team will get even more aggressive on garden variety MS (on OBC for example) and they'll abandon Offers altogether
AmEx Membership Rewards have a lot of gotchas. You can't transfer them to your spouse. Their 1:1 air travel partners are quirky. They're terrible for hotels and cruises. And you've even got to be clever to get a penny a piece cashback for them.
My hope is they'll relent on their policy of allowing only one signup bonus per product lifetime and fall back on something more reasonable like once every 2 years per product family like other banks have.
My fear is they're in bad financial shape and they're seeking to plug a few leaks rather than architecting a better ship. Especially if they start scrutinizing every transaction they could be a very bad bank to do business with.
Hope: Wells Fargo will release a compelling general purpose travel rewards card (since new signups will continue to decline now that they've hopefully stopped signing unknowing customers up for credit cards)
Fear: They'll continue kicking the can down the road like they have been
They've capped their 5x cards. They've taken the Propel World underground. Do they have a strategy for rewards credit cards? I don't think they do.
My hope is they'll get serious about a family of personal and business credit cards that revolve around the GoFar Rewards program.
My fear is they'll continue to offer a confusing fragmented middling mess of cards with rewards that sometimes can/sometimes can't be co-mingled.
Hope: Four Seasons Hotels and/or Disney will finally introduce a loyalty program
Fear: Same
I really like this Disney podcast where they were discussing whether Disney should offer a loyalty program.
My take on it was that brands like Four Seasons and Disney don't offer loyalty programs because their brands are strong enough that they don't need to.
My hope is that one of these will introduce a loyalty program, most likely Four Seasons as has long been rumored, and clever types will find ways to derive outsized value from them.
My fear is they'll do this because they think they need to offer a loyalty program for some reason and they'll focus on that instead of trying to maximize value by delighting customers.
Question of the day: What are some of your points & miles hopes and fears for the coming year?