Exciting News
This January 1 I re-qualified for another 12 months of the Milenomics BYOE program.  That's right, 12 more months of this program level (Titanium).  I won't do nearly as exhaustive a review of the program materials as I did a few years ago. But I do think I should note that the program card has been updated to match the new site design. I wish it were a little weightier, but it is made of translucent plastic. I like the clear look because it lets me see the money I keep behind it is safe and sound: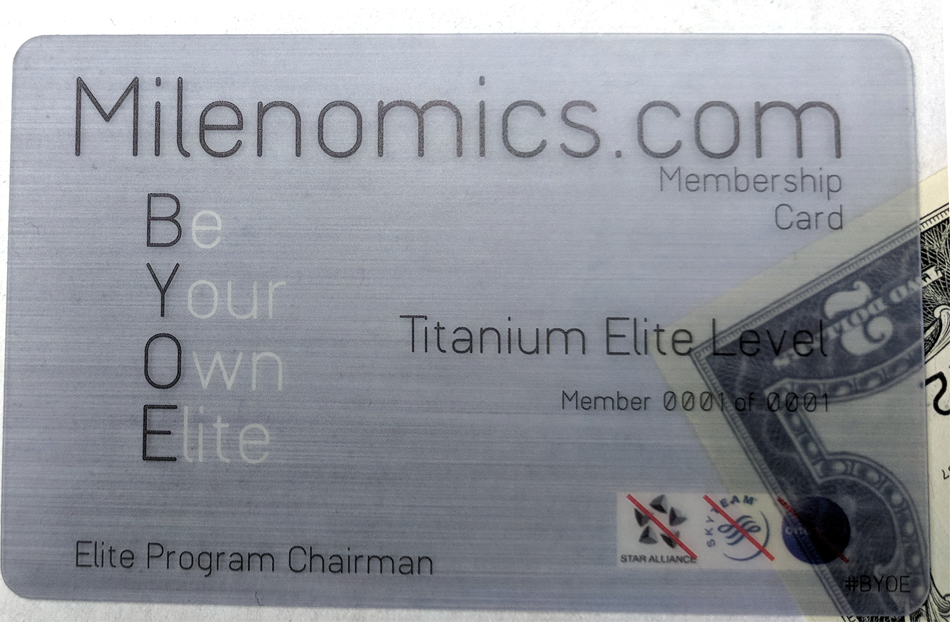 BYOE 101
For those of you new to the blog around here on Milenomics we have our own Elite program of sorts. The main goals of Milenomics' BYOE are two fold. First, it is to keep as much of your hard earned money in your own pockets. Second, it is to emulate Elite program benefits without the mess of having to qualify for Elite programs. (Watch out for those programs, they're traps!).
When you're ready to join sign up on the right hand side of this page, under "Subscribe to Milenomics." That way you'll hear of all the news/latest info on the BYOE program.
Find Who Serves Your Home Airport
For any readers just starting out, and new to travel the first step in becoming your own Elite is finding out who serves your home airports.  All travel is local (at some point) and so you'll eventually be on one ore more of these carriers.
You may want to hold a co-branded airline card for an airline that dominates your home airport. But this check is more to see if an airline is particularly thin at your home airport, and to avoid their cards for that reason. Folks in smaller markets where one or two airlines have the majority of the gates should consider those co-branded cards more than someone like me who's surrounded by 3 great airports and a dozen carriers.
A quick note on co-branded cards: They're also a trap of sorts, so consider carefully.  The trap is two fold–you'll give preference to airlines in exchange for 'free' checked bags, but how many routes do you actually want to check bags on? I've said it many times here on the blog–but the smartest travelers (and true airline elite) don't bother with checking bags. That's why free checked bags are such an easy 'gimme' from  the big airlines–anyone who flies enough to earn the perk is also well traveled enough to know how to get away without using it.  Second, these cards (and 'status' in general) can tie you to flying sub-par routes and non-ideal flight times.  I won't wake up at 6am for a flight even if you put me in the captain's chair–so if an airline has a flight at 6am I'm excluding it from my search. A status chaser might love it because he gets upgraded every time on the flight.  The old adage is still true: The best airline seat is still worse than your own bed. 
Airlines are combating this–they're not making Elite benefits any stronger, but they're instead making non-elite benefits WORSE.  These are called Economy- "basic" economy or whatever else you want to call them. In some cases (like UA) a co-branded card helps you a little here,
Surely you can't put a price on your Loyalty
Actually, yes you can. I'm reminded of a line from an episode of the Simpsons. A door to door salesman is pushing home safety products for baby-proofing a house, and he knocks on Homer's door:
"But surely you can't put a price on your family's lives!"
"I wouldn't have thought so either, but here we are." pic.twitter.com/9Xo0IBErC3

— SimpsonsQOTD (@SimpsonsQOTD) February 8, 2017
Airlines have started to get really into this, but they've also gotten really stupid about this. Take the following quick search, LAX-IAH on United: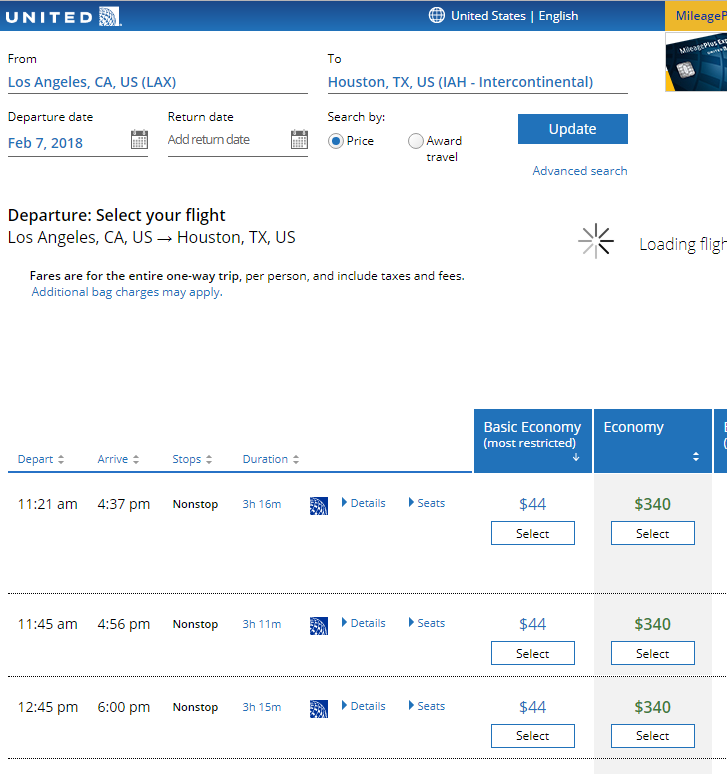 United (and the other carriers) are saying "Hey…if you and your spouse want to sit together give us $600 for that 'luxury.'" Ridiculous? Of course it is. But they own the road, so you pay to play.   Another important thing happens with these super restricted fares–they don't get you closer to the Airline's Elite status. But you know what… $600 buys you and your wife a WHOLE lot of BYOE benefits once you're on the ground.
We're not attached to an airline, but let's pretend we are. Say the above flight is one you're considering but you're a big AA fanatic. You're looking at the following options for AA travel on the same date/to the same city: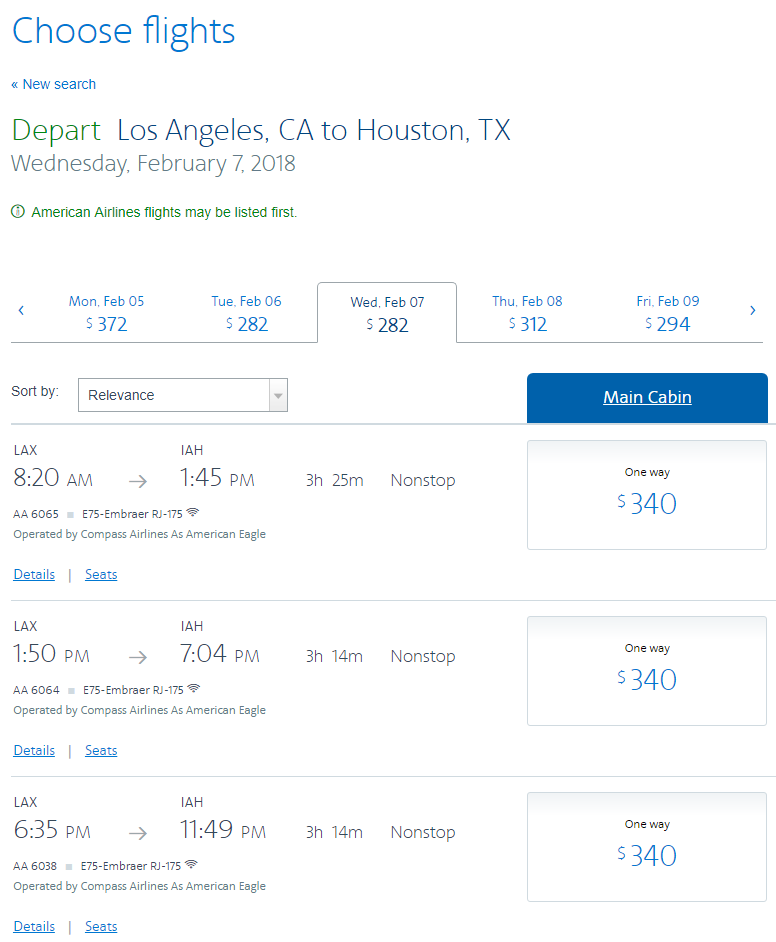 AA is saying, pay us $296 to use your elite benefits on this flight. This is the trap Milenomics BYOE is trying to save you from.
Extend this to Hotels
There's a reason Milenomics doesn't like Hotel points very much. Hotels are anchors of your time and money. I want to maximize the enjoyable time I spend at my destination, so when I want to go to a certain place it almost never includes a chain hotel RIGHT where I want to be. My travel style is to take areas that are most often day trips for people and spend entire time there. I then take day trips to the major cities most people stay in. It might sound counter-intuitive but it makes for a great travel experience, a bit off the beaten path maybe.
There are exceptions to this rule, of course, the rare chain hotel in the ideal location. But overall I won't squirrel away hotel points for a rainy day. Even when I do book with hotel points, I'll make spec bookings (more on this later) and then cancel what I don't use if a good hotel comes up at the right price. Hotel points will usually let me cancel, or book right up until the end. Or they'll let me reserve now, and 'gin up" those points as we go along (h/t to @robertdwyer for the term 'gin up,' which I now use more than I probably should).
More to Follow
This is just the start of your BYOE membership, Titanium Elite level member <insert your name here>.  Fear not, Milenomics won't trap you, it won'y ask you to fly 1-stop routes when a nonstop is available for cheaper, and it won't cost you any of your hard earned money. That's money you can spend on more travel, and together we'll make sure that happens.