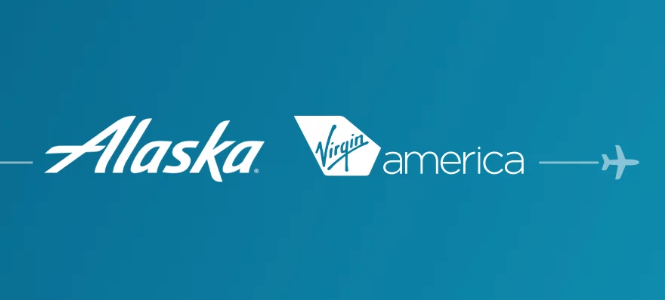 Alaska's acquisition of Virgin America has been an interesting one to interact with.
With the exception of the somewhat stingy 1.3:1 transfer ratio they elected for Virgin America miles migrating into the program, I'd say Alaska has handled it mostly well from the perspective of an infrequent Virgin America customer based out of Boston.
While I personally would have preferred a Virgin America/JetBlue merger (which would have created "one good airline") I'm cautiously optimistic about flying with Alaska and actually being loyal to them.
Goodbye Virgin America: The Gift that Keeps Giving
The loss of Virgin America as a distinct alternative brand is missed but the merger has created some fantastic opportunities along the way:
Virgin America ran a promo in late 2016 whereby if you transferred 80,000 AmEx Membership Rewards to 50,000 Virgin America miles you got Virgin America Gold status
This was going on during the initial stages of the merger while they were matching Virgin America Gold elites to MVP Gold
Alaska kept that MVP Gold status going for quite a while, through 2017 in most cases
Sure, they could have been a little more generous at every turn but really: How many Virgin America elites were out there?
And it's not like Virgin America treated their elites particularly well in the first place. Like JetBlue, they never delivered complimentary upgrades to First Class even for those with top status when empty seats were available.
Yes, you got Main Cabin Select (which included free food, drinks, and movies) but there are only 2 rows of Main Cabin Select on Virgin America metal and they were only released on a space-available basis.
Alaska Loyalty Program with Virgin America Metal
I fly to San Francisco for work a bit. I usually decide which airline I'll fly based on flight time and price, but I try to maintain some semblance of status across carriers to take the edge off.
I have low-level status with Delta and United, and I was earnestly interested in flying Alaska now that the merger with Virgin America is complete so I reached out for a status match. They obliged, matching my United Silver status to Alaska MVP – their lowest level.
As of April 2018, the merger is complete and there is no more Virgin America conceptually. But there are still Virgin America planes flying around, configured with the same First Class Cabin with massive 55″ seat pitch. Compare this to Alaska's legacy First Class with 36″ of pitch in First and the difference is dramatic. Alaska's First cabin has always felt tight to me.
But help is on the way for First Class on Alaska planes. Here is a good summary of the new standard they're working on with a 41″ pitch in First which seems like a good compromise.
I was interested in seeing what it would be like to fly Virgin America metal with Alaska's elite status recognition policies in place now that the merger was complete.
Alaska Elite Status Levels
Alaska has 3 levels of elite status: MVP, MVP Gold, and MVP Gold 75k. As just a lowly MVP, I had low expectations.
I say this after flying legacy carriers with low to middle status over the years. You just don't get much because the most compelling thing they offer [complimentary First Class upgrades] are rarely, if ever, available.
They're rarely available because there are so many other elites with higher status competing for those seats and [most] airlines have gotten smarter about pricing First Class at prices people are actually willing to pay.
Still, many companies don't allow employees travelling on business to book First directly regardless of cost. So the ideal situation for me, when travelling for work, is to book a cheap Economy ticket to do the right thing for the company then leverage some sort of upgrade angle to make the trip as comfortable as possible.
That being the case I wasn't motivated to scrutinize the Alaska elite member benefits chart below very closely until I had a reason to.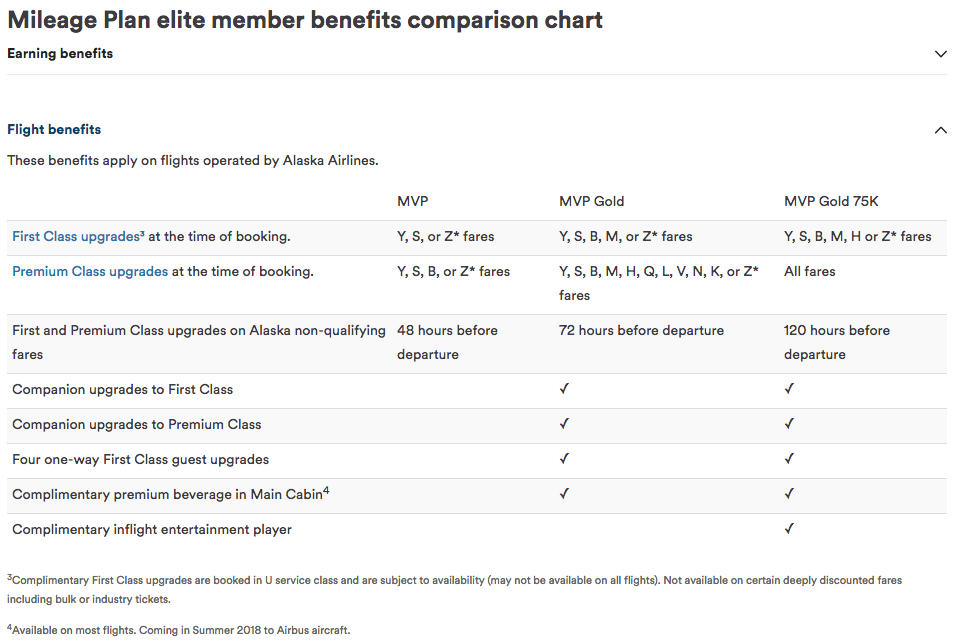 Alaska Delivers on Complimentary Upgrades on former Virgin America Metal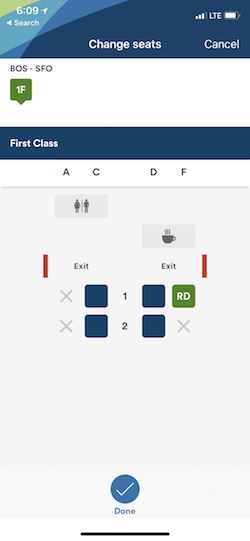 The upshot of the chart, for me as an MVP, was that I could get select a Premium Economy seat 48 hours prior to check-in on my heavily discounted $225 roundtrip ticket. I did that without incident, securing an aisle Main Cabin Select seat [in Virgin America's old term for the 2 rows in Economy that have more legroom] within 48 hours of departure.
I saw that I was wait listed for a First Class upgrade, but couldn't tell where I was on the upgrade list online. I had some trouble printing a boarding pass so I called Alaska Reservations – just the regular number, nothing fancy. A delightful agent helped me out and gave me a tip that you can see the Waitlist for a flight on the Alaska mobile app. Sure enough, I downloaded it and saw that I was on top of the First Class upgrade list with only one other passenger.
The morning of the flight I got an email notifying me that my First Class upgrade cleared. I checked my seat in the app and saw that only 4 out of 8 seats were filled meaning that anybody with any kind of Alaska status at all [like me] should have gotten upgraded on the flight.
This was for a lightly loaded 6:50a Tuesday BOS-SFO flight. But still, for a 6 hour transcontinental flight on a popular business route this is incredible. I've suffered through some truly painful "back fo the plane middle seat" United flights over the years.
And even some Delta and United Premium Economy experiences that were a bit rough. The difference in the Virgin America First experience was mind-boggling.
Return Flight on Alaska Metal: Also Upgraded
My return flight, with a Thursday SFO-BOS at 6:40a departure, was on Alaska metal.
This route was previously served only by Virgin America so it's a new thing for an Alaska Boeing plane to serve the route.
We can tell it's Alaska metal because of the 3 rows of First Class (Virgin America has only 2 rows in First) and many more rows of Premium Economy (Premium Class they call it). Additionally, rows 11-17 are reserved for elites and those flying refundable tickets.
A check of the assigned seats 24 hours prior to departure (in the image) shows that the back of the plane on this flight is full. This was a different situation than my outbound flight where just over half of the flight was full.
Due to the heavily loaded Economy Class I had low expectations for First Class upgrade, but I was able to select a nice aisle seat in a [currently] empty row in Premium Class.
But once again, about 36 hours prior to departure I got an email saying I'd been upgraded to First Class.
What is going on here? What kind of alternate universe have I fallen into? This is the way elite status is supposed to work in my mind, yet I've been conditioned to expect less. Much less.
Granted, this could all be a fluke. It's just a couple of data points.
But it got me to thinking about what factors might be in play that would make Alaska worth being truly loyal to in certain markets.
Fewer Alaska Elites than Legacy Carriers?
It's hard to get numbers on how many members there are in each carrier's frequent flyer program, and even harder to see how many elites there are in each program. View from the Wing has some rough numbers based on the Federal Government's study into whether frequent flyer programs were operating on the up and up.
The number of non-legacy elites are sufficiently in the noise relative to American/United/Delta elites that I think it's safe to say there are far fewer Alaska elites than the big three.
And what really matters, if you're looking for leverage in status towards a complimentary upgrade, is how many elites are competing for upgrades on the flights you're taking.
Alaska's hub is Seattle. SFO is a secondary hub for them, but they still operate out of two terminals, and there isn't an Alaska lounge at SFO. It's clearly an airport they're focusing on but it's by no means chock full of Alaska elites flying to Boston, where they've got just two gates they operate out of gates C40-C41 with separate security without TSAPre and hardly any services beyond security.
Fewer elites competing makes upgrades more likely.
"Directional Effect" of Alaska Elites
If there are Alaska elites on these flights, they're more likely to be California-based. And they're more likely to be business travelers. That being the case, they're likely to travel from SFO-BOS on Sun-Tues, then back BOS-SFO Thursday-Friday.
So as a Boston-based traveler heading to SFO for work I'm going to be facing less competition for upgrades.
Revenue Management on New Routes
Another important factor affecting the frequency of complimentary upgrades is how likely the airline is to sell the First Class seat "out from under" elites. If upgrades are given on a "space available" basis and there's no space – elite benefits are not realized.
So airlines seek balance between realizing revenue from paying customers for premium seats and providing some level of accommodation for elites.
But things seem out of whack on Alaska on this route at the moment.
A spot check of my return flight 24 hours out shows United and Delta are selling the seats for far less than Alaska. As low as $499 vs a staggering $1,899.

A conspiring factor here s "the JetBlue effect". JetBlue offers their outstanding Mint lie-flat product on this route, and they offer it in the $499-$849 range. This creates price match pressure that United and Delta are following.
Notice how JetBlue doesn't show up in the searches? It's because all of the Mint seats have sold out. 5 non-stops a day with Mint SFO-BOS and they're all sold out. Maybe JetBlue is onto something too.
Alaska's Focus on Rewarding Elites
But perhaps this is all intentional on Alaska's part? Perhaps they know what they're doing and want to reward true loyalty?
From their press release announcing the merger (emphasis mine):
Complimentary upgrades – With 50 percent more premium seats being introduced to the Airbus fleet, elite loyalty members will enjoy the most generous complimentary upgrades in the industry. Mileage Plan MVP Golds and above are upgraded to First Class or Premium Class 75 percent of the time (based on average historic system wide rates of upgrade) on Alaska Airlines flights. Complimentary upgrades on Airbus aircraft will debut for the first time ever in late 2018.
It seems to me that they're doing exactly what they said they were going to do.
Attaining Alaska Status
If you fly on Alaska quite a bit, it's not so hard to attain some level of status the old-fashioned way. They require only 20,000 miles on Alaska metal annually, so 4 transcontinental round trips will earn you Alaska MVP status.
If you credit your AA flights to Alaska they require 25,000 miles which is more the norm in the industry, but perhaps more achievable due to being able to mix and match. Beware that AA flights credit to Alaska as function of distance and fare class so it can get a little wonky.
Alaska is quite generous with status matches. If you've got status with another airline it's worth a shot. Follow the instructions on their site to request a match. They usually process within a couple of weeks.
If you don't have status with any airline, but fly enough to make it worth assembling some amount of status a few ideas to consider:
Note: We're big on the Be Your Own Elite program around here. But if you've got status, or you can get it without too much effort or cost it's in our best interest to maximize it.

Summing it up
For me, Alaska has gone from a quirky carrier that I was mostly interested in for booking international premium cabin awards to what might very well become my airline of choice.
They've delivered on their plans to bring Alaska's well-regarded loyalty program to Virgin America's planes. And they're improving the in-flight experience on their own planes as well.
If Alaska serves your home airport, I think there's an opportunity here that might last a couple of years whereby you can get outsized value out of Alaska status when flying routes with low to medium numbers of Alaska elites. The combined airline is still a quirky entity to many travelers, and many elites are addicted to legacy carriers.
I'm a bit concerned they'll reduce the frequency on lightly loaded routes. If that happens, "space available upgrades" will become a losing game like they are with legacy carriers, but for now I'm bullish on Alaska.
There's never been a better time to diverge from the herd and fly a little differently. Frequent Virgin America flyers were always looking for a better option, and with enough direct flights at good times to the places we want/need to go combined with an oustanding frequent flier program Alaska could finally be that option.
What do you think? What's been your experience with upgrades on Alaska historically and post-merger?