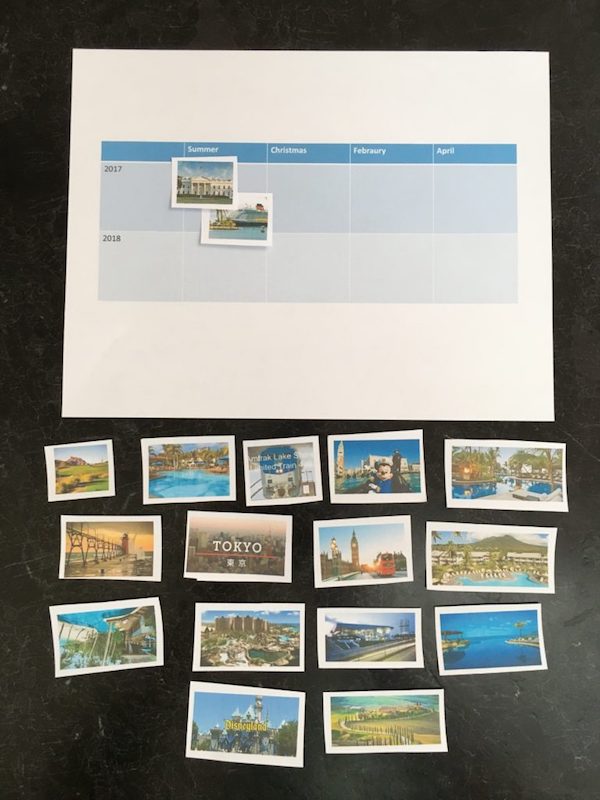 Milenomics teaches us the importance of a demand schedule. It reinforces the idea of having travel goals then accruing the best currencies to fund those goals.
Without a demand schedule we're prone to accruing the most readily available points & miles rather than the ones that are best for the job.
Over the years I've found it tremendously helpful to have periodic family discussions around what trips we'd collectively like to take. I do this by creating thumbnail images of trips we've had in our minds then getting together to place them on a two year calendar.
Why do this?
In my house, I'm the family travel planner. I find that I can waste a lot of time planning for trips we'll never take: Searching for award availability, scoping out lodging options, etc. By involving the whole family in the process I can filter out trips that are non-starters and stay focused on realizing the trips the whole family wants to take.
The rest of the family doesn't suffer from existing points & miles bias like I might since they don't know what currencies we have clanging around. They just know their preferences. Laying out the trips we want to take re-focuses my planning tremendously. I find it so much easier to pull the trigger and burn existing currencies when I have clarity on what trips we really want to take.
Seeing the schedule laid out also helps establish balance in sequential destinations. Balance between international trips and domestic, east coast/west coast, trips with extended family/just our family/just the two of us, etc.
My goal as a parent is to maximize the collective happiness of everyone in the family. This approach fits nicely into that mindset.
Tips: How to do this
Carve out some focused time where you'll have undivided attention
If you're more enthusiastic about this than others ask for it as a birthday or Father's/Mother's Day present
Enlist your kids help in collecting thumbnail images online and printing them out (we're shaping tomorrow's points prodigies after all)
Take a 2 year horizon to give yourself enough time to accrue points & miles before award booking windows open
Create "slots" for viable vacation windows depending on school/work scheduled breaks
It's okay to have multiple potential trips land on the same slot and/or the same trip in multiple slots (it provides award flexibility)
1:1 trips (just one parent and one child) can be great too – just make a note on the thumbnail saying who the trip is for
Take note of the trips that didn't get assigned a slot and revisit those objections in a couple years (kids can change quickly)
Take a picture when you're done so you refer back to it while planning
It's also fun to look back on how successful you were in realized your vacation goals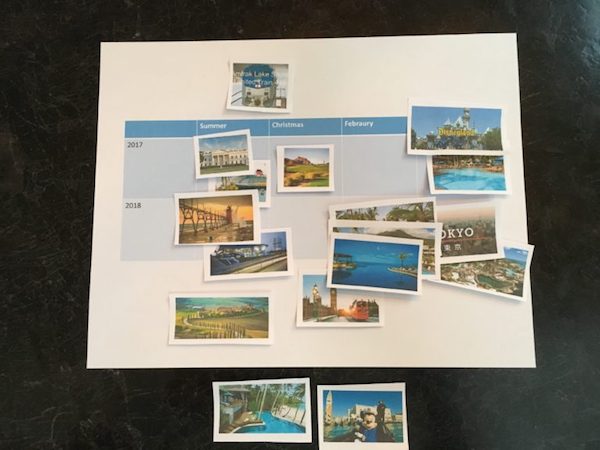 Bottom line
Invariably when you're on a trip and challenges arise it's good to recall that you're on a trip that everyone was on board for at least at one point in time. Kids grow up so quickly: You only get so many vacations with them.
Whether you're planning for yourself, a couple, or a family – take time to discuss what you really want to do. Then get out there and earn the points & miles to make those trips happen.
Related reading: Here's how Sam went about deriving his demand schedule a couple years ago
Question of the day: What tips would you share for creating a demand schedule?