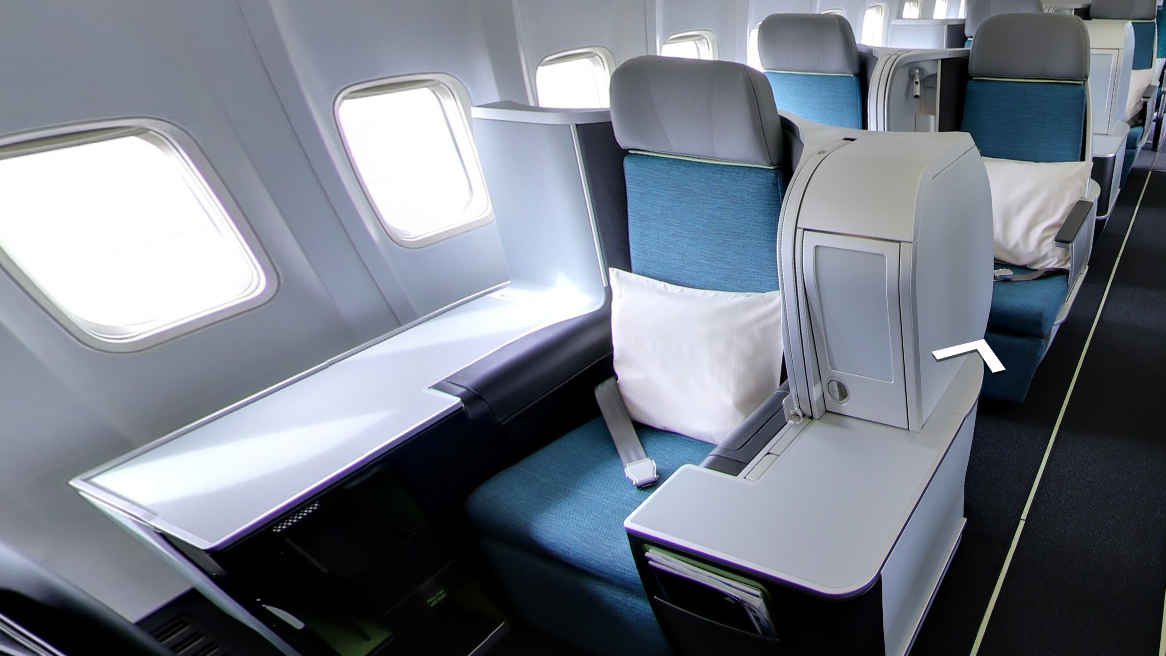 If you've followed the points & miles game for a while you may recall the sweet spot that once existed when redeeming British Airways Avios to fly Aer Lingus metal from Boston to Ireland. British Airways has an distance-based award chart and since Boston to Ireland snuck in just under the 3,000 mile mark it was a great redemption. But they fixed that for us in late 2016 when they arbitrarily bumped the Boston flights into the 3,000+ mile award bucket.
That doesn't mean it's become a bad value. But it does mean it's worth comparing your options when redeeming points & miles for travel on Aer Lingus in 2018.
Since Aer Lingus partners with so many airlines with wildly different award charts this is one crazy route to research. Which approach to use depends on:
The city in the US you're flying to/from (where it falls within partner program distance-based award charts)
When you're flying (since some partners have peak/off-peak award charts)
The points & miles you have available
Your patience for exploring and booking some of the more involved options
Considerations
It's worth pausing to consider whether Business Class is "worth it" in general for these relatively short flights. It's listed at just under 6 hours eastbound and 7 hours 20 westbound. Economy starts at 20,000 miles plus taxes + fees per person one-way using British Airways Avios for reference. Business Class goes for around 60,000 miles, plus or minus.
I'd also encourage taking a look at the cash prices for these flights. If booked as a roundtrip, combined with 1.5 cent per point uplift through Chase or AmEx, cash prices might be comparable and you wouldn't have to contend with award availability.
Speaking of award availability I seem to be seeing 5 seats available in Economy and 2 in Business for most flights. I see this for enough dates that it leads me to believe that's the ceiling of what is released on a flight. I'm unsure whether any of these award seats will "regenerate" after some time when award seats are booked. Looking close in, I suspect they do not but I don't have enough experience monitoring this route to know for sure.
Another option besides using miles to get into Aer Lingus Business Class is to purchase a paid seat in Economy directly from Aer Lingus then bid for the upgrade. From the sound of datapoints you might get one in the neighborhood of $400 per person one-way. That could be a good option as part of a paid roundtrip, since one-way paid flights can be nearly as expensive as round-trip for flights to Europe.
Distances
Since many of the programs we'll discuss use a distance based award chart we'll need to get a feel for which cities Aer Lingus flies to, and the distance of those flights from Ireland.
Below are the Aer Lingus direct flights and the relevant bands within the Avios and Qantas award charts.
Red is 3,000 miles, a line that's largely not relevant anymore since Avios considers Boston 3,000+ miles even from Shannon, Ireland
Blue is 3,600 miles, the point where Qantas goes from 53,000 to 65,000
Green is 4,000 miles, the point where Avios goes from 60,000 to 75,000
Black is 4,800 miles, the point where Qantas goes from 65,000 to 78,000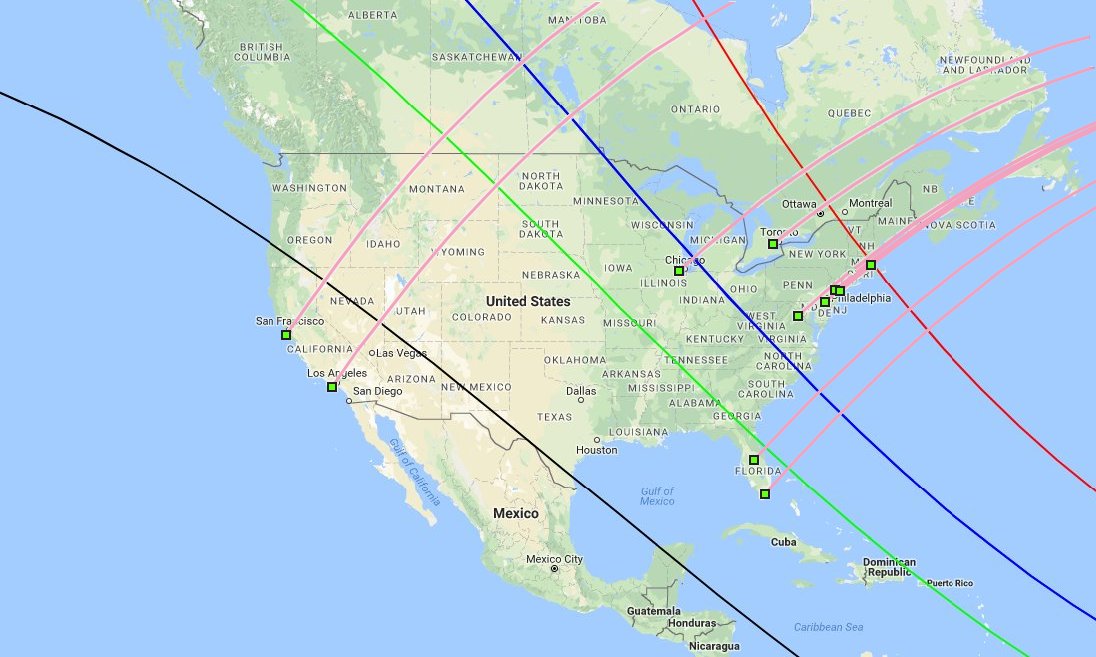 Summing this up, as you sweep from west to east the best miles to use varies. It goes from United to Qantas to Avios back to Qantas. Crazy, right? We'll get into more details below with an example city so you can see how to price it out for cities that work for you.
For the purposes of this post, I'll explore sample booking from Dublin to Boston in Business Class at a time that British Airways/Avios consider "peak" (here is their peak/non-peak calendar). Hopefully the trends will be useful for any bookings using points & miles to fly Aer Lingus from the US to Ireland.
All prices below are per-person one-way in Business Class on Aer Lingus Dublin to Boston
Avios.com
I'm going to start here because in my experience it's the only reliable place to check Aer Lingus award availability, even though it's probably not the best option for booking due to high taxes & fees. You can create an account for free at avios.com and immediately perform award searches without any miles in your account.
The way you'd get miles in an Avios account is by "combining" them from British Airways, Iberia, or Aer Lingus. You'd get these currencies from co-branded credit cards or 1:1 transfer through Chase Ultimate Rewards or AmEx Membership Rewards.
Cancellation fees are 30 GBP (~$48.40 USD at the moment).
Cost: 60,000 Avios + $186.40 (50,000 non-peak)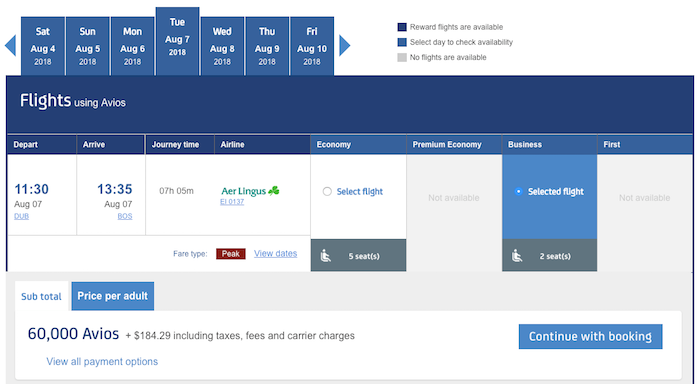 United.com
This is probably the most straightforward of the bunch given how familiar many of us in the US are with transferring Chase Ultimate Rewards to United and performing award searches.
If there is partner award availability on Aer Lingus, it will price out at 70,000 United miles regardless of the distance to the city flown in the US. This hold true even if combining it with flights on United metal. So this can be a good option if live in a city not served by a direct Aer Lingus flight and you can find saver level availability on United connecting flights. You can also connect onward into Europe for no additional miles if you find saver level availability on Star Alliance carrier.
Caution: Beware of phantom availability. When I searched I saw 4 seats on United.com whereas only 2 were showing on Avios.com. In reality there were only 2 seats available. Keep this in mind before transferring points to United because you won't discover this until you get far into the booking process.
Cancellation fees align with United's cancellation fee chart, generally $75-$150. Less if you've got status with United.
Cost: 70,000 + $47.51 per-person one-way in Business Class Dublin to Boston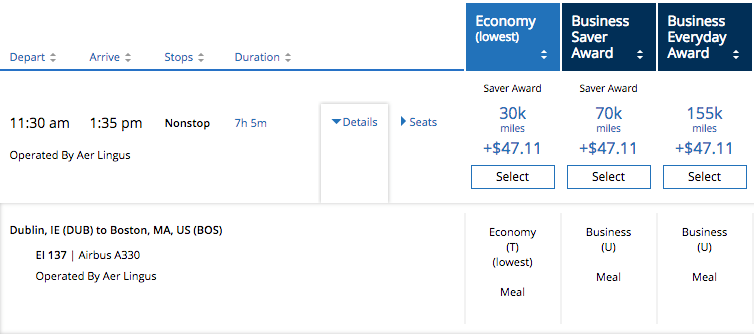 British Airways
This used to be the best option to book this route before they arbitrarily nudged Boston into the 3,000+ mile bucket. But it's still a better option than booking on Avios.com due to lower taxes & fees. You can stretch as far as ORD within this distance bucket (see this great post by MileCards with these details and more).
You can earn British Airway Avios through their co-branded Chase credit card or 1:1 transfer from Chase Ultimate Rewards or AmEx Membership Rewards.
Call 1-800-452-1201 to check taxes & fees and to book.
Cancel fees are $55 + a $25 phone fee you may/may not be able to wiggle out of since they can't be cancelled online.
Cost: 60,000 + $88.18 per-person one-way in Business Class Dublin to Boston (50,000 non-peak)
Qantas
Here's a wildcard I hadn't considered until I read this post from Richard Kerr over at The Points Guy.
Like Avios, Qantas has a distance based award chart. Theirs stretches to 3,600 for 53,000 miles in Business Class so it reaches from Ireland to cities in the northeast US and mid-Atlantic. If you're just flying to Ireland with no additional connections needed or available this could be your best option.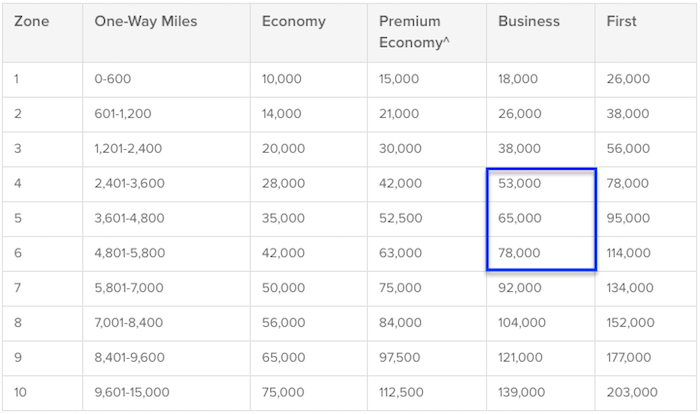 Qantas is a 1:1 transfer partner of Citi ThankYou Points. Transfers are not instant: Mine took "overnight".
Create an account at qantas.com to perform searches. Call 1-800-227-4500 to check fees since you can't check fees online unless you have enough miles in your Qantas account to pay for the ticket (HT RewardExpert).
Beware of phantom availability. Their site showed 4 seats available whereas Avios.com showed only 2. I realized this was phantom space when I went to book it and only 2 seats were truly available. Calling Qantas didn't help. Qantas and United seem to habitually show 4 seats available in Business Class when only 2 are actually available.
Change/cancel fees are 5,000 Qantas miles.
Cost: 53,000 + $69.72 per-person one-way in Business Class Dublin to Boston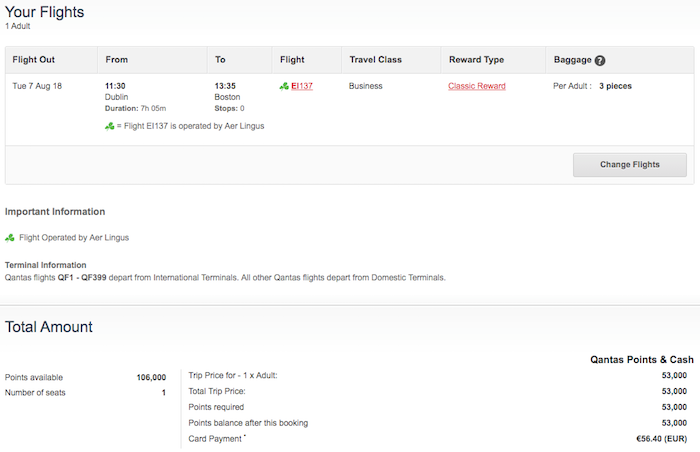 So Which Miles are Best?

If you're just flying from Ireland to the northeastern US or mid-Atlantic and have enough Citi ThankYou Points, Qantas is your best option at 53,000 + $69.72 per person in Business Class.
If don't have ThankYou points but do have Chase Ultimate Rewards or AmEx Membership Rewards, and/or you want to fly to Chicago booking over the phone with British Airways is your best bet at 60,000 + $88.18 (or 50,000 off-peak).
Finally, if you want to add connecting flights on United and/or Star Alliance partners United.com is your best option at 70,000 miles per person + $47.51.
Conclusion
Ultimately, it comes down to which points & miles you have on hand, the ease with which more points & miles can be generated, and the importance of flying in Business Class.
I booked a couple seats in Business Class for an upcoming trip. Although I'm hoping a couple more seats open up front I'm doubtful they will and I'll be content flying 2 up front, 2 in the back. I think either option is a perfectly fine way to get to Europe using points & miles.
Any angles we missed? Anything we got wrong? We'd love to hear from you in the comments.