Today we'll start a new series here on Milenomics. East Coast / West Coast will be an occasional series where Robert and I discuss something related to points and miles from two totally different points of view. The idea for this series builds upon the importance of following and reading local blogs.  Today's post will help to show important information for travel to Hawaii from the West Coast.
This post really grew organically. Robert and I were working on flights to Hawaii for a "Brandon Asks" post. The reader wanted to fly out of Newark and visit Maui.  As Robert and I started working on the puzzle we realized that each of us were attacking the problem with a completely different mindset.
I didn't consider the need for a lieflat seat (the return flight was almost 10 hours), and I kept relying on my go-to currencies like Avios and Singapore Krisflyer miles.  Robert was the complete opposite: He'd experienced the pain of flying to/from HI from the East Coast, but he had no experience with Avios on Alaska metal.  We both were looking at two totally different puzzles and solving them in our own way.
Some of what follows is still useful if  you live on the East Coast, it just won't always save you money or miles over using more traditional programs. Today's tips and tricks take advantage of the reduced pricing of partner awards. US carriers like AA, UA and DL will charge you somewhere in the neighborhood of 22,500 miles each way to Hawaii in coach. Today we'll show you some options that could get you there for almost half that.
West Coast To Hawaii: So Close, Yet Still So Far Away.
I'm not going to claim that Western states are somehow "close" to Hawaii. They're not. But living where I do I tend to think of Hawaii as a single flight away.  And since Hawaii can be such a magical destination there's a lot of excitement over that flight, which makes it so much easier for me to handle. So Hawaii feels close.  For the remainder of this post the term close will serve to just illustrate that the trip to Hawaii is nowhere near what it would be if I lived on the Eastern seaboard.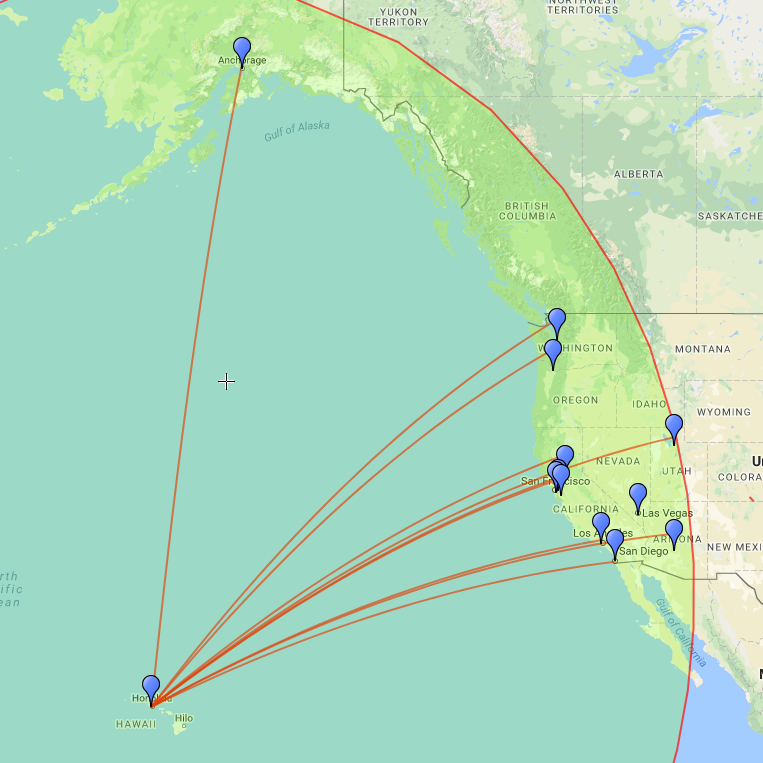 Repeat Performances
One of the biggest benefits of living close to Hawaii is that it is so accessible for those of us on the West Coast. I flew out for 5 nights once. I booked the trip around a 3 day weekend and added a day on either side. Coming from the West Coast this is doable–flights leave in the morning and arrive early enough to give you a partial first day. Coming back on a red-eye you still a few hours to freshen up and make it into work that same day.
Because the islands are close I'm constantly planning a return to them. While someone from the Midwest or East Coast might make the trip once every 2-3 years (if that), it's close enough that West Coasters could go a few times a year. This makes me hyper-sensitive to spending miles for premium cabin space because if I spend 2x  the miles I'm literally cutting down the number of trips I take there by 50%.
These flights are also cheap for us on the West Coast. Recent fare sales have pushed trips to different Hawaiian islands from some cities into the Sub $400 range round trip. That makes booking them with miles difficult to justify, even in coach. We'll still go over the three best programs to use for West Coast flights to Hawaii and then discuss when it makes sense and when it doesn't make sense.
Update: reader bluecat reminded me that Alaska's 2-for-1 certificate is a great way to get to HI on paid fares from AS cities. It almost halves the cost of a paid ticket, charging you just the taxes and fees on the second ticket. I also learned it is actually called "Alaska's Famous Companion Fare™"
Tips and Tricks
From the West Coast the best programs for award flights are British Airways Avios, Air France/KLM Flying Blue and Singapore Krisflyer.  Any combination of these programs also works because all of them allow one way bookings. Which of these three programs is best for you depends on a few factors. The most important of those factors is where do you live? More specifically, Do you live in a City with direct AA/AS service to the Hawaiian island you want to visit? If so then Avios will represent the best possible savings for you.
The reason for this is that Avios are distance based. That's good for those of us living in AA/AS cities with direct flights. It is less good for anyone in a connecting city. British Airways charges per segment, with a segment minimum of 7,500. When you start adding connections your cost in miles goes up. We'll get more into this later, but right now we'll focus on just those cities with direct flights to the islands.
Cities With AA/AS Nonstop Flights:
If you aren't sure if you live near an AA/AS nonstop city here's a composite map made from flightconnections.com: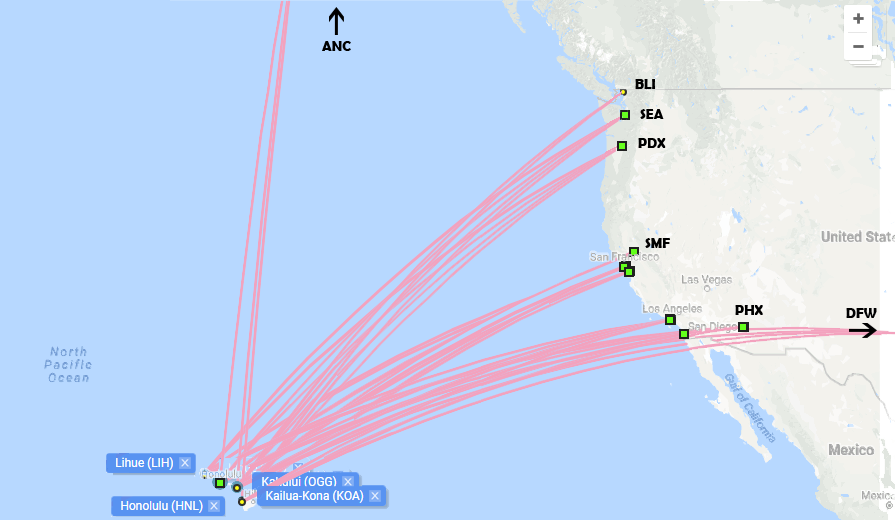 Avios bookings from all of the above West Cost cities (DFW not included) are 12,500 per person each way. That's almost half of what AA will charge you for the exact same seat on the exact same flight. AA flights can be booked online on www.britishairways.com, but you must call in to book Alaska Flights.
12,500 Avios each way… what's the catch? Well, there may be zero days that work for you, or not enough seats for you and your family on any of these routes. AA and AS have been very tight with saver award space. Award space is looking better than it has been, and there are seats this summer on flights (right now).
Cities with DL nonstop Flights (EXPERIMENTAL)
I'd love to hear from readers who've successfully booked DL low level Hawaii awards. I've only seen them on extremely rare dates, and usually not enough seats for a family. What follows assumes that the planets aligned and somehow you found low level awards.
FlyingBlue charges a fixed amount for DL flights to Hawaii, regardless of connections. For 15,000 FB miles you can book on way to Hawaii. Not as low as a direct flight with Avios, but cheaper than a 1 stop Avios option. You don't need to live in a DL hub, but you do need to live in a city with Delta Service since you'll need to fly to a hub. Those West Coast DL cities look like this: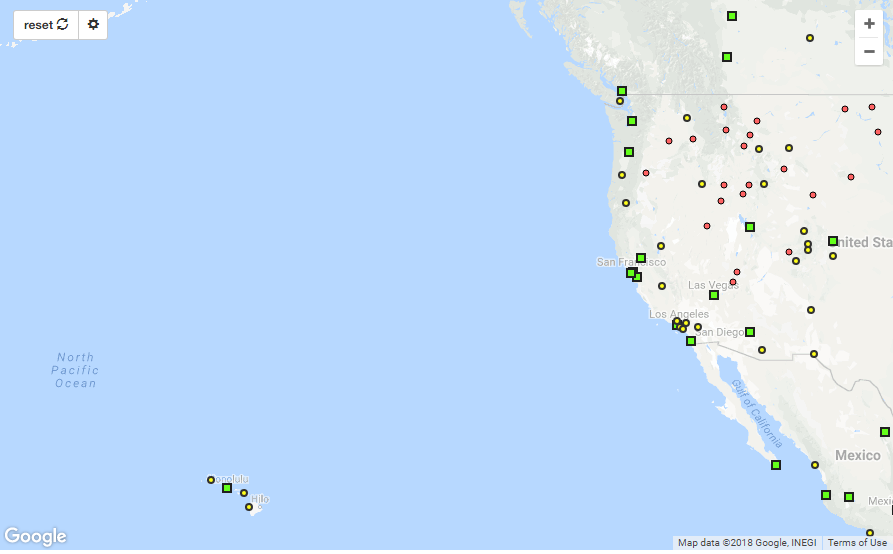 You'd need to find connecting flights at low level, then would need the long flight to the islands to be low level as well. And if you can do that you'd be rewarded with a 15,000 mile AF/KLM Flying Blue booking each way.  In theory those flights can be booked online at flyingblue.com.
What about those reduced cost first class FlyingBlue awards to Hawaii you read about? chance of sitting up front? Doubtful…I can't recall the last time I saw low level premium DL awards.
United, Your Last, Best Hope
Flying from a city served by United flights to the Hawaiian Islands is best done with Singapore Krisflyer miles. The program, like FlyingBlue, allows connections without changing the price of the award the way Avios would. If you're not in a city with direct island access then Krisflyer is going to be better than Avios. You can get to HI for 17,500 each way, provided you can find saver award space. The good news is that United has been dumping tons of coach seats at saver levels, across all their routes. (I'm shocked too)
A quick map to show you the west coast cities with UA service so you can consider if Krisflyer miles are right for you: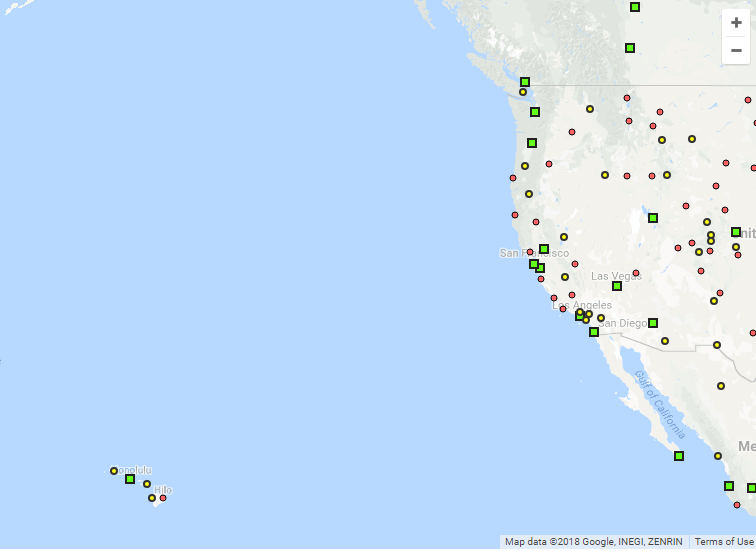 If you're in a hub and have a choice between Avios and Krisflyer Avios will be cheaper. But if you're not in a hub and have access to United metal Krisflyer wins. Confusing? Well let's look at a real life example, Fresno, California(FAT) to Maui, Hawaii(OGG). There are plenty of routes to get to Maui, but let's use one of the more common, FAT-LAX-OGG: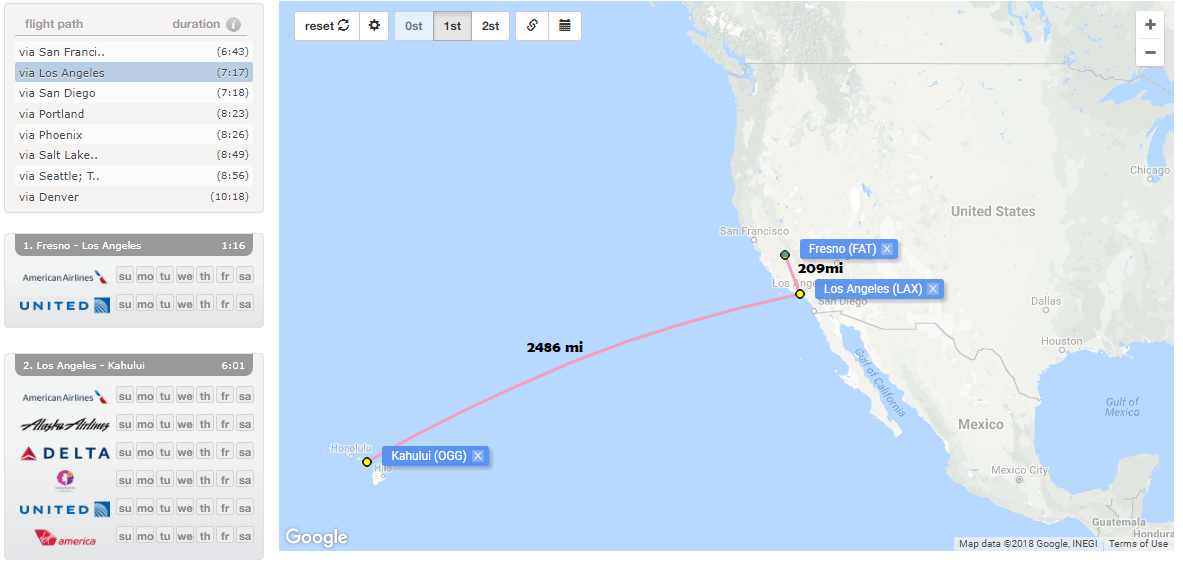 FAT-LAX is serviced by both AA and UA, LAX-OGG is serviced by AA, AS and UA. So this is a good example. You could book this with avios. 7500 avios for the FAT-LAX segment, and 12,500 for the LAX-OGG segment, for a total of 20,000 Avios each way.  Or you could use Krisflyer miles for 17,500 each way (fixed regardless of distance and connection).
All of the above doesn't answer the really critical question: Is this a good idea? Well that depends. Let's take a look at paid fares for FAT-OGG, sometime around May/June: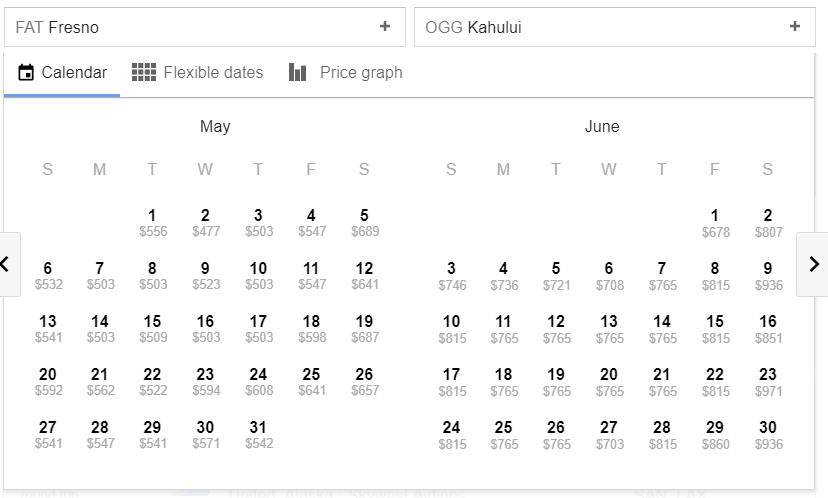 Options in the earlier part of May are in the $475-$525 range, and then they start going up from there. If you used a flexible bank point, like the ones Robert outlined here you'd be looking at 31,800 points (@1.5cpp) on the lowest day and 47,100 points for an average day (~$700 fares). That compares to either 35,000 Krisflyer or 40,000 Avios to book FAT-LAX-OGG with miles.
A quick chart, valuing each mile at 1.5 cents shows you the breakdown for each possible booking scenario:

Think of this as your cheat sheet. When If you're able to make a booking happen with miles and cash fares are above this amount then the miles win outright. But what about when cash fares are roughly equal to these amounts? Miles still might win out.
These Are Refundable-ish Fares
I don't think it is a fair fight to compare non refundable paid cash fares directly to these award flights. I want to stress that all three of the above frequent flyer programs make cancelling extremely easy. For Avios, I follow the instructions I wrote about years ago, and book all my flights as 2 one way awards. This gives me a chance to cancel either side of the ticket without affecting the other. I can even cancel a return after flying the outbound this way.  The cost for this cancellation is forfeiture of the $5.60 per segment.
Krisflyer has a similar low cost to cancel, $30 to cancel outright, $20 to change to a different flight: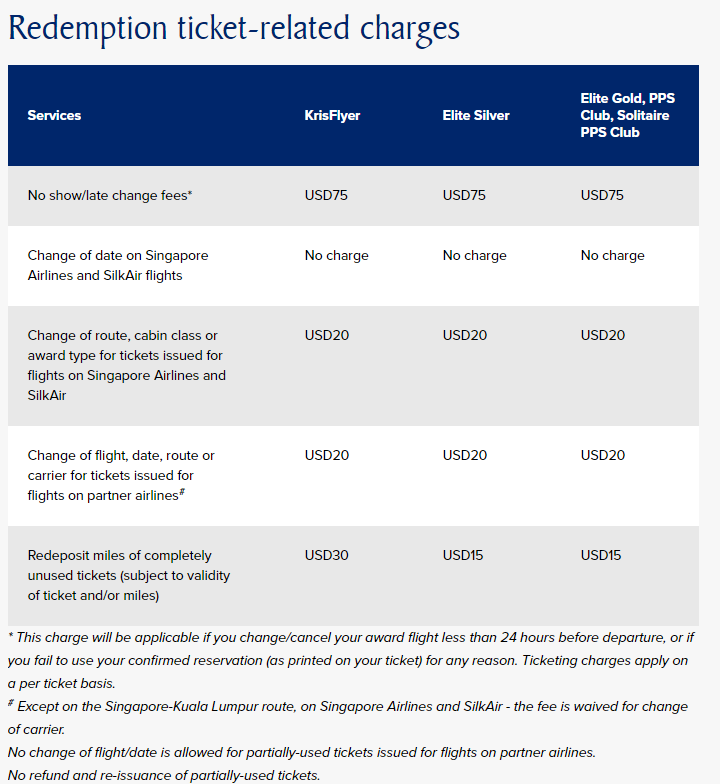 FlyingBlue would charge you 45€ for a cancellation, lower than the cost of a paid ticket, but higher than either of the other options above.
All three of these programs destroy mainline carrier's cancel/change fees that are now up to $200 (per ticket!).  I really like the flexibility of these miles for Hawaii because I can book and then cancel if plans change or better awards open up.  And traveling with a little one I've learned to expect the unexpected. We've had more than one occasion where a trip needed to be scrapped due to a last minute cold.
Low Level of Low Level Awards
I love flexible tickets, and I love saving miles as much as the next guy/gal–but there aren't always good opportunities to do so with travel to Hawaii. There's a serious issue with a lack of low level space, especially in premium cabins. I won't waste my breath or yours outlining the 'best programs for premium cabin awards to Hawaii,' because those awards rarely exist, and the cabins from West Coast cities are hardly premium.
Meanwhile fares are being slashed and good flights to/from West Coast cities are now under $400 for the first time in ages. In the low cost landscape of West Coast to Hawaii you might do best booking via the UR/MR/TYP travel portals as paid tickets. But if you find the award space and the paid fares are high enough use the tricks above to get to Hawaii for less.