I recently tried my hand seeking a price match from Hotels.com. I've never pursued a hotel price match through any booking channel, but especially since Hotels.com sells discounted gift cards, has a rewards program, allows for the use of coupon codes, and participates in shopping portals – I thought it would be interesting to write up a hotels.com price match review while pursuing a deeply discounted hotel stay.
We discussed this at length in Episode 62 of our podcast.
Submitting a Hotels.com Price Guarantee Claim
Before we get into the responses I got from Hotels.com, I'd like to mention an important limitation of Hotels.com's price matching scheme. You have to first book the hotel with them and then submit a price guarantee claim. This is meaningful because the act of booking a room can increase the price a hotel is asking for a given room category. What I'd prefer is a mechanism where you can chat with them online to get a rate adjustment in your shopping cart online before booking.
Further, since you have to book before pursuing a price match, it puts you in a bind for non-refundable bookings. If they tell you to pound sand you're stuck with the booking if they don't want to match the price for whatever reason. So for this comparison I'll be talking about a refundable booking, booked with a credit card as opposed to a gift card such that I could cancel the reservation if they didn't want to match hotel-direct pricing.
To submit a Hotels.com Price Guarantee claim go here:
https://www.hotels.com/customer_care/pillar/price_guarantee.html
Try 1: Hotels.com price match review – Submitting a Price Guarantee Claim
For this example scenario, I tried booking a Disney hotel.
The price showing on Disney's site was $497.75/nt at Disney's Yacht Club Resort for 2 Adults, 2 Children in a Standard View – Club Level room.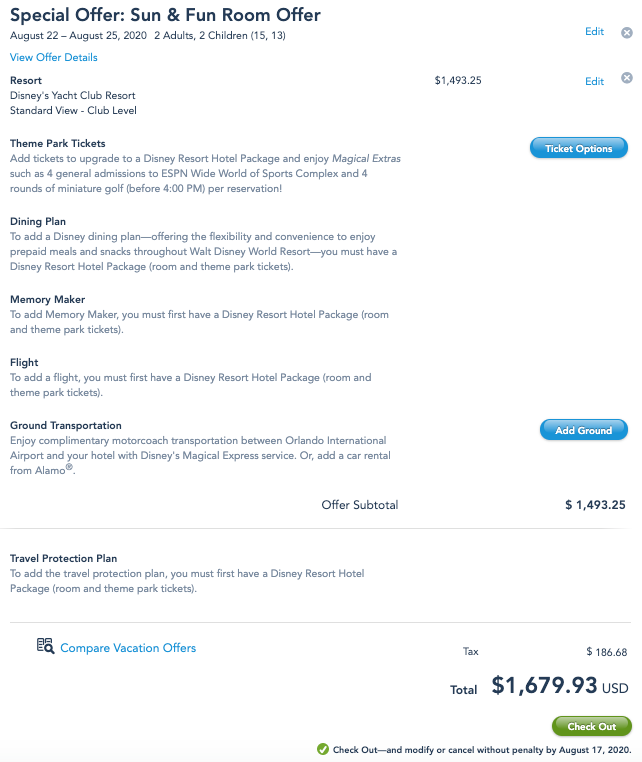 For comparison, the price of the same room for the same dates and number of people in the room on Hotels.com was $733.67/nt: A whopping 47% more than booking direct.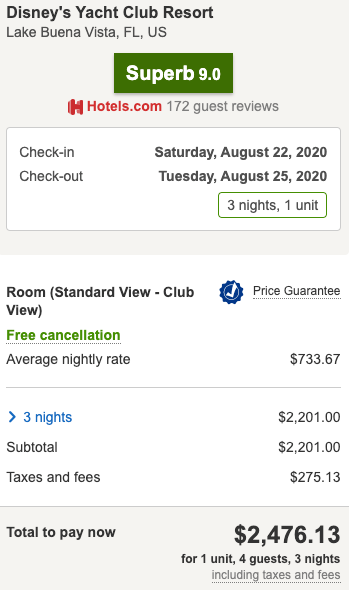 I thought for sure this would be as easy and straightfoward a match as possible. I mean, I wasn't even asking them to match some third-party travel agency. I was just asking them to match the hotel-direct price, readily available on Disney's online booking site: https://disneyworld.disney.go.com/resorts/
They say they respond to Price Guarantee requests within 24 hours. 26 hours after submitting my claim I got an email back stating my claim was rejected for a lack of cancellation policy in the screen shot:
Thank you for contacting Hotels.com Customer Support regarding your itinerary number <redacted>.

We appreciate your effort in finding the best deal possible. Upon reviewing, we noticed the cancelation policy is not included on the screenshot. As such, we checked the hotel's website since all claim are subject for real-time validation yet, were unable to confirm the rate as price listing vary without prior notice.

The good thing about this, as the booking is still upcoming you still have more time to submit another claim. We will accept your price match request until 11:59 PM the day before you check in.
For more information, please review the Price Guarantee FAQ's on our website.
Try 2: Providing a Screenshot with Cancellation Policy
I thought this might be the technicality they caught me on. However, the cancellation policy of booking direct vs. booking through Hotels.com was exactly the same.
So I submitted another screen shot that included the cancellation policy. This time they responded saying the rate is no longer available:
Thank you for contacting Hotels.com customer support specialist regarding your reservation under itinerary <>.

We want you to have the cheapest rate and best deal, we immediately validate it real time but upon checking it the rate that you are pertaining is no longer available. Please know that all claims are subject for real time validation. If ever you get to see a lower rate just send us a screenshot of the lower rate (that is also available for real-time validation) containing these complete details (matching with your existing reservation) so we can validate your claim much easier:

– Hotel Name
– Room Type
– Travel Dates
– Number of Occupants
– Cancel Policy (non-refundable/refundable)

Should you have one displaying all of these, do not hesitate to send it to us on or before 11:59 PM the day before check-in. You may visit our website for Price Guarantee FAQs for future references. For more information you may visit this link : https://service.hotels.com/en-us/#/article/12019
At this point I'm starting to get frustrated because:
The rate was, and still is, available when booking direct
My second submission already included a screen shot showing all of the details requested
Try 3: One last attempt through the usual channels
I gave it one last try because the agent's response didn't make sense to me. I wanted to give the support rep the benefit of the doubt. I said:
I don't understand.
I did include a screen shot that met all of the requirements and I checked the Disney direct rate before and after I booked and it remains at $497/nt.
I'm disappointed by the lack of curiosity on your end and would like you to give you and opportunity to make this price match.
Could you give it a second look, and perhaps show me *your* screen shots with the higher rate?
Please refer to my original screenshot and also this one that I just pulled up on mobile to reconfirm it is indeed $497 Disney direct.
Check for the "Sun & Fun Room Offer."
Response from Hotels.com:
Thank you for your response.

We understand that you want to get match for the rate you saw but please know that all requests are subject to verification by Hotels.com. We will not accept screenshots or other purported evidence of a lower price that we cannot independently confirm. We have validate it but the rate that you are pertaining is no longer available. As per the screenshot that you are requesting, please know that we are unable to send attachment due to system restriction. We highly appreciate your understanding regarding this matter.
I don't get it. The initial response after my second inquiry was that I should send a screen shot. But the third response is that they don't accept screenshots. Why are they asking for screen shots when they don't accept them?
And what do they mean when they say the rate is no longer available? It feels to me like they just check the rate on Hotels.com rather than earnestly explore the hotel-direct pricing.
I concluded that the discussion wasn't converging so I directed my efforts through Direct Message with Hotels.com on Twitter.
Try 4: Contacting Hotels.com via Direct Message on Twitter
My hopes were initially bouyed by the quick, human response from Hotels.com's Twitter team, @hotelsdotcom.
However, after submitting screen shots for them with 5 steps for reproducing the hotel-direct pricing they too folded:
Thanks for the attachment and the steps, however, we can't still access the Disneyworld's page. What we can do here is, we'll escalate your request to our Consumer Relations team and you'll be contacted within 24 business hours. Your patience and kind understanding are highly appreciated.
They can't access Disneyworld's [sic] page? What on earth? I found the lack of curiosity disappointing.
I never heard back from Hotels.com's Consumer Relations team.
Bottom Line
Based on this experience, I think Hotels.com's Price Guarantee is a sham.
I provided them the information they requested, and gave them a reasonable opportunity (4+ times) to price match a legitimate hotel-direct price. Yet, they provided a variety of excuses that don't make sense to me and ultimately didn't match a publicly posted price that was significantly better than the Hotels.com price.
In Epsiode 62 I discuss how I was able to get the effective price of the booking down to around $362/nt vs the $497/nt Disney-direct through a variety of techniques, including purchasing discounted Hotels.com gift cards and stacking it with other promotions. But these techniques are undeniably a lot of work: There's no such thing as free travel.
So, there are some opportunities with Hotels.com for extreme couponers. But the savings are on par with the effort applied. And I'd encourage considering their Price Guarantee with a heavy dose of skepticism, especially for non-refundable bookings.
The impetus for our discussion about these stacking endeavors was to compare it to living the bank point lifestyle. And really, whether the uplift associated with cards like the Chase Sapphire Reserve and others is a mirage. More on that in a future post…