Note: If you haven't listed to the Saverocity Observation Deck podcast #78 you might want to before reading this post.
A good friend is headed to Italy with his wife and son in a few months and asked me for a recommendation for a hotel. The place I stayed at the last time I was in Rome was booked for their dates, so I had to search for an alternate. I'm sharing the search here to help others who might also be interested in the same kinds of hotels. Every time we go on holiday, hotels are our place of accommodation. As we don't really have many family members located in various countries around the world, this is pretty much our only option. I don't think I've stayed anywhere where the staff have been disrespectful or the rooms have been a lower standard than I imagined. I am friends with a number of hotel managers, who have informed me that they (hotel operators) are always thinking of improving the hotel property management side of their businesses, in order to try and cater even more to the needs of their customers. This is amazing and makes me even more excited for future trips.
Today I'll outline how I go about finding hotels that *I* want to stay in. Hotels that give free (FREE!!) water bottles even without elite status. For some background, I'm not a big fan of large hotels. I debated titling this post a very Click-Baity "The #1 Way to Avoid Hotel Resort Fees," because as the size of the hotel increases the likelihood of a resort fee also increases. Fortunately a more rational title prevailed. I'm also tagging this as #FamilyTravel because I think it best fits into that theme.
Booking(n.)
I tend to lean pretty heavily on Booking.com for my initial searches of boutique hotels. I've used it to find some pretty unique properties all over the world. As you will see today it is an increasingly valuable search tool for European hotels. The following doesn't just work for Europe, it works anywhere Booking has a good footprint.
I start my search on Booking and from the results page I like to filter by a few different levels. Maybe I want to limit myself to 3 and 4 star properties. Check. Also, I want to splurge and take advantage of the "killer" elite Hotel benefit, "Free" Breakfast.
For me I don't usually filter by breakfast. As I said in my observation Deck podcast, I won't always even eat breakfast at hotels when it is included. When there's really excellent local restaurants I usually end up skipping comped breakfast anyway. But my friend has a small kid, and I also agree with Joe: sometimes with kids having the option of food at the hotel is a benefit simply because you can stamp out Hangry kids before you start the day. So we'll keep breakfast as an option.
I also like to filter by "Top Picks for Families:"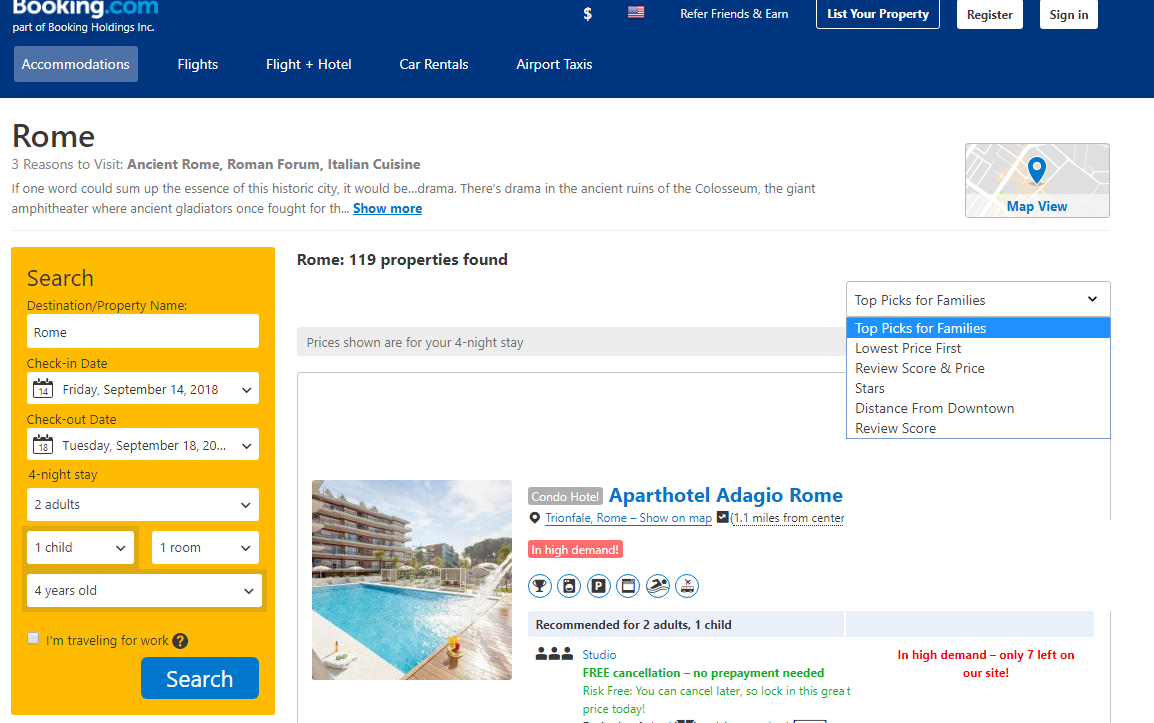 As you can see above there are 119 properties based on my filters between $180 and $240 a night. The reason I put that price stipulation in place is purely personal preference. My gut tells me this will probably end up being booked this with a flexible currency. That means $180-$240 a night will relate to something like 14,400-19,200 points per night (a very rough 1.25 CPP estimate, we'll tighten this down when we go to book.) And remember there are no gimmicky fees here, that final price includes everything, even water. /s
More on Scores
The Scores given to hotels on Booking.com are what make the site so incredibly valuable. You're reading reviews from people who have stayed at the hotel, and who were asked to score the hotel in many different areas.
The Booking.com rating scale is interesting because it takes your rating and assigns an overall score to a hotel. The basics of how I've seen this work mean that you need high marks from nearly everyone in all categories in order to score in the mid 9's. That means I will first look at hotels that are 9.0 or above, and I will give added weight to a hotel with hundreds of reviews that is able to maintain a 9.5 or above. We're talking the top end of the top end of hotels here.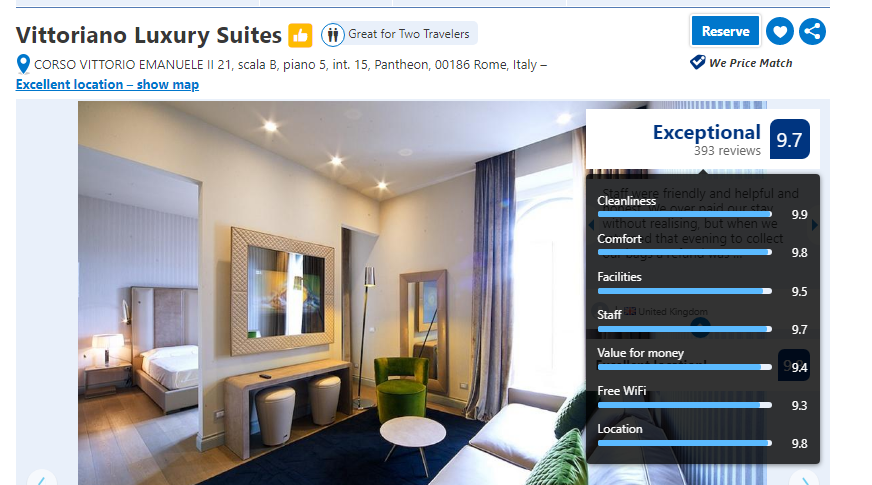 If there aren't any hotels in the 9's then I will entertain hotels in the 8.5-8.9 range. I've had great stays at hotels in this range. Going below 8.5 and you're in uncharted waters–your stay could be a great one, or a mediocre one. In the mid 8's you'll need to manage expectations much closer and really drill into the bad reviews to see what the glaring issues are.
Three Choices Appear
With all the above in consideration I've narrowed the choices down to the following three choices. All include Wi-Fi (as all hotels should). In a nice bonus all include breakfast of some sort. Their overall scores as well as average nightly rate for 4 nights in September are in parenthesis:
San Pietro Grand Suite
(9.7, 289 reviews) ($188 per night, free cancellation 3 days before arrival)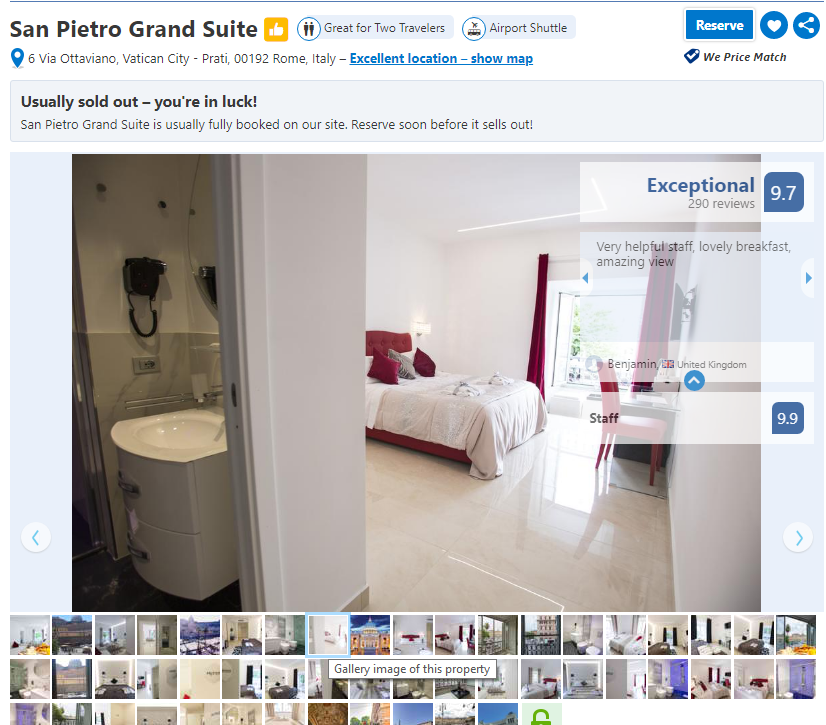 Vittoriano Luxury Suites
(9.7, 391 reviews) ($203.25 per night, free cancellation 3 days before arrival)
Residenza Vatican Suite Roma
($203 per night, free cancellation 4 days before arrival) ($182.20 per night non-refundable)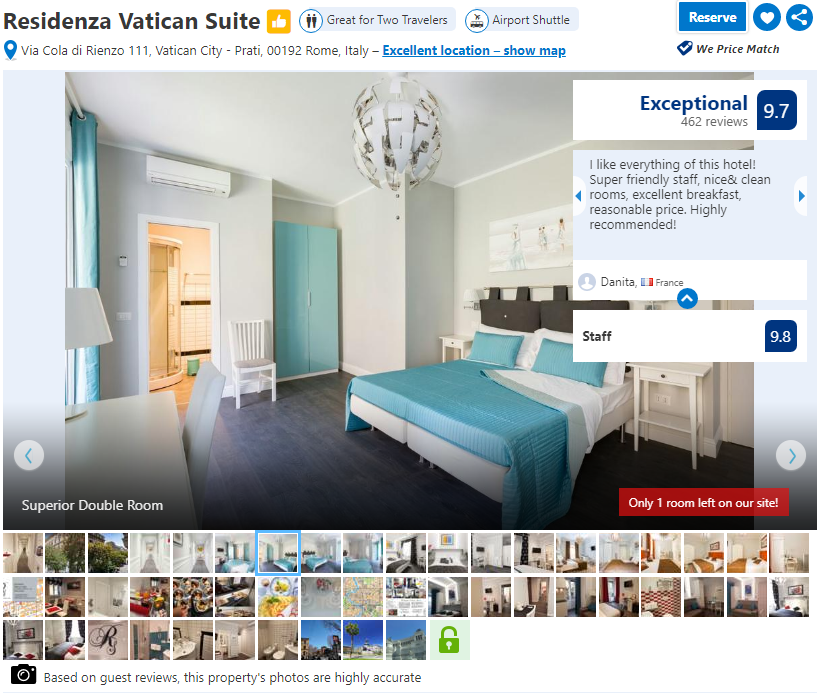 Prices are all pretty close, and these are very flexible rates. I can book now and spend 5 months looking for a better option.
I could live with any of these hotels, so now I'll start reading reviews and the hotel's information and see if anything really strikes me from the 4 options.
Filtered Reviews: Booking.com Killer App
Booking.com's killer app is the Reviews Filtering. You can filter based on country of origin, age of traveler, etc. For me I want to look at 'Family' reviews. I'll filter by Family on these hotels's review pages: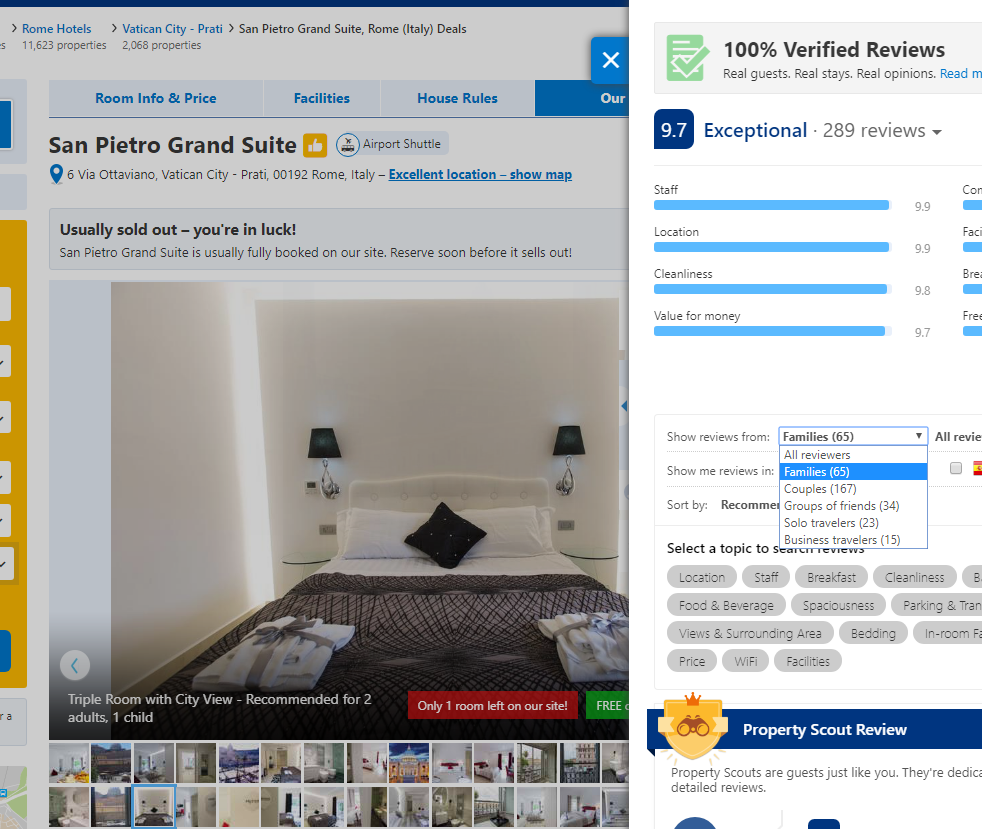 These reviews are important to take along with all the other reviews–What I'm looking for are negatives. Something like "Too many flights of stairs, no elevator, no bell service." or "Bathroom seemed cramped," "Didn't seem to be happy we had a young child with us." Red Flags basically.
All reviews seem great for all three options. I'll forward along all three, but my money would put me at Vittoriano Luxury Suites. Reviews for it are universally great, and mention it is close to a grocery store, and a great central walking location.
To show just how powerful Booking.com's reviews are this same hotel has just 28 TripAdvisor reviews, vs 390+ on Booking.com
Booking (v.)
Now comes the fun part, booking the hotel. I don't *always* book on booking.com, so the first thing I want to do is a quick HotelsCombined search: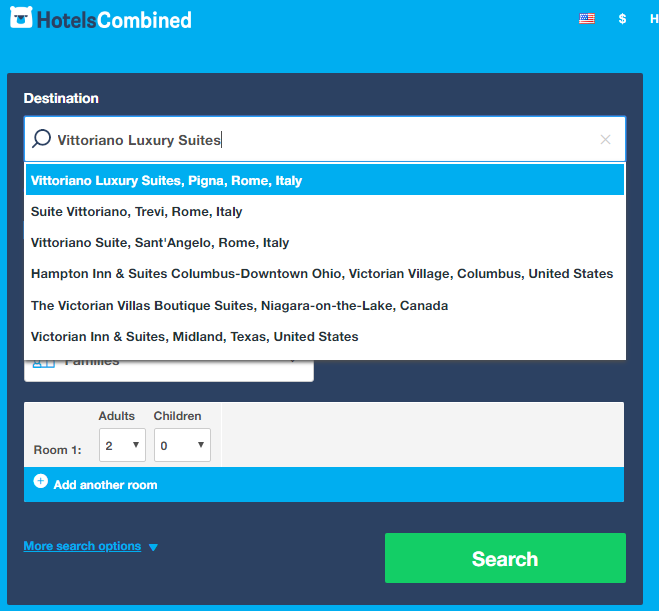 And the results page shows me just why Booking.com is a force in this space:

Even checking the hotel website directly I'm not given an option to book. Everything is done through booking.com. Booking is such a force outside the US that Priceline changed their name recently That change is reflective of how strong the booking name is worldwide.
This also means that this hotel is not bookable with points directly, except in a 1:1 cash out situation. It is not on the Chase Travel Portal, and I'd assume given the above results it is not on any other travel portal either. In fact, of the 3 hotels I isolated early on only the Residenza Vatican Suite is available outside of booking.com. If you're extremely UR rich and extremely Cash poor you might consider only leveraging hotels on Booking.com that are able to be booked with 1.25/1.5cpp uplift on the Chase Travel Portal. In that instance I'd have both windows open and type in possible names on the Chase portal.
While I don't like that these hotels are only found on Booking, it does make me feel better about the chances of a great stay. 100% of bookings go through Booking.com. IF someone had a really terrible stay that review would be seen by thousands of potential guests. This is the "Yelp Factor," which basically says that bad online reviews hurt businesses directly. Chain hotels have huge marketing campaigns, and their brand name is funneling people there regardless of terrible reviews. You're turning that dynamic on its head here, and picking a place that has an unknown name but a well known reputation to uphold,
Get Out of Town
Would I stay at this Hotel? It certainly would be on a short list to consider. I absolutely recommended it to my friend. He doesn't collect miles and points, so booking with cash was always going to be his only option. With no cancellation penalty he can book now and cancel later, so why not book it and then continue to research?
I've often recommended spec. bookings like this to give yourself a backstop. As times gets closer to the cancellation deadline I'll remind him to do another search, just like this one. Cancelled rooms will likely come on the market at that point and prices could be lower as well.
At the end of the day we've found a solid, family friendly place, with breakfast, and free wifi, in a good location that I know won't disappoint. Thousands of equal status guests can't be wrong..