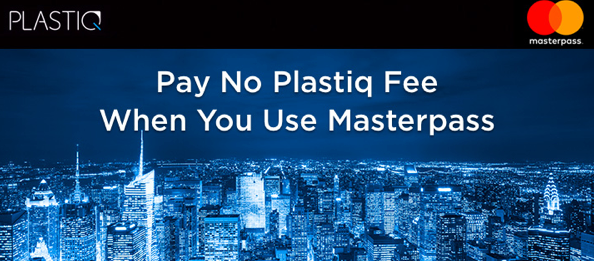 Bill pay service Plastiq is offering fee-free payments through Masterpass with an associated Mastercard.
Thoughts
This is a great way to rack up credit card rewards while paying real bills:
You can use it to meet the minimum spend requirement on a Mastercard credit card
Another application could be buying Mastercard Gift Cards as part of a separate promotion
Questions & Answers
Q: What is Plastiq and how does it work?
A: See Frequent Miler's Complete Guide to Plastiq Credit Card Payments
Q: Is the offer targeted?
A: It initially seemed so since the email Plastiq sent announcing the promo (subject line "No Plastiq fee when you use Masterpass") indicated the promo was only valid for accounts who received the email. But accounts that didn't receive the email seem to be eligible as well.
Q: How to associate a Masterpass account and Mastercard with my Plastiq account to get the fee-free payments to show?
A: Create a Masterpass account if you haven't already, then add a Mastercard to your Masterpass wallet. When scheduling a payment in Plastiq click "Add a Card" then "More Ways to Add". When you go to pay a bill, it should then show the Mastercard associated with your Masterpass wallet and you should see a $0.00 fee for payments of $500 or less.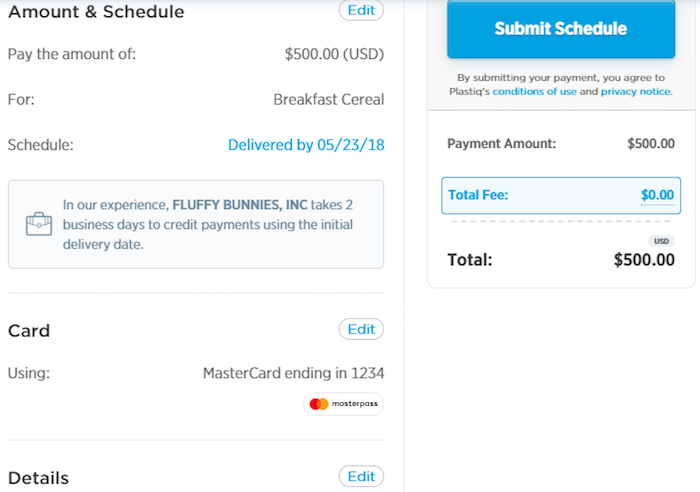 Q: How does the promotion work? Does the fee get refunded to you at some future date?
A: You should see the fee go to $0.00 (it's regularly 2.5%) when you associate a Mastercard through Masterpass.
Q: Can you make multiple payments to the same payee in $500 increments without incident?
A: I scheduled a two x $500.00 payments on an automobile lease on the same day that processed successfully. I made an additional four x $500 payments to another payee that went pending the next day.
Q: Can you associate a Mastercard Gift Card with Masterpass and make payments that way?
A: I hear that you can. We'll see whether Masterpass or Plastiq balk at that after a while.
Q: How can you make sure multiple $500 payments are applied towards a mortgage payment coming due rather than paying down principal?
A: I've done this in the past, and added a note saying that each payment should be applied towards my payment due on <the due date>. Not sure if that helps, but if your lender bungles it you should be able to call and get it patched up.
Q: Does Masterpass work with credit cards besides Mastercards (like Visa and AmEx?) 
A: Yes, but only payments with a Mastercard credit card quality for this Plastiq fee-free promo
Q: Plastiq charged my card right away, does that mean the payment will be sent for sure?
A: The immediate state after initiating a payment is "Card Processed". The next state is "Sent". In my experience, once it's Sent it reliably goes through.
Q: I can't think of any bills I need to pay – any ideas?
A: I think about anything I'm paying now with a check or online bill pay from checking that can't be paid with a credit card. A few ideas:
Pre-paying an automobile loan or lease
Charitable contributions
Landscapers
Contractors [make sure you have a bill to show Plastiq if they ask]
Life insurance
Estimated tax payments to the IRS
Q: Which Mastercard credit cards offer the best rewards for this promo?
A: Some contenders:
At minimum you can rack up spend on reward-earning Mastercards for paying bills you'd regular pay from your checking account
The Citi AA cards (personal and business) seem to be matchable to 75,000 with a minimum spend requirement in the neighborhood of $4,000
The BofA Virgin Atlantic card has a hefty $12,000 min spend requirement for 75,000 miles
2% back cards (Barclay Arrival+, Citi Double Cash)
The very best play may be buying MCGCs with 5% back cards at gas/grocery/drug for a 1% fee (for a 4% profit)
Q: What if I don't have real bills to pay? Are there creative entities I can pay on Plastiq? 
A: If there are, it wouldn't be wise to talk about them publicly. This deal is great enough as it is – I think you can get quite a bit of value out of it by playing entirely within the rules they've laid out. Paying a mortgage fee-free with a credit card? That's terrific.
I'll keep this Q&A section updated as things progress.
My Experience Using Plastiq
I've had a bit of a contentious relationship with Plastiq over the years.
One time they ran a promo for discounted fees when paying a mortgage. During the course of the multi-month promo, my mortgage payment increased slightly because my escrow balance was low. When I increased my payment, Plastiq saw it fit to deny me the discounted fees associated with all my payments over the course of the promotion. I objected but they didn't care since the T&Cs said the payments needed to be for the same amount.
Another time I made a payment to a charitable organization. Plastiq took the opportunity to seek out the email address of the organization and craft an email (supposedly from the CEO of Plastiq) pitching the organization on the idea of receiving payments from Plastiq. I thought this was in poor taste [just process the payments, thanks] and indicated to me that Plastiq is using "us" to expand their database of payees.
All that said, I continue to use Plastiq trying to make money off them – just like they try to make money off me.
Summing it Up
If we look at the Net Present Value of this deal it's pretty strong. It's limited by scale, but if you've got actual bills to pay it presents a fantastic liquidation release valve.
The Probability of Malfunction of this one is that Plastiq will most likely end the offer earlier than September 30, 2018. Or at least limit the ability to make multiple $500 payments before then, leaving us with time wasted tinkering with the deal. Or possibly a handful of Mastercard Gift Cards we'll have to liquidate elsewhere.
We'll see, but for now if you've got bills you can pay [or prepay!] over the next few months this seems like a great way to do so while earning credit card rewards.
See also: 10 Questions (and answers) about Plastiq.com
Chuck did a nice job with his post on this deal, including a link to details about the promotion seemingly intended for internal training of Plastiq employees that's now been redirected. The comment section over there is always informative.
T&Cs
From: plastiq.zendesk.com/hc/en-us/articles/360004303093-MasterPass-Promotion-
Masterpass enables you to store and manage payment, shipping, and loyalty program information in your Masterpass Wallet. By adding your Masterpass Wallet to your Plastiq account, you are able to quickly and seamlessly submit payments without needing to re-enter payment details.
From now until September 30, 2018, we will waive the Plastiq fee when you use Mastercard® in Masterpass when paying with Plastiq.
This promotion applies to any bills or invoices up to a maximum of $500 each. This means any amount after the $500 maximum will incur the Plastiq fee.
NOTE: To qualify for this promotion, payment must be submitted or scheduled on or after May 14, 2018 and the payments' delivery date must be before or on September 30, 2018. Your card must be successfully billed by Plastiq and remain in good standing to qualify for a promotional credit. The promotional credit is non-transferable and may not be sold or bartered. Promotion subject to change or cancellation at any time. Offer may be revoked at any time for any reason by Plastiq. Offer void where prohibited by law.
Users using a referral code must hit the required minimum of $500 in successful payments and receive the FFD credit before they are eligible for this promotion.
Any comments you'd like to share on this deal, or Plastiq in general?