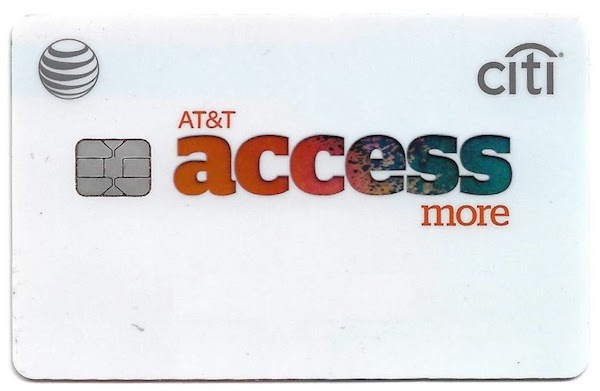 Quick Summary: The Citi AT&T Access More card has some great spending bonuses available at the moment. Like 2 additional ThankYou Points for every $1 spent on all purchase for 6 months up to 35,000 points ($17,500 in spend). If you have the card, give Citi a call to see if you're eligible following the guidance below.
The Citi AT&T Access More card has been uniquely great since its introduction, and subsequent discontinuation for new applications, a few years back.
The obvious reason to sign up for the card was its $650 bonus towards a new AT&T cell phone, right at the time when carriers were shifting away from heavily subsidized hardware purchases.
But since then it's been a keeper for the 3x ThankYou Points (TYP) it earns at "some" online retailers. It's been a cat and mouse game keeping track of which online retailers do and don't earn 3x, but still – it's been a reason to keep the card year after year despite its $95 annual fee.
Additonally the card earns a 10,000 TYP bonus for spending $10,000 each year. If you can get more than a 1 cent per point (cpp) this more than eradicates the card's annual fee.
And you should be able to get more than 1 cpp of value since TYP earned on the AT&T card can be combined with other Citi cards like the Premier and Prestige to proivde uplift when redeeming towards travel.
Getting Retention Offers from Citi
I was on the phone with Citi yesterday paying my AT&T Access More bill.
My annual fee isn't due until August, but I asked the first line rep if I might be eligible for any spend bonuses or retention offers?
With Citi you generally need to get to a retention specialist in order to get the best offers.
But what I thought was unique about this interaction was that the first line rep could see that I had some offers available. From there, he kind of "led the witness" to confirm that I might cancel the card because of the upcoming annual fee. I confirmed that yes, I may close the card due to the annual fee.
From there, he transferred me to a retention specialist.
The key points here being:
First line reps can see whether you have offers available
Retention specialists have the best offers
The key word "cancel" needs to come up in some form to get to a retention specialist
The Offer
The retention specialist offer me:
2 additional TYP for every $1 on all purchase for 6 months up to 35,000 TYP.
That makes the card earn 3x on all spend up to $17,500. And 5x on spend with online retailers that regularly earn 3x on the card.
Before accepting it I checked whether he had any other offers. He did, but the other offer wasn't nearly as good so I took the 35,000 offer.
Summing it Up
This is an offer that pairs particularly well with the Plastiq/Masterpass promo that's still going on because you can earn 3x TYP while paying your mortgage or other real bills fee-free.
If you have this card, it would be worth calling and checking for this spend offer even if your annual fee isn't imminently due.
If you don't have this card, I've heard a variety of datapoints on whether it's possible to product change to from another Citi card. It seems it was once possible but has gotten harder or impossible lately. Let us know in the comments what your experience has been?
It's strange that they're incentivizing people to keep the card through spend bonuses after discontinuing the product and making it difficult to product change to. But you never quite know what's going on over at Citi.