Welcome to another edition of Shop Talk where we discuss what's going on in our personal points & miles space and highlight what we think is interesting in the broader space as well. This is the kind of "Shop Talk" many of you are engaged in on a daily basis, so feel free to discuss with us in the comments section.
---
Robert: The inspiration for this week's Shop Talk comes from a discussion on episode 369 of the Mighty Men of Mouse podcast. The hosts of the show have varying degrees of skepticism about points & miles and they have a guest on to discuss how he uses points & miles for Disney vacations.
Backside of Magic is another Disney podcast I listen to. They focus on creative ways to get discounts on Disney vacations, including gift card angles and more.
I find these "non-points" viewpoints interesting because it helps me see how other people are approaching the challenge of going on more/better vacations for less.
But while listening I can't help but think that we really have something when we combine traditional discount avenues with points & miles strategies.
So the intent of today's discussion is to encourage us all to look more broadly for sources of vacation discounts, and to get a feel for why we go about things the way we do so that we might learn from one another.
The perfect guy to join us is Joe Cheung from As The Joe Flies and host of the Saverocity Observation Deck and Disney Deciphered podcasts.
Joe, welcome to Shop Talk. For those that might not be familiar with your work and as a way to introduce today's topic would you tell us about your history with points & miles and how you've combined it with your interest in Disney vacations?
Joe: My miles and points history is fairly standard :
Friend tells me how he flew first class on credit card sign up bonuses

I don't believe him and figure it will destroy my credit

One year later, poke around looking for ways to save on a vacation and discover tpg, mms, etc (say what you want about those sites and I do have thoughts, but they got me in the game no doubt)

Quickly become obsessed with flying first class all the time

Have a kid and decide

business class is okay

Have two more and decide

I just want to go places and save money doing it

Give up and only go to

Disney world for vacation

all the time.
Ok that last one is a joke. But yes as my family has grown our needs have changed. Miles and points have evolved from tools to take fancier vacations into tools to make it affordable to still take all the vacations we want to take.
And as my kids have grown, we've been taking more trips to Disney World and thus I've been looking for ways to save via and miles and points down there. So now I've started paying for hotels and tickets with Ultimate Rewards (in addition to of course flying down on miles and points).
The interesting thing about the two podcasts you mentioned, which I also subscribe to and love, is the amount of time and energy they put into hacking their Disney vacations. Saving time and money at Disney requires discipline and organization that is similar to what you need to be in the miles and points game. But they choose to use that discipline to save 8% on gift cards purchases as opposed to the crazy things we do.
Which makes me wonder, are we crazier, or do we all just have limited time causing us to focus on the hacks we know best? And because I focus on what I'm comfortable with (credit cards and light MS) am I losing out by avoiding things like buying Disney discounted gift cards? But then in the end, I also ask myself that if I don't have the energy to invest in say a Disney gc scheme, maybe I'm not really "losing ". I do have a family to theoretically raise, after all! And speaking of saving money, my friend recently told me that they saved a bunch of money through websites similar to https://deals4boomers.com/. The money he saved went straight to his Disney gc scheme and it really helped him out.
Sam: three kids, a full time job, a blog and two podcasts…sounds like you're doing a pretty great job (to me) of your limited time.
There's a quote that Robert once said to me, he used it in relation to Disney, but it really works for anything: "Anyone who's more into [Disney] is insane….anyone who's less into [Disney] doesn't get it.
So I'll preface the entire rest of this Shop Talk post with the following: I don't "get" Disney. I'm very anti-crowd, anti-line, anti-long day in the sun without air conditioning… I could go on.
That's not to say I don't go to Disney parks–I do. But I certainly spend way, way less time optimizing my route, or planning my most efficient food options. I don't even stay the full day–even without a pass. I just don't have it in my DNA I guess.
That said, I listened to that whole Disney podcast and they're the crazy ones (Realizing this is the very phrase a crazy person might say).
My basic point is that an 8% discount wouldn't start to get my attention. I'm 100% certain Robert and Joe (and myself, if I decided to go on a Disney Vacation) could at a minimum work a 25% discount on Disney. Dia's currently hacking her way around Disney right now and blogging about it, she's always got some great detail.
Robert and I often talk about our threshold being a 40% discount on travel, at a minimum. So the question I guess that an outside like me has to ask is…are these Disney podcasts all talking about a specific style of Disney travel?
I'm learning that staying offsite is apparently verboten by these disney authorities. I'm also learning about the most calorie dense breakfast foods to order under $10 *snark*. My point being–if you're going to simultaneously stay on site and then try to hack together cheap food options at that place you might be stepping into the deal backwards.
To me an 8% discount is silly–we should be looking at deep discounts. I'm also very anti-gift cards in general. I feel they're a terrible way to budget. Am I still 'not getting it,' missing something here that's inherent to Disney buffs such as Joe and yourself Robert?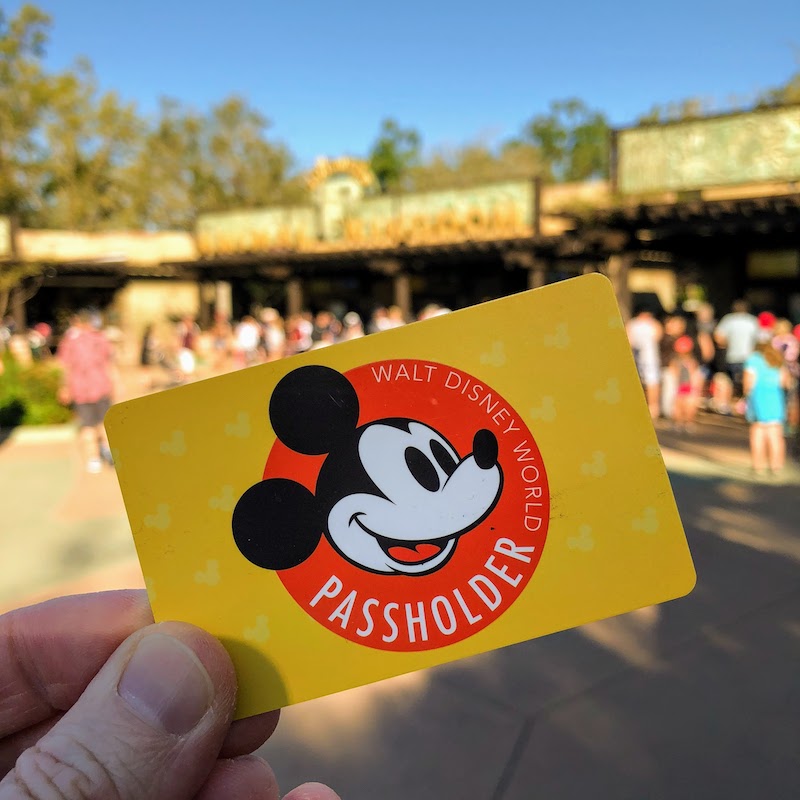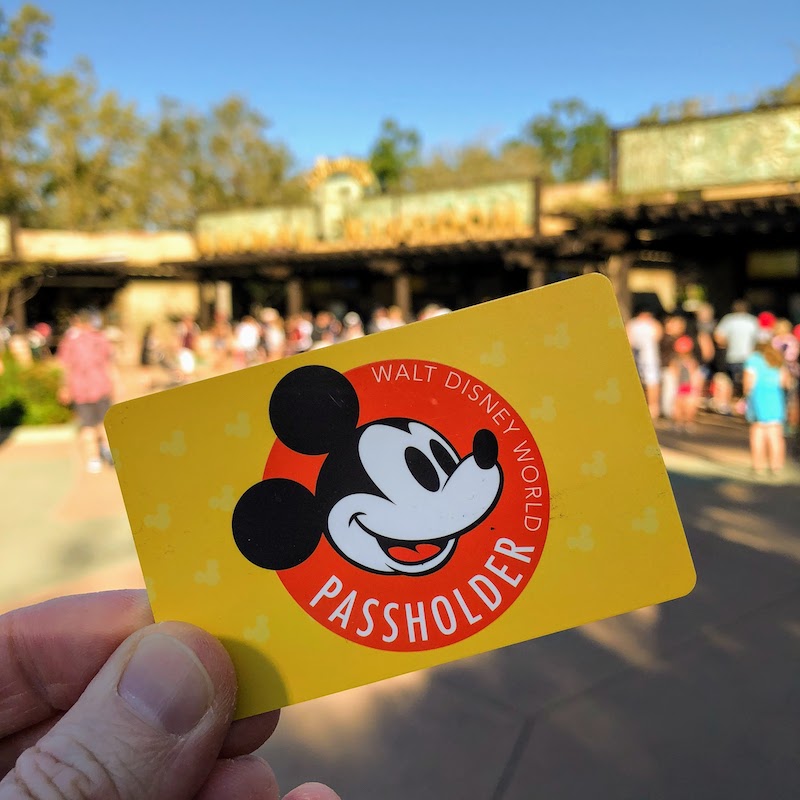 Robert: I think the idea is to get the best cash price possible for Disney through promotions, then pay with discounted Disney gift cards. It's stacking, which I love. But it's both straightforward and complicated (at the same time, a difficult feat), and ultimate ineffective.
It's straightforward in that you're at the mercy of the discounts Disney is willing to put out there. But it's complicated in terms of the things you have to go through to get relatively small discounts on Disney GCs. For example: Buy WalMart GCs off Raise through a portal when they're available at a good price, then buy discounted Disney GCs from Sam's.
Like Joe suggested the process is very similar to things we do in the points & miles world to accrue rewards on credit cards. And similarly prone to malfunction. So I think Disney enthusiasts would be better off learning how to earn and use bank points for Disney vacations rather than scrounging around for GC discounts.
Don't get me wrong: Some people aren't wired for either endeavor. And I totally respect that. If you make enough money and give yourself permission to take the vacations you want, that's great.
But I can't stand paying retail, I love getting a deal on exactly what I want, and I love to travel. I also enjoy comparing notes with others who are similarly motivated – so here we are.
Some of the best businesses out there don't have rewards programs, because they don't need them. Some people don't realize that even though Disney lacks a rewards program you can still use points & miles for deep discounts on many aspects of a Disney vacation. You just need to use a different kind of reward currency: Flexible bank points.
There's been a shift in the past decade away from airline miles/hotel points to co-branded credit cards. Then a shift again more recently from co-branded credit cards to flexible bank points. It's these flexible bank point programs (Chase Ultimate Rewards, Citi ThankYou Points, and AmEx Membership Rewards) that I think Disney enthusiasts should explore.
Bank points are a much more effective path towards deep discounts on Disney vacations than hoping for Disney promotions and chipping away with gift cards.
I should note that bank points come with their own set of complexities. You don't have to worry about award availability, but you do need to figure out how to earn bank points and effectively redeem them for good value.
The good news is that once you learn how to use flexible bank points, it opens up all sorts of doors to taking exactly the vacations you want to take rather than begging for scraps from travel providers with loyalty programs. So when you want to visit sites inspired by Epcot World Showcase you'll be well positioned.
So Joe, do you agree that bank points are a good area for Disney enthusiasts to explore? And what would you say to those who are afraid that their first forays into credit cards, points & miles will be a stressful expensive endeavor?
Joe: I think bank points are a good area for travel enthusiasts to explore. The reality is, no matter how much you love Disney World, or London, or wherever – it's tough to predict the future. Bank points are worth exploring for everyone because they are flexible. You can use them to save at Disney, you can use them to fly to see a sick relative, or you can use them as cash if something happens. Before I had kids, "flexibility" meant deciding between flying Star Alliance of Skyteam. Now, flexibility means a lot more than that – it can be the difference between staying at home or taking a vacation at all.
Another plus on the bank points side: I think bank points can be a pretty good "gateway" into the miles and points world, especially as far as Disney World is concerned. You can ease your way into the credit sign up bonus game and even throw in some checking account bonuses if you'd like. Better yet, earning bank points is very similar to earning cash back, something many people are familiar with when it comes to credit card.
Bank points, however, obviously have the power of providing uplift, even if you earn 1 point per dollar spent, credit cards like Citi Thank You Premier or Chase Sapphire Preferred give you 1.25 cents per point. While that doesn't sound all that amazing to more seasoned travel hackers, for people looking to save money at a place that doesn't need a reward program, like Disney, it can be invaluable.
And to answer Sam's question above – there is no real specific style of Disney travel. Disney enthusiasts are Disney enthusiasts and they find their ways to make it work. Some, like those podcasts, shoot for 8-10% saved through gift cards and focus on hacking the in park experience (read: as little wait times as possible). Others, like Bob and myself, shoot for bigger discounts through flexible bank points. And still others, like the family I saw entering the park yesterday, feed their Disney addiction by cutting as many corners as possible. I experienced the slowest bag check line ever due to the fact that the family had filled their stroller and bags with the contents of an entire Publix store. They probably stayed off site.
In the end, who am I to judge other people's crazy? That's the angle I try to take. But I also am happy to share with others how they can be my type of crazy, because obviously I think it's the best kind of crazy. 🙂
That's why at this point I don't push miles and points on anyone. If someone is interested but nervous, I think the most important thing to say is take it slow. Just like any skill, you build up slowly and increase your engagement as you feel more and more comfortable.
When we look at the "crazy" people who are "doing it wrong", I always ask myself, how am *I* doing it wrong? Because there must be a blindspot I'm overlooking. If I had to say right this instant, I'd say I'd need to take a closer look at my spending on site when I'm on vacation. I spend so much time saving money getting there, I sometimes forget that money I spend on vacation is money that also deserves to be saved!
Sam: Fantastic discussion here guys. I really appreciate what you're saying about flexibility as it relates to travel with kids Joe, and I'll bet other parents out there can relate to that statement as well. Clearly there are big discounts to be had with Bank points–and I'd even go out on a limb and say that you and Robert are probably at the forefront of the using bank points for deep discounts on Disney travel.
Robert's right on about Disney not needing a loyalty program as well–they've got no problem with return customers as is. That said, I think a lot of this aligns with a Be Your Own Elite type mindset, if Disney is your destination do it to the fullest as best you can.
I do hope anyone who's stumbled on this discussion and hasn't considered points and miles yet to stick around, read a bit, and ask any of the three of us some questions. Because at the end of the day you're right Joe: using those points for a Disney vacation is a great way to get introduced into the points/miles world.