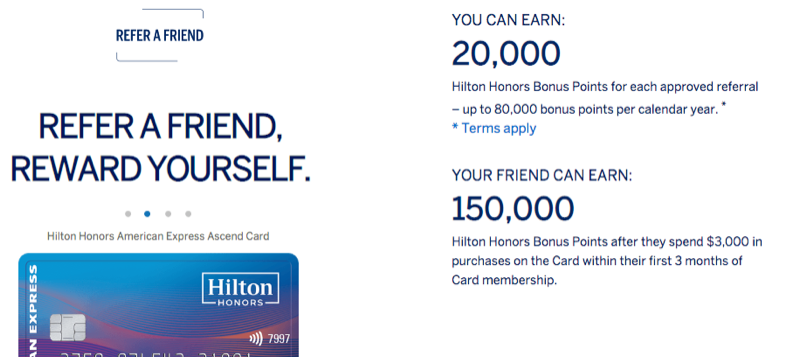 Amex refer-a-friend links for their Hilton cards have been updated to match the best available offers:
Amex Hilton $0 annual fee 100,000 for $1,000
Amex Hilton Ascend $95 annual fee, 150,000 for $3,000
Amex Hilton Aspire $450 annual fee, 150,000 for $4,000 + Free Weekend Night on Signup + Free Weekend Night each year on renewal
Amex Hilton Business $95 annual fee, 125,000 for $3,000
We avoid having referral links in posts here at Milenomics, but we do have active links for all these cards on our Referrals Page.
Today I'll go over techniques on how to combine these heightened offers with referral links of your own. I'll also discuss self-referral, dummy booking offers, Amex restrictions, and then wrap up with how I'm playing it personally.
Amex Hilton Refer a Friend Offers
Amex has a referral program:
When a friend signs up for a card through your referral link, you get a referral bonus.
Referral offers often lag the best available offer, as we've seen with these heightened bonuses. It feels like Amex is trying to get you to refer your friends for an inferior offer, and that they don't want to pay out a referral bonus on top of an all-time high signup bonus. But the reality is their systems just aren't quite coordinated.
And it appears now that they're coordinated.
Spousal Referral
Referring your spouse is absolutely acceptable. One play would be to sign yourself up for a card, then immediately refer your spouse for the same card. In my experience you can refer on a card instantly once approved.
Referring for Cards You Don't Have
In order to generate a referral link, you need to carry a card within that "family" of products.
For example, if you have a Amex Hilton no-fee card you can refer on the Hilton Ascend and Aspire cards.
Business cards are treated separately.
This creates opportunities to earn referral bonuses for all 3 personal cards if you have (or get) just one of them.
Self-Referral
The ability to refer for cards you don't have creates the opportunity for self referral.
If for example you have the Hilton Ascend card you could refer yourself for the Aspire card.
It seems a little crazy to be able to self-refer, and though reports are that it's working I'd instead recommend referring a spouse then having your spouse in turn refer you. It just seems less risky.
Keep in mind that Hilton points can be transferred between spouses for free, so you don't need to be worried about whose account the points are in. They can all be co-mingled for redemption.
Heightened Offers through Dummy Booking
If you step through the process of making a new reservation on Hilton.com, you may see an offer that includes a statement credit on top of the best available offer.
Like this 75,000 + $100 statement credit offer for the $0 annual fee Amex Hilton card: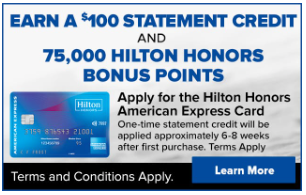 You'll then have to decide whether it's better to use one of these offers -or- a referral offer.
The referral offers are currently 20,000 Hilton points across all cards, and I'd value Hilton points at around $0.004 a piece.
So do the math to see which offer/statement credit/referral works best for you.
Restrictions
Amex limits many of us to 5 credit cards. Charge cards don't count towards this, but personal and business cards are included in this count. Authorized user cards don't count towards this.
Amex limits signup bonuses to once per person per card lifetime. If you had the old Amex Hilton Surpass you can't get the signup bonus for the new Ascend card. Even if you got a Surpass card by forced conversation from a Citi Hilton card. But all four flavors of the current Amex card are considered distinct products
Amex is also limiting some signup bonuses at the time of application with a pop-up saying you're not eligible. They're presumably doing this to people who they feel are gaming the system, but I don't think we have a handle on contributing factors.
How I'm Playing It
It's…complicated, isn't it?
I can't get the signup bonus from the Ascend because I previously got the signup bonus for the Surpass.
I went for the Business version for my wife and myself a few month ago.
So that leaves the $0 fee version and the $450 annual fee Aspire.
I've been working towards getting my wife under 5/24 so she can get signup bonuses for more Chase cards. But between this and other offers I'm thinking of abandoning that approach.
The Aspire card is intriguing and really packs a lot of value if you can make use of the $250 Hilton resort credit, the $250 air travel incidental credit, and the free weekend night certificates.
See: Keep These Things In Mind About Hilton Weekend Certificates
And as lousy as it is, I wouldn't mind having Hilton Diamond status. Especially with upcoming stays related to all these Hilton points flying around.
I think I could reliably use the resort credit at the Hilton properties at Bonnet Creek down in Orlando. And I'd hope to stitch together the points we'd have toward a 5th night free stay at a nice property internationally.
So I think I'll go for both the $0 fee card and the Aspire for both me and my wife. I just need to get under Amex's 5-card limit.
When I applied for the SPG Luxury card recently they made me cancel a card and I chose to sacrifice my Ascend card.
I'll follow up with a post on "5-card Amex strategies" soon.
What do you think of these offers? How are you playing it?