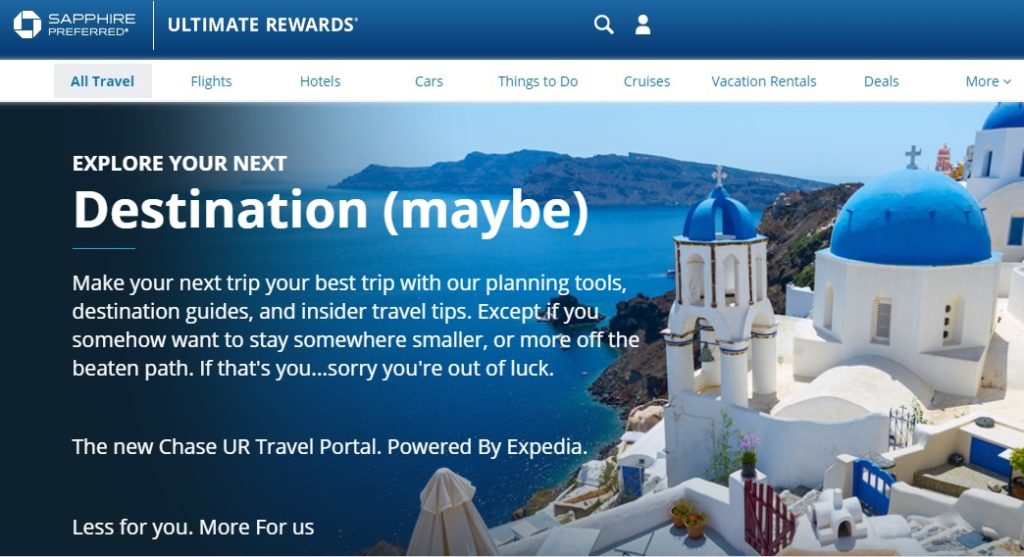 Robert: Chase recently replaced their Ultimate Rewards travel portal with the Expedia search engine.
We wrote about this previously when Chase rolled this out on the Freedom card a couple of months ago. It wasn't that interesting at the time since the Freedom card only has 1 cent per point uplift. But now that the portal is in place for all cards, including the Sapphire Reserve with 1.5x uplift, it's worth checking out. Because the utility in living a bank point lifestyle largely hinges on our ability to get uplift across broad range of travel booked at the best possible price.
The Expedia portal has more boutique hotels than the old Chase portal. And one of the big things we were hoping for was access to Vacation Rentals. Expedia acquired HomeAway in 2015 so HomeAway listings appear in the native Expedia portal.
The prospect of using Ultimate Rewards to fund more complete vacations is intriguing but how will it work in practice with Chase? We'll discuss this today…
Sam: Thanks for setting the stage Robert.  I know you and I have been doing a lot of searches on the new portal, and today we'll cover a few of the issues that are currently happening with the  portal.   Hopefully by shedding light on them Chase will address them quickly.
Background: I'm headed back to the PNW–and this time around I was trying to search for rooms at a specific lodge using the new Chase UR travel portal. I know Robert and others were pretty enthusiastic about the new portal a few months ago, and we've talked a lot about uplift here— But my initial experience with the portal is pretty awful. This continues the trend of general disappointment I discussed a few weeks ago about chase UR: I'm well versed in how the program works–but I'm struggling to actually get any uplift at all.
No Room at the Inns (any of them)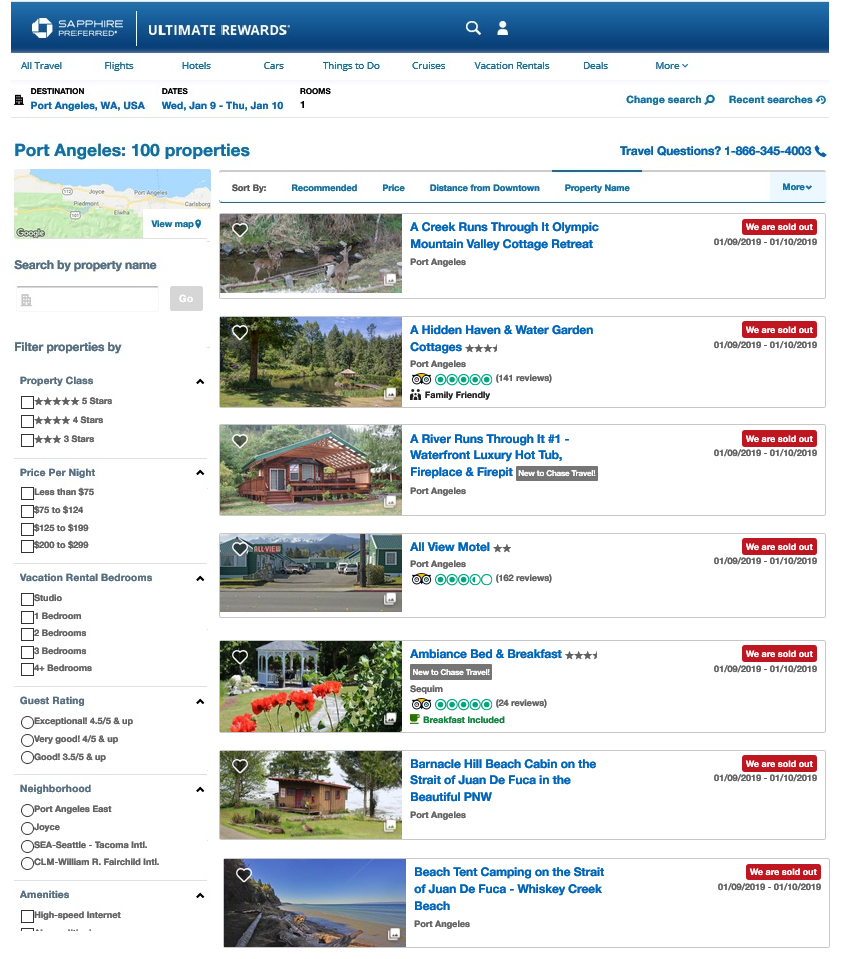 I searched for my dates and the location Port Angeles, WA). What Chase returned to me was a list of 100 properties and 95 of the 100 are sold out. This immediately seemed fishy to me–so I went ahead and changed dates to a single day a few months from now. Those properties were still sold out on the UR portal. I take this to mean that Chase is misrepresenting what can be booked on the portal right now. The best case this means they're rolling out booking some of these places in the future. The worst case they're doing this on purpose to make their offerings look more complete and/or blocking low profit bookings.
It also makes me wonder if I really want to book homestay and BnB's through their portal. Who do I contact when things go wrong? Who's communicating with these properties and vetting them? What happens if I have an issue during a stay? I hadn't really considered these issues before, but now that I see this weakness in their offerings I'm starting to think about all of this.
This isn't just a dig at Chase–I also checked the Citi TYP portal–they didn't have my hotel either. I ended up just booking it directly. So much for my massive piles of bank points. Note to self: Cash is king.
Robert:  This post is timely as I'm seeing the same exact thing from the new Chase Expedia portal when it comes to Vacation Rentals.
I can't find a single Vacation Rental available on the Chase Ultimate Rewards portal. Here are some Vacation Rentals near WDW, all showing 'sold out':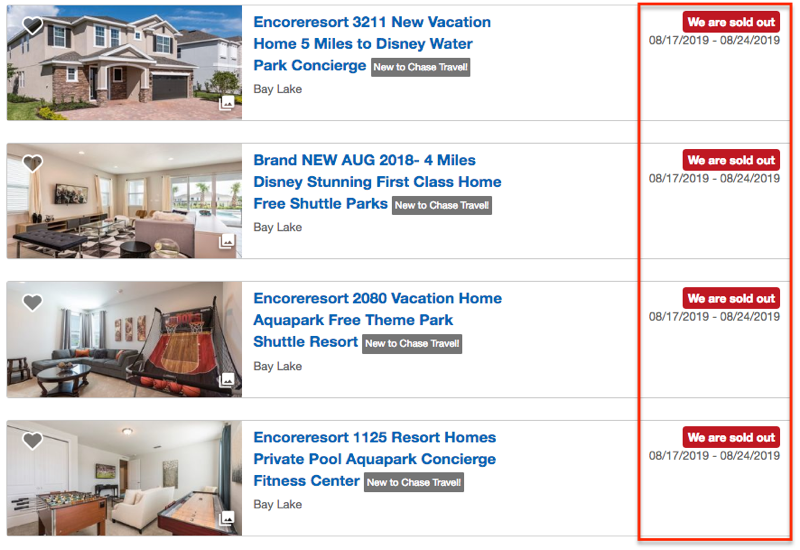 I thought Chase would "fix" this issue before rolling out the Expedia portal across all their cards, but it looks like they haven't.
First Chase intentionally blocked all things Disney now they're blocking Vacation Rentals? Really?
I've always thought of my Chase Ultimate Rewards as a travel savings account worth 1.5x more than my Ultimate Rewards balance. These examples show the downside of that mentality: There's a lot of stuff you can't book with Ultimate Rewards. And if you can book it, it's not always at the best possible price so that erodes the value of your points.
Sam: It does seem like the majority of what I saw 'sold out' were vacation rentals. But some of the places I saw sold out are bigger than that. Take the place I'm staying at in Port Angeles, it has 105 rooms. Sold Out. Every. Day.
A quick Side-by-side of Expedia and Chase UR portal shows the issue: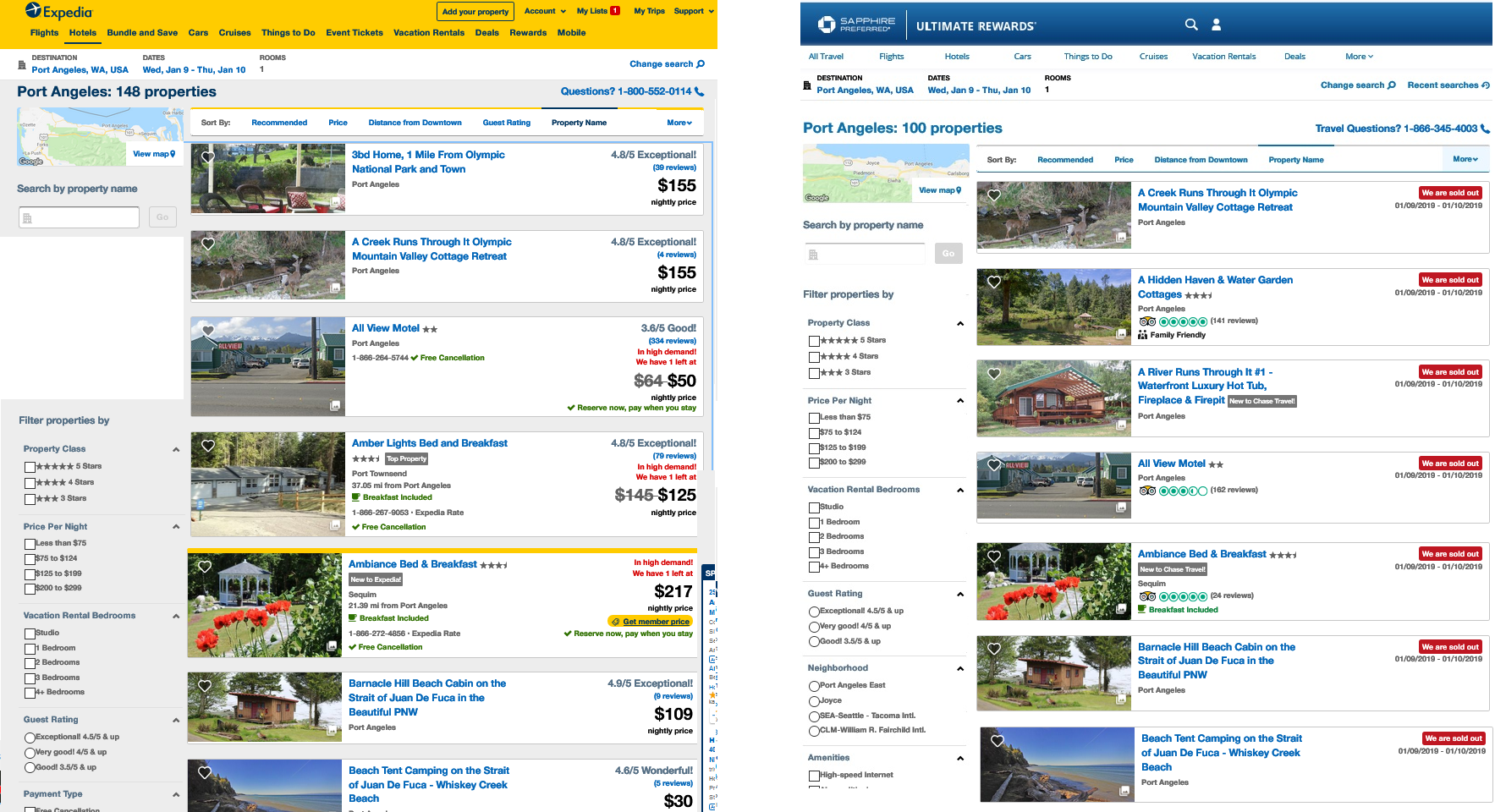 Now, I know what you're thinking–Who wants to spend 2,000 Chase UR a night to tent camp on the beach in January? And sure, some of these places are pretty rough looking–but this area of WA has some good BnBs and those are bookable on Expedia and not on Chase UR. So if you want to stay at the Ambiance BnB you either have to book it elsewhere and cash out at 1CPP or you're out of luck.
Update 10/27: Reader Johnny reports the same issue is affecting car rentals. 
Is this a big deal? To someone who's exclusively looking at large chain hotels–probably not. But I was legitimately excited about the smaller options becoming part of the Chase travel portal–and it just seems silly to include them and say they're all Sold Out.  As of publication time we've reached out to Chase about this issue–and have yet to get a good answer.
What's your take Robert? Is this a big deal? or am I making more out of it than I should?
Robert: It's absolutely a big deal. It diminishes the value of the Ultimate Rewards program as a whole, and the Chase Sapphire Reserve specifically.
Say for example we consider the Chase Freedom Unlimited card (1.5 UR everywhere * 1.5 uplift = 2.25x) vs the Bank of America Premium Rewards (straightforward 2.625% if you have $100,000 with Merrill Edge). I've been willing to forgive the Freedom Unlimited/Chase Sapphire Reserve approach its 0.375% shortfall for the upside associated with 1:1 transfers to travel partners. But if I can't reliably get 1.5 cpp uplift with the Reserve it makes me question this strategy.
Like you say: Cash is king. And if I look at my demand schedule I have need for VRBO/AirBnB type rentals in the coming year. How am I going to pay for them? Seems like it would make sense to focus on cashback for that rather than URs because I can't use URs through Chase with uplift.
That was not the deal and is yet another example of Chase pulling the rug out from beneath us.
See: New Chase 48 Month Sapphire Rule: What To Do Now And Going Forward
Amex really is crushing Chase lately.
Sam: Excellent analysis of the landscape right now.  I'm glad you agree this isn't an acceptable issue.  To further illustrate things I did a search of the properties you listed above for WDW area, and here's the side by side for the identical dates:


Even worse–if you run a search on the Chase travel portal and then go over to Expedia, the tracking from Chase Travel portal pollutes your Expedia results, showing you the "We are sold out" sign on the Expedia page: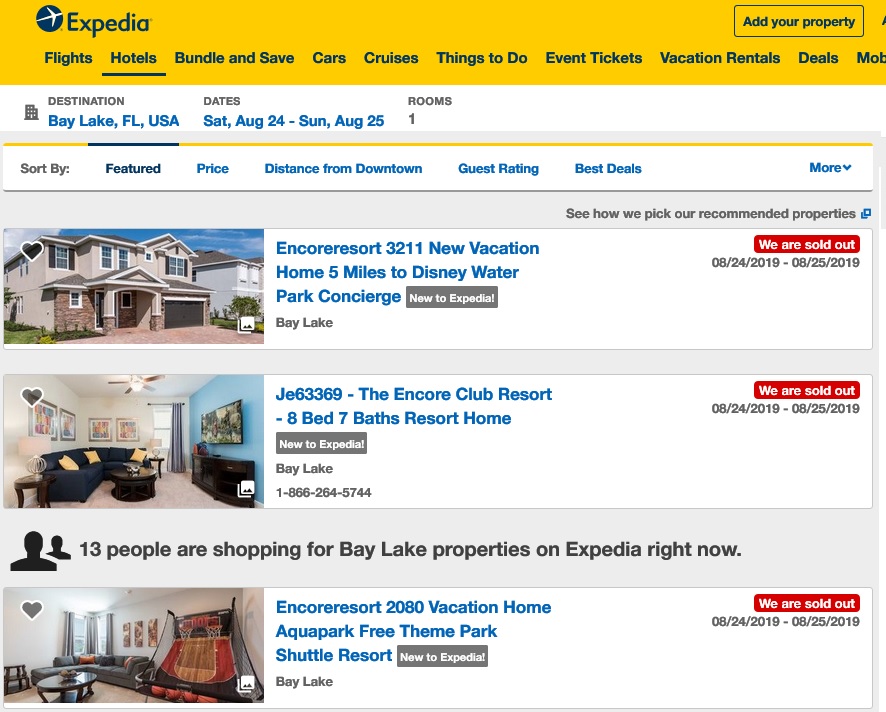 This means the only way to not pollute your Expedia results is to do your Chase UR searches in a Incognito/Private Browsing session.  In my testing the pollution continues long after you've logged out of the Chase travel portal.
Update 10/27: Be sure to read Ed's comments and our back and forth with him below. These detailed comments add additional context to the post and this situation.
Robert: Wow. That's pretty compelling evidence that Chase hasn't opened the spigot on everything that's bookable within Expedia yet. And really bizarre the way it pollutes subsequent native Expedia searches.
I tried calling Chase to see if a live human could look into why all of the vacation rentals in the system are evidently unbookable. Unfortunately some reps don't even seem to know what a Vacation Rental is:
Me: I'm looking to book a Vacation Rental.
Agent: What kind of vacation are you looking to book?
Me: A Vacation Rental. On your site it says Flights, Hotels, Cars, Cruises, Vacation Rentals. I want to book a Vacation Rental.
Agent: I'm sorry, I can book flights and hotels. But not cruises. Are you looking to book a cruise?
Me: Let's go with "yes". Please transfer me.
The Cruises & Tours department is still managed by Connextions Loyalty. And they have no ability to book Vacation Rentals.
Chase has really nerfed a lot of value here and devalued my impression of Ultimate Rewards.
Half Baked or Fully Baked?
Sam: So the question really becomes… is this it? Is this the final Travel portal that we're stuck with? Or will it progressively get better?  If it is the former–this is pretty disappointing. Not only has the ability to book anything Disney been removed, but vacation rentals are also a no-go right now.
If it is the latter, and Chase is simply rolling this out slowly we'll revisit and update readers. For now be cautious–When the Chase UR Travel Portal tells you a place is 'sold out' check a few more places just to verify this is indeed true.