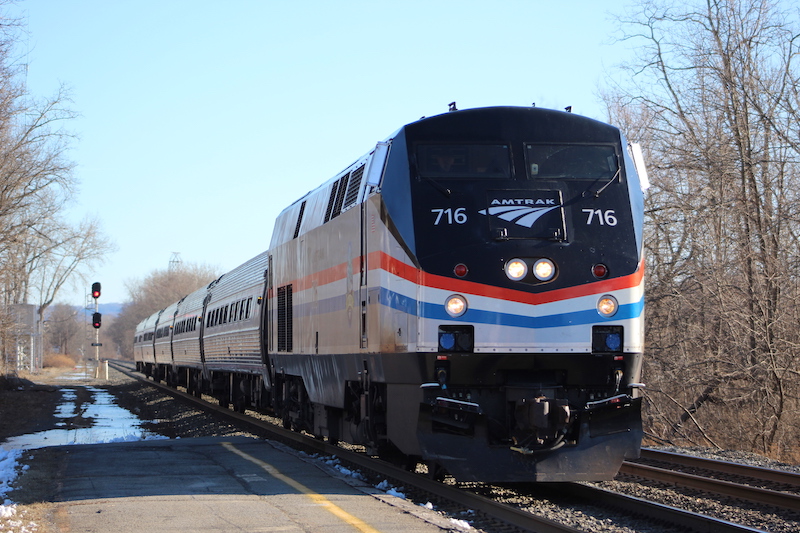 I was poking around reddit the other day and came across this post about transferring Membership Rewards to Amtrak Guest Rewards through a two-step process to achieve ~1.5 cents per point (cpp) of uplift.
I thought this was an interesting tip, for those who want to travel on Amtrak, because no bank point programs (that I'm aware of) can be used to book train travel with uplift.
Quick Summary
The main idea is to transfer bank points to airline miles, then airline miles to Amtrak through points.com. Since Amtrak points are worth up to 2.5-2.9 cpp it results in values up to 1.64 cents per bank point.
Amex Membership Rewards
Aeroplan is a 1:1 Amex Membership Rewards transfer partner.
Through points.com you can transfer Aeroplan to Amtrak at a rate of 0.566.
Since Amtrak points are worth up 2.9 cents a piece that's 1 x 0.566 x 2.9 = 1.64 cpp
Acela redemptions are 2.5 cents a piece so that's 1.42 cpp.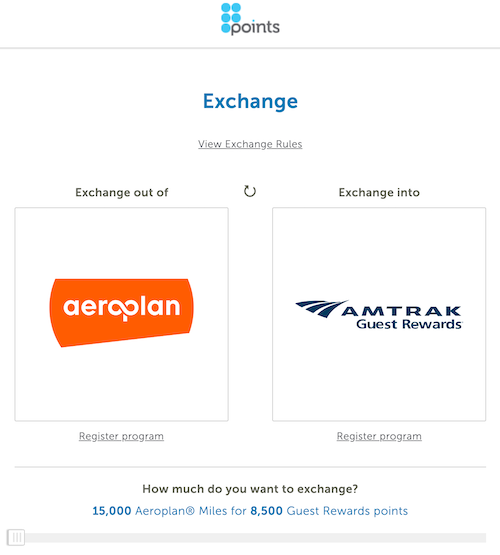 Citi ThankYou Points/Chase Ultimate Rewards
JetBlue is a 1:1 transfer partner of both Citi and Chase cards that have annual fees.
Through points.com you can transfer JetBlue to Amtrak at a rate of 0.5.
Since Amtrak points are worth up to 2.9 cents a piece 1 x 0.5 x 2.9 = 1.45 cpp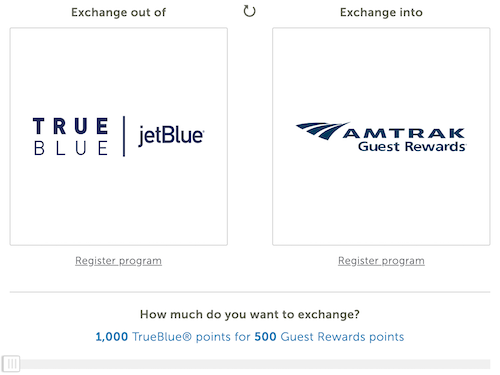 Further Considerations
If you want to check other point currency redemptions angles, here are a couple of useful links:
One limitation of Amtrak Rewards is that you can't use them for their most affordable "Saver" tickets. When these fares are available, you'd probably want to book with cash instead of through this transfer mechanism. This is especially unfortunate if you have kids 12 an under travelling with an adult, because child fares are 50% off.
Since Amtrak points are only worth 2.5 cpp for Acela redemptions you might want to save them for non-Acela trips.
Another option to consider is buying 4 one-way upgrade certificates for 10,000 Amtrak points. You can't use them with award ticket unfortunately, but if you see a big dollar spread between Economy and Business (or Business and First on Acela) and want to travel in a higher cabin this provides a way.
You won't earn Amtrak rewards when travelling on an award ticket, so keep that in mind when considering your cpp of value.
The reddit article I linked to mentions transferring Amtrak points to Choice Hotels. That's not possible without Amtrak status. And even with Amtrak status there's a cap on how many points you can transfer a year, and I've found the award availability of the Preferred Hotels to be terrible. But for those looking to solve a grand puzzle…
…there's a Bank of America Amtrak credit card with a 20,000 point signup bonus. It's been as high as 30,000 in the past, but when I make a dummy booking I see an offer for a $100 statement credit. 20,000 points doesn't sound like a lot but with 2.9 cpp value + a statement credit it could be worth considering for frequent Amtrak travelers. Especially with BofA tightening per-card churning restrictions.

Bottom Line
Someone asked me just the other day "Can I use Chase Ultimate Rewards for trains?". I confidently said "No" – because I knew Amtrak couldn't be booked through the Chase Ultimate Rewards portal (or even though the Cruises & Tours department). My friend was actually thinking of a European train, but still – it's good to have this as yet another way to use bank points to fund more complete vacations.
Any other angles you see that could unlock even more cpp value? I'd love for someone to say you can transfer through some crazy program like Melia Rewards for even more value.