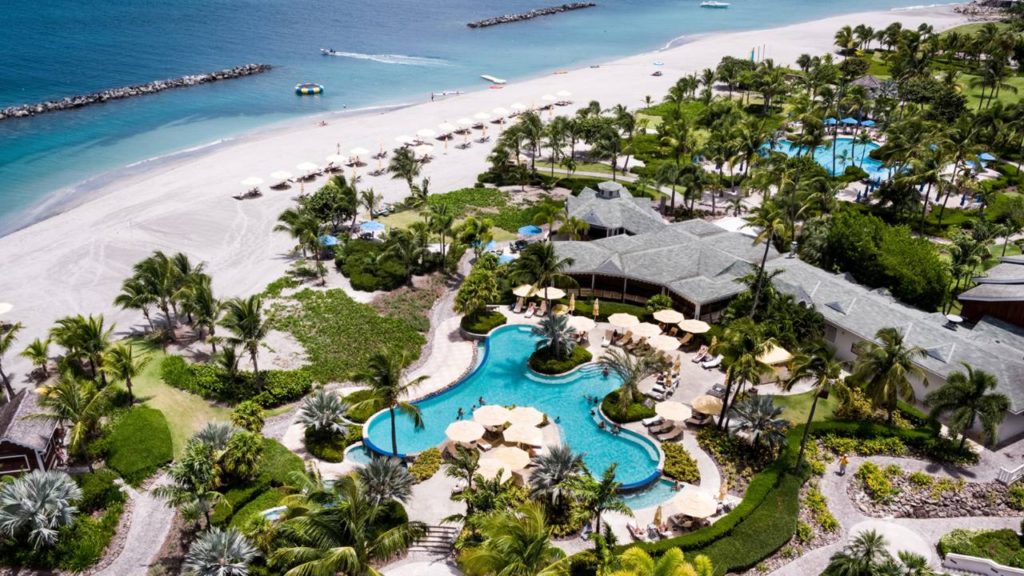 Quick Summary: It's possible to stack the Citi Prestige 4th night free benefit with free night offers at hotels like the Four Seasons. You can pay with Citi ThankYou points for additional uplift if you have the Citi Premier card. If the hotel makes their best rates and promos available to bank portals it can make for a very nice redemption.
After booking the Park Hyatt St Kitts deal last week as a paid stay through a Hyatt Prive travel advisor I wanted to extend our visit to the area with a stay at the Four Seasons Nevis. The Park Hyatt deal made bank points a bad deal because there was too much upside in booking through Hyatt Prive travel advisor.
But the Four Seasons has free night offer of its own, which actually is a good fit for using bank points.
Four Seasons Nevis 4th Night Free Offer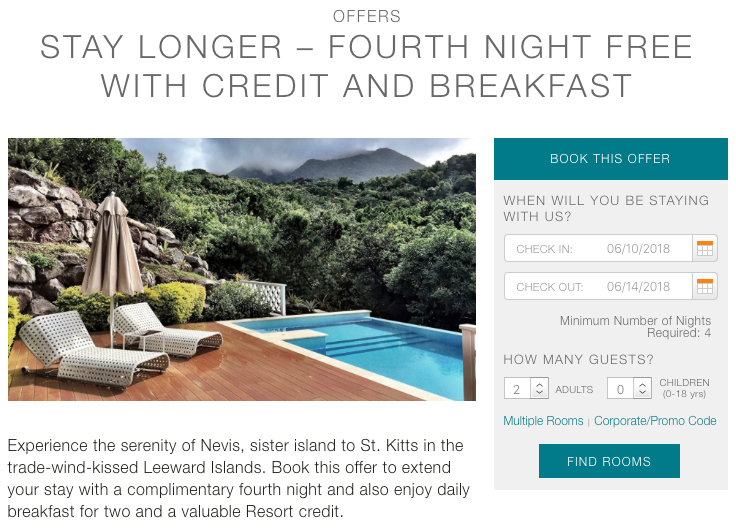 Offer Details
Complimentary fourth night with every three consecutive paid nights
Daily buffet breakfast for two
USD 250 Resort credit per stay (applicable towards Resort dining and on-property Resort activities)
Booking the Park Hyatt offer through a Hyatt Prive travel advisor unlocked complimentary breakfast.
But the Four Seasons 4th night offer includes breakfast so the useful thing I'm leaving on the table by not booking through a Four Seasons Preferred Partner/Virtuoso travel agent is the $100 resort credit and room upgrade.
The standard room rate for my travel dates is $450/nt. After Four Seasons 4th night free and taxes/fees the total comes to $1,782

Booking the Offer with Citi ThankYou Points
The way Four Seasons has bundled the offer makes it a better candidate for using bank points than the Park Hyatt offer.
By booking a higher end hotel with bank points I'm leaving the Virtuoso/AmEx Fine Hotels & Resorts/Four Seasons Preferred Partner benefits on the table. But in this case I'm already getting free breakfast as part of the offer, the room upgrade isn't that important to me, and the early check-in/late check-out isn't useful.
That said, I am passing up on a $100 resort credit so I'll keep that in mind while making a decision on how to book this.
Thankfully, when I do a search through the ThankYou portal I see the offer is bookable with:
Breakfast for 2
Resort Credit (hopefully $250 like booking direct, I'll confirm this with the hotel directly later)

Challenges Booking through a Bank Portal
Note that it's non-trivial to find these offers in bank point portals, and they're not always well-described.
For some reason, the Four Seasons Nevis has two entries in both the Citi and Chase portals. As I was performing my searches the offer would only intermittently show up.
Note: It's also possible to call the Citi Concierge for 4th night free bookings with the Prestige card. They can generally match the best offer from a hotel like a proper travel agent, but in my experience you can't pay with ThankYou Points when going this route.
Determining Whether it's a Deal
It's a little tricky to do the math on these offers because of taxes, [sometimes] exchange rates, and the ways costs are tabulated.
With the Citi Prestige card the 4th night is free, but you have to pay taxes on it.
And with the Citi Premier card you get 1.25 cent per point uplift when paying with ThankYou points for hotels.
To determine how many cents per point of value I'm getting, I:
Take the best rate from the hotel site: $1,782
Subtract any value I'd get from booking through another channel: -$100 (I'd get if booking through a Virtuoso agent)
That gives us a target cost of: $1,682
Citi wants 114,420 for the trip
So that's $1,682 / 114,420 = 1.42 cents per point of value
The nightly rate is a tad higher on Citi's site ($352 vs $337.50) than on Four Seasons' site direct, but it's good to see the offer come through and be bookable with bank points.
All things considered I think this is a pretty good use of bank points, so I booked a slightly more expensive suite where the value was more in line between Four Seasons site and Citi's site for 1.5 cents per point of value.
Annual Fee Considerations
The annual fees of the Citi Prestige ($450) and Premier ($95) cards are worth considering too. Plus any additional workhorse Citi cards. To offset these fees, it's helpful to:
Make effective use of these cards within the first year of having them, where the annual fee is waived or offset by the signup bonus
Make use of the card's annual air travel credit ($250 in the case of the Prestige card) to offset the annual fee on an ongoing basis
Seek retention bonuses for the card to help offset the annual fee
Keep a card where you're grandfathered in at some lower annual fee for as long as you can ($350 on the Prestige for old-timers)
Summing it Up
The conventional wisdom is you should never use bank points for anything but airfare, but there are situations where hotels can be a fine use of bank points.
Some key attributes of situations where I think bank points are good redemptions for hotel stays are:
At hotels/chains without loyalty programs (boutique hotels, Four Seasons, and Disney for example)
Situations where the best available offer is bookable through the bank portal
Where you're not leaving too much on the table vs. booking through Virtuoso/other channels
This deal met those requirements nicely.
For as much as bank points can be difficult to use, consider how award availability never came up in this discussion. For me that benefit sometimes outweighs the complexities of using bank points for hotel stays.