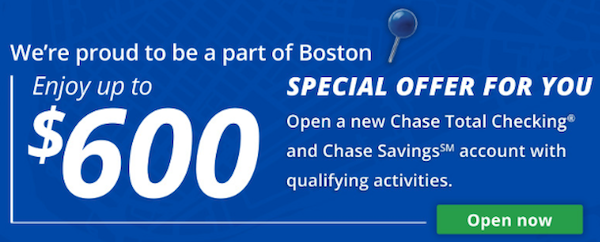 JP Morgan Chase is offering a $600 signup bonus for opening a checking account and a savings account and completing certain activities.
Up until now, Chase hasn't had branches in Massachusetts. That being the case, Chase hasn't allowed Massachusetts residents to open banking accounts online at all.
That's changing now that Chase is opening branches in the Boston area.
Chase Boston Signup Bonus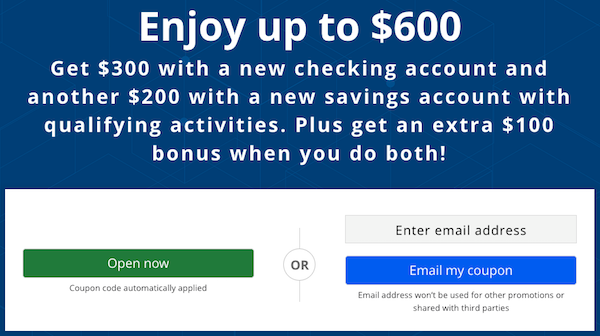 To earn $600 total you'll need to:
Open a Chase Total Checking and a Chase Savings account
Set up direct deposit on the checking account
Fund the savings account with $15,000 and leave it there for 90 days
Once you do that you should get a total of $600 within 10 business days
Offer expires 1/17/2019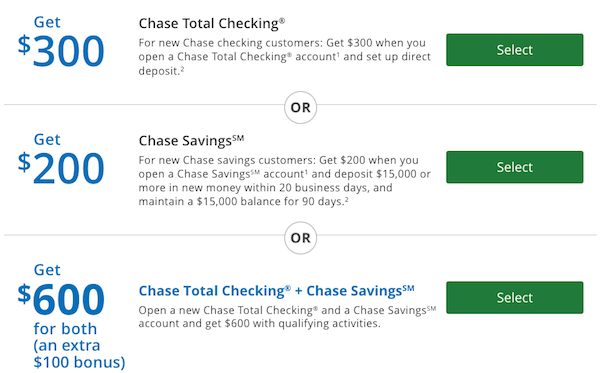 How to get the Offer
When I visited chase.com [without logging in] from a browser in which I'd previously logged in to my Chase account, the offer appeared at the top of the page. The address on my Chase accounts is in Massachusetts.
If you don't see the offer appearing when going to chase.com, try logging into your Chase account, then log out, then go to chase.com.
Although the "Open now" button links to a landing page, that page doesn't load for me in a fresh browser. This offer seems targeted to residents in the Boston area.
Branch Locations
Chase is betting big on Boston with plans to open 50 branch locations.
It looks like the first to open are going to be in Dedham (869 Providence Hwy) and Downtown Crossing in Boston (425 Washington St).
Check their branch locator for updates.
Avoiding Fees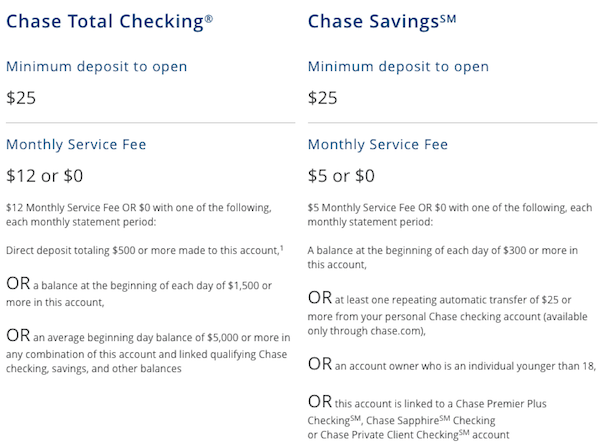 Checking account fees can be avoided with a $500 monthly direct deposit or by maintaining a balance of $1,500.
Savings account fees can be avoided by maintaining a balance of $300.
Credit Card Funding?
No. You can only fund the account with debit cards and the maximum amount is $50 for savings and $50 for checking.
Bottom Line
This is a terrific offer and I look forward to heightened competition in the space.
I went for the $600 offer straight away. Account opening was easy and straightforward. I'll consider making Chase my primary bank. I'll also look to upgrade this account to Sapphire Banking if they're still offering 60,000 Ultimate Rewards for that after I complete this initial offer.
See: Use Revolving Lines Of Credit To Earn The 60,000 UR Chase Sapphire Banking Bonus
Welcome to Boston, Chase. I'm looking forward to doing business with you.