I wrote last week how co-mingling and redeeming bank points is the next step after being an Optimizing Transactor.
It became clear to me how non-trivial a step this is while performing an annual review of family member's credit card portfolios. It takes a lot of effort and organization to even be an Optimizing Transactor. To become a Co-Mingling Optimizing Transactor you've got to be pretty involved with this game.
You've got to effectively navigate signing up for key cards within a bank's flexible bank point portfolio. You've got to stay on top of annual fees and chip away at them through effective use of benefits. And the most difficult part is redeeming effectively.
I've hit some roadblocks trying to redeem Chase Ultimate Rewards this year with 1.5 cents per point of uplift. So much so that I've considered cashing them out at times. But a recent wave of redemptions bouyed my enthusiasm for the bank point lifestyle.
LAX-BOS on AA First w/Amex Membership Rewards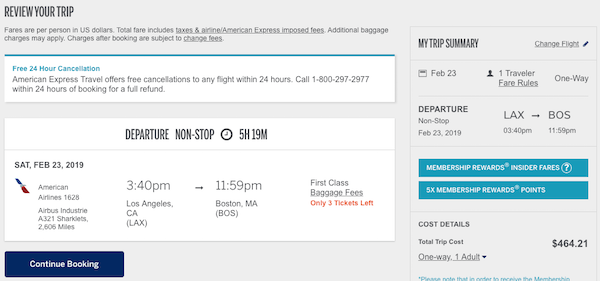 I needed return flights for a trip I booked earlier to Los Angeles with AA miles.
The route is well-served by many carriers but due in part to it being the tail end of a Massachusetts school vacation, options looked bleak.
Paid fares in Economy for direct flights were $361 pp one-way.
Options in Business/First Class were high across all carriers:
United wanted 50,000 miles pp one-way
Alaska wanted 70,000
AA wanted 75,000
Delta wanted 95,000
JetBlue wanted $1,099 pp one-way for Mint
I set a Google Flights alert for direct flights in Business/First on my return date and a $515 flight on AA at a good time popped up.

I checked the price through Amex and it was 10% less with their Insider Fares, so $463 pp.
I paid for it with Membership Rewards with a 35% point rebate for carrying the Amex Business Platinum. So after rebate it will cost 30,866 MRs.
I used my Personal Amex Platinum so I'll earn 4x on the transaction so that's 1,852 MRs.
And since I paid with bank points I'll earn miles for the flight. AA flights earn 5 miles per dollar so that's 2,315 AA miles.
This approach is my current "happy place" for domestic airfare redemptions, something I'm doing over and over again, and – I think – a great use of Membership Rewards.
All in all it's around a 1.9 cent per point redemption as I outlined in this post:
Stacking AmEx Insider Fares, 35% Rebate, 4x And More For Flights
Disney's Grand Californian + Park Tickets w/Citi ThankYou Points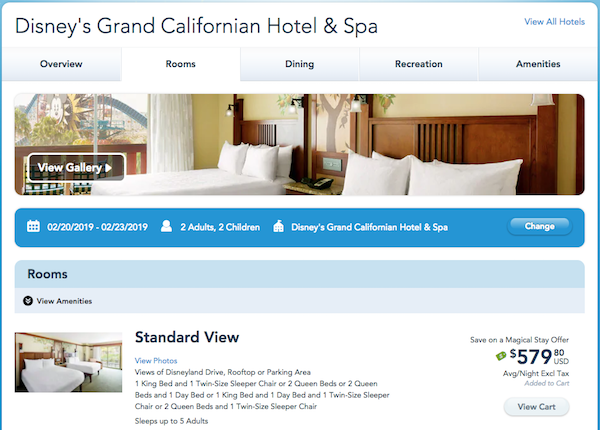 Chase doesn't allow booking Disney vacations with their points any more, but Citi still does.
I used ThankYou Points with 1.25 cents per point of uplift to book a room at the Grand Californian along with 3-day Park Hopper tickets.
I continue to be impressed with my favorite travel agent over at Connexions Loyalty, which runs the Cruises & Tours desk for both Chase and Citi. Once you find one you like, you can do subsequent bookings with them via email which makes it very easy to get the absolute best pricing even if you can't find the hotel/package/cruise you want online in their portal.
More details on this redemption over at Miles to the Magic:
Earning and Using Citi ThankYou Points for Disneyland Vacation Packages
Four Seasons Aviara w/Chase Ultimate Rewards

We love spending part of our time in Southern California at either the Park Hyatt Aviara -or- the adjacent Four Seasons Residence Club Aviara.
The hotel used to be a Four Seasons but after a falling out between the Four Seasons and the hotel owner it became a Park Hyatt. I really like both properties and it give you the option of booking with Hyatt points at the Park Hyatt -or- bank points at the Four Seasons.
I'd previously booked a guaranteed 855 SF suite at the Park Hyatt Aviara for 32,000 points per night.
But the Four Seasons was running a 3rd night free promo that brought the per-night price of a 1,282 SF suite with full kitchen down to $397/nt. Four Seasons promos tend to populate online travel agencies effectively, and the best pricing I could find on Four Seasons' website was also available through the Chase/Expedia portal. So with 1.5 cpp uplift through the Sapphire Reserve the Four Seasons Aviara was 26,444 points per night.
I'm forgoing benefits associated with Globalist status at the Park Hyatt. But the Four Seasons doesn't charge for parking and doesn't charge a resort fee, so those benefits aren't necessary anyway. I'm giving up on complimentary breakfast – and it is very good at the Park Hyatt. But since the Four Seasons has a full kitchen we can just stock the kitchen with items from a nearby grocery store for our stay.
Bottom Line: Redeeming Bank Points
The redemption side of this game is as important, if not more important, than the earning side. Bank point bookings can sometimes be frustrating but in this case they each worked out really well.
This set of bookings highlights a concept I'll go into further in a future post which is the allocation of scarce resources.
Citi is the only currency that can be redeemed with uplift towards Disney so I used ThankYou Points for that portion of the trip. Chase Ultimate Rewards have strong 1.5 cpp uplift with the Sapphire Reserve towards anything you can book through their portal – and the Expedia portal has been doing a good job surfacing up the best pricing (or better in some cases) for hotels. Finally, Amex Membership Rewards are a terrific currency for flights (and weak for Disney and hotels) so I used MRs for the flights.
All-in-all a good week for bank points.