While poking around the Chase Ultimate Rewards portal the other day, I noticed a new [to-me] redemption option: Airport Transfers.
While I've noticed some ground transfer options pop up while booking activties through the Chase portal, this option is a specialized subset within their portal. It provides a way to pre-arrange transportation between airports and hotels listed in the Chase portal, and pay for them with uplift.
See: My Experience With Tours & Activities Booked Through The Chase Expedia Portal
I like to think of my Ultimate Rewards as a savings account that can fund aspects of travel above and beyond airfare and lodging. So this is a welcome addition to be able to redeem bank points and conserve cash.
But as with all things in the Chase portal, it's only a good option if the selection and pricing is competitive with other booking channels.
Are Chase Ultimate Rewards Airport Transfers Useful?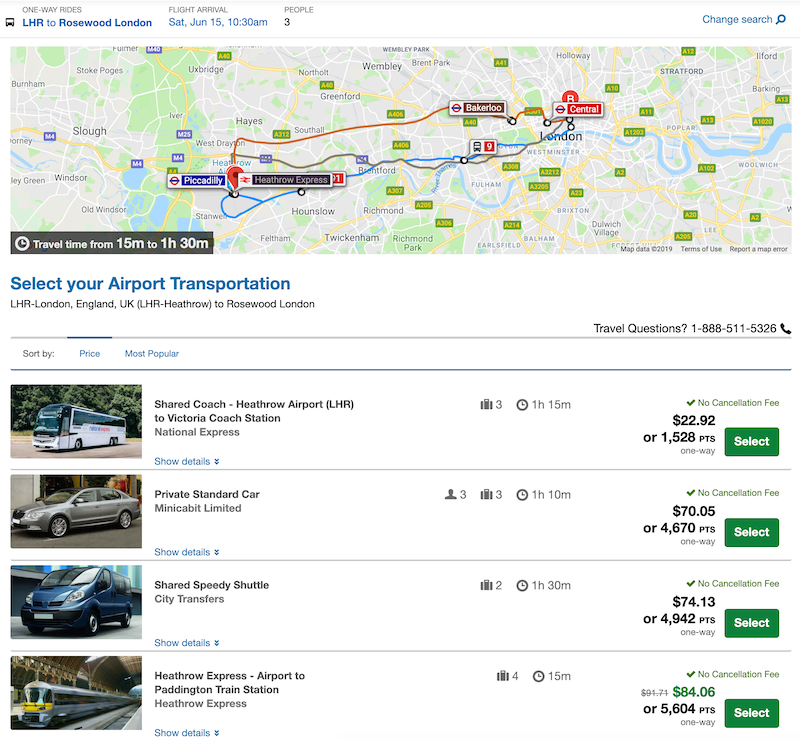 Now, you might be thinking "I'll just call an Uber when I get there." But, especially when you're visiting a new city – it's not always clear what the best options are all things considered.
I like the way the portal lays out your options and estimates the time each option takes, accounting for the number of adults/children in your group.
Options include:
Trains
Busses
Shared shuttles
Private cars
Water transport
Being able to pay for these with 1.5 cents a piece (for Sapphire Reserve cardholders) or 1.25 cents a piece (for other fee-based Ultimate Rewards cards) can make it a good option depending on the overall situation.
Limitations: Only between airports and hotels
I think the biggest limitation is this: You can only book transportation between airports and hotels listed in the Chase portal.
That covers a lot of situations but it certainly doesn't cover all of them. If you're staying with family, staying in a vacation rental, want a lift to a destination other than a hotel, or just want a ride to your home – it doesn't seem like this is a viable option.
It's unclear whether you could book a private ride to a hotel near your destination of choice then ask the driver to drop you off nearby. But at minimum that would require some social engineering so let's continue on with evaluating these options as designed.
Pricing seems a bit inflated: Some examples
I was thinking of some recent examples where I could have used this avenue for booking airport transfers. The screen shot above was for a recent trip trip to London.
See: How Were Those Non-Loyalty European Hotels Booked Through The Chase Expedia Portal?
London Heathrow to the Rosewood London
In practice, we got an Uber for the 4 of us for $56.99. It ended up being a sporty C-Class AMG Mercedes that was quite nice.
The price for an equivalent option in the Chase portal is $70.05. One limitation with the Chase option is that standard cars only hold 3 people. We were able to fit 4 in the Uber no problem. So for this situation, I think Uber was a better option for us. Still, if it gives you comfort being greeted by someone with your name on a sign – the private transfer isn't that much more expensive.
Winner: Uber
Venice Airport to Hotel Flora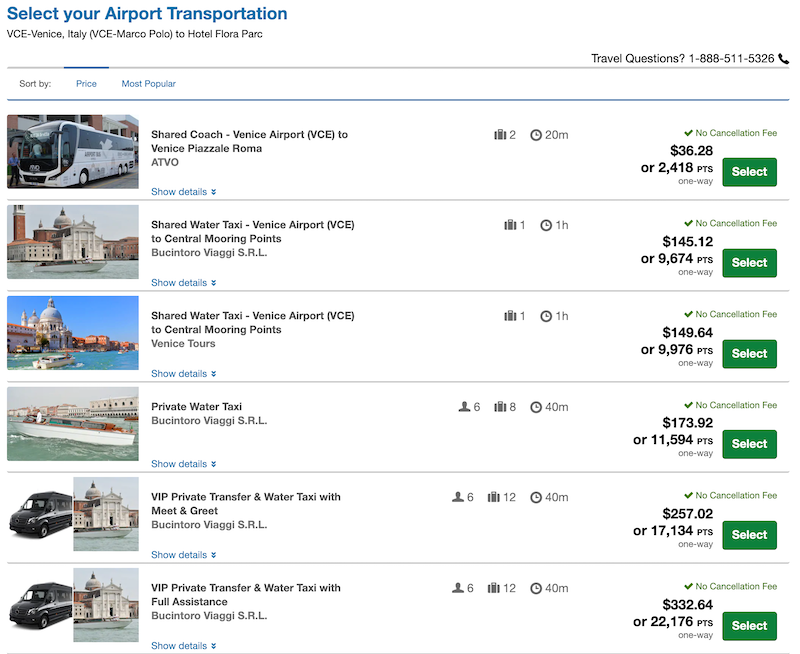 I think Venice is an interesting example because it introduces water transfer options.
We ended up taking a shared water taxi (the Alilaguna it's called) for $17 (15 euros) per person, or $68 for the 4 of us. The equivalent options through Chase are in the $145 range.
The private options are really exhorbitantly priced, on top of being an expensive option to begin with. Venice transport options seem to prey on tourists looking to just throw money at it and make it as simple as possible.
Winner: Alilaguna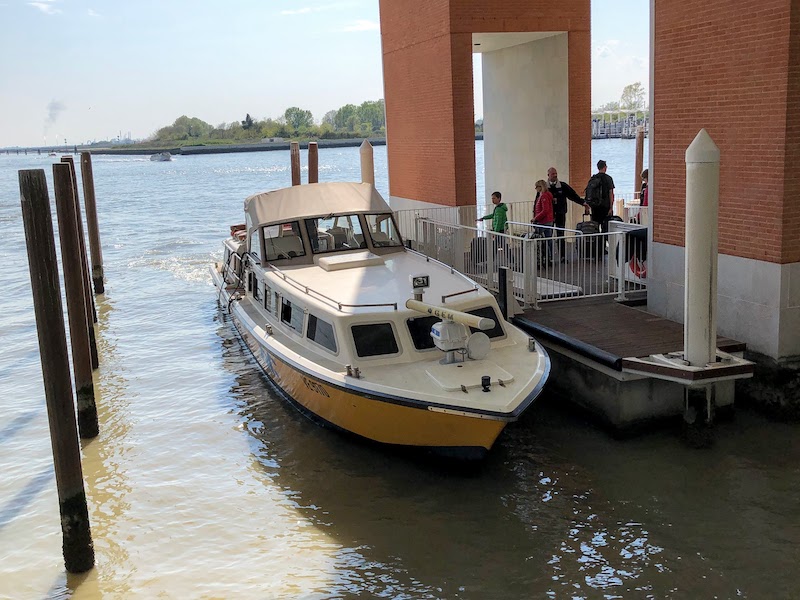 Hotel Dei Mellini to Rome Airport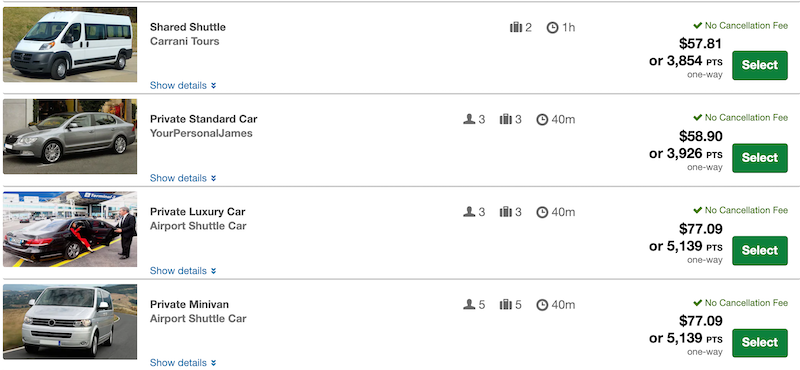 This hotel can arrange for an E-Class Mercedes ride to the airport. In Rome, Uber X isn't an option so we were taking a lot of Uber Black rides. MyTaxi is a more affordable option in Rome.
That said, the hotel wants $62.38 for the 40 minute ride to FCO for 3 people. We had 4 people in our group but since we were talking face to face with the hotel desk agent we could finesse the situation by saying that we didn't have a ton of luggage and that we'd fit into a passenger car rather than a minivan.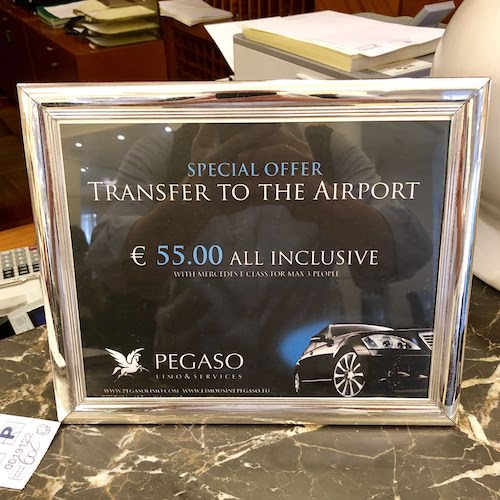 The Chase option $77.09 is the closest comparable option. That's 23% more than the hotel option.
Stated another way, if I redeemed 5,139 points for a ride that I could have bought from the hotel for $62.38 it's a 1.2 cent per point redemption rather than the 1.5 cent per point redemption I'd hope this would be if the Chase price was the best available. Not terrible, but keep that in mind while pricing out bookings like these.
The ride ended up being terrific. The driver got there 15 minutes ahead of schedule, loaded/unloaded our luggage, had bottled waters, and treated us to a 5 Star experience in a nice clean car.
Winner: Hotel arranged option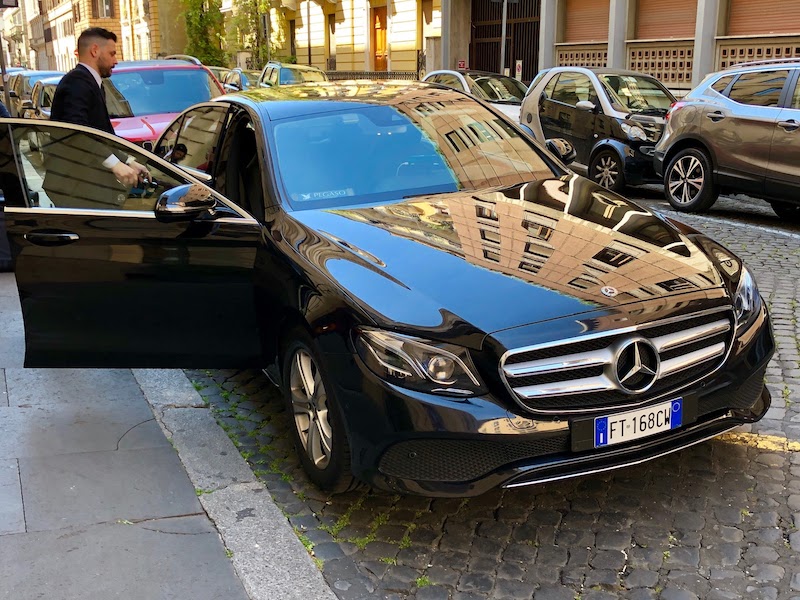 Sorrento Hotel to Naples Airport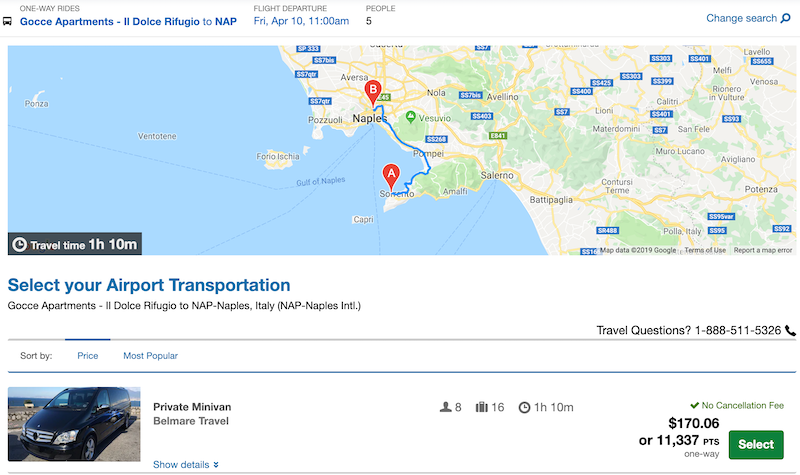 For an upcoming trip to the Amalfi Coast I priced out a minivan for 5 directly with a company in the area. They wanted 150 euros ($170).
The Chase portal is actually competitive here at $170.
The only limitation is that we're likely staying at an AirBnB so it's unclear how I'd redirect from some randomly chosen Sorrento hotel to our place. I bet it's possible, but perhaps not worth the hassle. This is a bit of a disappointment because this is a trip I'd hoped would have been squarely in the Chase portal's wheelhouse.
Winner: Tie
See: The Delta/Virgin Atlantic Paradox: Business Class Awards To Europe
Bottom Line
You can redeem Chase Ultimate Rewards for a wide variety of ground transfer options with theoretical uplift.
It's nice to use bank points to fund more complete vacations, but price out your options to see whether the Chase pricing is inflated vs what you can get it for booking directly. In most cases I've compared, Chase's pricing is a little inflated and/or the booking scenarios were inflexible and it therefore wasn't the best option.
I've said before that I like to save my bank point redemptions for higher denomination redemptions because there's inherent friction with booking a lot of smaller transactions through a third party. Towards this end, what I'd really like them to fix is the way the Vacation Rentals in the Chase portal constantly show "Sold Out" even though they're readily available through Expedia/HomeAway.
See: Chase UR Travel Portal Sold [Us] Out–New Expedia Powered Portal Issues
What do you think? Can you find scenarios where redeeming Ultimate Rewards for ground transfers is a good option?