The end of another year is nearly upon us.  Just as Robert reviewed his hopes and fears a few days ago, I'm doing the same here for my predictions for 2018 post.
I'll be scoring myself 0 to 4, with 4 being a completely correct prediction, 0 a complete miss, and 2 a 'tie.'
Without further ado, I'll get right into it.
Prediction #1: An Overall Strong Economy Will Be Awful For Traditional Miles and Better Still for Bank Points.
Unpacking this could take an entire post–but I'll do my best right here to give an honest assessment of this very broad and potentially politically charged prediction.
I'll remove the "Overall strong economy" from this as that isn't really a prediction, but more of a qualifier. The question then becomes, was the year "Awful for traditional miles and better still for Bank points?"   Yes, and No.   The year certainly was great for Bank points.  But it also showed signs of being worse for bank points, specifically Chase UR and the issues we saw with the UR Portal transition to Expedia.  (Score: 3 out of 4)
On the other side of the prediction I think I missed it entirely.  The year wasn't 'awful' for traditional miles, in fact it might have been an improvement over 2017.  Delta had flash sale after flash sale after flash sale….and even AA and UA seemed to be loading more award space, specifically at the low level. (Score:0 out of 4)
Total Score: 1.5 out of 4
Prediction #2: Competition for payment processing will heat up and we will be the beneficiaries.
This one might have been a bit of a cheater–as the Q1 5X categories had already been announced by the time I wrote my post. My prediction was broad–that these mobile wallet services like Apple Pay, Google Pay, Chase Pay, Visa Wallet, and MasterPass (among many others) would see great promos throughout the year.
True to the prediction the year was absolutely packed with promotions for these services.  The crown jewel of these being the Plastiq Masterpass Zero-Fee liquidation over the summer.
Beyond that, Chase continued to attempt to get us using Chase Pay.  It is possible that Robert and myself are the only two people who took up the challenge of using Chase pay this past year.  We chronicle most of our hijinx wit this terribly designed service on our subscriber only Patreon podcast.  Spoiler alert: We've failed at using Chase Pay in almost every possible way.
Those issues with Chase Pay aside, the year was phenomenal for us as a direct result of these payment services chasing our business.  I'll take a full 4 points for this one.
Score: 4 out of 4
Prediction #3: Rising oil prices will push airline tickets up in cost.
When I'm wrong, I'm really wrong.  I set a target price of oil to be up 50% Year over Year to $90 a barrel.  Not only did oil prices crash recently, but there seems to be no way right now for producers to get the price back over $50 a barrel.  Don't take your futures and commodities advice from this blog folks.
For the broader prediction, that ticket prices would rise, I claimed victory in our newest No Annual Fee Podcast–however I did so without a source. After recording, and while writing this post I did dig up some real data which shows airfare prices were pretty much flat through 2018.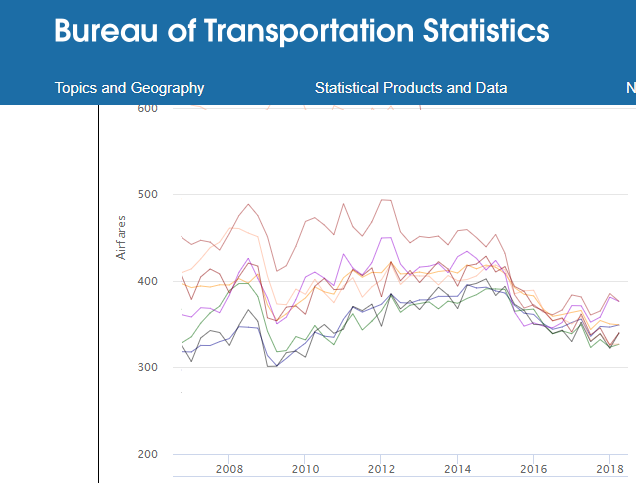 I'm unsure if that's due to the proliferation of basic economy tickets, or oil prices, but either way I think I missed the boat (or plane) on this one.
Score: 0 out of 4
Prediction #4: The end of 25,000 points for low level domestic flights
If I had to be wrong about one of these this would be the one I'm most glad I'm wrong about.  Aligned with the above discussion of low level award availability being better in 2018 is the fact that there were no significant losses of the lowest tier on mainline US Carriers (Save Delta, which long ago stopped publishing a chart).
Score: Happily, 0 out of 4
Prediction #5: Credit Cards: Sign up bonuses will trend upward.
Balancing out Prediction #4 being the one I'd most like to be wrong about, this one is the one I'm happiest to be correct about.  2018 saw historic highs for MANY major credit cards.  Removing Chase and their crazy antics, banks such as Barclays, CapitalOne, American Express, CNB, Citi among others had increased offers for many cards.
A second 'phantom increase' in sign up bonuses this year came in the form of American Express' universal referral system. This program allows us to refer spouses and friends for nearly all American Express cards with a bonus for ourselves.  That effectively means in two player mode an increased sign up bonus for all American Express cards this year.
Score: 4 out of 4
Prediction #6: Citi Double Cash Will Devalue
I didn't specifically announce how this devaluation would happen–so I don't feel comfortable taking points for the reduction in price rewind benefits, even if I specifically called out those overly generous benefits in my prediction.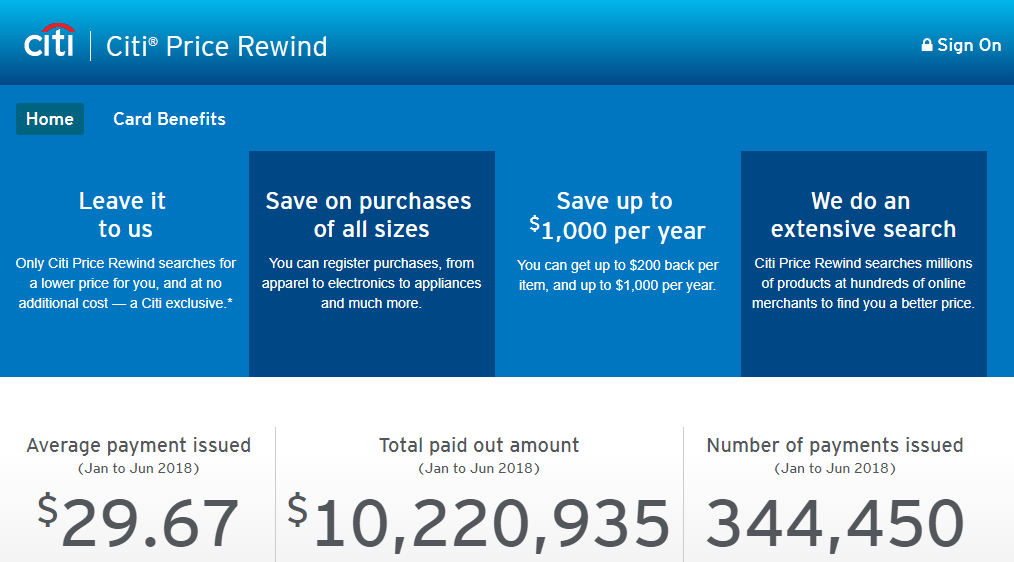 My intention with that prediction was of a bigger, broader devaluation. The addition of an annual fee perhaps, or a reduction in the 2% paid out, or a cap put on it.  The fact that this card lasted through 2018, and was a MasterCard (and thus able to work with Plastiq) made for a great year.  Hopefully there are more to come.
I'll give myself a very partial credit for the slight devaluation, but otherwise, another happy miss.
Score: 1 out of 4
Prediction #7: At least one major GC issuer will start to issue GC without PINS.
I must have been in a grumpy mood, or a bearish one at least, while writing that predictions post, because I was very negative on the year in many ways.  This one was a complete miss as well, and again, happily so.
What's impressed me the most about the current state of GC with PINs is that the market seems to have stabilized now that Secure Chip based transactions are the norm everywhere.  Purchases seem easier, and with online liquidation through Plastiq, or in person options the year was a banner one for manufacturing miles and points.
Score: 0 out of 4
Prediction #8: Interest rates on savings will continue upward. The true AOR will return in 2018 or early 2019.
This was one I was cheating in calling–rates were already creeping up. But it has continued–with rates now above 2.5% for savings, and the idea of losing out on interest now a very real consideration for the game we play.
The "True App-O-Rama" hasn't come back yet–but with the continued increase in rates it very well could in 2019.  I wrote a little about this type of thinking here on this post. As rates continue to rise these types of concerns, which for many of you have never been necessary, will continue to become increasingly so. We'll be writing about it more here, and discussing it on the podcasts as well.
Score: 4 out of 4
Overall Score And Closing Thoughts
Calculating my total score here, I'm at 45% or 1.8 out of 4 (that's a low C average for those of you grading me).  Is that good? Well it wouldn't be great if you were betting on me, but I think it is pretty good forward thinking.  I especially like that I wasn't right  about many of the negative changes I expected we would see this year.
That leads me to consider: why was that?  Maybe this game has finally reached critical mass–and we're losing players?  Maybe breakage is trending upward and banks have gotten savvier at creating benefits that the masses cannot use again.  Or Maybe none of that is true and something else entirely is to blame.  One thing's for certain–it was a great year for points, miles, and Milenomics.
The greatest upgrade of the year for me came with the addition of Robert Dwyer here on the blog, along with the launching of not one, but two Milenomics² podcasts.  Robert lists himself as "Contributor at Milenomics" in his bio, which I really should ask him to update. He's much more than that, as the blog's rebirth, change in format and focus, and success this past year could not have happened without his help.  Special thanks go out to Robert, for being patient, focused and deadly with a keyboard and a microphone.  Speaking of microphones, we'll have a special Podcast edition of both our recaps for you to ring out 2018 and ring in 2019 soon.
Whether you thought 2018 was great or terrible for points and miles, sound off below.