We were debating recently on the podcast what the best all-around travel rewards credit card is these days. The one card to get if you're going to get just one.
The City National Bank Crystal Visa Infinite was our favorite and the Amex Hilton Aspire a close second (referral link, read this before applying). But there's another card lurking in the shadows behind these that you've probably heard of – but may have forgotten about. The US Bank Altitude Reserve Visa Infinite.
The US Bank Altitude has a name nearly as long as the "royal" CNB card, and a similar value proposition. If you haven't applied for it yet, it may be because:
You have to be an existing US Bank customer to get the card
You're out of the US Bank service area
You've heard that US Bank is tough on approvals
You've heard that US Bank shuts accounts for manufactured spend (the Altitude gets 3x for mobile wallet transactions)
I'll work through each of these points today. I think this is a great card that should be on everyone's radar.
Pros
50,000 point signup bonus (with 1.5 cents per point of uplift towards travel = $750 in value)
Real-time reward redemptions (which enable you to redeem points while booking directly with travel providers, no clunky portals needed)
$325 easy travel credit (per cardmember year)
12 Gogo inflight WiFi passes
3x on travel and mobile wallet purchases
Usual premium card features (TSAPre/Global Entry reimbursement, Priority Pass, metal card, etc)
Cons
$400 annual fee (not waived the first year)
That's $750 + $325 = $1,075 in easily redeemable travel for a $400 annual fee the first year.
If you take advantage of the $325 credit in the second cardmember year (ie, 13 months after getting the card) that's $750 + $325 + $325 = $1,400 in travel for a $400 annual fee the first year.
So I can see my way to this being a $1,000 signup bonus. Plus Gogo passes, and 4.5% back towards travel anywhere that accepts mobile wallet payments.
Getting the Card
There's a lot of stale information floating around out there about this card. You do [still] need to be an existing customer.
To become an existing customer you can:
Open a deposit account (here's a $300 signup bonus) -or-
Open a different US Bank credit card (then apply for the Altitude later)
The problem I had with opening a deposit account is that I'm outside of their service area. I tried a year ago, but my application for a deposit account was declined.
And the problem with applying for a US Bank personal credit card in order to become eligible for the US Bank Altitude card is that you've just applied for a card and you might want to wait before applying for another. If you think their approval standards are tough in the first place this seems like a bad path to go down if your real intention is getting an Altitude card.
However, both my wife and I have US Bank business cards. They sent out targeted offers for $500 signup bonuses on the US Bank Business Edge cards – maybe you went in on these too? If so, you can get approved using one of these two methods…
Method 1: Applying In-Branch with an Existing US Bank Business Card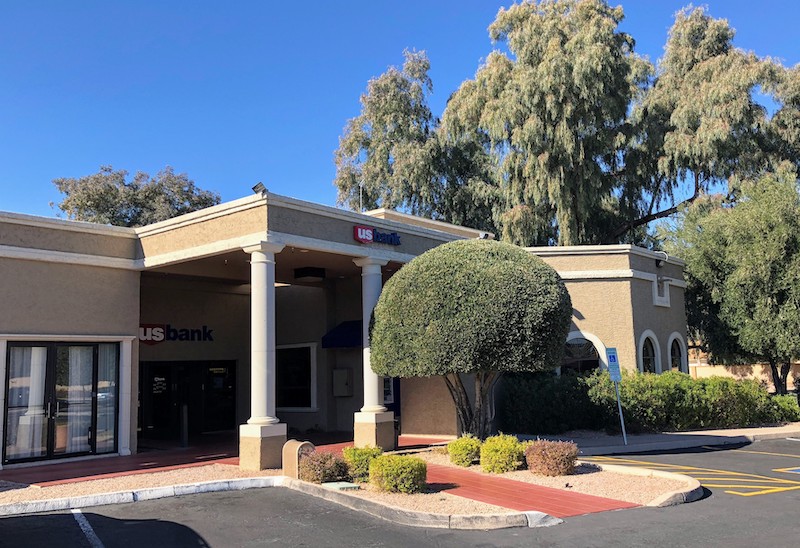 We were on vacation in Arizona a couple of years ago so I stopped in at a US Bank branch.
Because I already had an existing US Bank business card I was able to apply and was approved for an Altitude card. SUCCESS.
Method 2: Applying Online with an Existing US Bank Business Card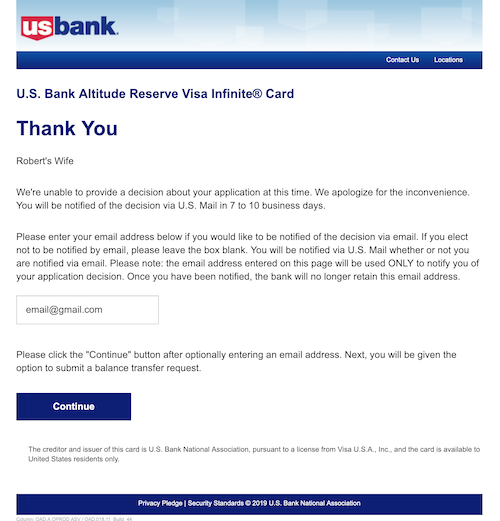 For my wife I didn't really like the idea of asking her to go in branch while on vacation in US Bank's service area.
The conventional wisdom seems to be that you need to have an existing personal account (deposit -or- credit card) in order to get approved for the Altitude card. This is not true in my experience.
My wife applied for an Alitude card online while having only a US Bank business credit card. Her application went pending with a message that she'd be notified in 7-10 days. 4 days later, her US Bank Altitude card arrived. SUCCESS!
I was surprised actually, because she didn't call. And even though she provided her email address to be informed of their decision she never heard from them. She just got the card in a timely manner in its fancy welcome packages.
Bottom Line
There are a lot of different playbooks here, but I think the US Bank Altitude card is worth getting.
Although you need to be an existing US Bank customer to get the Altitude card, it's worth becoming a customer.
If you're in the US Bank service area, I'd open a checking account for the signup bonus then apply for a US Bank Altitude after the checking account gets established.
If you're outside the service area and have an existing business card I'd go ahead and apply for the Altitude card online. It seems they've gotten smarter about confirming that customers who hold small business credit cards are indeed existing US Bank customers. If you travel regularly through their service area and it's convenient, stop in and apply for the Altitude. They were pleasant and professional.
If you're outside the service area and have no relationship with US Bank, I'd seek to establish a relationship with them. If you've got a small business I'd start with the best US Bank business card I could find – preferably a targeted offer if you receive one. If not, I'd go for some other US Bank personal credit card that looks appealing for your travel needs. Then apply for the Altitude say 6+ months later.
US Bank's approval standards haven't been as difficult as I've heard them to be. No freezing of obscure credit reports was necessary. I didn't need to call to remind them I was a customer.
As for shutdown concerns surrounding even moderate use of mobile wallets for gift card purchases – I haven't attempted many mobile wallet transactions at all. The card hasn't proven to be the reliable manufactured spend monster some hoped for. I think the card is strong for easy rewards towards travel without funny business. And as mobile wallet acceptance becomes more common this is a good card for 4.5% on real spend.
I think the US Bank Altitude card is a winner.