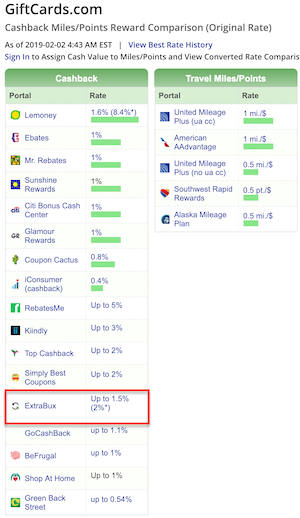 You may have noticed the Extrabux shopping portal come up in Cashback Monitor listings. In this Extrabux portal review I'm going to describe my experience using the service and tell you why I'm going to avoid them going forward. Because when they say you'll earn "Up to" a certain amount you really have no idea what you'll earn until after the order tracks.
Have a look at the example listing on Cashback Monitor for GiftCards.com. A current screenshot appears on the right.
There are two types of special cases Cashback Monitor handles:
When a portal (like the dreaded Lemoney for example) has different cashback percentages based on some heightened payout scheme like Turbo Cashback, or a new customer incentive
An "Up to %" listing when the payout depends on the item purchased through the portal
Extrabux combines both of these special cases. They pay out "Up to 1.5%" – depending on what item you buy. And they pay out "Up to 2%" if you apply an "Extra Back Card" to your purchase.
These two things combined might seem like a good opportunity. But since they don't specify the percentage for specific items, their payout rates are rarely the best.
Example #1: GiftCards.com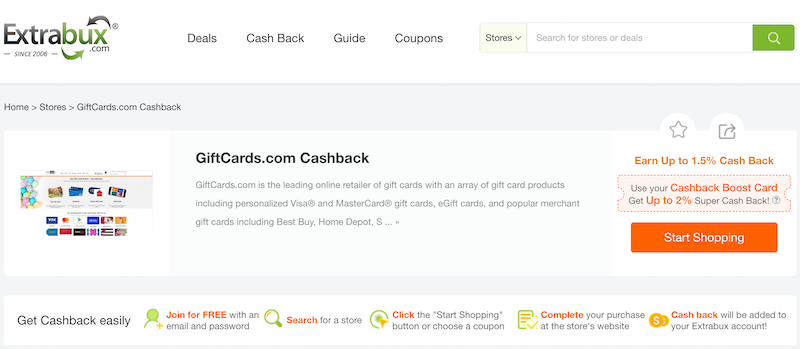 The first order I placed with them was for a Mastercard Gift Card from GiftCards.com. Looking at their cashback rates I was hoping for 2%.
However, they only paid 1.25%. So I complained saying "Hey, it says up to 2% with a Cashback Boost Card – why did I only get 1.25%?".
They responded by saying that different items have different cashback rates. I pressed further and said it doesn't say that anywhere on their site. They responded by giving me a one-time adjustment and added language on the site saying "*Different Types of Gift Cards have different cash back".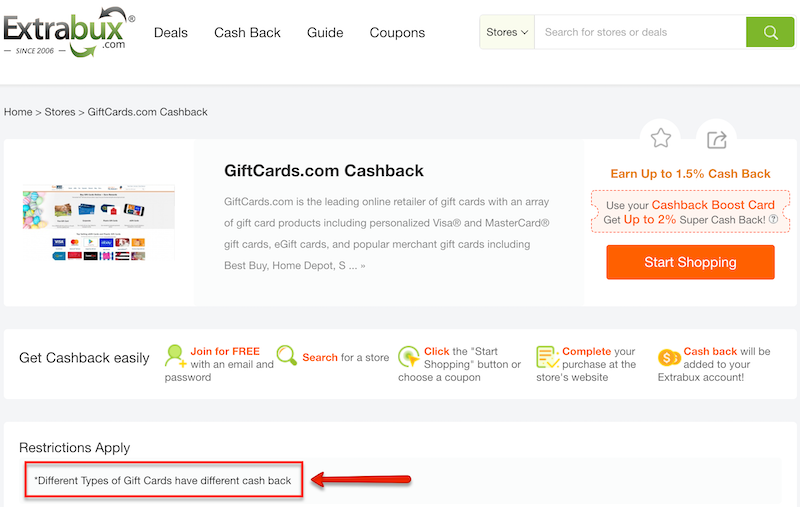 I tried another order a few days later and it paid out 1.9% for some unknown reason. However, I was unable to apply Super Cash Back to the purchase.
A couple of days later I placed another order. This time it tracked at 1.25% with Super Cash Back.'
As you can see every order resulted in something different, at a time when their stated cashback rates were the same: Up to 1.5%, and Up to 2% with Super Cash Back:

A Better Way: Top Cashback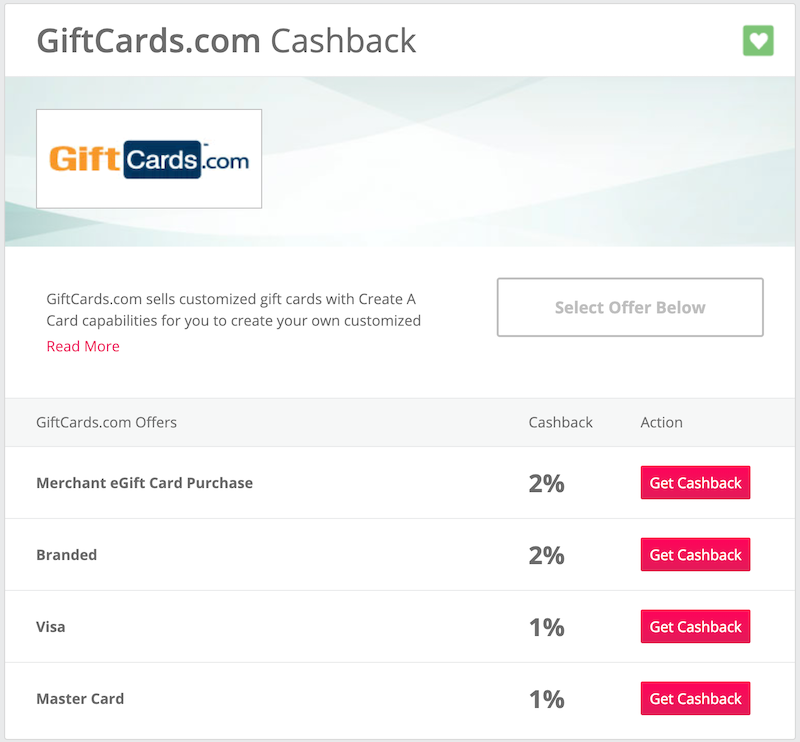 If you look at other shopping portals, they list specifically what cashback percentage items get. It might not be easy, but it's possible for a portal to differentiate. And it's what they should do.
Example #2: ItaliaRail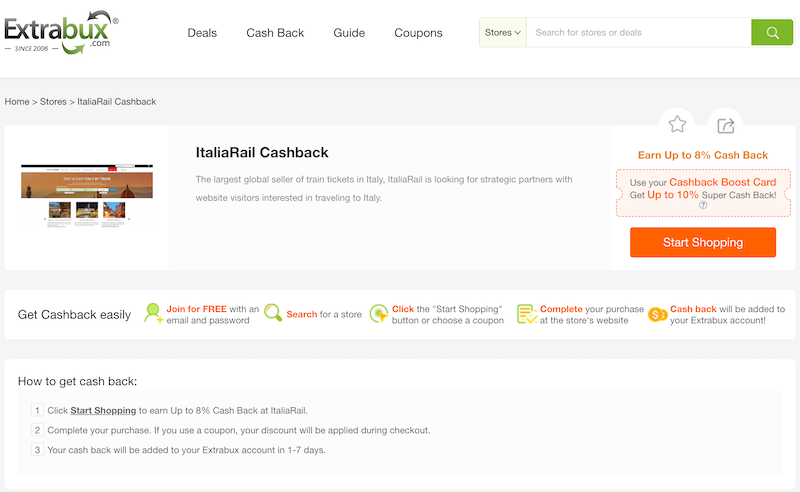 I was ready to write Extrabux off completely, but while searching for a train from Venice to Rome I noticed they were the only cashback portal with ItaliaRail.
ItaliaRail is a 3rd party site that books Trenitalia trains. I would have preferred to book direct with Trenitalia, but the prices on ItaliaRail were about the same, plus I'd get 10% cashback with Extrabux. Or so I thought – what could possibly go wrong?

Well, they decided to pay out at 3% rather than 10%.
I emailed them and they said:
The merchant ItaliaRail cash back setting on our site is up to 8% cash back, up to 10% super sash back. That is to say, orders from different categories get different cash back. And the cash back is finally determined by the merchant.
I emailed them back and said "That's ridiculous. All ItaliaRail sells is Italian train tickets."
They dug their heels in and said:
The cash back setting and the exclusions are all determined by the merchant. It subjects to merchant feedback. So we set the cash back is "up to xx". And the merchant did not give us the specific cash back rate list about the specific products.
I find their position unacceptable.
Bottom Line
It drives me bonkers when a retailer lists a sale that is "Up To" some percent off.
Like if I'm driving by the Gap or whatever and there's a sign in the window saying "Up to 75% Off". Technically not a single item in the store needs to be on sale for the statement to be true. But I think a reasonable person would interpret the offer as being "there are some items in the store that are indeed 75% off". Maybe I'll have a look.
But in the case of Extrabux in the ItaliaRail example: The only thing the vendor sells is Italian rail tickets. Why I would get "only" 3% cashback rather than 10%? It doesn't make any sense.
Extrabux really needs to do a better job listing the cashback items get, when different items get different amounts. Other portals do this, they don't, and that's not a good way to run a portal.
Their "Extra Cash Back" program could be valuable, but if they're not paying out at the "Up to" rate in the first place the heightened payout percentage doesn't bring their rates up to what their competition offers.
Recommendation: Avoid Extrabux.