We've been seeing a lot of questions in our Slack community and elsewhere about Coronavirus fee waivers when cancelling upcoming travel.
A couple weeks ago it was more of a "Should I go?" decision. Now a lot of us are thinking, "Should I reschedule or cancel altogether?" And either way, "How can I avoid fees?"
The situation is rapidly evolving, but I wanted to share some thoughts here and my experience cancelling award travel to Italy in April.
Coronavirus Fee Waivers: Published Policy vs. Goodwill
Airlines are updating their policies on a daily basis. We've seen a lot of commotion when an airline comes out with a policy that seems unfriendly to consumers. Then policies change the next day and the cycle repeats.
Rather than rely on what is formally published, try contacting the airline directly. In a lot of cases, agents are equipped to handle cases individually and unpublished goodwill policies are in place. For more on this, listen to this episode of our podcast:
Podcast Episode 33: Negotiating Coronavirus Change Waivers
New Bookings vs. Old, Paid vs. Award
A lot of the policies we've seen seem like attempts to relieve uncertainty for new bookings rather than doing the right thing for the customer. ie, "Bookings between now and the end of March can be changed without penalty."
Similarly, a lot of the policies are written for paid tickets rather than award travel.
In either of these cases, agents may be empowered to waive fees on a case by case basis, so always contact the airline and ask.
Change Waivers vs. Refunds
Normally, the ability to change dates (say in the case of a common cold at the time of travel) is a great relief. But when you've got a trip planned for a specific school vacation window it's not always ideal to push the trip out a few months to summer, for example. And who knows whether this situation will resolve by the summer?
A lot of the change waivers we've seen require travel to occur within 12 months or by the end of the 2020. That's a deal breaker if you want to push a trip out to the same week in 2021.
In cases like this, I'd push for a refund.
Know What You're Asking For
Are you looking for a change in destination? In routing? In dates? To force award availability that otherwise doesn't exist? Or a refund altogether?
While it may be tempting to call an airline and "kick the tires" about your options, you'll never know for sure what's possible until you actually call.
With policies rapidly changing, you can't trust that what a phone rep might tell you today will be honored in the future.
Once you know what you really want, call and ask politely for that thing. Be patient with wait times, and if you don't get the answer you're looking for hang up and try again.
Wait and See
Especially for travel further out, I think it's best to wait and see how things develop.
Schedule changes often provide a path to a full refund, and we're surely going to see a lot of changes and cancellations over time.
My Experience Cancelling Award Travel
I had award travel booked for Italy in April. We were flying on award tickets issued by Aeroplan for travel on Tap Portugal metal. So I called Aeroplan.
I've been getting emails about schedule changes. It appeared as if they wanted to fly us into Rome instead of Naples.
It took 2.5 hours to get through to Aeroplan, but once I did the professional, friendly representative quickly asked, essentially, "what I wanted?"
I said my preference was a full refund because I'd like to reschedule for April 2021. She said it would be no problem because they have a goodwill gesture in place for travel to Italy. She cancelled our flights, refunded the miles, refunded the taxes + fees, and waived the cancellation fees.
The cancellation fees would have been $150 Canadian Dollars (~$109 USD) per-person each way since I booked the trip as two one-ways. We were a group of 5 for this trip, so the cancellation fees would have been over $1,000.
This act of goodwill is far beyond Aeroplan's published policy and I appreciate it. It's something I'll remember next time I make an award booking and I'm trying to decide which airline miles to use.
Would it have been as easy for travel to, say, Portugal? Or for dates furher out? Hard to say.
Note that they are running a promotion (if thats what you call it?) through the end of March, 2020 whereby award ticket cancellations online are just $75 Canadian Dollars. With wait times being so long in their call centers I was tempted to take this option, but I'm glad I stuck it out over the phone.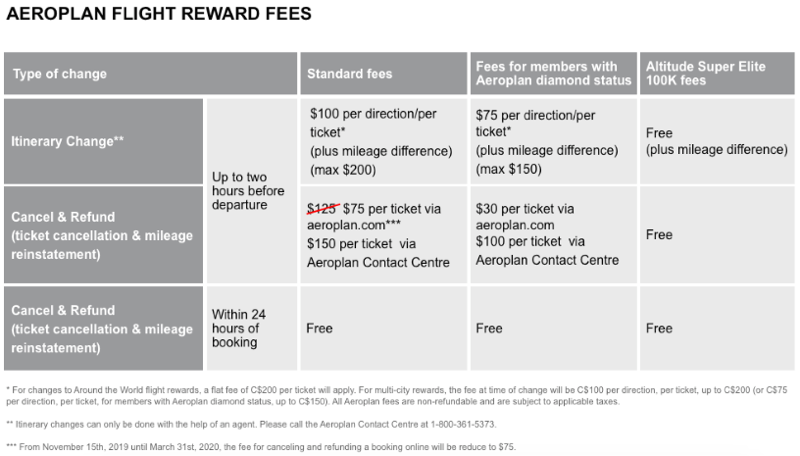 Check travel.state.gov for the latest information for each country.
Coronavirus Fee Waivers: Bottom Line
If you find yourself unsure whether you have to pay to cancel or change award travel, be sure to contact the airline directly.
My heart goes out for those affected by this virus. And I feel for the travel industry. Challenging times do not lead to better options for consumers. The existence of so many great options that exist in travel today wouldn't be possible without a healthy global economy.
Here's hoping for some good news in this space in the coming weeks and months.