I recently spent some time learning about El Al's award scheme while helping a family member book roundtrip flights in Business Class. I thought I'd summarize my findings here in case you find yourself interested in visiting Israel and booking El Al Business Class with points.
Want: Boston to Tel Aviv round-trip in Business Class
For this booking I needed specific El Al flights in both directions to align with a tour group visiting Israel.
Establish a cash baseline

The first thing I like to do when searching for awards is establish a cash baseline for ideal flights. I'll use this later to gauge the cents per point of value I'm getting out of an award, and to compare that value to what I'd get if booking with bank points.
The flights I need cost $3,900 roundtrip in Business Class.
[Not] Booking with El Al miles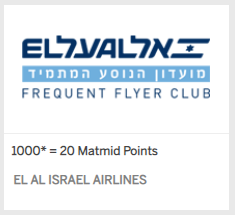 El Al is a 1000:20 Amex Membership Rewards. That may sound like an unfavorable transfer ratio but their award chart shows that if award space is available it costs 4,500 El Al points roundtrip from Boston for those without El Al status.

To perform an award search you'll need to create an account.
Out of Boston, taxes and fees of $348.84 are added in addition to 4,500 El Al points.
If there was award availability, those 225,000 Membership Rewards would save us $3551.15. A value of 1.57 cents per Membership Reward point.
However, there was no award availability on the dates I needed.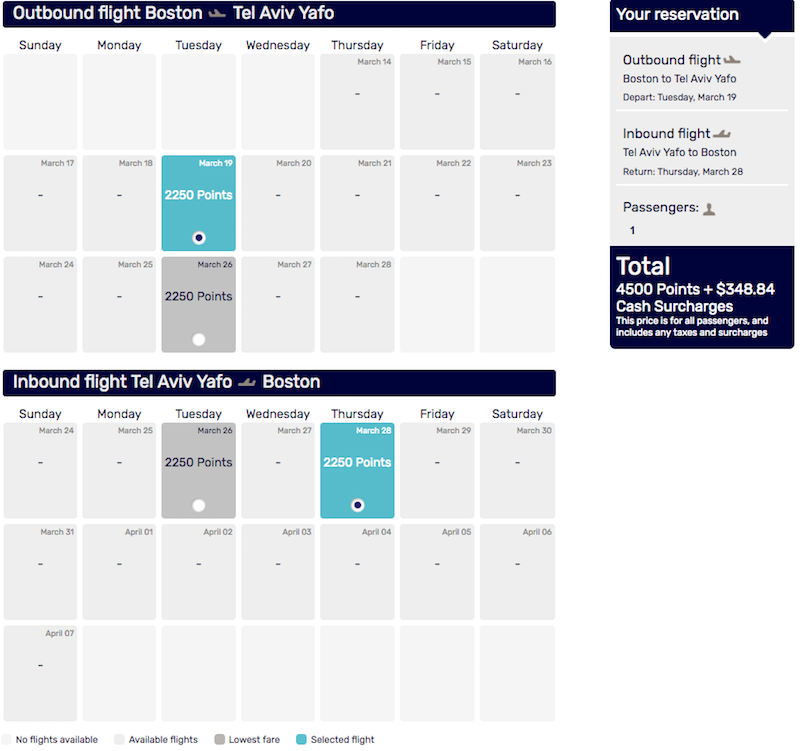 [Not] Buying an Economy ticket and upgrading with miles
To check other options I reached out to them via the number on their Contact page and learned the following…
In order to upgrade an Economy ticket to Business Class:
You need to book an "R" Class Economy ticket
Pay 700 El Al points one-way
There has to be upgrade availability to do so

For the dates I needed, an "R" Class Economy ticket cost $3,100, so even if there was upgrade availability (there wasn't) it wouldn't make sense to take this option.
The $3,900 Business Class fare is what they consider to be a "Discount Business Class" fare. If that fare wasn't available, it might conceivably make sense to pursue the Economy + upgrade option.
[Not] Buying an Economy Plus ticket
Another option the agent mentioned on the phone was to buy an Economy ticket for $1,019 roundtrip. Then upgrade to Economy Plus for $160 each way for a total of $1,339. Economy Plus on this route appears to be just slightly nicer than domestic economy. They do have a Premium Economy product but not the Boston – Tel Aviv flight.
Applying for an Amex Business Platinum Card
My family member had 200,000 Membership Rewards and a Blue Business Plus card at the moment.
I explained to her that she could use those 200,000 Membership Rewards to knock $2,000 off the ticket (a 1 cent per point cashout) and pay the remaining $1,900 with cash. She sounded happy with that, but I asked if she was open to getting a new business card and putting significant spend on it in the next three months.
She said she was, so I recommended the Amex Business Platinum card for its 35% rebate when redeeming points for flights in Business or First Class on any airline. With that card, she'll get 70,000 Membership Rewards back out of the 200,000 she redeems for the flight for 1.5 cents per point of value. This is strikingly similar to value to what would have been possible had there been award availability for the flights (there wasn't). But with bank points she was able to shake loose similar per-point value for exactly the flights she needed to be on.
We got on the phone with Amex to see if we could shake loose a 100,000 point (or better) offer, but we were unsuccessful.
So she applied through my referral link for 75,000 points after:
50,000 points after spending $10,000 in 3 months
25,000 points after spending another $10,000 in 3 months
It would have been nice to catch the signup bonus at 100,000 points or better but all things considered I felt this was a good option.
The card does come with a $450 annual fee, not waived the first year, but the $200 air incidentals are per calendar year so if you can make effective use of those it knocks down the fee nicely.
If she selects her favorite domestic carrier as her airline of choice she'll be able to similarly redeem her Membership Rewards points with 1.5 cent per point uplift.
Booking the flights with Bank Points
She was instantly approved, though I don't think they offer instant virtual card numbers for the Business Platinum card. So she wasn't able to immediately buy the tickets and put the portion of the spend that she'll pay cash for towards the minimum spend requirement.
I remain unsure whether the purchase would have earned the 35% rebate immediately after the Business Platinum card was approved, if it was charged on her existing card. Maybe someone can clarify on that if they've tried? It seems like a somewhat common situation – that you might hold off on getting the Business Platinum until you had a redemption like this in mind.
But when the card arrives in a day or two she should be able to buy the tickets. The 35% point rebate should post in a month or two (Amex takes their time with them these days).
Bottom Line
We've seen a lot of cases where bank points are a better option than traditional airline miles domestically. And even "internationally" to the Caribbean. But here's a case where they worked well for international premium cabin flights.
We also saw how getting a couple of credit cards in the same program and co-mingling the points can be an effective strategy. If she puts all of her spend on the Blue Business Plus card she'll earn 2x everywhere up to $50,000 in spend each year. And those points will be worth 1.5 cents a piece for air travel on her airline of choice -or- on any airline in Business or First Class. That's a 3x everywhere situation, which is very strong.
All of this said, the Amex Business Platinum might be the card you want to get last – after you've amassed a collection of Membership Rewards ready for redemption with the 35% rebate.
Most importantly, I'm thankful she'll be able to fly to Israel with a lie-flat bed. It's a rather long overnight flight on the way out and even though El Al Business Class isn't regarded as the most luxurious it'll go a long ways towards making the journey as comfortable as possible.
Any tips you'd like to share on navigating El Al's loyalty program?