Update (12/15/2020): We had CF Frost on Episode 106 of the podcast to discuss this deal and all things Amex
Update (12/15/2020): It appears Amex has pulled the offer.
This is a guest post from CF Frost. He surfaced up this offer and has been helping people understand how Amex upgrade offers work – and this deal specifically – on Milenomics Slack.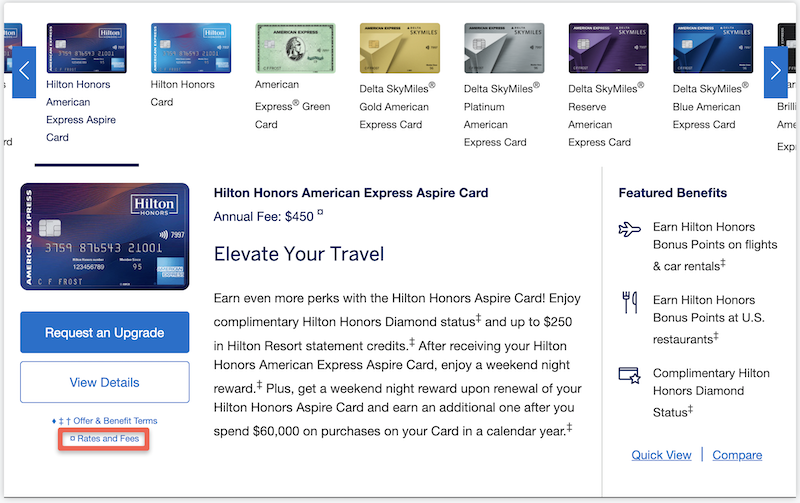 Direct Link to check whether you're eligible
(you'll need to have an active Amex No Annual Fee Hilton or Surpass card that's been open more than a year, without an Aspire card associated with the online profile you're checking from)
The world's most nuanced card gets the world's most nuanced upgrade offer.
Early yesterday as I performed my morning ritual of logging onto Amex to confirm my account hadn't been shut down yet, I checked my prequalified offers (found in Menu – Cards – Check for Pre-qualified Credit Card Offers rather than the more common location for upgrade offers in the Amex Offers & Benefits section) and found this sizzler – an offer to upgrade my fee free Hilton card to an Aspire for no points, but with an unusual fee structure.
Quoted here in text:
"The following is a summary of the changes that will be made to your account if you accept this upgrade offer. Other rates and fees will remain the same.
Annual Membership Fee: When you upgrade, your new Card will have a promotional annual fee of $0 for one year. In the first billing period on or after the end of the promotional year, you will be charged a prorated amount of the $95 annual fee for your new Card based on the time remaining until your next account anniversary date. On each account anniversary date thereafter, you will be charged the annual fee for your new Card. If you cancel your Card account or switch to another Card during the one year promotional period, you may no longer remain eligible for this promotion."
Amex Upgrade/Downgrade
My Hilton Amex card holds a special place in both my wallet and my heart – it was the first credit card I ever signed up for (coming with a whopping signup bonus of 10,000 points) and the OG sits in a small frame on my desk.
Since that fateful day it has been a dedicated soldier to the cause – diligently doing the dirty work needed to keep my average age of accounts up; all while being upgraded and downgraded more times than I'd like Amex to know about. If anyone could take on unwrapping this early Christmas (or timely Hanukkah) gift, I knew it was up for the challenge.
How Amex Upgrades Normally Work
For what appears to be a relatively straightforward offer, it has surprising complexities.
There are two factors in play here – your upgrade date (the date you upgrade the card, for me December 2020) and your card anniversary date (which corresponds to the date you originally got the card, my next anniversary will be March 2021).
Under a typical upgrade scenario, Amex would prorate the annual fee from your upgrade date to your anniversary date – in that scenario I would be charged three months of annual fee (25% of $450, or $112) upon upgrade, and then the full $450 in March 2021.
How This No-Fee Aspire Upgrade Offer Works
With this offer, no fee will be charged on upgrade -and- no fee will be charged on the anniversary date this offer straddles.
Additionally, you get a reduced prorated fee ($95 vs $450) for whatever portion of the cardmember year remains a year from when you took the offer and the original card's anniversary date.
For example:
March 2019: Card's birthdate
December 2020: Upgrade to Aspire (no fee)
March 2021: Card anniversary (no fee, weekend night certs, resort credit resets)
December 2021: Prorated $95 fee (from December 2021 – March 2022, say 25% or $24)
March 2022: Full $450 fee (or whatever the fee is at that point)
In the meantime here's what an upgrade can collect:
$250 Airline Fee Credit (each calendar year), which can be triple dipped into January 2022
$250 Hilton Resort Credit (each cardmember year) which can be double dipped as your anniversary year will straddle your upgrade year (and possibly triple dipped if you can extract it within 30 days of the full fee posting on your anniversary)
Hilton Honors Annual Free Weekend Night Reward certificate (more on how those work) that will post a month after the straddled anniversary, and some other benefits of dubious value (Diamond status, bonus Hilton points in some spending categories, Priority Pass, among others).
Timing Considerations
The timing of this offer is particularly interesting considering it dropped shortly after the anniversary of the fee-free Aspire offer in November last year, and not too long after some people triple dipped Aspire referrals, signups, and upgrades in August last year.
Presumably there are a large number of people holding a recently downgraded Aspire who are eligible to once again rejoin to the ranks of the Diamond elite. If you are one of these chosen few, your math is a little trickier – if you used your airline credit in 2020, or your resort credit for this current cardmember year, those credits will not reset on the upgrade; instead, you will have to wait until 2021 to start seeing the return.
Not as meaty as the triple dip, but there is still enough on the bone to make it worthwhile. Adding a little sauce to the steak is if you recently downgraded your Aspire because your anniversary just passed, your gap period is nearly a year. This would allow nearly a full year at the prorated $95 – in essence, getting two years of the Aspire for and average cost of under $50 a year, and the potential to sneak another airline incidental credit in 2023(!) before downgrading.
Keep These Things in Mind
So why not take the offer?
For one, you'd be freezing a credit card slot with Amex. Most people are limited to 4 active credit cards with Amex these days. In theory you could cancel it whenever the need arose with likely little recourse (since there is nothing for Amex to claw back), although that potentially could end up with you in pop-up purgatory.
Additionally, if you haven't had the Aspire yet, upgrading would box you out from a future Aspire welcome offer.
Lastly, you can't upgrade what you don't have – upgrading would box you out from a subsequent upgrade offer, which while not guaranteed, historically has featured points in lieu of a waived fee. A previous upgrade offer was 150,000 points; compared to our current offering you would in essence be buying 150,000 points for $450 (a rate of 0.33 cents per point). This may or may not be a good deal depending on your marginal value of 150,000 additional points (for someone tantalizingly close to a high value award this could be quite valuable; while those swimming in an Olympic size pool of Hilton points may find an extra 150,000 points to be of marginal utility).
So Many Questions
And somehow there are still more unanswered questions.
Will the prorated "gap" fee post as advertised – could the $95 be a typo? It's conceivable that it was intended to prorate at $450 during the gap (since $95 is instead the fee for the Surpass).
If Amex does use the $450 for the prorate next year, it appears that would be an easy fight to win given the clear terms, but the eyes and attention this could bring to your account may not make this a fight worth fighting.
Will the card post an additional free night certificate on upgrade? Previous upgrades to the Aspire triggered a certificate, but it's anyone's guess what will happen this time.
Bottom Line
In an uncertain world, we can count on three things – death, taxes, and complicated Amex offers. The world's most interesting bank never fails to disappoint.
Thanks to CF Frost for sharing his insights here. We're looking forward to having him on a future podcast episode.