Robert:
Amex has been ratcheting up the complexity on their offers and benefits. Partially due to covid, wanting to retain customers, and wanting to maintain and build engagement. The gamification of Amex is in full swing.
Sam:
These credits are not free money, and they're definitely not always easy as we'll discuss today…
For each of these let's discuss:
The Promise
The Problems
Possible solutions
1:39 Amex Offers: Slow Posting
Early February credits, across the board/on a number of fronts, were very slow to post
TPG: "Here's why you shouldn't worry" (link)
Response: Here's why slow posting credits are worrisome…
The T&Cs are convoluted, lengthy and full of gotchas. Ex: Home Depot off that was only online (who normally shops at Home Depot online?) and GCs are processed through a 3rd party
When credits don't post quickly (when they otherwise have tended to historically) it creates confusion whether fine print was missed.
All this said: Things seem to have improved more recently across the board after a miserable early Feb stretch.
8:40 PayPal $30/mo on Amex Personal Platinum Through June 2021
Early Feb Hiccup– What to do when credits don't post?
P2P vs merchants
GC reselling angle?
Potential Clawbacks for returns
Seems stackable with things like Saks
13:00 Uber Credits
$15/mo for Personal Platinum
$10/mo credit for Personal Gold
Combining credits from multiple cards (spousal/friends as well)
Velocity limits when adding cards
Moving cards from one Uber account to another
18:31 [Targeted] $200 Amex Travel Platinum Offer Exploration
We've been talking about this a lot lately
Robert posted the T&C last week (Which don't show anywhere online)
The pages describing this online make it sound like it is offered to all–and not targeted.
I set out to test that this week.
So I booked a $210 ticket on Amex Travel with my recently renewed Platinum.
Nothing happened. (Smoke)
So I chatted and pointed Amex to the TPG article (link which points to a DoC article that refers back to a rumor article from DoC)
The missing T&Cs (only visible to those targeted)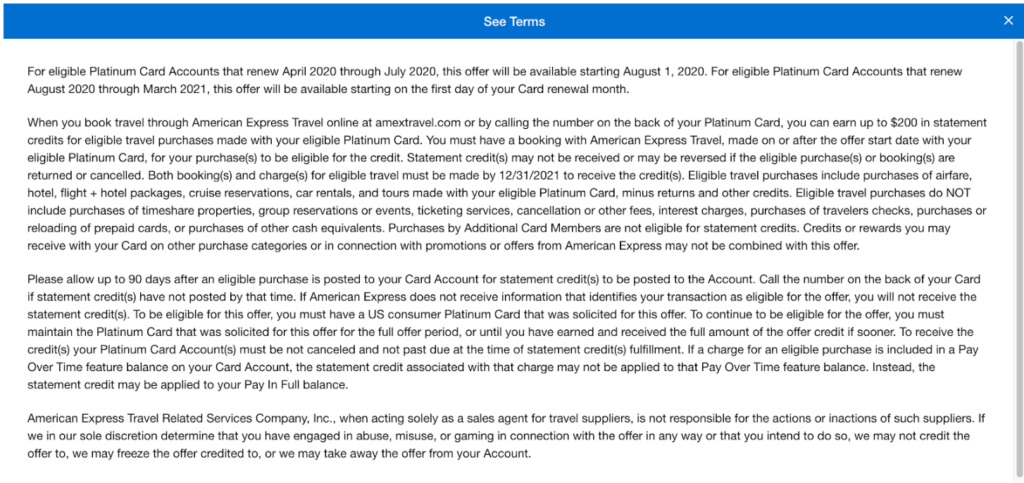 24:29 Ongoing Credits
Keep in mind this all is on top of…
Dell Credits on Biz Plat
Saks Credits on Personal Plat
Airline Travel Credits
Dining credits on co-branded personal cards
Wireless credits on co-branded business cards
Discuss: Do we work for Amex?
Robert: "Thanks for joining us for this week. For a more in-depth discussion about points miles visit us at patreon.com/milenomics. There you'll get a special link to listen to additional content, right in your mobile podcast app or on your computer, where we speak more freely about topics like these.
Sam: You can reach us on Twitter @Milenomics and @RobertDwyer – we'd love to hear from you. Until then we'll see you on the site…"