Long time readers of the blog know I have a soft spot for US Bank Prepaid Visa and Mastercard Gift cards. In fact it seems I'm not alone–with scammers and fraudsters also loving these cards. So it was no surprise really when I came across one of the worst fakes I've ever seen today at a trip to a Kroger store. Fortunately I didn't buy the card–and instead took it to document the issue and stop anyone else from being defrauded. Read on to see the evidence that I spotted which quickly alerted me to the scam, and some best practices to deal with the inevitable fraud you'll experience buying these cards.
Evidence of Tampering
To be clear this was one of the WORST fraud attempts I've ever seen–sometimes I'll only spot one of these types of situations–but this time there were no less than 3 dead giveaways.
One trick fraudsters use is to open the packaging, remove the card and copy the information off of it–and then put it back. Then when you activate the card they quickly drain it. (How do they know you bought it? Maybe they keep an eye on the rack, maybe they try randomly–more on that later).
This package had all the telltale signs of glue tampering — wavy packaging, caused by wet glue drying unevenly. This card showed poorly even hanging on the rack.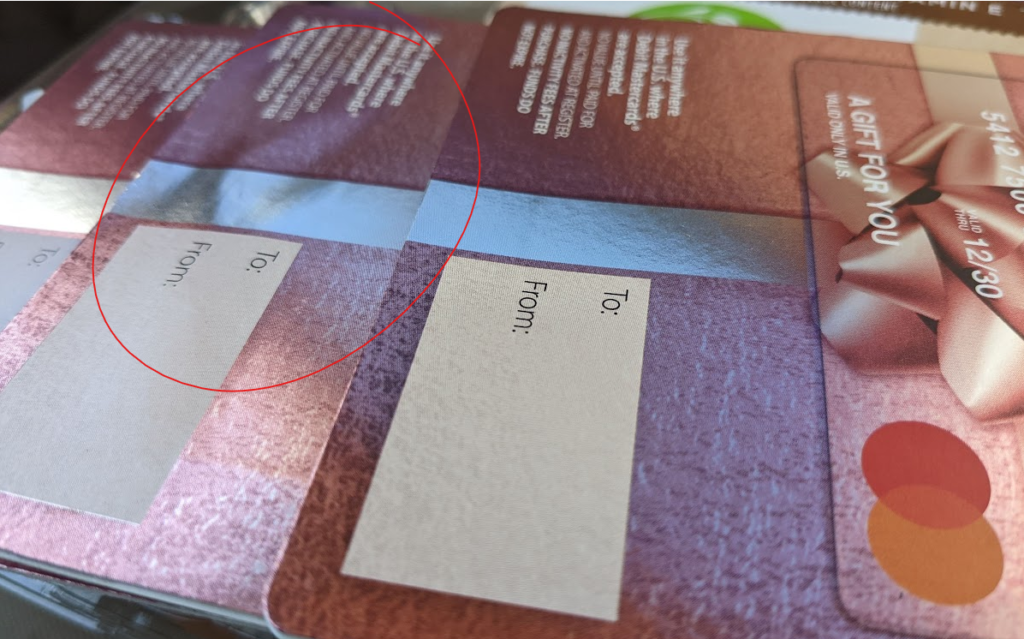 In Addition the side of the package had some weird raised bumps, likely from either glue build up or paper debris: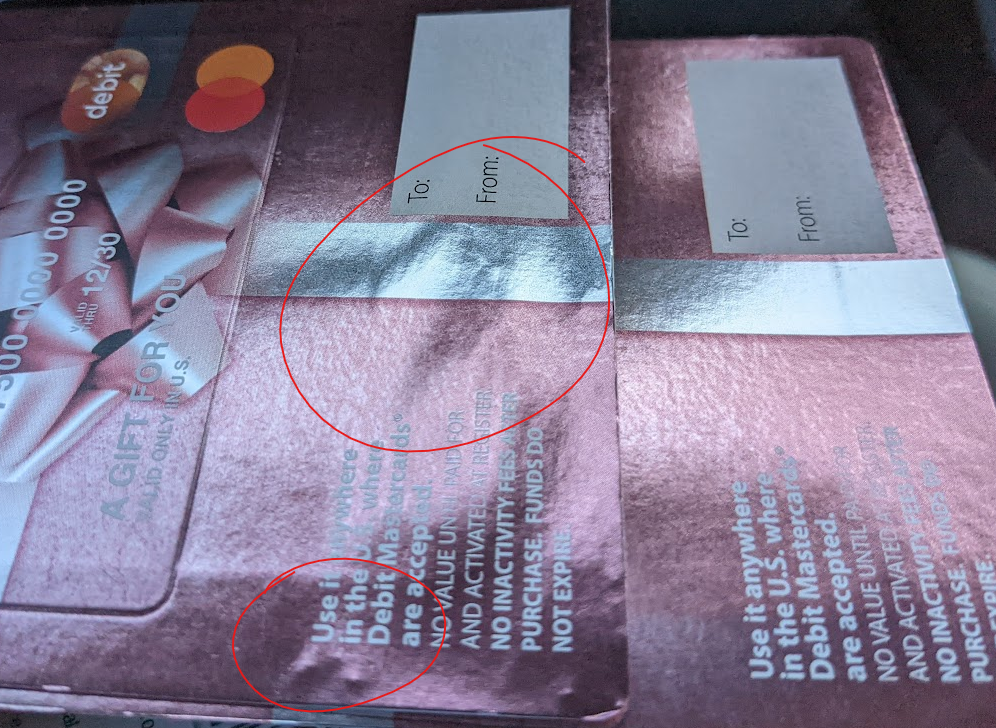 How do they get the card out without tampering with the back of the packaging? It seems like they peeled back the front printed metallic paper, slicing the paperboard below 2 times to allow access to the card itself: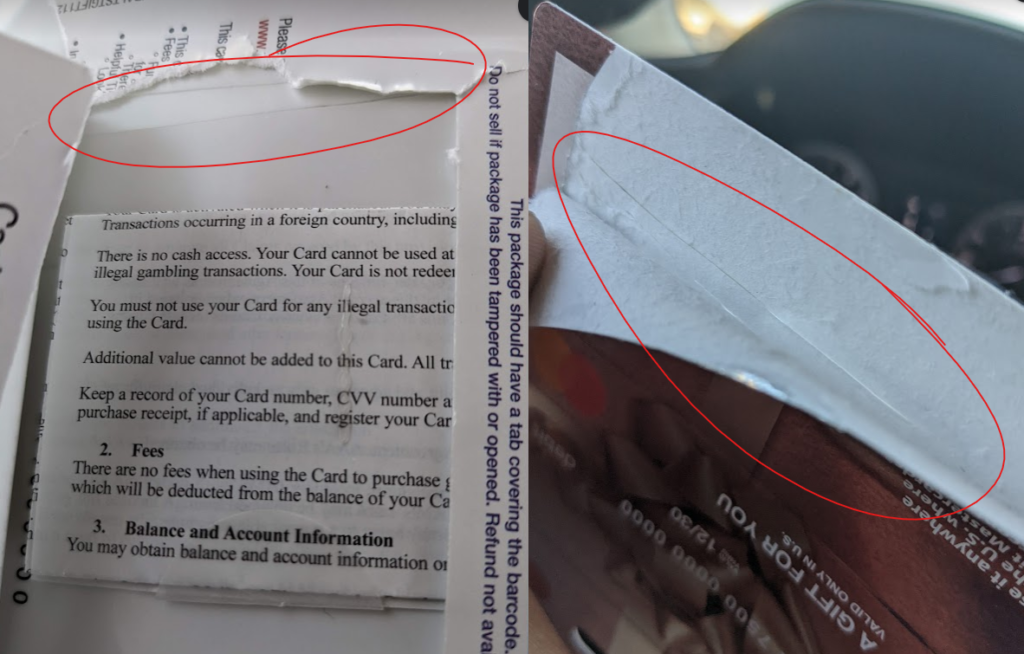 I mentioned that the cards are removed and the information written down/cloned. This situation was even more amateur–with the card itself staying in the package but a sticker being put on the back of the card: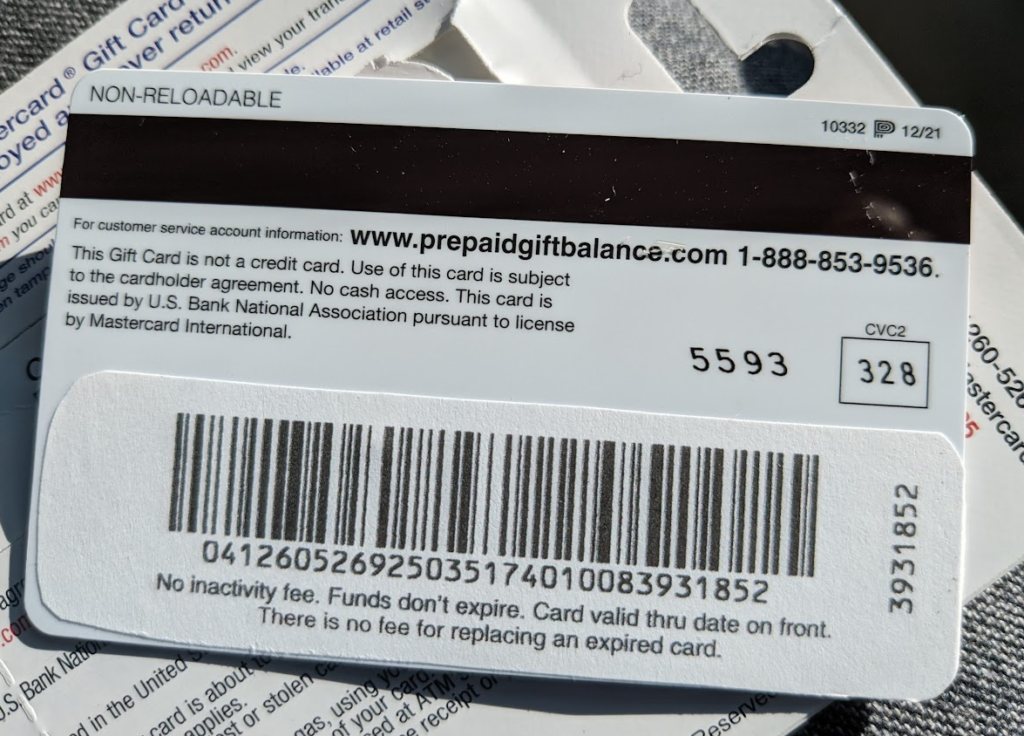 In fact this scam is so prevalent that examples of this sticker scam go back almost as far as Visa/MC Debit prepaid cards themselves. For this reason I always check the back of cards I'm going to buy. The small numbers visible in the window should be raised and shiny–not dull and paper/ink looking like these were: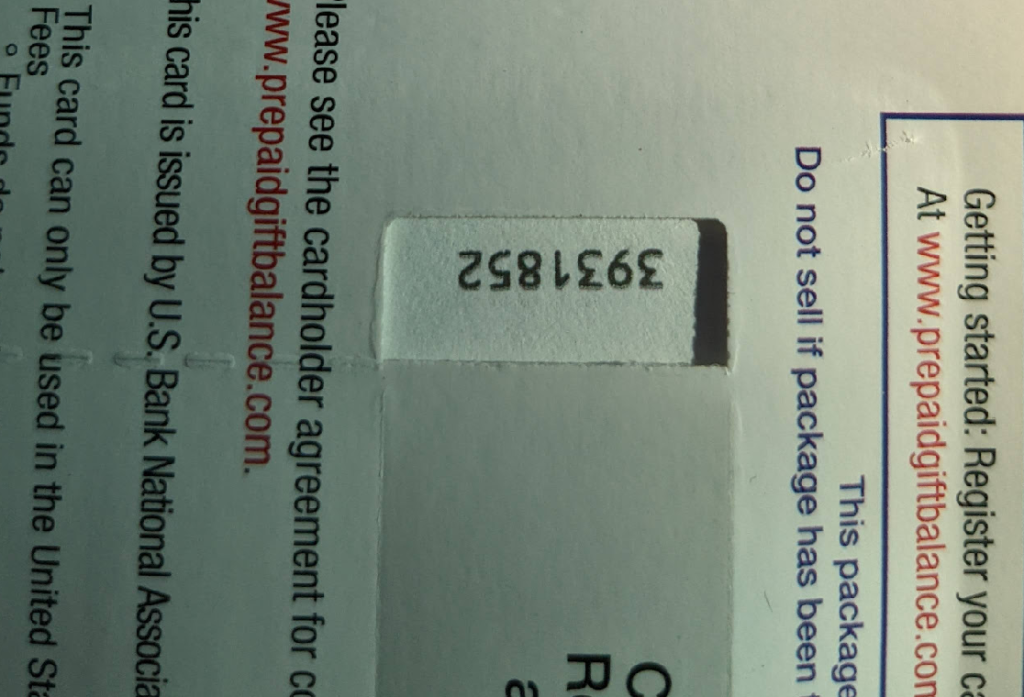 What to Do When (not if) You're Scammed
US Bank continues to ship nearly consecutive cards — something that boggles my mind, and leads to pretty easy 'guessing' of new card numbers. For this reason I've seen about 1% of my card purchases be subject to fraud. Most times this is a scammer trying to activate, or balance check a card before it has been purchased. This red flag causes US Bank to lock the card and you'll find out when you try to register and use it.
Instead of activating you'll be prompted to call the number on the back of the card (or you won't, and you'll just be dumped back to www.prepaidgiftbalance.com with no error message). Calling the number on the back of the card you'll be asked for your information to register the card–and you'll need to know the exact amount loaded to the card. In about 10 days you'll receive a replacement card with embossed letters and numbers.
Keep all your receipts and make sure you register and drain these cards as soon as possible. One thing that is annoying is there is a velocity limit on registering the cards–you'll need to switch device/IP to get around it. The really annoying part is that limit sometimes makes me think I've got a bad card, when really I've just hit my max registration limit and need to switch devices.
This isn't the first time I've written about issues with US Bank cards and fraud, and I'm certain it won't be the last. I've always been made whole by US Bank, but the legwork and phone calls are never fun. Hopefully seeing the images in this post and the warnings here will help you limit the headaches and avoid any really bad scammed cards in the future.
Be careful out there folks!