Note: Today's post is hypotehtical–the miles don't exist, but the bookings are real, and could be done today if you so choose. Post is also mostly for #201 level travelers.
Yesterday I went over applications I considered, as well as a hypothetical group of applications to complement out September CCC apps.  In doing so we "beefed up" our hypothetical balances to the following:
-106,000 AAdvantage Miles
-112,000 United Miles
-52,000-190,000 Avios
-70,002 US Airways Dividend Miles
In reality these numbers would be higher if you did any MMRs, but these will be pure signup miles for today's post.  From 0 miles to 340,000 (or more!) in just 4-6 months is not too bad in my book.
What to Do with These miles?
Before anything the first step needs to be to craft a plan.  Without one we could very quickly spend these miles in wasteful ways.  The very first question should be: Domestic or International?  While I've mentioned the virtues of international travel–for some of you there's a big country right here that you want to explore.
Today I'll show how I would use these miles for a combination of Domestic and international travel. I'm not trying to extract the most absolute value from them–but it should show you some realistic approaches to the travel you can do from just 2 seasons' worth of applications.
Starting with British Airways Avios
I've talked before about Avios–as part of the hybrid System, and also as the best program for First time Users of miles.  Avios should be used for domestic travel on AA and AS, where they save you Miles and money over using AA or AS miles. If that sounds confusing–it is.  Read the above "best program" post for some good background material on the subject. Also Short expensive flights in other countries are additionally a good use of Avios.
Let's assume you live in DFW.  The following Map shows you different distances (avios tiers 1-4) from DFW:
That's great if you live in DFW, but what if you live in another AA or AS city? The above map was generated on www.gcmap.com, and you can use it to see your options as well.
Just copy and paste this image address into a new browser window:
http://www.gcmap.com/map?P=&R=3000mi%40DFW%0a2000mi%40DFW%0d%0a1151mi%40DFW%0d%0a650mi%40DFW&MS=wls&MR=900&MX=540×540&PM=*
and change the Bolded DFW into your home airport (4 times).  For example for a map centered around LAX, use:
http://www.gcmap.com/map?P=&R=3000mi%40LAX%0a2000mi%40LAX%0d%0a1151mi%40LAX%0d%0a650mi%40LAX&MS=wls&MR=900&MX=540×540&PM=*
Which generates the following image when copy and pasted into a new tab/window:
Using this map and the avios tiers you can see here the distance and Avios needed for each one way flight in this area, up to tier #4, 12,500 miles: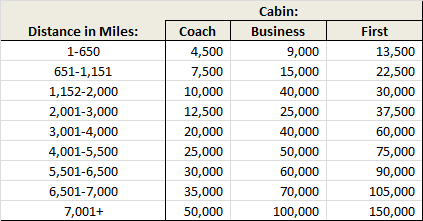 Using Avios strategically, I'd book something like this:
LAX-OGG, using 12,500 Avios per person.  Total 25,000 Avios. Spend a week in OGG, fly home using AA miles, OGG-LAX, then stop using the free one way trick with AA Miles.
I always start my Avios searches at www.alaskaair.com.  Doing a quick search shows me a week in May would work: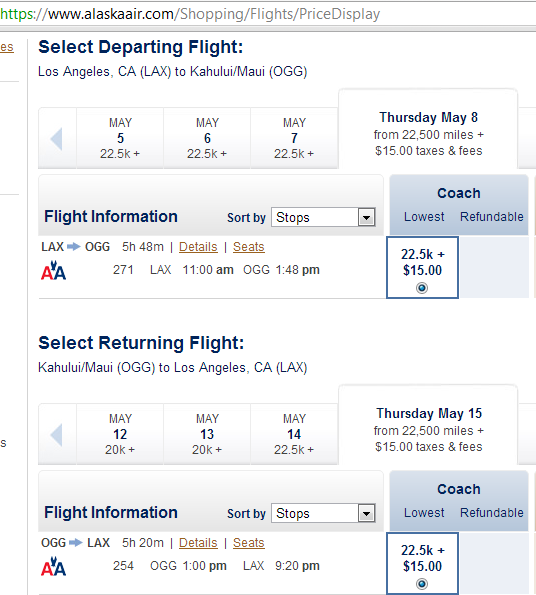 This is completely bookable at www.britishairways.com, no phone agents to rob you, or tell you incorrect information. Just a clean 12,500 Avios booking, and two one way tickets to Hawaii.
Net Miles spent: 25,000 Avios.
Next Up: AA Miles
I'll next book the same return flight I found above–but as part of a larger one way trip, say from LAX to Europe in June or July.
Heading over to AA.com to book the second portion of the flight we use the multi city search (once we've identified our flights either on alaskaair.com or aa.com):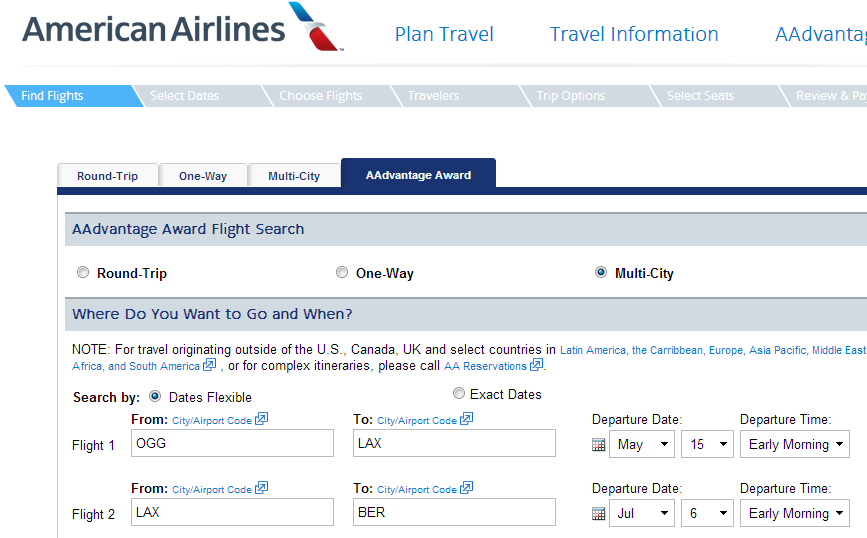 The next screen shows us some great news: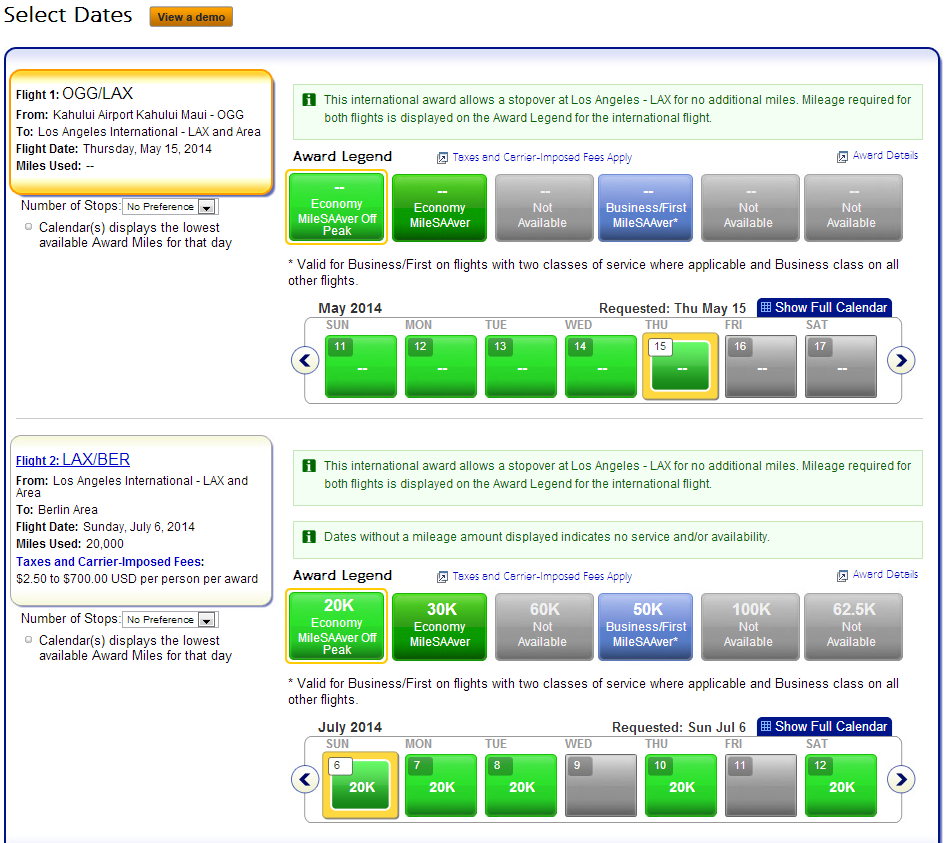 Final pricing for a whole lot of flying is 40,000 AA Miles plus $38 in fees: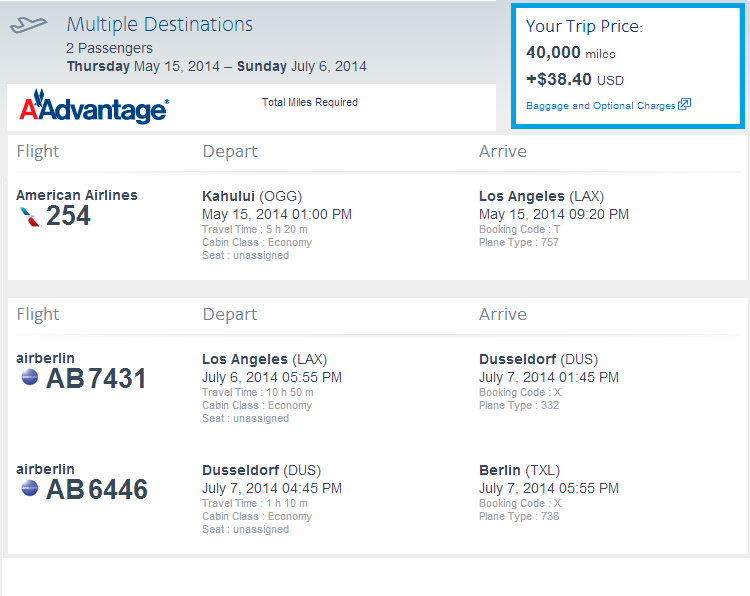 So we've gone to Maui, come home, stopped in LAX until July, and now we're in BER.
Edit to add (12/7): I forgot to mention this, but becase we hold the AAdvantage credit card we'll technically be refunded 4,000 miles for this booking, I'm leaving the total at 40,000, because it takes that many miles to book this. The net cost is 36,000 miles after the refund.
Net Miles spent: 25,000 Avios, 40,000 AAdvantage Miles
Getting Home: Avios and United
To get home we could fly UA or AA.  If we flew using AA miles we could do the opposite of what we just did–fly Europe-LAX, stop, then use a free one way.  Instead, I'll use United Miles to fly us home. I had trouble finding any flights with United or AA from Berlin, or a host of other cities.  I did finally find a way home from Munich:

Which will cost us 30,000 UA Miles plus $113.70.  I know you're asking: How about Berlin to Munich?  This is technically an open-jaw trip, you're flying LAX-TXL (Berlin) and then back MUC-LAX.  I love open jaws, they allow you to see another city or country and then not have to backtrack and return to your original entry point to fly home.
Getting from Berlin to Munich you could take a train, a bus, or a flight.  If you choose to take a flight, we'll go back to our trusty BA Avios for this. Looking for a flight in the middle of our trip we find plenty of options on July 16th: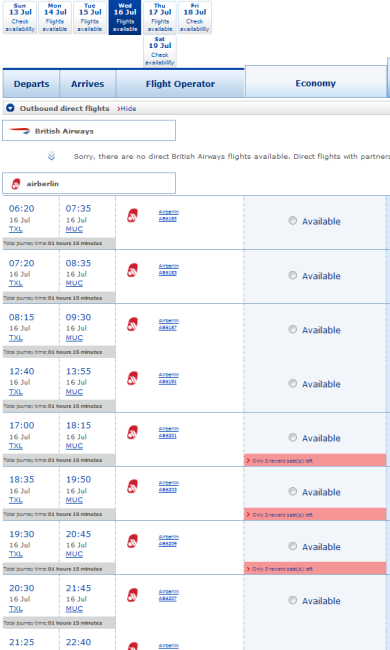 The trip now looks like this:
Net Miles spent: 34,000 Avios, 40,000 AAdvantage Miles, 60,000 UA miles.
A Lot More Travel Left to Do.
We've still got plenty of miles left, in fact we have nearly enough to do the whole trip over one more time–or take 4 people instead of 2.  Our balances after booking would look like this:
Avios:18,000 (or more)
AA Miles: 66,000
UA Miles: 52,000
US Miles: 70,002 (we didn't use any of these)
What other trips could we craft with just these miles? Plenty–and this assumes we stop earning any more miles.  With March CCC applications just around the corner, and Plenty of MMR opportunities to earn miles we need our balance would be propped back up faster than we can spend these miles.
I've said it before, and today's post illustrates it, our hobby isn't collecting miles, our hobby is traveling. Drop me a line if you're stuck and need some help, otherwise, happy travels.
---
Everything below this line is Automatically inserted into this post and is not necessarily endorsed by Milenomics: