Robert and I are starting a new feature here at Milenomics, a Reader Mailbag of sorts. You can contact me via my email link in the top, or tweet either of us on Twitter with possible questions. I can't guarantee we'll answer them all but we'll do our best.
Today's Question: Reader Brandon (*ahem*) has the following request:
"Hey Sam, I love your blog, more so than any other blog I've ever read. Like, ever.  I have tried to get some general help on how to use the miles that I have, and I don't know where to start. I live in SFO and want to take a short trip this fall to Europe. I need 2 seats and my dates are tight. My work shuts down the first week of October, so I'm thinking Sept 29-Oct 6th, or maybe even the 7th. I know that's only a week but I really want to make this work around my only days off. I have 300,000+ Chase UR.  I'm thinking of either France or Spain, but I'm open to other areas."
This is a pretty common request, people want to use their miles for premium cabin space. How to do that is a little tougher, especially when you're new to miles/points. We'll unpack Brandon's request, and I'll step through the search and booking of this request using Chase UR.
The Trip
Before I start a search for any flight I like to list what's most important for the trip.  Red-eye ok? Business preferred of course, but is coach ok? Splitting a trip at a stopover point? We've long talked about the need to be flexible to use miles.  Let's take an inventory of how flexible Brandon is.
The biggest issue I see is that he has a SHORT amount of time. Just 7 days. He and his partner are going to spend a minimum 1.5 days flying and airport transit time, and that's on nonstop options. For that reason when I make my list for this trip I'm putting the most weight to minimizing travel time. If Brandon had 3 weeks to spend on the trip, or no real dates picked and could go any week of the summer/fall there'd likely be a different ranking.
Another consideration I don't think gets enough play is what time of day the flights leave and return.  When I work a Friday the worst possible flight for me is an early AM Saturday flight. I just don't have enough time to handle everything I need to handle before the trip, sleep, and make it to the airport without being a zombie. I could do it if there's enough time to recover after the flight, but on a 7 day trip this is an important consideration for me.  Similarly I don't want to return from a trip at 11PM Sunday night and have to go to work Monday morning. I'd likely need to take an additional day off at that point, and would rather extend the trip 1 more day than spend it recovering at home.
With that said here's my breakdown of how I'll attack this problem:
1 week only, fixed dates 9/29-10/6
Nonstop Flights Only.
No early morning flights
Arrive home with enough time to recover
Business class (or better if possible)
France or Spain followed by anywhere else
Fits into the points Brandon has
The above list helps outline what I'll look into, what I'll consider valid and what I'll discard. A lot of the above takes my own personal bias into consideration, but I *think* Brandon's needs line up a bit with mine.
Breaking Down the Search
Step one for any search is to know what you're looking for. With the above plan of attack I need to know what flights fall into criteria #2, nonstop only. How do I figure this out? I turn to my trusty www.flightconnections.com for this.
Flightconnections.com has a cool *new* feature. I personally requested them to add it and they did. You can now sort by alliance. So in this case if I want to see first what flights I can book with United miles, I can filter non-stop flights by Star Alliance only: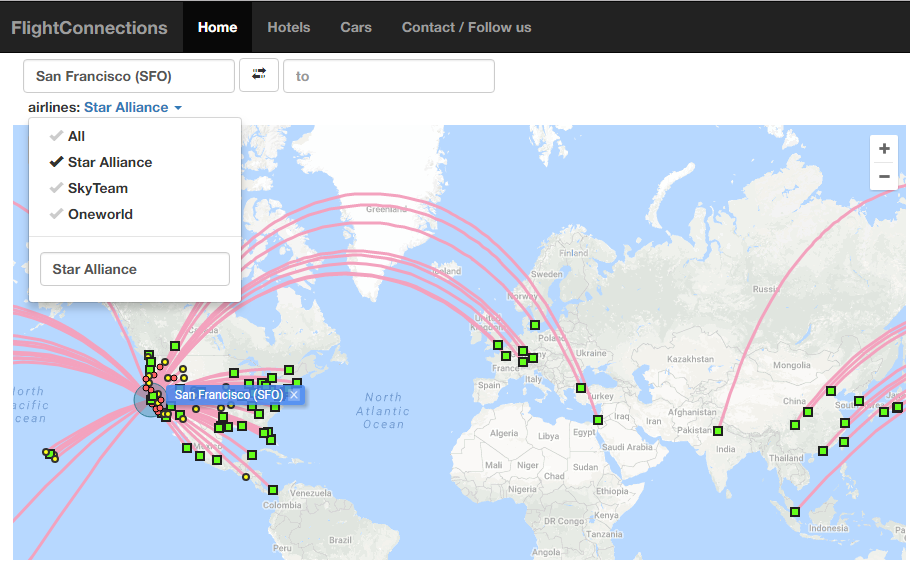 In this situation I want to do a complete search, so I am also looking at all options for SFO/SJC/OAK (the three major airports closest to Brandon. The results look promising when you consider how many options there are: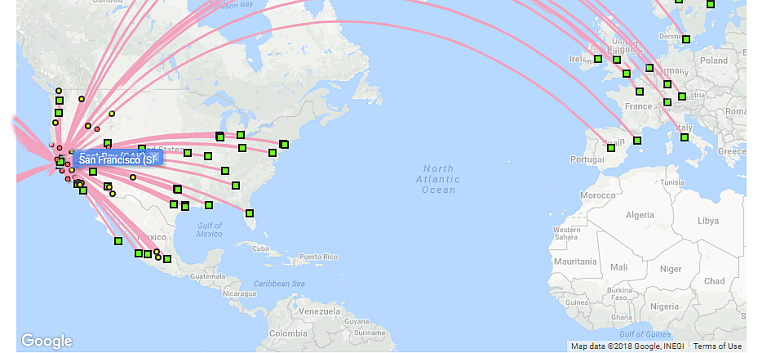 Maps are nice but I prefer to make a list and check it twice. Some of the above flights are on carriers with no alliance members (like Norwegian), so we'll have to throw away flights like OAK-FCO for our award search. That leaves us with the following list: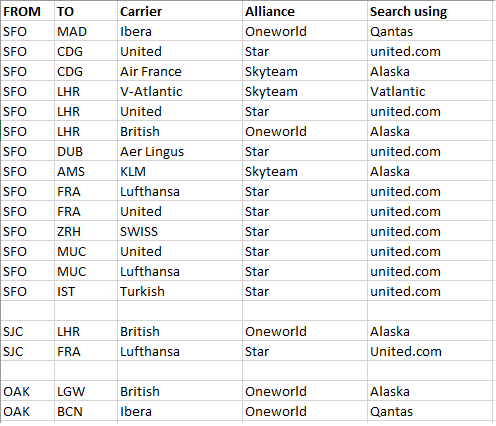 Grind it Out
The next step is to search each of these using an airline that can show results. For example even though AA can book Ibera flights you can't see them on AA.com, you'll need to use something like Qantas' search engine to find them.
A note on Fuel Surcharges: The flights above on British and Ibera will have obscene fuel surcharges if we book them with Avios. I'm talking fuel surcharges in excess of the cost of a coach ticket. I did search on Qantas.com for those Ibera flights. There were no seats available on Brandon's dates, but for most people you'd disregard them entirely. Similarly, Air France/flyingblue opens up more award space to their account holders than to partners, but adds $600 per person of fuel surcharges to business class award tickets. I still recommend searching on Alaska *first,* but if you're dead set on flying business and nothing comes up consider a quick FB search and weigh the fuel with the cost of a paid ticket. (H/t Stvr)
The nonstop SFO-CDG is our next best option. Both Air France and United offer the flight, so we have 2 shots at it.  For Air France searches I like to use Alaska, for United, I use United.com.
SFO-CDG Air France search: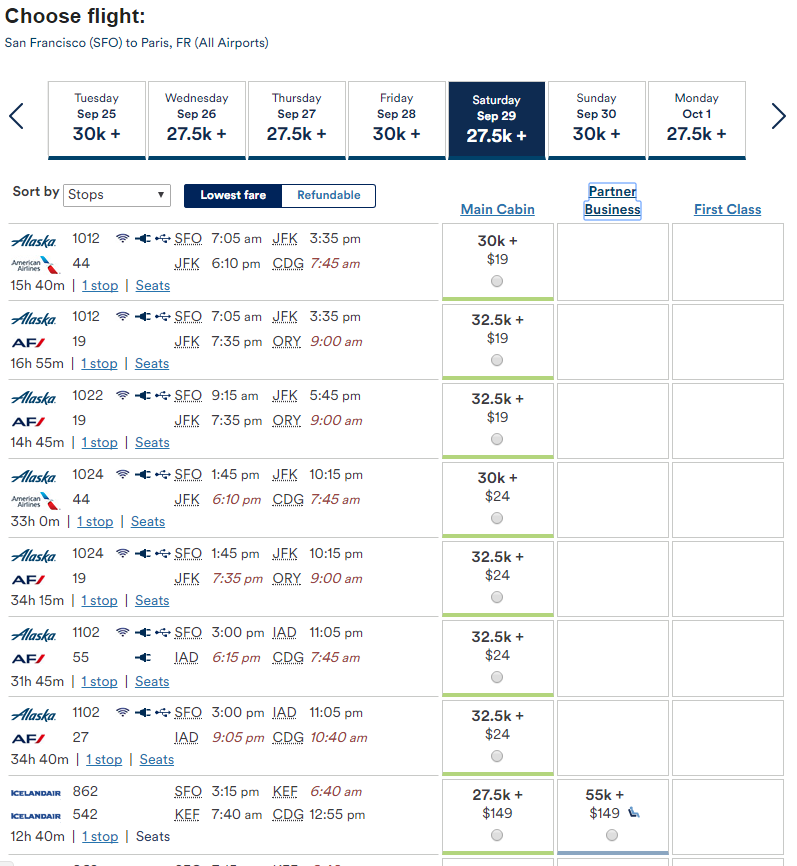 As you can see above there are some coach options with horrible connections. The IcelandAir flight is not an option for us because we can't book it. I'm showing it here because this type of thing confuses rookie bookers all the time.
Just because we're using an airline's search engine doesn't mean the results apply to us. This is true in multiple ways; the pricing above is only for booking with Alaska Miles, we'd pay more to book these with UR transfer partners. And the above list has options that aren't available to us, like the IcelandAir flight. Those are also only bookable with Alaska Miles.
There were some flights on British Airways metal that look good at first, but they really present another problem: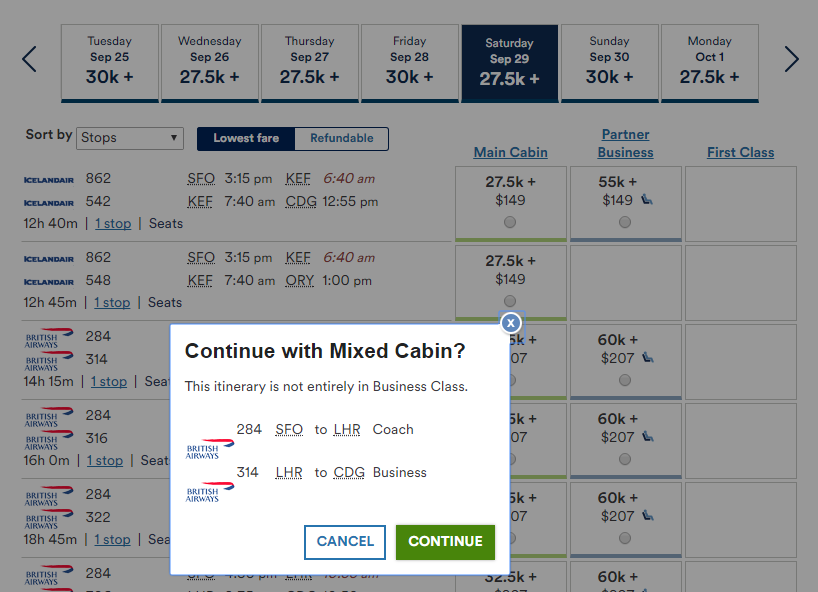 Search engines are dumb. They do dumb things, and they return to you answers that don't make sense when you use any logic at all. In the above example Alaskaair.com will combine coach and business class awards. That could mean SFO-LHF in coach LHR-CDG is Business class ( a 1 hour intra-Europe flight). You'll pay the higher price for the whole award and sit in the back on the longer portion of the flight.
Add all of this up and the Air France option looks to be dead to Brandon
SFO-CDG United Search:
I'll load up united with the following search criteria: SFO-CDG, 9/29-10/6 for two passengers. I want nonstop award travel only. What I'm presented with on the resulting search page is this: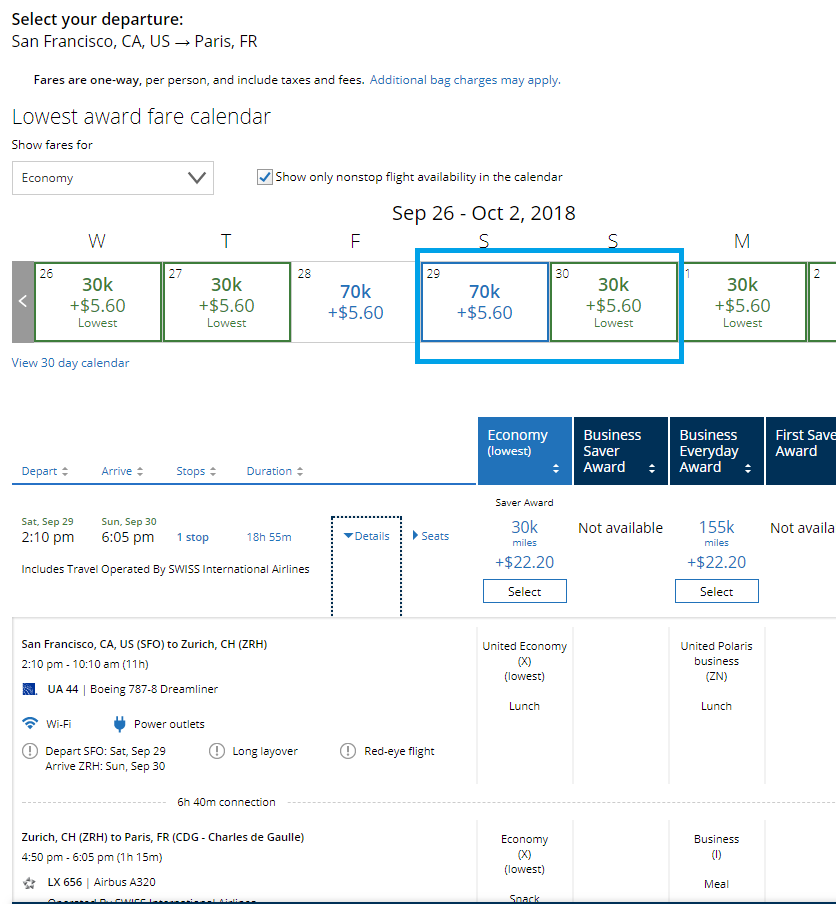 There are 2 really important pieces of information here. By restricting our calendar to showing only nonstop options we can see the days that have SFO-CDG availability, 9/26-27 and 9/30-31. Unfortunately our preferred date 9/29 doesn't have any good availability.
The second piece of information is that on our preferred date United returned the following route: SFO-ZRH-CDG. We probably don't want to spend 11 hours on a flight in coach, followed by a nearly 7 hour connection, followed by a short hop to Paris. So for Paris this flight is not helpful.
BUT this fills in one of our routes above: SFO-ZRH, and if we're looking past France/Spain Switzerland is not a bad place to be. That's a long flight to do in coach, and not really what Brandon is asking for.  Making matters worse, none of these days or cities  have Business class award space. Brandon has limited options here, so I'll write these down on my list anyway.
Lather, Rinse, Repeat
There's no magic here… I'm going one by one down the line and searching any and all of these flights. I'll note what flights are available in Business class and which can be booked in coach. I'll also look a day on either side. I don't recommend it, but there's a chance that losing a day but gaining some quality sleep on a 12hr flight might be a wash.
I'll spare you the step by step, and fast forward to the end result.  ZERO long haul business awards on these dates from SFO/SJC/OAK. 
The search took about 20 minutes for the above nonstop routes. Remember, these dates are fixed, so as I run out of options I have to start getting creative. I did some single connection searches, and there were some interesting options, like this one: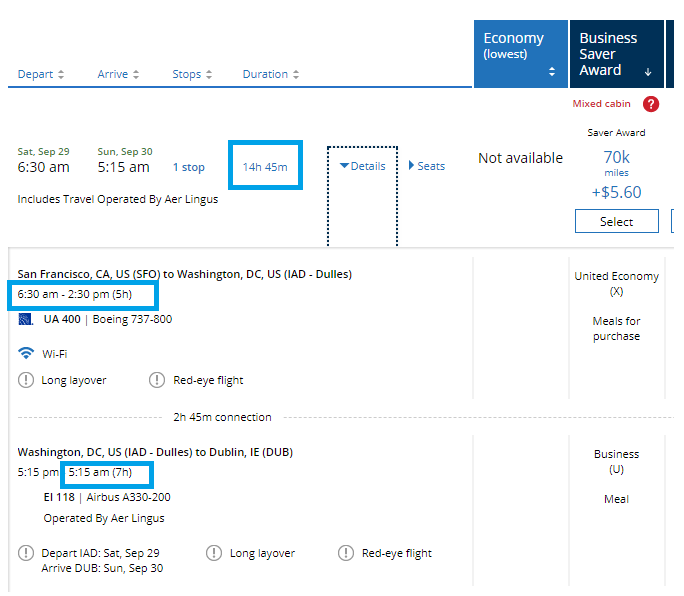 These type of concessions are deal breakers to me.  I always say the way you market something has a lot to do in how it is accepted. IF I was going to spin this I'd say something like:  "Hey you can always upgrade the united leg to business if that opens up." and "Aer Lingus lie flat is a great hard product." But when you really look at it: you're waking up at 3am to get to the airport at 4ish, fly United coach for 5 hours, wait around Dulles for 3 and then, when you're dead tired, you might sleep for 3-4 hours in a nice business class seat. Oh, and you're not in France or Spain, so adjust your plans on the ground."
So I'm throwing it out. And the ORD connection that's similar, and the return through BOS with a 7 hour layover as well. For just a 1 week trip we need nonstop flights that get us in refreshed and hitting the ground running.
As I went down the list the only 'real' options that remain are coach flights, nonstop. The basics are these flights:
The only real city pairs above are SFO-LHR-SFO and the SJC-FRA-SJC. But how do we even know if the above are good options to book? We should always consult cash fares.
Cash Fares Kill the Deal
Let's play what if: What if Brandon doesn't really care about being in France or Spain. And what if he doesn't mind flying United metal, and what if he doesn't mind flying coach? And let's say that the above options are about 60,000 UR plus $100. Are any of the above options a good idea?
NO. Of Course Not.
Why though? Because those same flights could be booked with fewer UR at the CSR's 1.5CPP for less: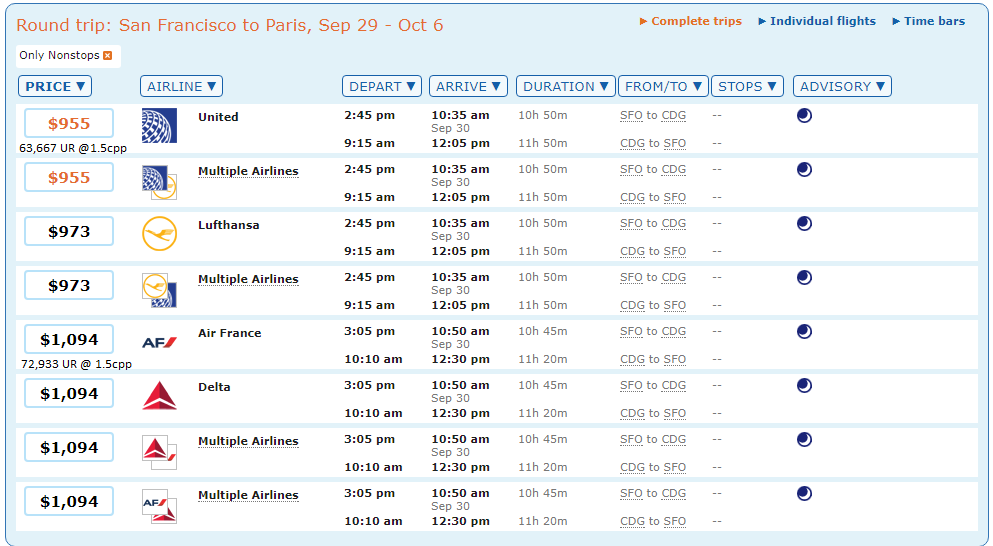 Banks Have Adapted
I'm 100% sure banks got sick and tired of buying billions of miles from airlines who then restricted space to the point where Bank customers complained to the bank about it.  The rise of the current Flexible points is a direct result of the limitation of good award space, and low airline ticket prices.
Unfortunately for readers like Brandon I have bad news; if you're not flexible with respect to Dates, Locations and cabin then you're going to have a difficult time using your miles for anything more than their absolute minimum value towards travel.  In the above example Brandon's miles won't get him what he wants. They can get him where he wants, but he'll need to make some concessions to do so.
A Final Note: Booking questions like this one can get messy. I've tried to streamline this as much as possible, but if anything doesn't make sense, drop a comment on the post and I'll see what I can do to explain my thinking.