You've likely come to this page after choosing US or UA and Star Alliance (*A) for your award travel.  Welcome! I think traveling on *A carriers is perhaps the cheapest and easiest way to travel internationally on award tickets. I'll divide this post into two sections: Earning UA and US miles, and Redeeming UA and US miles.
Earning UA and US Miles:
The first thing you should know is that even though both UA and US are *A Carriers, their mileage is not ever going to be combined.  You can't use 30,000 miles from UA and 20,000 from US to make up a 50,000 mile award ticket.  In fact there are many areas where using US and UA miles are different.
That being said you should really decide if you're collecting one or the other, and only collect both if you know you'll be able to use them each to their fullest.
The advantages of UA Miles:
-Can book most trips, even complex ones online
-Can include a stopover and an open jaw (or double open jaw) for no extra miles
-Reasonable rates for Business & First
– No MPM restrictions
– Can book one way trips
The Advantages of US Miles:
– Some seriously low priced awards (Like 90k business to HKG)
– Allows crazy routing as long as agents ok it. (Like US-HKG with a stop in Europe for that same 90k)
– Technically no MPM restrictions due mostly to lazy agents.
– Cheap Mileage sales with 100% bonuses.
US has some serious limitations, like not being able to book partner awards online, and award fees that are higher than UA.  So you'll really want to read up a little more before jumping into one or the other.
Both programs allow you to earn miles in either for flights flown on either.  So you could decide to credit all your US Airways flights to United, and in that way focus your earning.
I think most people would agree with credit card spending it is much easier to earn UA miles than US miles. Besides the UA Mileageplus Explorer Card (which we applied for as part of the September CCC) all of the Chase UR cards are really UA earning cards.  This includes the Chase Freedom.  US on the other hand has a co-branded card with Barclay bank.  We Also applied for this card as part of the September CCC. With the impending merger that card's fate is in limbo.
There aren't too many bonus opportunities for miles with these two players.  The US Airways Grand Slam hasn't shown up lately, it used to be a great way to earn up to 100,000 US Miles for under $500 or so.  If anything similar comes up you'll be the first to know.
US does offer a seemingly every-other-month mileage sale.  These sales drive the price of US miles down to 1.9 CPM or so.  In a prior post we discussed taking cash back instead of miles.  In fact if you owned a 2% cash back card, you could buy 1 US mile per dollar spent on that card during a USDM promo.
Using Miles:
Many, many people have strong feelings about the state of United as a company, and an airline.  However you feel about flying with United, one thing most of us can agree on is that the United.com search engine is quite possibly the best thing that United has going for it right now.  It is hard to find a better search engine for *A booking.  I would say that searches on United.com are flawless.  Booking is a little difficult–as sometimes you end up frustrated and seeing nothing but errors.
Others tend to like the ANA search tool for *A searches, and I do use it as well, but I keep it for when United glitches out on me.  What does a United Glitch look like? Something like this: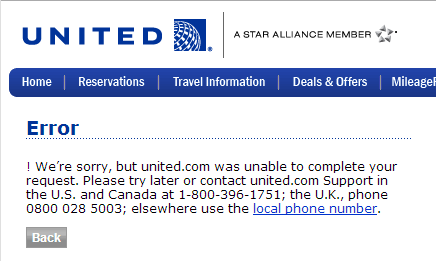 The engine usually lets you see flights, get all the way to the last step before showing you this error.  When it shows up I like to verify with another search engine (usually ANA) that the flights are actually showing up elsewhere, and not being misreported by United.
The first step in any complex award search is to look for routes, I like to use Airline Route Mapper software for this. Our search will be February 4-Feb 23, and we're looking to fly from JFK to BKK in Business for 2 persons. Our dates are not totally flexible, but we can go a few days either way. You Can see from JFK we have a few choices, most notably JFK-NRT on ANA, and JFK-ICN on OZ (Asiana) and JFK-TPE on BR(Eva Air).
With US and UA miles you can also try flying through Europe and stopping somewhere along the way.  I put together a trip for a friend LAX-CDG (stop) CDG-BKK (Dest) BKK-ICN-LAX.  The whole thing was 65,000 UA miles in coach.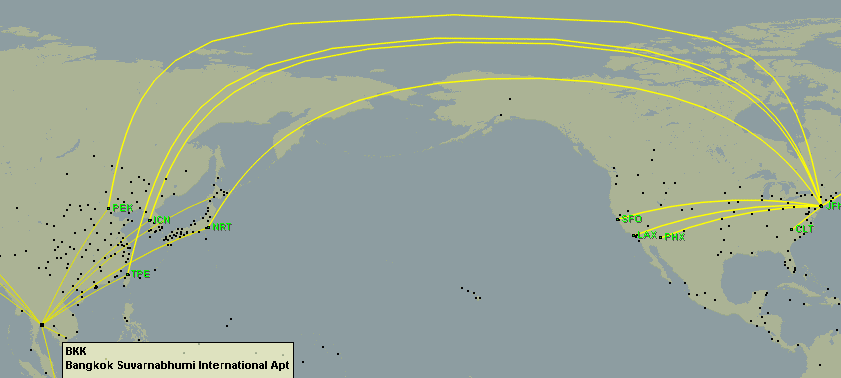 Without exception the hardest flights to find, especially when you're looking to fly business or first, is the longest, over-water flight.  This is especially true when leaving on flights that also crossover the United States.  Our above example has us looking for JFK-NRT, JFK-ICN or JFK-TPE.  The same flights from the west cost are easier to find, as you have options up and down the coast including LAX, SFO, SJC and SEA.  The opposite is also true; when traveling to Europe from the west coast, there are many more options on the East coast.
Because of this you should break down your trip as follows:
1) Longest, over water flight first.
2) Any connection from there directly to final destination
3) Positioning flight to flight #1 above.
This means we're looking for the long flight first, JFK to ICN or NRT.  United's site is good enough that I like to start searches by just putting my final destination in for flights with just 1 stop.  In this case I use NYC-BKK to cover all NY Area Airports (including EWR). Pulling up the search results we find a lot of green on the United Calendar.
Mixed among a lot of options is a gem of a flight: JFK-TPE-BKK, with just a 2hr 20 minute connection.  JFK-TPE is on BR in business, and TPE-BKK is on TG in business.  I haven't flown Eva air in business, but the seats look fine, and I'm sure it is a great product.
The return flights aren't nearly as good.  The only option on the 23rd is a TG/UA flight which has a 9.5 hour layover in PVG. 9.5 hours is a long time to kill, and a good way to ruin a return trip.  At my T-Rate 9.5 Hours is $237.50, so I'd really like to find something better.
On the 24th there is a BR flight from BKK-TPE in economy and then a connection 2.5 hours later to a BR flight direct to JFK that has business available. I'll take a flight like that any day.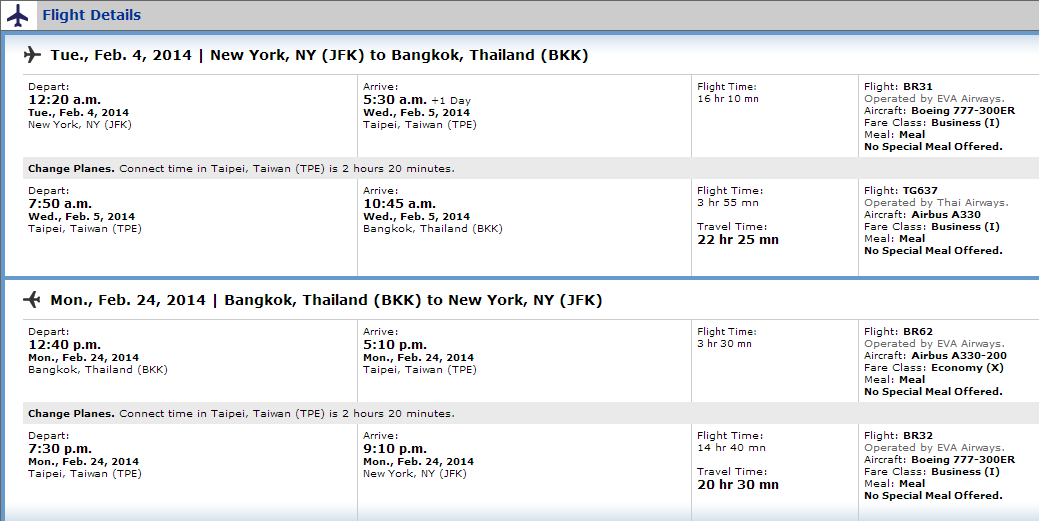 The final damage is not bad at all with United.  The cost in miles would be identical with US miles, but the fees and taxes would be higher due to US airways love of tacky fees for award tickets.
Holds:
Holds are very important for award travel; we'll likely talk more about them here as long as they still exist.
United has made it hard to put awards on hold.  The only current way I know of is to start the booking with an account that has too few miles to actually book the flight.  When you get to the last step it will give you a record locator and tell you when the hold expires.
US Airways allows holds for 3 days. You only need to ask for the hold while on the phone with the agent.  Technically you could say they charge you for the hold, since you have to ticket by phone and pay their bogus fees.
Note: Do not automatically assume holds will be extended.  You may find yourself without any flights. Plan everything around the standard hold period, knowing that going beyond that timeframe might mean your seats are given up.
US Airways should mirror UA award space.  However don't think you can book one seat with UA miles, and another with US miles without any issues.  When something goes wrong the fact that you're on separate PNRs and even booked with different programs might mean you get put on different flights entirely.
Waiting for Seats to Open Up
We were able to find great flights just about on our exact dates.  This is not always the case.  If you're not finding anything that works for your trip you can wait for seats to open up.  Award inventory comes and goes, and oftentimes as dates approach seats come available.  A wonderful resource is the Wandering Aramean's travel tools site: www.wandr.me.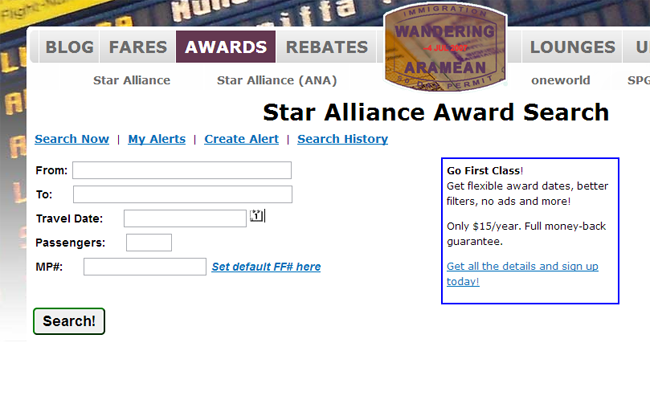 This is the same site we discussed using for award alerts for domestic trips using BA miles.  Now we're using it to find seats on international carriers using US or UA Miles.  The site emails you an alert letting you know seats opened up.  Just today I received an email that seats I had been waiting over a month for opened up, and it gave me a chance to book two seats with my miles before someone else snagged them.
Free One Ways with UA and US:
Both US and UA offer some sort of free one way on award travel.  UA's rules actually allow a stopover anywhere along the way.  US' rules are more restrictive, the stopover has to be a a hub of the carrier you flew in on.  In reality the two are pretty much the same.  US Agents readily take whatever dates and flights you give them, and then will either allow the ticket or won't allow the ticket.
UA Agents are just as likely to look at a complex itinerary and tell you that it isn't allowed.  UA Also has an issue with ticketing a double open jaw with a stopover at your origin (A Fancy name for a free one way at the end of, or start of your trip). So even if an agent allows it you might find UA telling you the ticket won't issue for some reason, and then quote a million obscure reasons why (most of which they just made up).
In actuality your phone skills will determine your success with stopovers and free one ways on both UA and US. When in doubt, or whenever you're sure the agent on the other end is firm in their "no," polietely hang up and call back.
[rule]
This concludes our Choose Your Own Adventure Style Post, just trying something fun as I get more used to blogging.  Thanks for sticking with me, and following me on Twitter: @Milenomics