If you're new to using miles today's post gives you a great tool to try to find award flights and use your Avios. The post is tagged for #101 level Milenomics–but is useful for all of us.
Today we'll talk about one of the tools I like to use when your destination is flexible, but you know you want to go somewhere with your avios on fixed dates. In addition  today's booking tool will help you find that first flight you can use as part of a Hybrid system booking.
Avios: A Very Useful Tool at Our Disposal
We've talked about the flexibility needed in award travel–destination, dates, or cabin choice are the three major ones we need to have flexibility in order to use our miles.  It was for this reason, I declared Frequent Flyer Miles should be called "Flexible Flyer Miles."
Online you'll hear a lot of polarized opinions regarding BA Avios. One camp argues that they have awful fuel surcharges (they do); Trips cost more miles than they would in other programs (also true), and that they're generally worth less than other mile currencies (again, I'll agree). If you only subscribe to this point of view you're using  your Avios wrong.
Avios are an incredibly useful tool for:
Short, expensive international flights
Short, expensive domestic flights (especially in South America)
Short flights on AA or AS in the United States
Flights from the west coast to Hawaii.
Avios are also one of the cornerstones of the Hybrid System–and using them to start a short flight has often saved me 10,000 or more miles versus booking with other mile currencies.  In fact, Avios are so useful I recently named them the "Best Program for First Time Users of Miles."
Choosing Between the AA Award Calendar and Map  for Searches
If you're not familiar with the AA Award map, it is a graphical representation of award space on AA and the partners that can be booked online.  This includes Alaska, and many other international carriers.  How the Award map differs from the standard AA Award search is that it allows you to be firm in your dates, and flexible in your destinations.
We can use this award map, or the regular AA Award search (calendar).  Knowing when to use which will yield the best results with the least hassle:
Flexible Dates Fixed Destination

Fixed Dates Flexible Location

Best search to use:

Best search to use:

Standard AA Calendar Search
AA Award Map
The standard calendar award search lets you look at city pairs and load a calendar of a month's worth of flights, showing what days miles can be used to get to the city of your choice.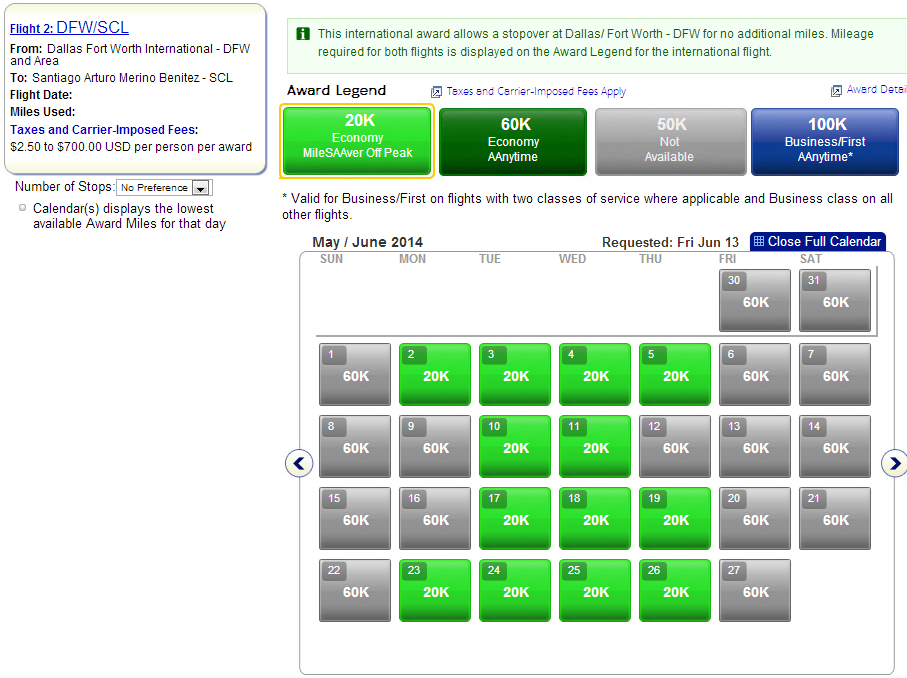 Instead of picking a destination and seeing all the open dates like the calendar shows you, the award map lets you pick dates, a general area, how many travelers, and how many miles you'll want to use to find possible vacation spots with your AA miles.  Today we'll be using it to find trips we can take with our Avios.
Basics of the AA Award Map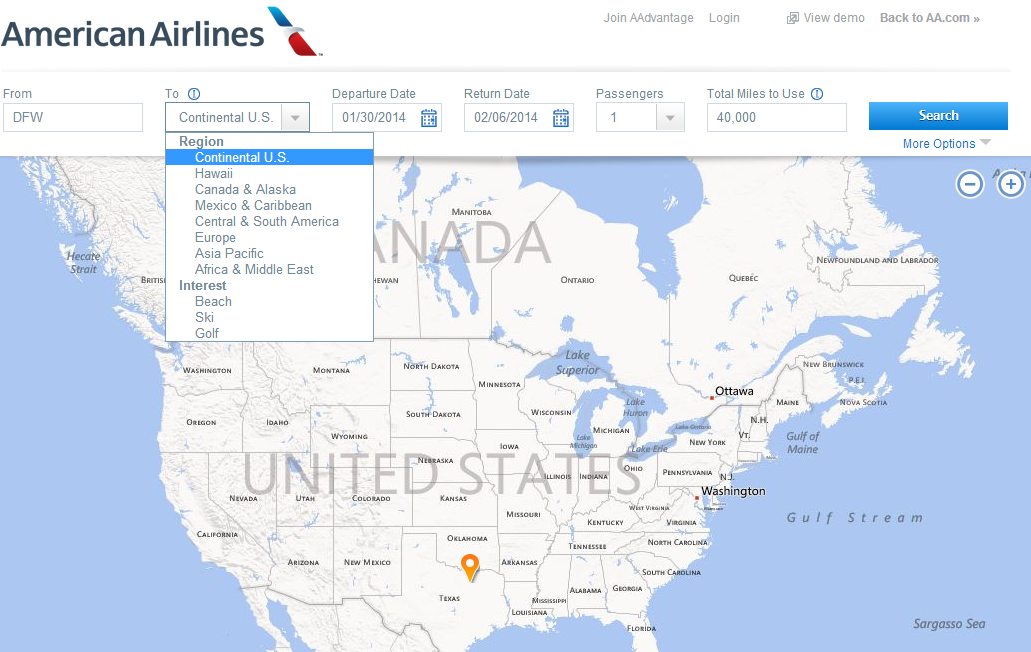 Using the map is fairly easy–you start with your home airport, and then put the area you want to fly to.  You can even pick general categories of Ski, beach, and Golf.  Input your dates, and how many passengers.  Finally, put the total in AA miles for all passengers.
In order to use the award map for Avios searches we need to limit our results to only non-stops.  Click on "More Options" and you can restrict to only nonstop flights.  Once you click search the map will be updated with all possible city pairs you can fly to.  I crosscheck these cities against a route map of 650 miles from DFW–limiting myself to 4500 avios flights.  I've overlaid the two maps for easy viewing: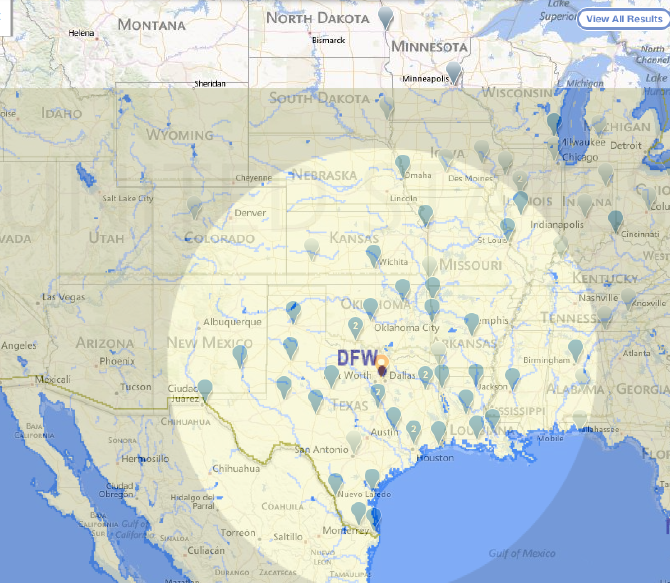 You could also do the same with 1150 miles and see where you can fly for 7500 Avios each way.  After you click into a point, and select it you're taken to the standard Calendar Search on AA.com where you can see flight numbers.  Take these flight options and book them with your Avios.
Note: Be sure to change your Dates +/-1 day and search again–because the calendar is showing you flexible locations the dates are fixed you may need to cheat the dates a little bit.
Booking With Avios–Don't Use AA.Com
Remember from our Avios primer two days ago–whatever Mileage currency you're looking to use is the site you'll book on.  In this case we've used the AA Award Map to research flights–but we'll be booking them on www.britishairways.com.  The booking is done exactly as the test booking was done in our earlier piece. Simply input your starting, and ending point on www.britishairways.com after logging in.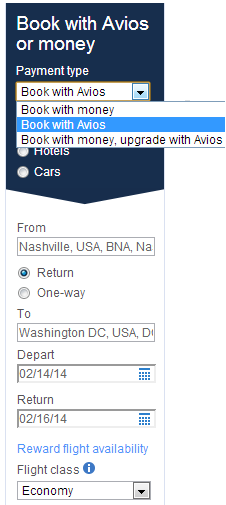 Even though the AA Award map says these cities all cost 25,000 miles r/t, by booking with our Avios we've saved 16,000 miles, and got to travel on our desired weekend.
The Best Use of the AA Award Map
By far the best use of the award map is when you have fixed travel dates, and just want to get away.  I use it for 3 day weekends–when I just want to get out and go somewhere.  In the above example you could head to St. Louis or Kansas City as well as a whole host of other cities.
When I want to go watch a football game I'll use the award map and a NFL schedule and line the two up–seeing where I can fly with my Avios, catch a game, and fly home.  If you're a sports fan and like visiting new arenas and stadiums use the Award map to get out and see new places, all while saving miles.
This one won't be the tool you use all the time–but when you have fixed dates, and flexible destinations it can be incredibly useful. Remember–we collect miles to travel–now get out there and use them.
-Sam
---