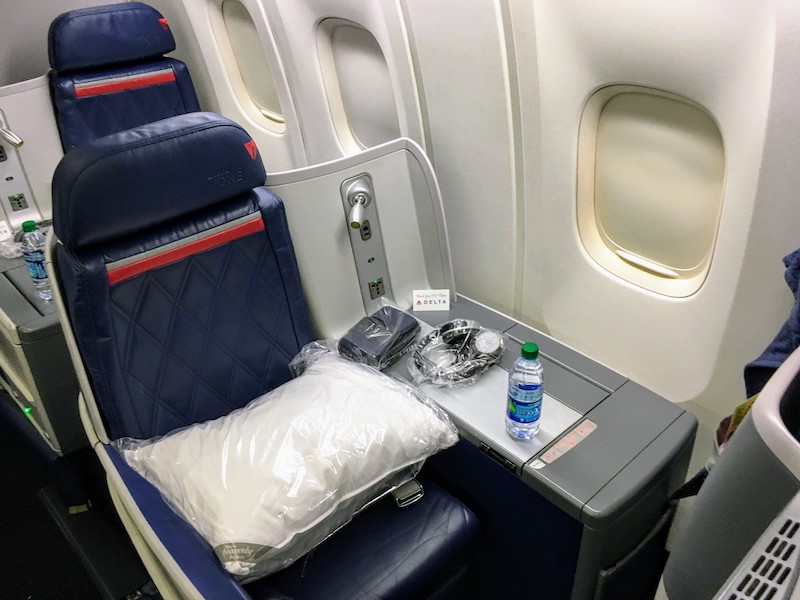 The Delta/Virgin Atlantic partnership is one to keep in mind any time you see low-level award availability on either airline.
Last April we flew on Virgin Atlantic Upper Class using Delta SkyMiles.
Next April we're planning to fly DeltaOne using Virgin Atlantic miles.
Ironically, it's almost always better to pay with the partner's miles rather than each airlines own currency.
Delta Awards to Europe have Gotten Expensive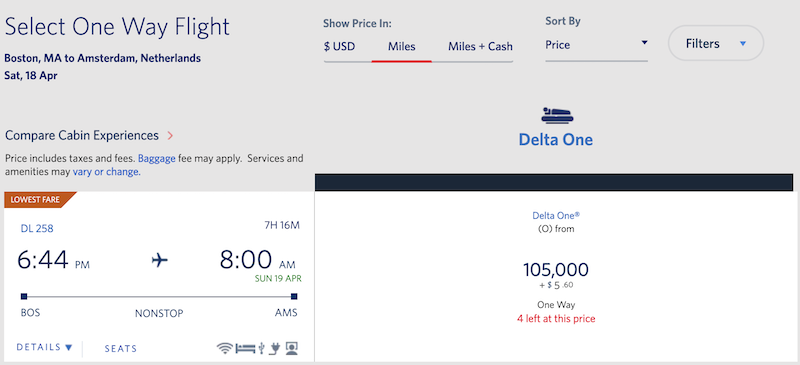 We were talking in Episode 26 of our No Annual Fee Podcast how Amex Delta card signup bonuses keep going up in price.
It seems to be an inflationary situation because Delta award prices keep going up. What was once 70,000 or 80,000 is now 105,000 SkyMiles or more. A lot more. It's common to see Delta asking 320,000 miles per person one-way to Europe on DeltaOne.
For the dates I was searching for Delta wanted 105,000 miles per person one-way from Boston to Amsterdam + $5.60 in taxes/fees.
Using Virgin Atlantic Miles for Delta Flights can be a Good Option

I wrote recently how it's worth checking Virgin Atlantic award pricing when you see expensive fares (cash or award) on Delta metal domestically.
The same is true internationally and the savings are even more dramatic.
For the same DeltaOne flight, Virgin Atlantic wants 50,000 miles + $5.60 in taxes/fees per person one-way.
This difference is what I'm calling the Delta/Virgin Atlantic Paradox.
Virgin Altantic is a 1:1 Membership Rewards Transfer Partner (+30% at the moment)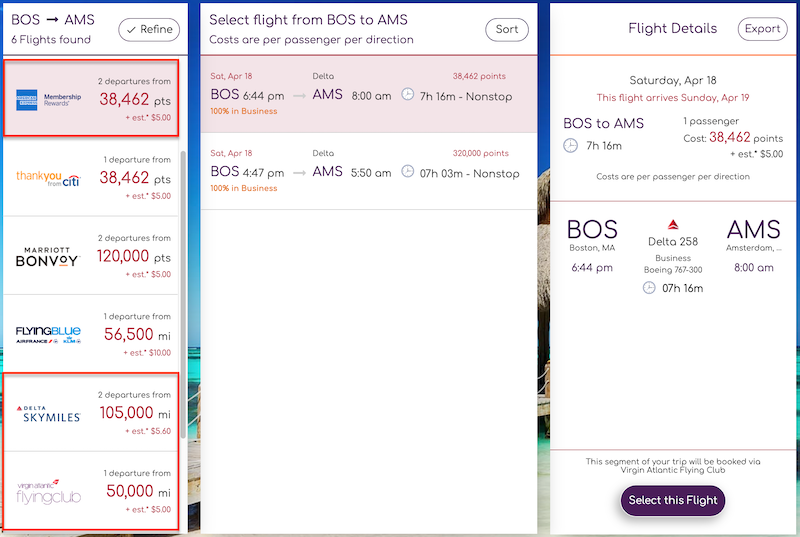 The difference between booking with Delta SkyMiles and Virgin Atlantic miles is even more dramatic when you consider the 30% transfer bonus Amex/Virgin Atlantic is currently running.
Award search tool JuicyMiles does a great job surfacing up these options. It shows that Delta wants 105,000, Virgin Atlantic wants 50,000, and even identifies that the current transfer bonus makes it just 38,462 Membership Rewards for the flight.
The difference in miles is even more striking when you consider that Delta charges a pesky $0.0006 per mile fee for transfers to domestic airlines, capped at $99 per transfer. That seems nominal, but it works out to $63 for 105,000 miles in this case.
Bottom Line
It can be much better to book awards on Delta metal with Virgin Atlantic miles, and vice versa.
Award booking is rarely easy. But with enough patience and persistence it's still possible to get a family to Europe in premium cabins with points & miles. But it doesn't always work out so well. Finding Delta low-level awards can be challenging. They don't always make them available for partner awards. Some city pairs incur substantial fuel surcharges.
We talked a lot more about booking awards to Europe in Episode 30 of our Paid Podcast where we covered 10 Tips and Trends for Booking Awards to Europe for a Family. Check it out if premium cabin awards to Europe is something you're intersted in.